Cornell Dorm Room
Where do most students live at Cornell?
As you become used to your new home, you will discover the strong connection between living and learning at Cornell. More than 55% of undergraduate students reside in Cornell dorm rooms and other housing options on campus. Students learn and develop as a community with people who bring a diverse range of experiences, viewpoints, and interests.
The fact that underclassmen live close to one another on campus is one of the best things about living at Cornell. This makes it simple for new students to make friends with others who are also experiencing their first time away from home.
Where do most students live at Cornell? All freshmen and some sophomores beginning this autumn will reside on North Campus, a residential area near the northern end of Cornell University's campus.
For their first year, all freshmen are required to live on campus. Sophomores are also provided housing through Cornell, although they are not required to do so. By their junior and senior years, most students leave campus and settle in Collegetown, a neighborhood located south of the campus.
You also have the option of living in one of the specialized Program Houses or the typical North Campus residences as a first-year student. Additionally, sophomores have the option of residing in co-ops, regular homes, or program houses. Program Houses are unique residential neighborhoods that bring together students from various class years who share a passion, culture, or interest.
For graduate, professional, and undergraduate students, you must decide which type of living—off-campus or on—best meets your needs. Take note that Cornell University is home to more than 50% of the undergraduate housing population and only approximately 5% of the graduate and professional student population.
Typically, living away from school is less expensive, but there is no meal plan as a result. Since Cornell is consistently recognized as having some of the greatest campus cuisines in the nation, this could be a disadvantage. To assist you in finding and securing a pleasant living situation, the Off-Campus Living office has created a wide range of tools, information, and checklists. Depending on your class year and the kind of accommodations you are looking for, Cornell offers a wide range of housing options.
How do dorms work at Cornell?
How do dorms work at Cornell? First-year and transfer students who enroll full-time in the Ithaca campus beginning in the Fall of 2022 are obliged to live on campus through the spring semester of their second academic year. The residency requirement will not apply to transfer students who attended their prior school for two years while living on campus or who are matriculating as juniors or seniors.
As a first-year student, you will live on North Campus in residence halls and program houses with more than 3,000 new Cornellians. You select your preferred Cornell dorm room type and decide whether you want to live in a residence hall or a program house.
While freshmen living in traditional residence halls are assigned at random, those in program houses are required to apply. Most students who apply for accommodation do not already have a roommate, but you can select a specific roommate, and Cornell will do its best to accommodate your request.
You only need to indicate the houses you are interested in as preferences on the housing application if you want to apply to reside in a Program House for the 2022–2023 academic year. Brief, short-answer questions will be given to you for each community you apply to. You can apply to as many communities as you desire. You might be approved by several communities since each one has a different selection procedure.
Sophomore year is a little different since students must enter the housing lottery to guarantee a position for the following year. Students typically "block" with up to 6 other students. Students will therefore be given a housing spot to reserve with their peers. The "block" of students will select the residence they want to live in collectively when they join up.
Due to its accessibility to dining halls, West Campus is preferred by sophomores, while those who were assigned a late time slot in the lottery typically end up on South Campus or choose to reside in Collegetown to be nearer to campus.
All Cornell students can reside on campus with anyone they like, regardless of biological sex, gender, or gender identity, thanks to a policy known as gender-inclusive housing.
Cornell students live, learn, and pursue their passions in the lively, diverse communities that make up the institution's residence halls. Each one serves as a hub for activities, learning, networking, socializing, and recreation. The living-learning experience in the residence halls is supported by a network of faculty, staff, and upper-level student resident assistants (RAs). The Academic-in-Residence and Faculty Fellows programs, among other possibilities for involvement, foster communication with faculty members.
What do Cornell dorms come with?
What do Cornell dorms come with? All residence halls, Program Houses, and West Campus Houses should be aware of this information. Each community's cooperative housing may offer a different set of amenities.
Furnishings
Based on typical furniture stock; actual furniture in each building may vary.
Bed frame – 36″ x 85″
Wardrobe – 36 "x 24″ x 78″ (34″ x 60″ inside wardrobe; 44″ below bar; 21" from ceiling to top of the wardrobe)
Drawers – 6" in depth
Desk – 45″ x 24″ x 30″
Dresser – 36″ x 20″ x 30″
Other Features and Amenities
Each tenant of a Cornell dorm room has blinds, shades, or drapes covering the windows. Shared kitchens in buildings are equipped with a stove, oven, and microwave.
Each Townhouse apartment contains a separate dining/living area with a table and chairs, a loveseat, two cushioned chairs, a coffee table, end tables, and lamps, as well as a kitchen with a refrigerator and stove (but no microwave).
Each suite in the more recent West Campus House System structures has a sitting area with a sofa, a chair, end tables, and a coffee table. All the rooms on campus are fully carpeted.
Heating System
The undergraduate Cornell dorm rooms typically don't have air conditioning. Some tenants, however, who require adaptable housing due to medical conditions or allergies, are given access to air-conditioned rooms.
Internet/Wi-Fi
All flats and rooms at Cornell have wireless Internet access. For help connecting to Cornell's secure wireless (Wi-Fi) network, please visit the [email protected] Wi-Fi homepage.
Phone Service
Except at a few small residences, local telephone service may be offered to students on a fee-for-service basis in each Cornell dorm room, apartment, or suite. You are liable for any long-distance fees.
TV Service
Widescreen TVs with either cable or satellite television service are available in every community TV lounge. Spectrum Cable TV service is available to Townhouse Community and Hasbrouck residents in their individual apartments.
Other residents should use a computer-based online option that is available to them to watch their preferred shows. Please be informed that there is a network usage-based billing (NUBB) charge for Internet use that exceeds 200 GB per month.
Shared and Common Bathrooms
While not every building has private bathrooms, every place that has common or shared bathrooms has scheduled cleaning. Shared bathrooms in suites will be cleaned and stocked on a timetable decided upon by the suite tenants, and communal bathrooms will be cleaned daily.
How much is the room and board at Cornell?
Gas, electricity, garbage pickup, and Internet service (up to 200 GB/month) are all included in the housing rates. There is no need for a security or damage deposit upfront. The terms and conditions of your housing contract, which stipulate that you will be charged by the bursar if extensive cleanup is necessary after you leave the house and/or if damages beyond ordinary wear and tear have occurred, must be followed, and you are accountable for them.
Now, let's check "How much is the room and board at Cornell?" with the following rates for this academic year.
Residence Halls, Program Houses*, and West Campus Houses 2022-2023 Rates
| | | | |
| --- | --- | --- | --- |
| Type | Fall 2022 Rate | Spring 2023 Rate | Total Rate in the Academic Year |
| Super Single | $6,292.50 | $6,292.50 | $12,585.00 |
| Single | $5,902.50 | $5,902.50 | $11,805.00 |
| Double | $5,213.00 | $5,213.00 | $10,426.00 |
| Triple | $4,794.00 | $4,794.00 | $9,588.00 |
| Quad | $5,213.00 | $5,213.00 | $10,426.00 |
| Townhouse Double | $5,902.50 | $5,902.50 | $11,805.00 |
*Each Program House may impose an additional program fee to help fund the numerous initiatives and gatherings that help to shape the neighborhood.
Meal plans from Cornell Dining combine dining hall meals, Big Red Bucks for tax-free food purchases, and extra meals for visitors.
The Unlimited plan is a fantastic deal for everyone, including upper-level students living off campus, and is entirely supported by financial aid for eligible students. The plan includes a supply of Big Red Bucks (BRBs) for use at the Cornell Dairy Bar as well as in Cornell's cafés, grills, and convenience stores, in addition to unlimited trips to the home dining rooms.
Meal Plan 2022-2023 Rates
| | | |
| --- | --- | --- |
| Meal Plan Type | Cost Per Semester | Annual Cost |
| Unlimited | $3,306 | $6,612 |
| Bear Traditional | $3,068 | $6,136 |
| Bear Choice | $2,655 | $5,310 |
| Bear Basic | $2,269 | $4,538 |
House Meal Plan
The Alice Cook House, Carl Becker House, Hans Bethe House, William Keeton House, and Flora Rose House inhabitants are the only ones who are permitted to use the House Meal Plan, and they are also obligated to do so.
The West Campus House System (WCHS) offers upper-level students the convenience of having their own dining room nearby in addition to being a part of a vibrant living and learning community run by faculty.
| | | |
| --- | --- | --- |
| Meal Plan Type | Cost Per Semester | Annual Cost |
| House Meal Plan | $3,306 | $6,612 |
| House Affiliate | $630 | $1,260 |
| South Campus Meal Plan | $3,068 | $6,136 |
A strategy for members of Sorority & Fraternity Life (SFL) chapters recognized by Cornell:
| | | |
| --- | --- | --- |
| Meal Plan Type | Cost Per Semester | Annual Cost |
| SFL Supplemental (Bear Supplemental) | $1,900.81 | $3,801.62 |
What is special about Cornell's residential life?
What is special about Cornell's residential life? Cornell's residential life offers programming and student support to make your time there enjoyable, fulfilling, and engaged.  Living and learning spaces consist of 17 undergraduate residence halls, comprising of neighborhoods for first-year and upperclassmen students, the eight program houses, as well as residential neighborhoods for graduate and professional students.
Cornell University's residential life fosters the inherent worth and value of each one in a warm and open community.
Cornell Dining takes pleasure in offering the students more than simply a meal and giving them a complete dining experience. There are 29 campus restaurants, which include dining halls, cafes, coffee shops, food courts, and convenience stores, that always have something fresh and unique to offer. The Cornell Dining team of more than 400 chefs and knowledgeable staff works hard every day to offer variety, fresh and healthy options, and recipes from all over the world in order to keep the customers coming back for more. This includes holiday-themed meals, chef surprises, and dining room special nights.
All entering first-year and transfer students are permitted to share a room or suite with a person of different biological sex, gender, or gender identity. This also applies to current undergraduate students. You should be aware that when applying for accommodation, everyone who wants to share a room or suite with someone of a different gender must opt-in.
Except for Barbara McClintock Hall and Lyon Hall (both a part of Flora Rose House on West Campus), all residence halls are coed. Unless you want to live in gender-inclusive accommodation, all the rooms, suites, and flats are single-gender.
A room or suite will stay mixed-gender for the remainder of the academic year once it has been recognized as such. If there is a vacancy, the housing office will initially fill it with a person who agrees to live in a mixed-gender environment before following the standard housing process of matching roommates.
The housing alternatives available at Cornell vary in terms of their geographical location and environmental design (i.e., room types, elevator access, air conditioning, wheelchair-accessible rooms, low-use bathrooms, etc.). Cornell is dedicated to making sure that people with long-term health issues and/or disabilities can live in residential areas that can accommodate their access requirements.
In addition to filing the housing application, you must register with Student Disability Services (SDS) if you need accessible housing due to a disability or chronic health condition. SDS will cooperate with the Housing & Residential Life office to find you a Cornell dorm room that satisfies your accessibility requirements if SDS determines that you are qualified for housing placement due to a disability or medical needs.
Numerous Cornell academic members take an active role in the nearby residential areas. They contribute to the formation of a nurturing atmosphere that promotes intellectual and academic learning, as well as personal growth, well-being, and a sense of community.
Faculty members assume a leadership role in the dimension of learning even though they are essential to each of these dimensions. Your local faculty can do a lot of things for you, such as explore intellectual subjects, locate research possibilities, get through the first year, experience various cultures, learn about the Ithaca community and connect with teachers at other colleges.
Every residential community has faculty fellows—academic members who live there and spend time mingling with the residents, sharing meals, and participating in interesting events. Some academic staff members reside in first-year housing complexes along with their families.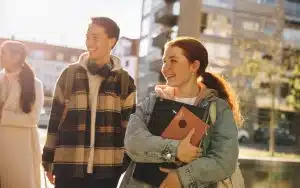 Living at Cornell might be enticing for college applicants like you. But before you can fully enjoy the benefits you get from living on campus, you should secure your slot in Cornell University's admissions. While Cornell withheld the acceptance rate for the Class of 2026, it was revealed that out of 71,000 applicants, only 4,908 were accepted, yielding an acceptance rate of approximately 6.9%. This shows how competitive admissions at Cornell is but AdmissionSight is here to help you boost your chances.
AdmissionSight is one of the leading admissions counseling companies in the US and has assisted thousands of students to get into Ivy League schools and other top universities in the country. Book an initial consultation today to learn more about how to craft a stellar application.