Dartmouth Diversity Statistics
What is the current Dartmouth diversity statistics? Dartmouth University is ranked as the thirteenth best university in the United States, according to the "2021 US News Ranking." In addition, according to the "2021 QS World University Ranking," Dartmouth University is the 203rd best university in the world.
Because it is a liberal arts college at its core, Dartmouth College is a university that many high school students aspire to attend because of its breadth of academic offerings. The Thayer School of Engineering, the Geisel School of Medicine, and the Tuck School of Business are among Dartmouth's four graduate programs. Each of these schools is highly regarded in their respective fields. Dartmouth University has been recognized as a university that places a strong emphasis on research by the Carnegie Foundation.
Dartmouth diversity statistics suggest that there are a total of 6,292 students enrolled at Dartmouth College. This includes 4,170 undergraduate students and 2,122 graduate students. There are a total of 6,247 full-time students and 45 part-time students at this institution, with the gender distribution consisting of 3,233 male and 3,059 female students. This indicates that 99.3 percent of students enrolled at Dartmouth College are attending classes full-time, and that, across the board, there are 51.3% male students and 48.7 percent female students.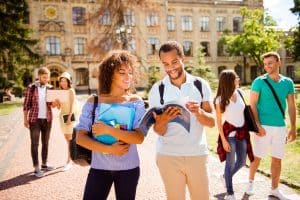 There are currently 3,582 students enrolled in Dartmouth College's online degree program, which was made available to them through the college's distance learning opportunity (online degree program).
Student Gender Distribution
According to Dartmouth diversity statistics, there are a total of 6,292 students enrolled at Dartmouth College, with a gender distribution that is 51.38 percent male (3,233 students) and 48.62 percent female (3,059 students). At Dartmouth College, there are 2,142 male and 2,028 female students enrolled in the undergraduate program. In addition, there are 1,091 male and 1,031 female students enrolled in the graduate program. Total Men Women
| | | | |
| --- | --- | --- | --- |
| | Total | Men | Women |
| Total | 6,292 | 3,233 | 3,059 |
| Undergraduate | 4,170 | 2,142 | 2,028 |
| Graduate | 2,122 | 1,091 | 1,031 |
| Full-time | 6,247 | 3,212 | 3,035 |
| Part-time | 45 | 21 | 24 |
Distribution According to Race and Ethnicity
This section provides an analysis of the racial and ethnic composition of the student body at Dartmouth College. There are 73 American Indian or Native American students, 3,011 White students, 327 Black or African American students, 850 Asian students, 570 Hispanic students, 6 Native Hawaiian or other Pacific Islander students, and 228 students of a race not listed here.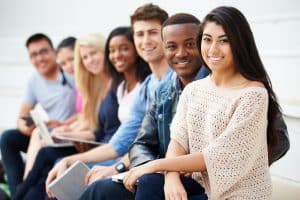 Dartmouth diversity statistics show that this indicates that the student body at Dartmouth College is made up of 47.9% White people, 13.5% Asian people, 9.06% Hispanic or Latino people, 5.2% Black or African American people, 4.72% Two or More Races people, 1.16% American Indian or Alaska Native people, and 0.0954% Native Hawaiian or Other Pacific Islander people. This includes students who attend school either full-time or part-time, as well as those who are working toward their graduate or undergraduate degrees.
| | | | |
| --- | --- | --- | --- |
| | Total | Men | Women |
| Total | 6,292 | 3,233 | 3,059 |
| Native American | 73 | 23 | 50 |
| Asian | 850 | 422 | 428 |
| African American | 327 | 168 | 159 |
| Hispanic | 570 | 295 | 275 |
| Pacific Islander | 6 | 2 | 4 |
| White | 3,011 | 1,564 | 1,447 |
| Two More | 297 | 130 | 167 |
| Race Un-Known | 174 | 98 | 76 |
The majority of students enrolled in full-time Undergraduate programs at Dartmouth College are White Males (26.1%), followed by White Females (22.7%), and then Asian Females (7.53%). The majority of students enrolled in full-time graduate programs are white women (23.3%), followed by white men (22.3%), and then Asian women (5.2%).
Dartmouth Faculty
At Dartmouth, there are more female faculty members than there are male faculty members. It is estimated that the Dartmouth diversity statistics, 2,211 female teachers and 2,018 male teachers are currently employed. The ratio of students to teachers is a common metric that is used to evaluate the number of educational resources that are made available to a school's pupils.
When compared to the national average of 15, Dartmouth College's student-to-instructional faculty member ratio of 7, which places it among the top colleges in the country, places it in a category all its own. The majority of Dartmouth's teaching staff is comprised of white people.
| | | |
| --- | --- | --- |
| Faculty Race/Ethnicity | Number | Percent |
| White | 3,652 | 89.44% |
| Asian | 180 | 4.41% |
| African American | 78 | 1.91% |
| Multi-Ethnic | 64 | 1.57% |
| Pacific Islander | 2 | 0.05% |
Where do most Dartmouth Students come from?
Where do most Dartmouth students come from?  96.75% of Dartmouth students are not from the state in which the university is located, and 8.96% are not even from the United States.
The number of students enrolled in their first year of college is distributed among 48 states (may include Washington D.C.). The majority of Dartmouth students who currently reside in the United States hail from the state of New York. The variety of student locations is significantly higher than average.
| | | |
| --- | --- | --- |
| State | Number of Students | Percent |
| New York | 139 | 13.69% |
| California | 139 | 13.69% |
| Massachusetts | 86 | 8.47% |
| New Jersey | 55 | 5.42% |
| Connecticut | 49 | 4.83% |
| Texas | 40 | 3.94% |
| Illinois | 35 | 3.45% |
| Florida | 35 | 3.45% |
| Maryland | 34 | 3.35% |
| Virginia | 31 | 3.05% |
Dartmouth International Students
When it comes to attracting students from countries other than the United States, Dartmouth is consistently ranked highly. The presence of international students on campus results in an increase in the variety of available choices, points of view, and areas of expertise, which contributes to the existing variety of ways of thinking on campus. As a result of the increasing globalization of the economy, interaction with students hailing from a variety of nations has become an essential component of the higher education system.
According to the findings of an analysis of data from student visa applications, there were as many as 1,159,798 international students who entered the United States in 2019 to attend colleges and universities here. The student body at Dartmouth included approximately 1,018 international students, who came from a wide variety of countries and cultures. There are students from at least 49 different countries studying at Dartmouth. China, India, and Canada are the three nations that have the most students enrolled in their respective universities.
According to the most recent statistics available, Dartmouth College is home to a total of 1,018 international students, of which 434 are enrolled in undergraduate programs. This is out of a total enrollment of 6,572, with undergraduates accounting for 4,418 of those. According to Dartmouth, approximately 15.5% of the student body is comprised of students from other countries.
The proportion of students on campus who are citizens of countries other than their own has increased at an annualized rate of 4.2% over the past few years. With an estimated sum of 156 students, India is the country that has made the greatest contribution to this expansion.
What Majors is Dartmouth Known for?
What majors is Dartmouth known for? Our students are encouraged to engage in critical thinking, creative endeavors, and collaborative projects through Dartmouth's liberal arts core, which is comprised of over 40 departments and programs. The imperative of liberal arts education permeates all areas of academic inquiry and cuts across departments, programs, and schools.
Dartmouth's students acquire the ability to ask more profound questions and to consider the answers from a broader range of perspectives. They come away with a more profound comprehension of humanity as well as an expanded perspective on what's at stake for societies and all over the world. The following are some of Dartmouth College's most popular areas of study:
Social Sciences
When you enroll in classes offered by the Sociology Department at Dartmouth, you will be exposed to a novel approach to investigating questions, analyzing issues, and perceiving the world around you. Learning how to think analytically, in the best tradition of the liberal arts, is really what the study of sociology is all about.
In addition to the traditional sociology major, there are also two sociology minors and a modified major that can be tailored to meet the needs of students who are interested in sociology but are more focused on another field of study, or who, in the case of a modified major, wish to study a particular issue or subject that lies at the intersection of sociology and a related field. Both of these options are offered in addition to the traditional sociology major.
Dartmouth's curriculum focuses on current and important social problems. The world is continuously faced with public policy issues that are, at their core, fundamentally social in nature. When it comes to attempting to find solutions to societal issues, sociological analyses provide a framework that is both cohesive and diverse, allowing for the examination of these issues and the comprehension of the many points of view involved.
Engineering
While you are a student at Dartmouth, you will learn how to think like a problem-solver through the process of designing and building things from the ground up. You will be working in groups and will have access to instructors as well as workshops, labs, and other facilities with staff and resources to assist you along the way. You won't be able to avoid getting your hands dirty and will gain the knowledge necessary to make a difference in whatever field you pursue.
The most influential engineers invent and make discoveries at the intersection of the world that has been made by humans and the experience of being human. The importance of taking a human-centered approach to engineering and design, as well as the belief that our work should strive to make the world a better place for everyone, are both ingrained in both our educational system and our corporate culture. An engineer educated at Dartmouth possesses the knowledge, skills, and ability to solve problems, as well as the motivation and compassion for humanity, to tackle the world's most difficult problems.
Biological Sciences
When you study biology at Dartmouth, you'll have access to a wide range of disciplines, prestigious professors who have extensive knowledge and experience in a variety of biological processes, and cutting-edge resources and equipment. Undergraduates, graduate students, and faculty work together on projects involving research in the laboratory, fieldwork, and publications that have direct relevance to the real world.
We are dedicated to providing students with a comprehensive understanding of biology at the environmental, organismal, cellular, and molecular levels. This will be accomplished by exposing them to a wide range of biological processes and systems.
Computer Science
The undergraduate program in Computer Science at Dartmouth is designed to equip its students with the tools necessary not only to fully comprehend modern computational technologies (software and hardware), but also, and perhaps more importantly, to innovate in this exciting space, which will enable them to develop new technologies that improve the world around them.
You will be able to recognize that computational techniques can be applied to a wide variety of problems, and you will be able to decide which techniques are appropriate to apply in a particular circumstance.
You will be familiar with the processes of developing computational models, abstractions, and information representations. You will have the capability to design and implement solutions to computational problems that are both efficient and elegant. You will be able to diagnose problems in software systems, conduct an in-depth analysis of them, and implement fixes for them.
Mathematics
Students who wish to pursue careers in mathematics and other related fields, as well as students who simply find mathematics interesting and wish to continue their education in the subject, are both encouraged to pursue a major in mathematics. The curriculum for the major allows for a lot of leeways in terms of course selection, so it can be tailored to the individual student's passions and goals.
Students who choose to major in mathematics are given the opportunity to take part in a variety of activities that put them in close proximity with a member of the teaching staff. This may take the form of a small seminar or an independent research project that is carried out under the supervision of a member of the teaching staff.
A student who has specialized interests that are not reflected in our current course offerings will frequently make arrangements for an independent reading course in addition to taking the regular classes that are offered. Those who are majoring in mathematics are encouraged to discuss their ideas for independent activities with the department's advisor.
Art History
Art history has a way of opening people's eyes. It teaches you to look in a way that is intense and inquisitive. It investigates the visual cultures of a wide range of people, locations, and periods of time.
Art history provides a bridge between traditional, language-based fields in the humanities and the creative worlds of art, architecture, and performance by putting an emphasis on skills such as critical analysis, historical context, and linguistic fluency, in addition to creativity and innovation.
Your perspective on not only paintings and statues, but also advertisements and any other visual phenomenon will shift as a result of your study of art history. The study of the history of art is only one aspect of art history. It's an approach to taking in the world around you.
Psychology
The study of behavior is at the core of psychological science, whereas neuroscience is generally understood to refer to research into the nervous system. As a Department of Psychological and Brain Sciences, our primary objective is to gain an understanding of the mind and behavior in terms of the fundamental psychological processes that have their origins in the neural activity that occurs in the brain.
What type of Student goes to Dartmouth?
What type of student goes to Dartmouth? The Ivy League institution Dartmouth College is committed to promoting a culture of excellence among both its student body and its faculty and staff. The ideal student at Dartmouth is motivated by both an intellectual and social curiosity, which serves as the driving force behind everything they do.
Dartmouth attracts ambitious students from a diverse range of backgrounds and provides them with a community that is deeply rooted in the traditions of academic excellence and involvement in the local community.
Dartmouth, much like many other prestigious colleges, uses a holistic application process to search for students who will excel academically at the institution. This method considers the applicant's entire history, not just their academic record and college application when making a decision about whether or not to accept them.
Students at Dartmouth come from all walks of life, representing a wide range of ethnicities, socioeconomic levels, and family structures. However, the overwhelming majority of these students uphold the same set of values that Dartmouth University does its best to instill in its students and is proud to celebrate.
Students with an open mind should consider applying to Dartmouth. People who were truly committed to achieving their goals in life and making the most of the circumstances in which they found themselves. Every kind of person is valued, but obviously, in order to succeed academically and socially, you need to be willing to put in a lot of effort, you need to be determined, and you need to be motivated.
Dartmouth Acceptance Rate
What is the current Dartmouth Acceptance Rate? Additionally, the number of applications submitted to Dartmouth College reached yet another all-time high. The prestigious Ivy League university received a total of 28,336 applications, which is just 21 fewer than the record number of 28,357 applications that were received the previous year. This represents a 33% increase from the previous year. Only 1,767 students were selected to receive admission offers from Dartmouth.
The acceptance rate for the Class of 2026 at Dartmouth was only 6.2%, which tied with the Class of 2025 for the title of the most selective admission cycle in the school's history.
The applicant pool from which we selected our accepted students came from each of the 50 states, as well as the District of Columbia, Puerto Rico, and the Mariana Islands. Students came from 73 different countries spread out across all seven continents. The countries with the most international students were the United Kingdom, China, India, and Canada.
Acceptance Rates on the Waitlist for the Dartmouth College Class of 2026
| | | | |
| --- | --- | --- | --- |
| | Number of Applications | Accepted Students | Acceptance Rate |
| Regular Applications | 25,703 | 1,207 | 4.7% |
| Early Applications | 2,633 | 560 | 20.38% |
If you need help putting the finishing touches on your early applications, or want some advice on whether or not applying Early Decision or an Early Action is a good option for you, at AdmissionSight, we have over 10 years of experience guiding students through the competitive admissions process, including our athletic recruitment program.
AdmissionSight can help you put your best foot forward when applying to college this fall. Contact us today for more information on our services.