Duke Application Portal
What Application Portal Does Duke Use?
Duke University is one of the most prominent schools in the country, noted for its academic quality, cutting-edge research facilities, and competitive athletic programs. Students at Duke can become part of a close-knit community that emphasizes innovation, collaboration, and curiosity.
Students who want to be part of the Duke community often ask "What application portal does Duke use?" Applicants may choose one from the Duke application portal options: the Common Application, the Coalition Application, or the QuestBridge Application.
The Common App is a non-profit organization that provides a standardized application form that is accepted by over 900 colleges and universities worldwide.
In addition to the Common Application, Duke also uses the Coalition Application, which is a college application platform that allows students to apply to multiple colleges and universities with one account.
Using the Common App and Coalition App allows prospective students to apply to multiple institutions using one application, rather than having to fill out separate forms for each school. This can save time and reduce the stress of the college application process.
Duke University also accepts the QuestBridge application. QuestBridge is a non-profit organization that connects high-achieving, low-income students with top-ranked colleges and universities.
Duke participates in the National College Match program which is run by QuestBridge, students are then selected as Finalists in the National College Match.
Students who apply to any of the Duke application portal options must still submit all required materials, such as transcripts, standardized test scores, and essays, to complete their application. Applicants of each platform are evaluated using the same admissions standards and the school does not have any preference for one over the other.
How to Register for the Duke Application Portal?
Duke University uses the Common Application, Coalition Application, and QuestBridge Application for its undergraduate admissions. These portals allow prospective students to apply to multiple institutions using one application, rather than having to fill out separate forms for each school.
Now, you might wonder "How to register for the Duke application portal?" To register for the Common App, follow these steps:
Go to the Common App website at www.commonapp.org.
Click on the "Apply" button on the top right corner of the page.
Select "Create an Account" and fill in the required information, including your name, email address, and password.
Once your account is created, you will be prompted to fill out a profile with your basic personal information, such as your address and contact information.
After completing your profile, you will be directed to the "College Search" page, where you can search for colleges and universities that accept the Common App.
Search for Duke University on the list and click on the "Add to My Colleges" button.
Once the school is added to your list of colleges, you will be able to begin filling out the application.
For Apply Coalition, Powered by Scoir, here are the steps to create an account:
Go to their website, www.coalitionforcollegeaccess.org, then click Create a Scoir Account.
Make a username (your email address) and a password for yourself. The "Coalition Locker and Application Service" will then be available to you.
Fill out some basic demographic information and choose a few colleges that interest you.
Look for Duke University and add the school to your college list in the portal.
Suppose you are a student who strives for the finest chances regardless of your financial situation. In that case, you are welcome to apply to the National College Match: a program that matches the nation's most exceptional students with admission and full scholarships at our college partners.
To create an account, you should provide your personal email address, full name, and date of birth. Then, a temporary PIN, together with a link to activate your account, will be sent to your email address. In late September of your senior year, you can submit a free online QuestBridge National College Match application.
QuestBridge evaluates applications and chooses Finalists to advance in the process. Finalists may rank universities of their choice to participate in the College Match. Ranking colleges simply indicates that you want to be considered for early admission as well as a full College Match Scholarship.
You have to check as different programs in Duke may have additional supplement questions or application materials beyond these application platforms. You can go over Duke's website to keep track of important deadlines and materials to ensure your application is submitted on time.
What Time Is Duke Application Due?
If you're considering applying to Duke, one of the first things you'll need to know is when the application deadline is. So, what time is Duke application due?
The Duke application deadline for Regular Decision is January 3rd, and the deadline for Early Decision is November 1st.
It's also important to note that the application process at Duke is highly competitive. The admissions committee will be reviewing thousands of applications, so it's important to make sure that your application stands out. One way to do this is to submit your application well before the deadline, giving yourself plenty of time to revise and perfect your application materials.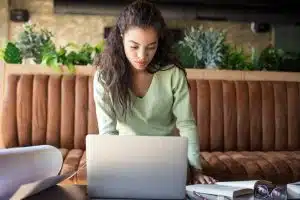 If you're applying for financial aid, it's also important to note that the deadline for the CSS Profile and the FAFSA is February 1st for Regular Decision applicants and November 1st for applicants of the Early Decision program.
These forms are required for students who are applying for need-based financial aid, thus it is crucial to submit them on time to be considered for aid.
Unless otherwise specified, electronic applications through any Duke application portal must be submitted by 11:59 p.m. on the deadline day (not midnight of the same day). However, students must take note that some programs might have additional requirements with different deadlines. Make sure to check Duke's website for further information.
How Does Duke Notify Acceptance?
One of the most anticipated moments of the admission process is when applicants find out whether or not they've been accepted. So, how does Duke notify acceptance?
For students who applied through Regular Decision, Duke releases decision notifications online on a specific date in late March or Early April. Students will receive an email with instructions on how to access their decision through their Duke Applicant Portal.
For students who applied through Early Decision, decisions will be released in mid-December. The same process applies, students will receive an email with instructions on how to access their decision through the Duke portal.
It's important to note that in addition to the notification of acceptance, students will also receive detailed instructions on the next steps they need to take in order to enroll at Duke.
This may include submitting a deposit, signing up for orientation, and submitting the required paperwork.
Duke also sends out notifications of denial or waitlist status via the Duke Applicant Portal. It is important to check your application portal and email frequently during the decision-making period so that you do not miss any important communications from the university.
If you are waitlisted, you should reach the Duke admissions office for any additional requirements needed. You can also follow up once to provide information on your latest achievements, grades, and extracurricular activities.
Receiving a denial letter from your dream school might discourage you but there are plenty of other excellent schools, some of which may be even better for you.
Do some more college research, fill out some applications, and try not to get too focused on this one institution. You may eventually receive the acceptance letter you've been hoping for.
How Hard Is It to Get Accepted Into Duke?
How hard is it to get accepted into Duke? Duke University is a highly selective institution, known for its academic excellence and diverse student body. With such a reputation, it is no surprise that many students aspire to attend Duke.
According to data from the most recent admissions cycle, the overall admission rate for the Class of 2026 at Duke was around 6 percent. In the previous cycle, Duke received 49,555 applications and only 5.8% were accepted, the lowest rate in school history.
To be competitive for admission, students should have a strong academic record, with a GPA of at least 3.5, and high test scores (SAT or ACT).
Duke evaluates applicants in the context of their specific circumstances as well as the application pool. Academic qualifications are only one component of a complex procedure that includes a thorough examination of all aspects of the admissions application.
Successful applicants typically:
Engage in ideas, people, and their community
Desire to be intellectually challenged
Want to make a difference
Possess unique imagination, creativity, curiosity, and a sense of fun
Welcome opportunities
If you believe you have these qualities, then you may take your shot at Duke. Here are a few tips to help you stand out in your Duke University application:
Tailor your application to Duke: Show the admissions committee that you have done your research and understand what makes Duke unique. Mention specific programs, resources, or opportunities that you are excited about and explain how they align with your interests and goals.
Show your passion: Admissions committees want to see that you are genuinely interested in the university and that you have a clear vision for how you will contribute to the community. Use your personal essay and short answer responses to demonstrate your passion and enthusiasm.
Highlight your leadership experience: Duke values leadership and is looking for students who have demonstrated their ability to take initiative and make a positive impact in their communities. Highlight any leadership roles you have held in extracurricular activities, community service, or work experience.
Show your creativity: Duke encourages creativity and welcomes students from diverse backgrounds and perspectives. Use your application to showcase your unique talents and interests, whether it be through your artwork, writing, music, or other hobbies.
Submit strong letters of recommendation: Ask teachers or mentors who know you well to write letters of recommendation that highlight your strengths and achievements. Be sure to provide them with a copy of your resume and any other materials they may need to write a detailed and accurate letter.
Be yourself: Be authentic in your application, don't try to be someone you are not. Highlight your strengths and achievements and be honest about your weaknesses. The admissions committee wants to get to know the real you.
It's important to keep in mind that there is no one way to guarantee acceptance to Duke or any other university, but by following these tips, you'll be taking steps to present yourself in the best possible light. AdmissionSight, one of the leading college admissions consulting companies in the US, can help you with your application.
From choosing the best Duke application portal to use to crafting compelling essays, AdmissionSight can help achieve you achieve your goal of attending a prestigious university or college. Feel free to set up an initial consultation with our experts today.