Duke Campus Life
There's a huge probability that you are familiar with Duke University, the Duke campus life, and its outstanding reputation. In addition to being widely recognized as one of the best educational institutions in the United States, Duke University is also one of the most prestigious private universities in the Research Triangle.
In addition, Duke University receives more applications than the rest of the Ivy League colleges combined. Attending Duke will undoubtedly expand your social horizons in addition to your scholastic horizons. The university is home to a lot of venerable traditions and an active student body.
Furthermore, the university has one of the best athletic programs in the nation, so there is always something exciting happening on campus. Duke is definitely one of the schools to think about if you need the best education.
Entering college can be really exciting, and you can even experience a rollercoaster of emotions upon entering the Duke campus. If you're eager to enter this prestigious educational institution and experience its campus life, remember that your application should be solid and strong.
We at AdmissionSight can be of great assistance in making sure that you're on the correct path during admissions at Duke and making sure that your application passes the requirements to become an ideal candidate. We are dedicated to making your dream of becoming a student at this prestigious institution and witnessing Duke campus life a huge possibility for you. Continue reading to learn more.
Where is the Duke campus?
Where is the Duke campus? Duke University, located in Durham, North Carolina, is a distinguished and well-recognized tier-1 private research institution.
Duke University currently owns 256 buildings on 8,693 acres of land, which includes the 7,044-acre Duke Forest. The campus is divided into four main areas: the West, East, and Central campuses, as well as the Medical Center, and they are all connected via a free bus service.
On the Atlantic coast in Beaufort, Duke has 15 acres as part of its marine lab. The 54-acre Sarah P. Duke Gardens, which were first opened to the public in the 1930s, are considered to be one of the most popular tourist destinations on the primary campus.
Students at Duke University frequently refer to the campus as "the Gothic Wonderland," a nickname that refers to the collegiate Gothic architecture of West Campus. The residential quadrangles are of an early and somewhat unadorned design, while the buildings in the academic quadrangles show influences from the Tudor and Gothic styles.
The East Campus, which is home to the school's first-year students, features a collection of buildings designed in the Georgian architectural style.
The stone that was used for West Campus has seven primary colors and seventeen shades of color. Duke University Chapel was built between 1930 and 1935 and has a capacity of 1,600 people. Its height of 210 feet makes it one of the tallest buildings in Durham County.
The hospital and health system
In Durham, North Carolina, you'll find the 957 acute care beds that are part of the academic tertiary care hospital that is known as Duke University Hospital. It opened in 1930 and is now the main teaching hospital for the Duke University Health System, which is a group of doctors and hospitals that serve Durham County and Wake County, North Carolina, as well as the surrounding areas.
West Campus
The majority of the academic and administrative centers are situated on West Campus, which is also home to the institution's sophomores, juniors, and some of its seniors. It is also where most of Duke campus life takes place.
The West Campus is regarded as the primary campus of the university. Most of the residential quads are to the south of the main West Campus. Duke Chapel is the main building on campus.
The main academic quad, the library, and the medical center are located to the north of the Main West Campus. On the campus, which covers a total area of 720 acres, you'll find Science Drive, which is where the science and engineering buildings are located. West Campus is where most of the campus's restaurants and sports facilities, like the historic Cameron Indoor Stadium for basketball, are located.
East Campus
Duke University's East Campus, which was the founding location of Duke University before the school moved to Durham, now serves as the university's first-year campus. It is the location of the university's freshman dormitories as well as the headquarters of various academic departments. In order to help the new students get to know each other better, all first-year students have been required to live on East Campus since the 1995–1996 school year. The only exception is for upperclassmen who work as resident assistants.
East houses the departments of Studies, Art History, History, Cultural Anthropology, Literature, Music, Philosophy, and Women's Studies. East is home to programs such as dance, drama, education, film, and the University Writing Program. The campus is located 1.5 miles from West Campus and encompasses 172 acres.
In addition to academic buildings, the East Campus features residence halls for freshmen, a dining hall, a coffee shop, a post office, Lilly Library, Baldwin Auditorium, a theater, Brodie Gym, tennis courts, several disc golf baskets, and a walking track.
Central Campus
Central Campus, which encompasses 122 acres and is located between the East and West campuses, formerly served as housing for approximately 1,000 undergraduate students in double or quadruple apartments. However, the housing of undergraduate students on Central Campus was discontinued at the conclusion of the 2018–2019 academic year.
The Nasher Museum of Art, the Freeman Center for Jewish Life, the Center for Muslim Life, the Duke Police Department, the Duke of Medicine, and the Duke Basketball courts, a sand volleyball court, a turf field, barbecue grills, picnic shelters, a general gathering building called "Devil's Den," a restaurant known as "Devil's Bistro," a convenience store called Uncle Harry's, and the Mill Village are some of the recreation and social facilities that can be found on Central Campus. With this, it is clear that Duke campus life is enjoyable at this place as well.
The apartment complex that is now known as 300 Swift was purchased by Duke University in December 2016. Swift is located between East Campus and West Campus, and it is used to house upperclassmen in addition to the West Campus area.
Duke Campus Buildings
Duke's structures have garnered the admiration of architectural historians due to their excellence and aesthetic appeal. Each of the Duke campus buildings has a unique chapter in its lengthy and renowned history. So, here is a list of ten buildings at Duke University that you should know about.
Duke University Chapel
It serves as the university's emblem. The chapel dominates the west campus of Duke University's Gothic West Campus. This edifice is linked with the United Methodist Church and serves as both the religious center of Duke University and an ecumenical Christian chapel.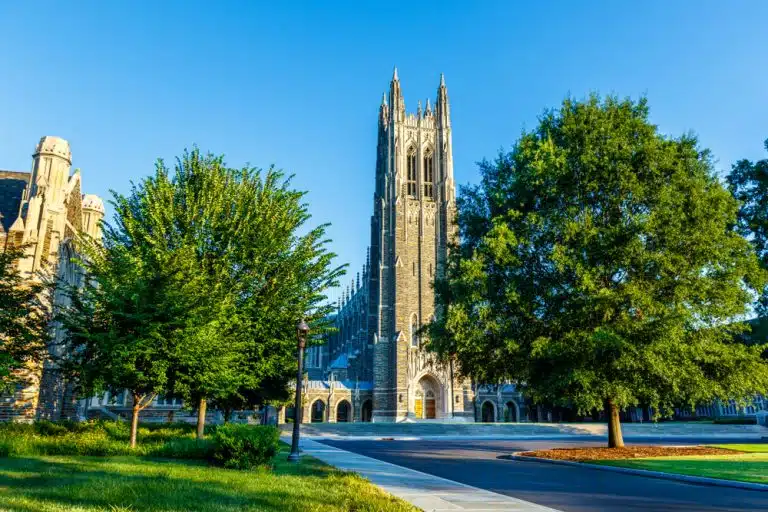 The construction of the chapel was completed in 1932, and it boasts a 210-foot-tall tower housing a 50-bell carillon. It can accommodate around 1800 people. The erection of the tower has made this chapel one of the tallest buildings on the Duke University campus.
Duke Chapel is an important part of the university's religious life, and students of all faiths are welcome to attend its interdenominational worship services and many other events put on by the university.
Perkins & Bostock Libraries
It is a library for several thousand artifacts that are exceptionally rare and unique. These objects include maps, pictures, videos, broadsides, Confederate prints, old clay tablets, manuscripts, and pre-1501 books. In addition, it offers a wealth of materials for genealogical research, including local histories and published family genealogies.
The Duke Libraries Complex is the shared heart of the university's intellectual activity, linking people and ideas. It includes this library, the university archives, the business school library, the divinity school library, the law school library, and the medical school library. You won't have a fulfilling Duke campus life without visiting those libraries.
The Fitzpatrick Center – Duke Pratt School of Engineering
It was opened in August of 2004, and its name reflects the goal of the center. Its research facilities focus on photonics, biotechnology, and communications, in addition to materials science and materials engineering. The structure was made to emphasize cross-disciplinary work and make it easier for departments to work together.
Cameron Indoor Stadium
The Cameron Indoor Stadium is a multi-purpose indoor arena that can be found on the grounds of Duke University. It was first designed in 1935, renovated in the late 1980s, and underwent a series of upgrades in 2009 to improve the current gameday experience.
The building contains 9314 seats and serves as the home court for Duke's men's and women's basketball clubs, as well as the women's volleyball club. It is the primary indoor facility for Duke Blue Devils athletics.
Nasher Museum of Art at Duke University
The museum offers a schedule of traveling exhibitions and educational programs for the university and the greater Triangle region. The collection includes more than 13,000 pieces of artwork.
Residence Halls on the West Quadrangle
The residence halls on the West Quad are laid out in the form of six residential quads, and subsidiary quads, or courtyards, provide additional private space for the students living in each set of houses. Each quad serves as the location for a number of smaller communities of students who are connected to either selective living groups or living-learning communities.
These communities are considered to be components of the greater community of students. Each of the dwelling groups in the Craven, Crowell, Few, and Kilgo Quads has its own distinctive tower that serves as the group's identifier.
Levine Science Research Center
The Levine Science Research Center (LSRC) is one of the largest single-site interdisciplinary academic facilities in the United States. It is also one of the world's most prestigious research institutions. The multipurpose center spans an area of 341,000 square feet and has offices, classrooms, and laboratory space that are shared by a number of different schools and departments. The establishment opened in 1994 and was named for Leon Levine, the CEO of Family Dollar Stores.
Baldwin Auditorium
It is considered to be one of the best compact venues in the Southeast for classical music. The 900-seat theater, which pays homage to the ancient Pantheon in Rome with its classical façade that is installed on the main domed edifice, is the most distinctive architectural element of the historically significant East Campus.
Baldwin is used by Duke Performances to present performers that require little or no amplification. These artists include classical soloists and ensembles, vocal ensembles, and small jazz ensembles. Baldwin's superb acoustics and intimate atmosphere make it an ideal venue for these performances. Witnessing such performances is also part of the exciting Duke campus life.
Duke University Hospital
Duke University is home to the Duke University Medical Center, also referred to as Duke University Hospital by the general public. This academic tertiary care institution has 938 acute care beds. Since it opened in 1930, the hospital has grown a lot, going from a small community hospital to an academic medical center with a good reputation around the world.
The Duke University Hospital is consistently ranked as one of the best hospitals in the United States, and it is known all over the world for the high quality of care it gives and the innovative research it does.
Brodie Recreation Center
The Brodie Recreation Center opened in 1996 as a 31,000-square-foot extension to Memorial Gym. The majority of the infrastructure is contained within the structure that was already there. The first structure on the Trinity campus, known as the Alumni Memorial Gymnasium, was constructed in 1922 and 1923 with donations from former students and friends of the college as a memorial to the Trinity men who were killed in World War I. The building not only had a gym and a swimming pool but it was also used for dances and other social events.
Does Duke have on-campus housing?
Does Duke have on-campus housing? Duke University provides on-campus housing for its students. Dorms and other forms of residence halls are the most common options for housing for first-year students.
How is life on campus at Duke?
How is life on campus at Duke? Duke campus life consists of several significant factors that make it worthwhile and impressive.
Student population
As of the fall of 2021, Duke University had 6,789 undergraduate students and 9,991 graduate and professional students enrolled. The median family income of Duke students is $186,700, with 56% of students coming from the top 10% of highest-earning families and 17% from the bottom 60% of families. These students are surely making the most of their Duke campus life.
Residential life
All first-year students reside in one of 14 residence halls. The majority of these structures are created in the Georgian style that defines the East Campus' architectural environment. Even though they have different architectural styles, the newer dorms at East are connected to the school's Georgian past.
Similarly, students enrolled in FOCUS, a first-year program with courses organized around a particular theme, live in the same residence hall as other students in their cluster. Through learning communities, the residential part of East Campus is linked to groups of students who have similar academic and social interests.
The West Campus houses second and third-year undergraduate students; however, the vast majority of undergraduate seniors prefer to live off campus. The West Campus consists of six quadrangles; the four along "Main" West were built in the 1930s, and two more modern quadrangles have been created since then. Until 2019, residential buildings on Central Campus housed about 1,000 students.
All West Campus housing is subdivided into "houses," which are sections of residence halls, and students may reside in the same house year after year. The identity of a home is determined by its inhabitants. There are houses for unaffiliated students, wellness homes, and living-learning communities with an emphasis on a certain subject, such as the arts or several languages.
There are a considerable number of "selected living groups" available on campus for students interested in arranging their own living situations. SLGs, which stand for "social living groups," are like fraternities and sororities in that they are residential groups, but they are usually open to both men and women and are not part of a national organization.
A significant number of them also focus on a particular topic of interest, such as entrepreneurship, civic engagement, or the study of Asian or African-American culture. In addition, there are nine sororities and fifteen fraternities that call this site home. The vast majority of non-fraternity living groups are open to both genders.
You can find a lot of communities to belong to at this university and have an unforgettable Duke campus life wherein you will surely cherish each memory with the people around you in those halls.
Greek life
At Duke University, members of fraternities and sororities make up approximately 30% of undergraduate males and approximately 40% of undergraduate females. The majority of the 17 Interfraternity Council-recognized fraternity chapters live in sections inside the residence halls. Eight historically African American fraternities and sororities that are members of the National Pan-Hellenic Council also have chapters at Duke.
The Omega Psi Phi, Omega Zeta chapters were the first historically African American Greek letter organizations to be established at Duke University. It was established on April 12, 1974. In addition, there are seven other fraternities and sororities that are part of the Inter-Greek Council, which is the multicultural Greek umbrella organization.
Social life
In the middle of the late 2000s, the administration made a concerted effort to assist students in re-establishing a robust on-campus social life, and it has collaborated with numerous student groups, especially the Duke University Union, to feature a wide variety of events and activities. In March of 2006, the university made the decision to purchase 15 houses in the Trinity Park neighborhood that Duke students had traditionally rented. The university then sold the houses to individual families so that they would be more likely to fix them up.
Athletics
There is a long-standing tradition at Duke that sports, and in particular men's basketball, play an important role in the overall Duke campus life. Students at Duke University, who are known as the Cameron Crazies, show their support for the men's basketball team by "tenting" during home games.
Since tickets to all varsity sports are free to students, they line up for hours before each game, often squatting in the stands. Duke's students have been recognized as some of the most creative and original fans in all of collegiate athletics. Tenting means setting up and living in a tent on the grass near Cameron Indoor Stadium. This area is called Krzyzewskiville, or K-Ville for short.
During the evening hours, K-Ville frequently serves as the setting for a party or rare concert. In addition, Duke has a tradition known as "bench-burning," which involves setting bonfires after certain basketball victories.
Student organizations
There are over 400 student organizations and clubs that are active on Duke's campus. These include numerous student governments, special interest groups, and service organizations. The Duke Student Government (DSG) helps other student groups get started, gives them most of their money, and speaks up for students' needs to the administration.
The Duke University Union (DUU) is the school's primary programming organization, serving as a center of social, cultural, and intellectual activity. In addition to other institutional funding sources, the Multicultural Center is the main way that the university gives money to cultural organizations.
Athletic competition participation is frequently regarded as one of the most popular activities in Duke campus life. There are 37 different sports groups at Duke, in addition to the official intramural teams.
Civic engagement
More than 75% of Duke undergraduates take part in service-learning opportunities in Durham or elsewhere in the world through DukeEngage and other programs that support the university's mission of "knowledge in service to society."
DukeEngage was founded in 2007 and provides full funding to selected Duke undergraduates who want to participate in an immersive summer of service in collaboration with a U.S. or international community. As of summer 2013, more than 2,400 Duke students had volunteered through DukeEngage in 75 nations on six continents. Duke students have started more than thirty different groups that help people in Durham and the surrounding area.
ROTC
The Army, the Air Force, and Space Force, the Navy, and the Marines each have their own wing within Duke's Reserve Officers' Training Corps. Students in the Army Reserve Officers' Training Corps (AROTC) at Duke University who want to get a scholarship or get into the Army ROTC Advanced Course (Junior and Senior Year) have to sign a contract saying they will serve in the U.S. Army for a total of eight years.
Members of Duke's Air Force Reserve Officer Training Corps (AFROTC) Detachment 585 come from both Duke University and North Carolina Central University. Detachment 585 has been around since 1951 and is based at Duke University's Trent Hall.
Through this program, men and women will have the opportunity to learn to become officers in the armed services while simultaneously earning a degree. Students who finish this program and meet the requirements can get a commission in the Air Force or Space Force of the United States.
Student media
Duke is also active in utilizing different forms of media, such as newspapers and radio stations, which makes Duke campus life more engaging.
Since 1905, The Chronicle, an independent undergraduate newspaper at Duke University, has been published on a daily basis. The editors of The Chronicle are the ones who came up with the name "Blue Devil." On the other hand, Cable 13 is a student-run television channel that has been operating at Duke University since 1976.
In addition, WXDU is the university's nationally recognized, nonprofit FM radio station. It is maintained by students and community volunteers and received its license in 1983. It is a popular pastime for students who are interested in film production and the media.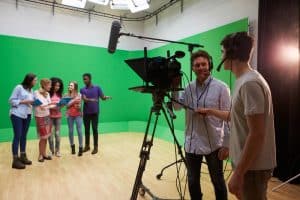 Furthermore, The Chanticleer is the name of the undergraduate yearbook published by Duke University. It was established in 1911 when the school was still known as Trinity College, and its first issue was released the following year, in 1912.
The yearbook has been continuously published ever since, with the exception of 1918, when a large number of students enlisted in the military to serve in World War I. In 1919, the yearbook was given the title The Victory to commemorate the end of the war.
What percent of Duke students live on campus?
What percent of Duke students live on campus? The undergraduate student body at Duke University has a total enrollment of 6,883 students (fall 2021), with male students making up 48% of the student body and female students making up 52%. 81% of the students at this school live in housing that is owned, operated, or somehow linked with Duke University, while 19% of the students call off-campus housing their home.
How much does it cost to live on the Duke campus?
How much does it cost to live on the Duke campus? Meal plans and accommodations at Duke are charged separately from one another. In the year 2020, the average cost of a meal plan was $6,664, while the expense of living on campus cost a student an additional $8,924 every academic year.
Duke campus life can give you a lot of college memories worth remembering. The transition to college can be demanding, difficult, and even stressful. Therefore, having a beautiful campus to help you relax is truly a wonderful thing to experience at Duke. You're a step closer to entering your dream college, you just need to strive to pass through the hurdles of Duke's enrollment process.
Here at AdmissionSight, we can help you with your application, and our experienced consultants can give you professional advice. Contact us today to learn about our committed service.