Duke Dorm Room
Where Do Most Students Live At Duke?
Where do most students live at Duke? Duke is comprised of the East and West campuses. First-year students are all housed in Duke dorm rooms in the East Campus residence halls. Although it is possible to walk between the campuses, most students choose to take the frequent and cost-free buses provided by Duke. Room allocations are chosen at random. Buildings and bedrooms have slightly different layouts. We'll go over the residence halls for freshman students.
Alspaugh residence hall houses about 125 first-year students. The structure, which opened in 1927, bears John W. Alspaugh's name. He was a lawyer, newspaper editor, and Trinity College Trustee.
In the Bassett residential hall, there are about 125 freshman students. The building was named for the historian and academic John Spencer Bassett and opened in 1927.
Bell Tower accommodates around 140 first-year students. The bell tower at the building's northwest corner inspired the name of the building launched in 2005. The 6,500-pound Trinity College Bell is housed on this tower.
Blackwell is home to 185 first-year students. The residence hall, which started operating in 1994, bears the name of Durham's Blackwell Park.
The Brown residence hall is home to 125 freshman students. The structure, which opened in 1927, has the name of Raleigh financier Joseph G. Brown, who was elected chairman of the Duke Board of Trustees in 1917.
The East House residence hall is where 100 students reside. Charles Aycock, a former governor of North Carolina, was honored when it was first opened in 1912 under the name Aycock Hall. The building's name was changed to East House in 2014.
Gilbert-Addoms residence hall accommodates 190 first-year students. The building, which debuted in 1957, was given the names Katherine Everett Gilbert and Ruth Margery Addoms in honor of two former Duke professors.
Giles residence hall is home to 125 first-year students. The building, which opened in 1927, was given its name in honor of three sisters who were among Trinity College's first female graduates.
About 125 first-year students live in Pegram residence hall. The structure, which was started accommodating students in 1927, bears William H. Pegram's name. The Performing Arts Living/Learning Community is in Pegram.
When Duke was still Trinity College in 1921, Southgate opened as a residence hall. James H. Southgate, a member of the Board of Trustees, is honored by having the building bear his name. Southgate has previously alternated between being an all-male and an all-female building. Both male and female students are currently housed at Southgate.
Around 180 freshman students live in Randolph residence hall. The hall, which opened in 1994, is named after Randolph County, North Carolina, where Trinity College was first established.
Trinity House accommodates about 250 students. The residence hall opened just recently, during the spring of 2018, and bears the original name of Duke University, Trinity College.
A hundred and twenty first-year students are housed in the West House residence hall. The structure was first known as Jarvis Hall after the late North Carolina governor Thomas Jarvis when it was first constructed in 1912. In 2020, West House became the new name of the hall.
About 100 first-year students live in Wilson residential hall. The structure started operating in 1927, and was given the name Dean Mary Grace Wilson in honor of the founding dean of Duke's The Women's College.
For three years, Duke requires students to live on campus. If a student decides to stay on campus for the fourth year, the school generally has enough space to provide accommodation. West, Hollows, and 300 Swift are the housing options available to upper-class students.
The Duke Accommodation and Residence Life office has a small number of on-campus housing options for graduate and professional school students during the 2022–2023 academic year. Graduate or professional students on visa status are prioritized for housing assignments.
Most graduate and professional students rent off-campus apartments from private landlords in Durham.
How Do Dorms Work At Duke?
How do dorms work at Duke? Housing is available to full-time undergraduate students who have not completed more than eight semesters of residence on campus. If housing is still available after assigning students covered by the four-year housing guarantee, it will only be given to students entering their ninth or higher semester.
Application Process
Students will be routed to the housing and meals application via MyDuke and the HRL website. You must fill out the application, not your parents, older sibling, or significant other. Your application must be submitted by Monday, May 31, 2022.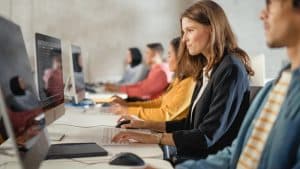 Through my.duke.edu, you will complete your housing application. The First-Year Dining Plan will be added to your account once you submit your housing application (Dining Plan I).
On-Campus Accommodations
The two Duke dorm room options available to first-year students are single and double. One student lives in a single room, and two in a double with the cost of a single room being higher than a double room. Most first-year students will most likely reside in double rooms.
First-year students with single rooms should be aware that sophomores are not guaranteed single rooms unless prior approval has been obtained from the Student Disability and Access Office (SDAO).
Based on the responses to the lifestyle questions on the first-year housing application, roommates are assigned to incoming first-year students. Students who choose gender-inclusive housing will be assigned a roommate who has made the same decision. Students that have similar study routines, noise tolerance levels, and sleep schedules tend to like living together.
Though no one can be a "perfect roommate," matching students based on these traits give them a good place to start when they want to have a positive roommate experience. For Duke to accurately match you with someone who will be compatible, you must answer every question on the housing application honestly.
All students must reside on campus for their first three years. The three-year residence requirement will still be applied to semesters spent in "study away" programs. During their fourth year, students are guaranteed the chance to live on campus.
After their third year, students have the option of living off-campus. By the timeframe specified, students who intend to live off campus must give Housing and Residence Life (HRL) written notice of their intentions. If a student chooses to live off campus, they should be aware that they will be bound by all local laws, especially those about noise, parking, occupancy, and litter.
Special Housing Accommodations
The Student Disability Access Office (SDAO) and Housing and Residence Life (HRL) collaborate to provide consistency in the evaluation of special housing accommodation requests. The Student Disability and Access Office evaluates requests and notifies HRL of any adjustments that are granted to students. Priority placement in a space that matches their needs will be given to students with approved accommodations.
The current documentation (i.e., medical/educational/diagnostic reports from licensed physicians, psychologists, or other competent professionals) as well as the accompanying historical records and materials must be provided by students who desire to be considered for reasonable accommodations. An individual must have an impairment that significantly limits one or more major living activities in order to be given consideration for reasonable accommodations at Duke University.
Duke is dedicated to fostering and upholding a learning and working environment free from unwelcome harassment and discrimination. In the administration of its admission policies, financial aid, employment, and other institutional programs and activities, the institution prohibits discrimination based on age, color, disability, gender, gender identity, gender expression, genetic information, national origin, race, religion, sex, sexual orientation, or veteran status.
All the rights, advantages, programs, and activities that are typically granted to or made available to students are made available to qualifying pupils.
HRL aspires to create conditions where everyone may thrive and recognizes the sexual orientation, gender identity and expression, and preferred names of its students and staff. When a Duke dorm room or suite is assigned without taking the gender of the roommates into consideration in the process, it is referred to as All Gender Housing.
All Gender Housing is across the East and Upper-class Campuses. While this is meant to support students who identify as LGBTQIA, it is also open to all students who feel more at ease in an all-gender room or suite or who believe they could create a safe and welcoming environment for a fellow student, regardless of gender identity or expression, sexual/romantic orientation, or other factors.
What Do Duke Dorms Come With?
There isn't exactly a "typical" room because the residence halls on East Campus have different architectural styles. Though the furniture in each Duke dorm room is comparable. So, what do Duke dorms come with? Upon moving in, you will have:
Bed and mattress (bring "extra-long" twin sheets as the mattress is 36″ by 80″ in size). The 54″ x 75″ mattresses in the Trinity residence hall require full-size sheets to be brought by occupants.
Chest of drawers.
A 10-cubic-foot closet or wardrobe
Student desk and chair
Bookcase (except in Trinity residence hall)
There are carpeted and wooden floors in some of the rooms. You can enter the HRL website after being assigned and discover links to images of your building and several example rooms there.
With the agreement of all occupants, additional furniture—such as futons and rugs—may be added to the room. All the room's amenities are the responsibility of the residents. The room's furniture provided by the university must not be transferred.
Each home has its own character and neighborhood, but all have the following amenities in common: a main common room with a piano and a television, some also have DVD, Blu-ray, and gaming consoles, a kitchen with a stove and a refrigerator, laundry facilities, vending machines, common bathrooms, and game tables like pool and ping-pong (these vary by house).
Each resident hall makes use of security screens in the first-floor windows and card-access entry. In Bell Tower and behind Wilson on East Campus, the Duke Police also maintain substations. Cable or internet TV is not available in any of the Duke dorm rooms, only in common rooms. Many students decide to bring a TV with them so they can play video games or watch TV shows and movies using streaming services they have paid for.
All common areas and rooms in residence halls have a wireless network connection. In addition, every student room has ports if you prefer wired connections.
How Much Is the Room And Board At Duke?
If you are considering attending Duke, you might ask "How much is the room and board at Duke?" Undergraduate standard fees, housing costs, and meal plans [per semester (fall and spring*)] are shown below.
Tuition & Required Fees
2022-2023
Tuition (for Trinity College and Pratt Engineering)
$30,217.50
UGrad First Time Registration (first-year students only)
$180.00
Student Activity Fee
$144.65
Student Services Fee
$361.50
Recreation Fee
$170.75
Health Fee
$449.50
Insurance (fall term only)
$3,375.00
Post Office Box Rental
$36.50
Engineering Government Dues
$30.00
Housing
2022-2023
Single – A/C
$6,271.00
Double – A/C
$4,747.00
Triple – A/C
$4,233.00
Edens Private Bedrooms (4 students)
$7,795.00
300 Swift – Shared
N/A
300 Swift – Private
N/A
Residential Programming Fee
$54.20
Dining
2022-2023
Plan A
$2,494.00
Plan B
$2,989.00
Plan C
$3,310.00
Plan D
$3,577.75
Plan E
$3,874.00
Plan F (non-residential)
$817.00
Plan G (first-year students on West Campus)
N/A
Plan I (first-year students)
$4,010.00
Plan J (Swift Ave Apts.)
$1,764.00
Dining Fee
$25.00
*Only regular fees for autumn and spring tuition, necessary fees, housing, and dining are included in this plan.
What Is Special About Duke's Residential Life?
To have a quick recap, most first-year students—if not all—will reside on East Campus. There are 12 all-gender buildings on East Campus, with capacities ranging from 80 to 250 students. First-year roommates are paired based on common living patterns, such as sleep schedules and whether they like music or silence while studying. Most bedrooms are double rooms while bathrooms, laundry rooms, kitchens, study rooms, and social areas are shared by all buildings.
Leadership is the focus instilled in first-year students as they create social life on campus by enjoying customary activities including midnight breakfasts, the Spring carnival celebration, and weekend festivities at the same time.
Numerous academic buildings, the Brodie Recreation Center, the Lilly Library, and the East Campus Union are all located on East Campus. The Smith Warehouse, the eateries and shops on 9th Street, and the Brightleaf District can all be reached by students living on East Campus within just a short walk.
What is special about Duke's residential life? Like other private institutions, the new residential concept, termed QuadEx, will be built around residential quads with its "own identity, customs, and social activities." The system's full implementation was just this Fall 2022 of the Duke academic calendar.
By pairing and connecting two East Campus residence halls to a West Campus quad, QuadEx creates a residential and community link between the two campuses. First-year students move into a residence hall on East Campus and are immediately a part of the connected Quad community on West Campus. Sophomores will reside in the adjoining West Campus Quad. While juniors will live in their West Campus Quad or other upper-class houses (Hollows or 300 Swift), seniors could reside in their West Campus Quad, other upper-class housing options, or they can opt to live off campus.
These East-West links help people feel at home in both locations, take advantage of special programs, and get to know upperclassmen. Experiential Orientation, Faculty Fellows, Sophomore Spark, and other standout initiatives foster intellectual curiosity, academic and career readiness, a sense of community, and well-being.
No matter where they live, all Quad members have access to all programming and resources.
The students at Duke University are known to be brilliant, creative thinkers who are driven to change the world. If you are one of those people who want to be part of the change, make sure to submit an impressive application before the deadlines to secure your admission to Duke. AdmissionSight has programs and services that could assist you through the strenuous application process. Feel free to book an initial consultation with AdmissionSight experts to discuss this further.