Duke Graduate School
Although you will spend the majority of your time as a graduate student engrossed in your program and department, The Graduate School at Duke University provides you with crucial tools to support you during your time here. The following are just a handful of the ways in which our work affects the experience you have.
The mission of the Duke Graduate School as a whole is to offer graduate training that is based on research in order to help students acquire the analytical skills necessary to become future leaders in a wide variety of professions, including those in academia, industry, education, government, nonprofit organizations, and other fields. The education that our students get here is designed to be transferable to any field that requires the acquisition, inventive use, and dissemination of new information.
At Duke Kunshan, the Duke Graduate School is in charge of more than 80 doctoral and master's degree programs, as well as graduate certificate programs, dual and joint degree programs, and graduate degree programs.
The faculty at Duke is recognized as being among the best in their respective professions, and the intimate and personal atmospheres of our departments and programs are conducive to the development of beneficial working relationships between graduate students and their respective faculty members.
How to get into Duke Graduate School?
How to get into Duke Graduate School? The Graduate School (TGS) is one of Duke University's 10 schools, although it stands apart from the others due to the fact that its objective is solely centered on assisting graduate students. Graduate students play important roles in the community at Duke, and The Graduate School (TGS) provides them with a school-level home where they are the primary focus of attention.
The Graduate Student Association (TGS) functions as a steadfast advocate for graduate students by bringing the concerns of graduate students to the attention of senior administrators and working with campus partners to satisfy those needs.
All applicants are required to hold a bachelor's degree or a degree that is at least comparable to a US bachelor's degree from a school that is regionally approved. If the degree was obtained from a school located outside of the United States, then the school in question needs to be approved by the appropriate educational authority in that nation (such as the ministry of education).
Candidates who did not earn a four-year bachelor's degree from an accredited college or university should have their credentials evaluated by a third-party service such as World Education Services (WES) or Educational Credential Evaluators, according to the recommendations made by Duke Graduate School (ECE).
This examination will determine whether or not your degree is comparable to a US bachelor's degree that requires four years of study. Before beginning the application process, it is important to keep in mind that it is always a good idea to carefully check the application requirements.
Each application is carefully considered in light of current job openings in the division as well as the caliber of the competition from other candidates. Every part of a candidate's application is carefully considered, and an attempt is made to assess both the candidate's academic accomplishments and potential in the field. Your academic history, letters of recommendation, scores on standardized tests, and a personal statement of purpose are all factors that are taken into account.
The admissions procedure for the Graduate School of Duke University is highly difficult, and the quality of the candidate pool is one of the primary factors that will determine how good your chances are of being accepted from one year to the next. In recent years, admission was granted to around one in every five candidates; however, the percentage of applicants accepted into each department varies greatly.
Duke Graduate School Requirements
What are the needed Duke Graduate School requirements needed for admission? The Duke Graduate School is home to approximately 80 distinct academic departments and fields of study, each of which offers Masters and Doctoral degree programs.
In addition, Duke Kunshan provides postgraduate students with the opportunity to participate in Graduate Programs, Dual and Joint Degree Programs, as well as Certificate Programs. Students will have the option to collaborate on projects with professors from nine other universities as well as conduct research at several research institutions and centers located on the Duke University campus. The following criteria must be met in order to be considered for admission to the Duke Graduate School:
Application Fee
The application fee for Duke University's Graduate School is $95.
You will be prompted to pay the relevant application cost after submitting your application using our online application management system. In order for your application to be taken into consideration for review, the application fee must be delivered prior to the application deadline for the program that you wish to apply for.
The Duke Graduate School provides an option to forgo the application cost in order to encourage potential students who come from a variety of groups, including those who may be going through difficult financial times. Those who are qualified have the option of having their application fees waived and integrated right into the system.
Transcripts
You are required to attach one copy of the scanned unofficial transcript from each college and university that you attended for either your undergraduate or graduate studies as part of your online application.
have a college degree (or will get one soon);
studied for one semester or more;
have earned at least 12 hours worth of credit; or
you have participated in academic pursuits that are pertinent to your interests in graduate studies
If you attended college or university classes while still enrolled in high school, you shouldn't list the college or university as a separate school on your application unless the credits you earned counted toward your bachelor's or associate's degree. In that case, you should list the college or university as part of your high school education.
As long as the credits earned during your time abroad are included on the transcript from your home educational institution, you do not need to furnish a separate transcript for the study abroad credits you earned.
In the Academic History area of your online application, if you list a school that offers study abroad programs, you will be required to provide a document as part of the application process. Please provide a document proving that the study abroad credits were included on the transcript from your home educational institution if you intend to use such credits. You need to upload a transcript from the educational institution at which you studied abroad if the courses are not listed.
Regardless of the number of credits you have earned, if you are accepted into the program, you will be required to submit a request for an official transcript from each school that was included in the Education portion of your application. If any inconsistencies are discovered between the uploaded and official transcripts that you have submitted, Duke University has the right to cancel any offer of admission.
Recommendation Letters
In order to support your candidacy, the Duke Graduate School needs you to provide three letters of recommendation (Applications for Graduate Liberal Studies require only two recommendation letters). Your recommenders are required to submit electronic versions of their letters of recommendation through the online recommendation system.
If the department to which you are applying specifically asks you to submit more than three references, then you should go ahead and do so. However, we strongly advise against doing so. It is possible that application reviewers will regard your file poorly if you submit an excessive quantity of recommendation letters. This will have the opposite effect of enhancing your chances of admission.
In the event that you are extended an offer of admission and choose to accept it, your recommenders may be contacted to confirm their authorship of the recommendation letters that were submitted on your behalf.
Statement of Purpose
You are required to upload a statement of purpose as part of your application for the position that you are applying for online. The statement should be between one and two pages long and include only one space between each word. It should talk about it briefly.
your reasons and ambitions in pursuing graduate study;
your unique pursuits and future objectives;
Discuss your accomplishments and challenges within your chosen profession;
any research initiatives or any independent research in which you have actively participated, as well as how those experiences have informed the employment path you have chosen and your intention to pursue graduate courses; and
any unique motivations you may have for submitting an application to Duke (e.g. you would like to work with a specific faculty member).
Resume / C.V.
You are required to provide a résumé or curriculum vitae as part of your application to be submitted online (CV). This document ought to provide a synopsis of your educational background, academic accomplishments, employment history, and professional accomplishments. Additionally, it may include a list of abilities, publications, research experiences, and other credentials that highlight your readiness for graduate studies and help you stand out from other applicants.
Scores on the GRE
The vast majority of schools have decided not to require applicants to submit their Graduate Record Examination (GRE) test scores for the 2022-2023 admissions cycle as a result of the widespread COVID-19 virus that has been sweeping the globe. Applicants to programs that do not require the GRE might nonetheless send in their scores for the test if they believe that doing so will strengthen their application. If you opt to record your test scores based on your own self-reporting, then official test scores will become a necessary part of your application.
English Language Proficiency Test
If English is not your native tongue, you are required to provide scores from either the Test of English as a Foreign Language (TOEFL) or the academic modules of the International English Language Testing System (IELTS) (IELTS).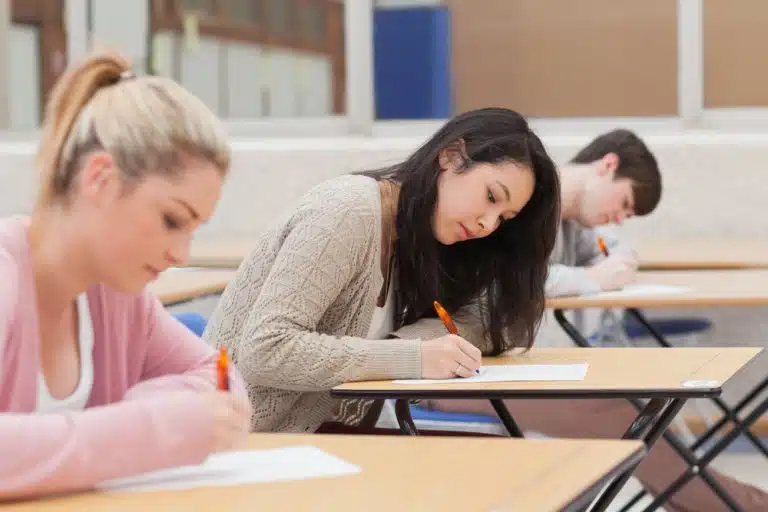 The Graduate School has decided to accept the results of the Duolingo English Test examination as an alternative to the TOEFL and IELTS examinations beginning with the application cycle for the 2022-2023 academic year. This decision was made in response to the temporary closing of testing centers in countries that were affected by the COVID-19 pandemic. Only results obtained from the Duolingo English Test that includes subscores will be considered.
GPA
In the Additional Academic Information part of your application, you will be asked to supply an undergraduate grade point average (UGPA). When evaluating applications, Duke does not utilize a specific grade point average (UGPA) threshold, but it may be helpful to look at the ranges and averages of grades received by applicants who were admitted in the most recent few years.
Supplemental Application Requirements
In some departments, applicants are required to provide writing samples in addition to other extra application materials. Check your department's requirements before commencing your application, and direct specific inquiries concerning the requirements.
What is a Good GRE Score?
What is a Good GRE Score? The fact that standardized examinations can have a substantial influence on your life can make taking them a stressful experience. The Graduate Record Examination (GRE) is essential since it helps determine which graduate programs you may be accepted into.
Despite this, the majority of programs have decided not to demand a passing score on the Graduate Record Examination (GRE) for the 2022-2023 admissions cycle. This decision was made due to the interruptions caused by the COVID-19 pandemic. However, applicants to programs that do not require the GRE are permitted to still submit their GRE scores if they believe that doing so will strengthen their candidacy.
If you don't do well on the GRE, you might have to settle for a program that you're not as enthusiastic about as an alternative if you want to get into the school that you want to attend.
Most standardized examinations, including the GRE, do not employ the letter grading scale or the scale ranging from 0% to 100% which is common practice among students. Because of this, it may be difficult to determine whether or not your score is satisfactory.
Because of the odd nature of the grading structure, it can be difficult to determine what constitutes a decent score on the GRE. On a standard exam, a score of 130, along with any additional credit earned, would be considered excellent performance. The Graduate Record Examination (GRE) has a minimum score requirement of 130.
You are in luck because ETS occasionally publishes data that includes average test scores in addition to scoring percentiles, both of which you can use to evaluate how well you have performed.
The GRE was taken by approximately 1.64 million persons between July 1, 2016, and June 30, 2019, inclusive. The following is the typical score on the GRE:
The score for verbal reasoning was 150.37.
The numerical reasoning score is 153.39.
Critical Thinking in Writing: 3.58
If you achieve a score that is higher than these values, you can have a degree of confidence in the fact that you have outperformed the average score on the GRE.
However, if you have your sights set on enrolling in a prestigious graduate school, you could get the impression that you need to do more than just outperform the other applicants.
Researching the programs that interest you will give you an idea of the goal GRE score that you should strive to get. Many educational institutions provide information about the average GRE score of their incoming class on their websites. Although receiving a score that is higher than the program's average will not ensure that you will be accepted into the program of your choice, it certainly won't hinder your chances either.
Duke Graduate School Acceptance Rate
What is the current Duke Graduate School acceptance rate? The admissions procedure for the Graduate School of Duke University is highly difficult, and the quality of the candidate pool is one of the primary factors that will determine how good your chances are of being accepted from one year to the next. In previous years, admission was granted to around one in every six applicants; nevertheless, the percentage of students accepted into each department varies greatly.
As a result of the severe disruption that the COVID-19 pandemic has caused in the lives of students all over the world, Duke University has decided to take the following approach when evaluating applicants to its graduate and professional programs. This will allow us to take into account the effects that the disruption has had.
As a response to the interruptions caused by the COVID-19 pandemic, a lot of institutions have established procedures that grade students on a pass/no pass basis. Applicants to Duke who submitted their transcripts with a Pass/No Pass grade during the spring of 2020 and 2021 will not be penalized.
Nevertheless, it goes without saying that competition for admission to Duke is fierce. To be accepted into either the undergraduate or graduate program at Princeton, you must put in an extraordinary amount of effort.
This includes performing exceptionally well on standardized tests, putting forth significant effort to achieve outstanding grades in high school or college, accumulating glowing recommendations, and more.
Simply, you shouldn't allow any of that to deter you. It is possible to get into Duke University if you put in the work, and a degree from the Duke Graduate School will open a lot of doors for you in the professional world.
Want to learn more about getting into Duke Graduate School? You've come to the right place. At AdmissionSight, we have over 10 years of experience guiding students through the competitive admissions process, including our athletic recruitment program.
AdmissionSight can help you put your best foot forward when applying to college this fall. Contact us today for more information on our services.