Exploring NYU Precollege: A Guide to the Program
NYU Precollege is an exciting opportunity for high school students to experience college life and get a head start on their higher education journey. In this comprehensive guide, we will explore everything you need to know about the NYU Precollege Program – from its purpose and benefits to the admission process, academic and student life, preparation tips, and the pathway forward beyond the program. So, let's dive in and discover all that NYU Precollege has to offer!
Understanding the NYU Precollege Program
What is the NYU Precollege Program?
The NYU Precollege Program is a summer program designed for rising high school juniors and seniors who are eager to experience college-level courses and immerse themselves in the vibrant academic and social community at NYU. Participants have the opportunity to take college credit-bearing courses, engage with renowned faculty, and get a taste of the dynamic campus life.
During the program, students are given a chance to explore a wide range of subjects, from the humanities to the sciences, allowing them to delve into their areas of interest and discover new passions. The courses are taught by NYU faculty members who are experts in their respective fields, ensuring that students receive a high-quality education.
One of the unique aspects of the NYU Precollege Program is the access it provides to NYU's state-of-the-art facilities and resources. Students have the opportunity to utilize cutting-edge laboratories, libraries, and research centers, giving them a glimpse into the world of higher education and the tools available to them as college students.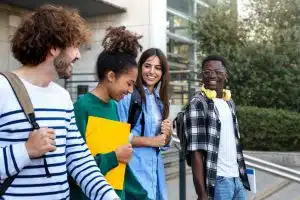 Furthermore, Precollege students also get to experience the dynamic, intellectually rigorous atmosphere of an NYU classroom. With a multitude of courses to choose from, both available in person on campus and online, they can freely follow their curiosity as they discover new ideas and build practical skills.
These students are inspired by NYU's award-winning faculty and benefit from NYU's unique access to leading New York institutions and professionals. For example, a film class might be guest-taught by a renowned movie director or an Art History class might include a guided tour of the Met.
No matter the area of academic interest, NYU Precollege offers ample opportunities to earn college credits, enhance valuable skills, and broaden horizons. Participants learn alongside passionate and talented students from around the world, becoming part of NYU's distinctive community of scholars, artists, and changemakers.
Areas of Study
NYU Precollege students have the unique opportunity to immerse themselves in the dynamic and intellectually stimulating environment of an NYU classroom. With an extensive array of courses available, you have the freedom to explore your passions, discover new ideas, and develop practical skills. The guidance of NYU's award-winning faculty and access to New York's leading institutions and professionals provide a truly inspiring educational experience.
Here's a glimpse of the diverse range of Precollege courses:
Arts & Media:
College Writing Workshop
Internet Design
Storytelling: From Aristotle to Beyonce and Beyond
Special Effects Makeup I
The Language of Film
Cultural Capital: Media & Arts in New York City
Introduction to Media Studies
Acting for the Camera
STEM (Science, Technology, Engineering, and Mathematics):
Calculus I
Introduction to Computer Programming
Environmental Systems Science
Introduction to Cell and Molecular Biology Laboratory
Introduction to Engineering and Design
Introduction to Science and Technology Studies
Calculus II for Engineers
Humanities & Social Sciences:
Introduction to Psychology
Introduction to Archaeology
Introduction to Sociology
Politics, Power, and Society
Classical Mythology
Revolutionary Movements of the 20th Century
Modern Art
Born in Flames: Radical Feminism in Film
Medical Ethics
Business:
Business Organization & Management
The Business of Nonprofit Management
Introduction to Macroeconomics
Introduction to Microeconomics
Principles of Accounting
Principles of Marketing
Hospitality:
Introduction to Hospitality
Hospitality & Tourism Sales & Marketing
Real Estate:
Real Estate Finance
Use of Space and Urban Design in Real Estate
Global Sport:
Introduction to Sports Management
Organizations in Sports
Sociology of Sports
College 101:
In addition to these courses, Precollege students can participate in the College 101 workshop series. This series offers valuable training in essential college skills such as essay writing and research. It also provides comprehensive guidance for the college admissions process, equipping students with the tools they need to build a strong application.
This diverse and enriching selection of courses and workshops ensures that NYU Precollege students have a well-rounded and rewarding educational experience that prepares them for the next steps in their academic journey.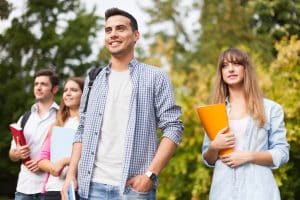 Benefits of the NYU Precollege Program
Enrolling in the NYU Precollege program offers numerous benefits. Firstly, it allows students to challenge themselves academically by taking courses in their areas of interest, thereby gaining a competitive edge in college admissions. By demonstrating their ability to excel in college-level coursework, students can showcase their intellectual curiosity and dedication to learning.
Additionally, students experience first-hand what it's like to live and learn in a college environment, helping them become more independent and preparing them for the future. They have the opportunity to navigate the bustling streets of New York City, explore the diverse neighborhoods, and immerse themselves in the vibrant culture that the city has to offer.
Furthermore, participating in the program allows students to build a network of friends and mentors from around the world, fostering cultural exchange and providing valuable connections. The diverse community of students in the NYU Precollege Program creates a supportive and inclusive environment where students can learn from one another's experiences and perspectives.
Last but not least, successful completion of NYU Precollege courses can potentially earn students college credits, reducing their course load and expenses once they start their full-time undergraduate studies. This not only saves students time but also allows them to explore additional areas of interest during their college years.
Overall, the NYU Precollege Program offers a transformative experience for high school students, allowing them to challenge themselves academically, gain independence, and build a global network. It serves as a stepping stone towards a successful college career and provides students with the tools and resources they need to thrive in a higher education setting.
Admission Process for NYU Precollege
The NYU Precollege Program is an exciting opportunity for highly motivated high school students to experience college life and explore their academic interests. Below, we will provide more detailed information about the admission process, eligibility criteria, application requirements, and important deadlines.
Eligibility Criteria
The NYU Precollege Program is designed for high school students who have completed their sophomore or junior year and are eager to challenge themselves academically. The program seeks students who are passionate about the subject areas they wish to explore and who have the ability to thrive in a college environment. Additionally, it is essential that applicants demonstrate a strong academic track record, which entails a minimum GPA of 3.0 on a 4.0 scale.
NYU values diversity and welcomes students from all backgrounds. NYU encourages students from underrepresented groups to apply and believe that their unique perspectives contribute to a vibrant and inclusive learning community.
Application Requirements
To apply for the NYU Precollege Program, students are required to submit several documents that provide insight into their academic achievements, personal goals, and motivations for participating in the program.
The application process typically includes:
An online application form: This form collects basic information about the student, such as their contact details, high school, and intended major.
An official high school transcript: This document provides a comprehensive overview of the student's academic performance, including their grades, courses taken, and any honors or awards received.
A personal statement: The personal statement is an opportunity for students to showcase their unique qualities, interests, and aspirations. It should highlight why they are interested in the NYU Precollege Program, what they hope to gain from the experience, and how it aligns with their academic and personal goals.
A teacher recommendation: This recommendation letter should be written by a teacher who knows the student well and can speak to their academic abilities, work ethic, and potential for success in a college environment.
It is crucial for applicants to carefully follow all application instructions and meet the specified deadlines. Attention to detail and thoughtful preparation can greatly enhance the chances of a successful application.
Deadlines and Key Dates
NYU Precollege has limited spots available, and early application submission is encouraged to secure a place in the program. Here are the key dates to keep in mind:
Early January: The program begins accepting applications.
Late March: Priority deadline for application submission.
Late April: Final deadline for application submission.
After submitting their application, students can expect to receive an admission decision within a few weeks. The program understands the anticipation and excitement that comes with waiting for this important news and aims to provide timely updates to all applicants.
Once admitted, students will receive detailed information about the next steps, including course registration, housing options, and orientation. The program is committed to ensuring a smooth transition into the NYU Precollege Program and is available to answer any questions or concerns that students may have.
Academic Life at NYU Precollege
As a student in the program, you will have the opportunity to immerse yourself in a vibrant academic community, explore your passions, and expand your knowledge across a wide range of disciplines.
Course Offerings
NYU Precollege offers various college-level courses across various disciplines, allowing students to explore their academic interests and challenge themselves intellectually. Whether you are passionate about humanities, social sciences, STEM, or the arts, you will find courses tailored to your needs and interests. From introductory courses to more advanced seminars, the academic offerings are diverse and engaging.
Imagine delving into the world of literature and analyzing the works of renowned authors or diving into the complexities of calculus and discovering its practical applications in the real world. With our extensive course offerings, the possibilities are endless.
Faculty and Teaching Style
At NYU Precollege, students have the opportunity to learn from distinguished faculty who are experts in their fields. These experienced professors are committed to creating a supportive and intellectually stimulating environment for students to excel. The teaching style combines interactive lectures, discussions, group projects, and hands-on activities, fostering critical thinking, collaboration, and creativity.
Picture yourself engaging in thought-provoking discussions with your peers and professors, where different perspectives are valued and encouraged. The faculty members are not only passionate about their subjects but also dedicated to helping you reach your full potential.
Academic Support and Resources
Students at NYU Precollege have access to various academic support services and resources to enhance their learning experience. Tutoring and study groups are available to help students overcome challenges and strengthen their comprehension of the course material. Additionally, the NYU libraries and research facilities provide an extensive collection of resources, ensuring students have the necessary tools to excel in their studies.
Imagine spending hours in the library, surrounded by books, journals, and databases, as you conduct research for your term paper or delve into a topic that ignites your curiosity. The academic support services and resources are designed to empower you to take your learning to new heights.
Furthermore, the dedicated staff is always ready to assist you, whether you need guidance in choosing the right courses or advice on managing your academic workload. So, join the NYU Precollege, where academic exploration and personal growth are at the heart of its mission. Expand your horizons, challenge yourself, and embark on a transformative educational journey that will shape your future.
Student Life at NYU Precollege
NYU Precollege offers an exceptional student life experience, providing a vibrant and enriching environment for students to thrive. From housing and dining options to extracurricular activities and support services, NYU Precollege ensures that students have everything they need to make the most of their time in New York City.
Housing and Dining Options
Living in the heart of New York City, NYU Precollege students have the unique opportunity to reside in NYU's residence halls, immersing themselves in the bustling city atmosphere. The dorms not only provide a safe and inclusive community but also offer modern facilities and amenities to enhance the students' living experience.
From spacious common areas to state-of-the-art study spaces, the residence halls are designed to foster a sense of belonging and facilitate academic success.
Moreover, students have access to a variety of dining options, ensuring that their culinary preferences are catered to. The dining halls serve a wide range of delicious and nutritious meals, accommodating different dietary needs and preferences. In addition to the dining halls, students can also explore the numerous cafes and restaurants located near the campus, allowing them to indulge in a diverse culinary experience.
Extracurricular Activities and Clubs
NYU Precollege recognizes the importance of a well-rounded education and offers a plethora of extracurricular activities and clubs for students to engage in. Whether students are interested in cultural organizations, performing arts groups, athletic clubs, or community service initiatives, there is something for everyone.
These activities provide a platform for students to pursue their passions, develop new skills, and form lasting friendships with like-minded individuals. By actively participating in these extracurricular activities, students not only enhance their personal growth but also contribute to the vibrant and diverse NYU community.
Safety and Support Services
At NYU Precollege, the safety and well-being of students are of utmost importance. The program offers comprehensive support services to ensure that students feel supported and cared for throughout their time at NYU. The residential life staff is readily available to assist students with any concerns or issues they may have, creating a nurturing and inclusive living environment. Additionally, health and wellness resources are readily accessible, providing students with the necessary support to maintain their physical and mental well-being.
Furthermore, NYU Precollege offers counseling services to students, recognizing the importance of mental health support. Trained professionals are available to provide guidance and assistance to students, helping them navigate the challenges and transitions of college life. Additionally, the NYU Public Safety team works diligently to maintain a secure campus environment, ensuring the safety and peace of mind of all students and their families.
Overall, NYU Precollege provides a comprehensive and enriching student life experience. From comfortable and modern housing options to a wide range of extracurricular activities and robust support services, students have the opportunity to make the most of their time at NYU and create lifelong memories.
Preparing for Your NYU Precollege Experience
Preparing for your NYU Precollege experience is an exciting time filled with anticipation and planning. As you embark on this new chapter, it's important to consider all the essentials you'll need to make your time at NYU enjoyable and productive.
What to Pack
When it comes to packing for NYU Precollege, careful consideration of the essentials is key. Of course, comfortable clothes are a must-have for those long days of classes and exploring the city. But don't forget about toiletries to keep yourself feeling fresh and ready to take on each day.
In addition to clothes and toiletries, it's important to think about bedding. While NYU provides some basic bedding, you may want to bring your own sheets, pillows, and blankets to make your dorm room feel like home.
Another crucial item to pack is any necessary school supplies. Whether it's notebooks, pens, or a trusty calculator, having the right tools at your disposal will help you succeed academically during your time at NYU Precollege.
Lastly, it's essential to pack for different weather conditions. New York City experiences varied seasons, so be sure to bring a mix of clothing options to accommodate both warm and cold weather. Don't forget a sturdy umbrella for those unexpected rain showers!
Navigating the NYU Campus
The NYU campus is spread across various locations in Manhattan, offering an exciting urban setting for students. As you prepare for your Precollege experience, familiarizing yourself with the campus layout and NYC's public transportation system is essential for navigating the city efficiently.
NYU Precollege understands the importance of helping students acclimate to the bustling city life and make the most of their time on campus. That's why they provide orientation sessions and helpful resources to guide you through the ins and outs of the NYU campus and the surrounding city.
During orientation, you'll have the opportunity to explore the campus, learn about the different buildings and facilities, and meet fellow Precollege students. You'll also receive valuable information about the public transportation system, including subway routes and bus schedules, so you can confidently navigate the city like a true New Yorker.
Tips for Success at NYU Precollege
NYU Precollege offers a unique opportunity for high school students to experience college life and gain a head start on their academic journey. To make the most of your Precollege experience, it's crucial to prioritize your time and embrace a proactive approach.
One of the keys to success is staying organized. With a busy schedule filled with classes, assignments, and extracurricular activities, it's important to have a system in place to keep track of everything. Consider using a planner or digital calendar to stay on top of your commitments and deadlines.
In addition to staying organized, managing your workload effectively is essential. Precollege courses can be rigorous, so it's important to allocate your time wisely and break down tasks into manageable chunks. By setting realistic goals and staying focused, you'll be able to tackle any academic challenge that comes your way.
Engaging in active learning strategies is another key to success. Take advantage of the resources available to you, such as the library, study groups, and tutoring services. Actively participate in class discussions, ask questions, and seek clarification when needed. By taking an active role in your education, you'll deepen your understanding of the subject matter and make the most of your time at NYU Precollege.
Lastly, embrace the diverse community at NYU Precollege and be open to new perspectives. This is a unique opportunity to meet students from all over the world who share your passion for learning. Take the time to form connections and engage in meaningful conversations. You never know what you might learn from someone else's experiences and viewpoints.
As you embark on your NYU Precollege journey, remember to enjoy every moment and make the most of this incredible opportunity. With careful preparation, a proactive mindset, and a willingness to embrace new experiences, your time at NYU Precollege will be nothing short of transformative.
Beyond NYU Precollege: The Path Forward
College Credit and Its Benefits
Successful completion of NYU Precollege courses allows students to earn college credits. These credits can often be transferred to other colleges and universities, giving students a head start toward their undergraduate degree. Additionally, earning college credits can lead to greater academic flexibility in college, allowing students to explore more advanced courses or graduate earlier.
Transitioning to Full-Time College Life
NYU Precollege not only prepares students academically but also emotionally and socially for the transition to full-time college life. Students gain valuable insights into campus culture, time management skills, and the expectations of college-level coursework. This experience helps facilitate a smoother transition, leaving students better equipped to navigate the challenges and opportunities that lie ahead.
Alumni Success Stories
NYU Precollege boasts a vibrant community of alumni who have gone on to achieve remarkable success in their chosen fields. From entrepreneurs and artists to leaders in the sciences and humanities, alumni have made a positive impact in various spheres. The NYU Precollege network is a resourceful community where former participants can connect, collaborate, and support each other's endeavors.
In conclusion, NYU Precollege offers an enriching and transformative experience for high school students. It provides the unique opportunity to engage in rigorous academic coursework, immerse oneself in New York City's vibrant culture, and establish valuable connections.
By participating in this program, students gain valuable skills, knowledge, and experiences that will guide them on their path toward higher education and future success. So, if you are ready to explore NYU Precollege, leap and embrace the exciting journey that awaits!
Having all the necessary information is important before choosing any course of action. AdmissionSight is always here to assist you with any questions or concerns. We have more than ten years of expertise assisting students in successfully navigating the challenging admissions process.
Consult with AdmissionSight and find out what we can do to help you get into the school of your choice by ensuring that you are sufficiently aware and well-prepared for the application process.