Harvard's Graduation Requirements
What are the graduation requirements for Harvard?
What are the prerequisites necessary to graduate from Harvard? Generally, in order to earn a bachelor's degree, part of Harvard's graduation requirements for an undergraduate student is to finish 32 courses, which equals 128 credits.
Students are also required of the following:
Common Requirements
In order to comply with Harvard's graduation requirements, you must:
Keep your registration and enrollment active at all times.
Ensure that you keep up a grade point average that is respectable.
Provide evidence that demonstrates you are making adequate progress toward obtaining the degree.
There is a possibility that continuous registration will be broken up by academic periods of withdrawal.
Harvard also has academic and financial residency requirements for all of its programs, and several have language requirements.
The cost of tuition paid to other colleges or to other Harvard Schools will not be credited against a student's financial aid package.
Former special students and students who participated in the Tuition Assistance Plan (TAP) and who took FAS courses during their first term may be eligible to petition for financial and academic credit for coursework after they have completed their first term.
Satisfactory Progress
If a student satisfies the following criteria, it is deemed that they are making adequate progress:
Complete expected requirements
A grade of B or better must be obtained as a bare minimum (3.0)
It's possible that certain programs will need additional criteria.
Students who wish to be considered for financial aid must maintain a grade point average that is acceptable.
Unsatisfactory Progress
Students who have not met the conditions as indicated above or declared by their department, degree requirements, or deadlines may be considered to be making unsatisfactory progress and may be pulled from their program if it is determined that they are not progressing well.
Students whose academic performance is unsatisfactory may be disqualified from teaching or from receiving financial assistance (including federal Title IV funding).
Students who are making progress that is not up to the university's standards are not deemed to be in good standing with the institution.
Students are not allowed to continue making "unsatisfactory" progress, and if they do so, they risk having their program removed from their options.
Status of Grace
A student who is making progress that is deemed to be unsatisfactory may, with the support of the department, be granted the status of grace for a maximum of one academic year.
If the student is not regarded to be making adequate development by the conclusion of the grace period that was allotted for them, then they will be considered to be making unsatisfactory progress.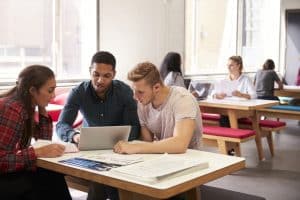 A student will often receive only one extension of time when there is a problem with their academic performance.
Students who are considered to be in "grace" status are not permitted to hold teaching posts. They can continue to have eligibility for institutional aid, but they are not eligible for federal Title IV loans or work-study.
What GPA do you need to graduate from Harvard?
What is the minimum grade point average required to graduate from Harvard? The majority of the time, students' academic performance is rated using letter grades, each of which is given a point value according to the following scale:
A = 4.00
A- = 3.67
B+ = 3.33
B = 3.00
B- = 2.67
C+ = 2.33
C = 2.00
C- = 1.67
D+ = 1.33
D = 1.00
D- = 0.67
E (failing grade) = 0
Every academic year, students are required to maintain a grade point average of at least a B (3.00).
The grade point average is weighted for each subject based on the number of credits earned in that course. For instance, the influence on a student's grade point average of a grade received in a two-credit course is proportional to that of a grade received in a four-credit course.
A great number of courses demand their participants to maintain a higher grade point average, and students are not permitted to enroll in classes on a pass-fail basis.
How does Harvard's graduation work?
How exactly does one graduate from Harvard? After completing Harvard's graduation requirements, a commencement is celebrated.
During the Commencement Exercises, hundreds of family members, faculty members, and alumni gather in Harvard Yard to take part in the celebration of graduating students from Harvard College and Harvard University's graduate schools.
The graduating ceremonies will begin with the Morning Exercises and will continue with the Afternoon Events.
The outdoor ceremony will take place at Tercentenary Theatre, which has been decked out with the flags of the University's 12 graduate schools and the College's 13 undergraduate houses.
The President's division, the graduating class of seniors, and the alumni of Harvard enter the yard and take their seats as songs are played on the Harvard band's instruments.
The graduates of Harvard's professional schools enter the ceremony through Sever Quadrangle, which was the first location of the University's Commencement Exercises and continued to serve in that capacity until 1946.
The Middlesex County Sheriff will begin the event by bringing order to the gathering by giving the "call to order."
The chaplain will then pray, and the University Marshall will pass the gavel to the three student speakers in the following order: the first address will be given in Latin by a college senior; the second address will be given in English by a college senior; and the third address will be given in English by a professional degree candidate in English.
The President then goes on to bestow degrees, both earned and honorary, upon the recipients.
After the degrees are handed out, graduates typically return to their respective undergraduate homes or schools for further, more intimate ceremonies. During these, they get their individual diplomas and rejoice with their family.
Alumni Exercises, the afternoon program, is held in Tercenary Theatre, and the graduates make their way back there in the late afternoon. Through participation in the program, graduates are introduced to the Harvard Alumni Association.
On the day of the Commencement Ceremony, the following safety rules are offered for the protection of our graduates and guests:
The gates will open at 6:45 AM, and by 8:30 AM, all of the parents and guests should be seated in their designated areas.
When entering Harvard Yard, all visitors, including parents and children, are required to show a ticket.
All students who are working toward a degree need to have appropriate academic regalia.
Candidates for degrees will be eligible to acquire a restricted quantity of tickets.
The registration form is available for use by any and all graduates who wish to purchase Commencement tickets (one per alum). You have until May 15 to register for the event if you want to attend.
It is definitely forbidden to sell tickets for the Commencement ceremony.
A ticket will get you into Harvard Yard, but it will not guarantee you a seat; seating is on a first-come, first-served basis, and reservations are not accepted.
Before the luncheons and diploma ceremonies, there will be additional viewing opportunities accessible in the Science Center as well as the majority of the undergraduate Houses and Graduate/Professional Schools.
Comcast customers in the greater Boston area can tune in to the live webcast of the Commencement Ceremony on channel 283 of their cable provider.
In Harvard Yard, carrying a backpack is strictly forbidden, and any and all bags and personal goods brought in will be inspected.
Only in the Old Yard, but not within the Tercentenary Theatre, are strollers permitted to be used.
There is a lot of work involved in meeting Harvard's graduation requirements. A lot of effort and persistence will be needed. But, in the end, it's always going to be worth it.
We at AdmissionSight, wish you the best of luck as you work to overcome academic obstacles and fulfill Harvard's requirements for a degree. However, being accepted into the university is the number one priority.  AdmissionSight can help you put your best foot forward when applying to college. Contact us today for more information on our services.