High School Graduation Checklist
As the end of the semester draws near, seniors who are graduating will soon be packing their belongings and moving on to the next phase of their lives. Look over this high school graduation checklist while you prepare for your finals and AP tests to ensure that you remember everything important on your graduation day.
For your convenience, this high school graduation checklist can be used to guarantee that every detail of the event has been meticulously arranged.
Planning is the key to a good commencement, which includes everything from the scheduling of the event to the distribution of tickets. On the big day, you will encounter fewer curveballs if you have given careful consideration to everything in advance.
What should you prepare for high school graduation?
What should you prepare for high school graduation? High school graduation is a significant milestone in your life, and it's important to be well-prepared for the big day.
This is an exciting time in your life, and it's important to make sure that you have everything in order before you walk across that stage to receive your diploma.
Here are some things you should consider preparing for your high school graduation:
Confirm your graduation requirements: One important part of the high school graduation checklist is to make sure you have met all the necessary academic requirements to graduate from high school. Check with your school counselor or academic advisor to ensure you've completed all the necessary credits.
Order your cap and gown: Most high schools require students to wear a cap and gown during graduation ceremonies. Check with your school to see how to purchase or rent them, and make sure to order them early to ensure you receive them in time.
Prepare your graduation announcements: Let your family and friends know about your achievement by sending out graduation announcements. You can order them online or create your own.
Confirm your attendance at the graduation ceremony: Make sure you know the date, time, and location of your graduation ceremony, and confirm that you plan to attend.
Attend any necessary rehearsals: Most high schools hold rehearsals for graduation ceremonies, so make sure to attend any that are required. This will give you a chance to practice walking across the stage and receiving your diploma.
Prepare for your speech: If you've been chosen to give a speech at your graduation ceremony, start preparing early. Write out your speech and practice delivering it in front of friends or family.
Say goodbye to your friends and teachers: Graduation is a time to celebrate your accomplishments, but it's also a time to say goodbye to the friends and teachers who have helped you along the way. Take the time to say thank you and express your appreciation.
Plan your celebration: Whether you're planning a party with friends or a special dinner with family, make sure to plan your graduation celebration in advance. This will help ensure that everything runs smoothly on the big day.
With the high school graduation checklist, by preparing for your graduation in advance, you can ensure that the day runs smoothly and that you can fully enjoy this milestone moment in your life.
What to expect at a high school graduation?
What to expect at a high school graduation? High school graduation is a significant milestone in your life, and it's a day that you'll remember for years to come.
Here's what you can generally expect at a high school graduation ceremony:
Processional: Graduates will typically gather in a designated area and line up in alphabetical order. Then, they will march in a processional into the graduation venue to the tune of "Pomp and Circumstance."
Opening Remarks: A school administrator or distinguished guest may give an opening speech, welcoming graduates and their families to the ceremony.
Student Speakers: Depending on the tradition of the school, student speakers such as the valedictorian or salutatorian may give speeches. These speeches are usually reflective and congratulatory and provide inspiration to the graduating class.
Presentation of Diplomas: This is the highlight of the ceremony, as graduates walk across the stage to receive their diplomas. Graduates will be called in alphabetical order, and each will receive their diploma from a school administrator or distinguished guest.
Graduation Ceremony Tradition: Depending on the school, there may be a number of graduation ceremony traditions. For instance, some schools give special awards or recognitions for academic achievement, community service, or extracurricular involvement.
Closing Remarks: Once all the diplomas have been presented, a school administrator or distinguished guest will give a closing speech, congratulating the graduates and wishing them well in their future endeavors.
Recessional: Graduates will exit the ceremony venue in a recessional while friends and family applaud and cheer.
Overall, high school graduation is an exciting and memorable event. It marks the end of one chapter of your life and the beginning of a new one. It's a day to celebrate your achievements, reflect on your experiences, and look forward to your future. Congratulations on this significant accomplishment and best of luck in your future endeavors!
Why is it important to graduate from high school?
Why is it important to complete high school? Graduating from high school is a significant accomplishment that has many benefits for individuals and society as a whole. Here are some reasons why graduating high school is important:
Education: High school provides a solid foundation for further education. Without a high school diploma, it can be challenging to pursue higher education opportunities such as college or university. A high school diploma is often a minimum requirement for entry into vocational schools, community colleges, and universities.
Career Opportunities: Many jobs require a high school diploma as a minimum requirement. Having a diploma increases your chances of finding a good job that provides a stable income and opportunities for career growth.
Personal Development: High school provides opportunities for personal development, including developing critical thinking skills, gaining knowledge in a wide range of subjects, and learning how to communicate effectively. These skills are valuable for future success in all aspects of life.
Socialization: High school provides an opportunity for students to socialize with their peers, make friends, and develop social skills. Socialization is an essential part of personal development and can help prepare students for life outside of school.
Improved Health: Studies have shown that people who graduate from high school are more likely to make healthier choices, including better dietary choices and lower rates of smoking and substance abuse.
Economic Benefits: High school graduates typically earn more money over their lifetime compared to those without a high school diploma. This results in higher tax revenue for governments, and increased economic growth.
Better Quality of Life: High school graduates tend to enjoy a better quality of life, including higher levels of health, happiness, and overall satisfaction with life.
In summary, graduating from high school is important for personal, educational, and societal reasons. It opens up a wide range of opportunities, both for personal development and professional growth, and sets the foundation for a better quality of life.
How do you prepare yourself for life after high school?
How do you prepare yourself for life after high school? Preparing for life after high school can be an exciting and intimidating time. It's a major transitional period that involves making important decisions that can impact the rest of your life.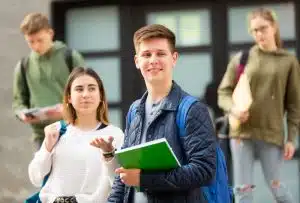 Here are some tips to help you prepare for life after high school:
Explore your options: Take some time to explore your options, whether it's attending college, a vocational school, or starting your career. Research your desired path and think about what you want to do for the long term.
Set goals: Set short-term and long-term goals for yourself, both personally and professionally. Goals can help motivate you to succeed and keep you on track to achieve your dreams.
Develop new skills: Take advantage of any opportunities to develop new skills or learn new things. This can include internships, volunteering, or even taking classes online or at a local community college.
Network: Start building your professional network by connecting with people in your desired field. Attend career fairs, join professional organizations, or use social media platforms to connect with people who can offer you guidance or mentorship.
Manage your finances: Learn how to manage your finances responsibly, including creating a budget, paying bills on time, and saving money for emergencies or long-term goals.
Stay organized: Keep track of important dates, deadlines, and responsibilities. Use a planner or digital tools to stay on top of your commitments.
Practice self-care: Take care of yourself physically and mentally by eating well, getting enough rest, and engaging in regular exercise. It's important to take care of your mental health as well, which can include talking to a therapist, practicing mindfulness, or finding healthy ways to manage stress.
Preparing for life after high school can be challenging, but by setting goals, exploring your options, and developing new skills, you can set yourself up for success. Remember that it's okay to make mistakes and that each experience is an opportunity to learn and grow.
Want to learn more about the high school graduation checklist? You've come to the right place. At AdmissionSight, we have over 10 years of experience guiding students through the competitive admissions process.
AdmissionSight can help you put your best foot forward when applying to college this fall. Contact us today for more information on our services.