How Long Does It Take To Get Accepted Into College?
How long does it take to get accepted into college after applying?
The anxiety will surely start after applying for college. How long does it take to get accepted into college after applying? during the holiday season? January? Spring? Unfortunately, there isn't a simple solution. There are some basic timing recommendations, however, the exact timing will vary depending on the institution and your application method. To help you prepare, AdmissionSight has broken down the admission decision timing below.
By application type, admission decisions differ. The type of application you submit will play a role in whether you receive an admissions decision. Regular admission, early action, early decision, and rolling admission are all examples of application Types.
How long does it take to get accepted into college after applying? There is no set deadline for application submission, just as there is no set time for sending out acceptance letters. Along with regular submissions and rolling admissions, there are a few early submission options available.
The type of application being submitted will determine the application due date, which will also affect when you hear from the school.
Early Decision
Early decision, early action, and single-choice early action are a few choices for applying early. Early decision applications are legally binding, which means approved students must enroll. Students may only submit one early decision application because it is binding. The deadline for these applications is November, and the results are announced in December. Students should make this their first choice and the school they'd prefer to attend over all others if they choose to apply with the early decision option.
Early Action
The early action application is comparable to the early decision application in that it has a November due date and a December decision deadline, but it varies in that it isn't binding. You can apply early action to more than one college, and if you get in, you don't have to go there and be thinking about how long does it take to get accepted into college after applying?
Single Choice Early Action
Although this option is non-binding, it is comparable to an early decision in that students can only apply to one school this way. Single-choice early action applications are a mechanism for students to express their specific interest in attending a certain school. The other early alternatives' due dates and acceptance windows are all the same.
No matter what kind of early application you choose, the deadline is usually in November, and decisions are usually given in December.
Regular Decision
The most popular type of application is for regular-decision colleges. The deadline for these applications is typically in January or February, and decision letters are sent out by April. Because each institution will have a different application deadline, be sure to check their websites and mark the relevant dates on your calendar.
How long does it take to get accepted into college after applying? This has been a common question in the applicants' minds. It is vital to know how long it takes to get accepted into college. In addition, it is also very important to have an idea of how to get accepted into college.
How do you get accepted into college?
How do you get accepted into college? This is best answered by filling out an application and meeting all prerequisites. The application should not be very detailed; it is only intended to provide a general overview of your background. Ensure that you include everything that has been requested.
One of the most exciting periods in a young person's life might be when college planning begins. However, because there are many things that must occur before you can move into your new dorm room, it can also be stressful. The decision-making process for picking a college or university and submitting an application for admission most likely begins around the time you take your PSATs and ends in April of your senior year of high school when you learn if you were accepted or rejected by the college of your choice.
Whether you are a parent or a student, the application process for colleges might seem complicated. AdmissionSight will explain the admissions process in much more detail, list out some frequently asked questions, and address the question: how long does it take to get accepted into college after applying?
Keep in mind that each college or university has its own unique admissions requirements and procedures. There are a huge number of colleges in the US alone, not to mention those abroad. Therefore, your experience can be different from the fairly demanding one depending on where you apply. You will undoubtedly learn something about this procedure, though, something that may help you be accepted to the college of your choosing!
How soon should you start considering college applications?
When they are in their final year of high school, most students apply to colleges. They complete high school in May or June, and in September of that same year, they begin college.
The majority of institutions provide you with a few choices about when to submit your applications. The various choices are referred to as "admissions plans, and each plan has its own deadlines, specifications, and occasionally, limits. You'll come across early decision, early action, normal decision, and rolling admissions among the admissions programs as you investigate various colleges.
Is it difficult to enter college?
It depends on the school you're applying to and how well you're doing academically. You'll have fewer college choices if your GPA is low. On the other side, the process will be far more challenging if you're trying to get into a reputable institution. Ivy League colleges and other higher-ranking institutions have more stringent admissions standards.
What GPA will you need for college admission?
A GPA of between 3.5 and 4.0 is the ideal range to aim for. Your absolute minimum goal should be a 3.5 GPA if you're trying to get into college. The chances of being accepted are greatest in lower-level institutions, usually state colleges. A lower GPA could get you into a community college, where you could use the first two years to raise your GPA and then transfer to a better school.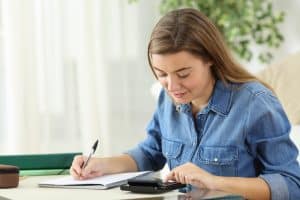 The more options you have for entering college, the closer you come to a 4.0 score. The more positively colleges view your application, the better your grades will be. However, getting into college does not solely depend on your GPA. The remainder of your application must be completed, and you must take your chosen college exam.
How can I choose a reputable college?
You should as a student have standards in mind for what you want in a college. Many students base their decisions on the majors that are available. College campuses, in-state, and out-of-state college locations, and overall school rankings are some additional draws for students. You specify your goals for college.
What number of colleges ought I to apply to?
You should submit applications to as many universities as you have the time for and are comfortable attending. The more choices you have, the better. Your chances of admission depend on your grades and how well the college is rated. Even if you plan to attend school in your home state, you should still apply to determine whether you are eligible. The outcomes may surprise you.
Can 11th graders apply to college?
Juniors can apply for college, but they are less likely to meet the high school class requirements that their prospective colleges may require on top of not having their diploma. The optimal time to apply is typically during your senior year, allowing you to enter college alongside your graduating cohort.
Should I enroll in AP classes?
On your transcript, AP courses are highly regarded by colleges. You ought to think about enrolling in AP courses as long as they don't affect your GPA. The level of these courses can vary, however, and some may be simpler than others.
Are visits to colleges important?
If you don't go, how else will you find out more about the university, campus life, and what to anticipate? Colleges encourage prospective students who are interested but unsure about attending to visit the campus and take a tour. After you've been accepted, colleges will ask you to orientation, but it's a good idea to be prepared.
Signs you got accepted into college
The following four early signs you got accepted into college are ones you might notice a few weeks before the official decision date. How long does it take to get accepted into college after applying? Evidence of a perfect match between you and the college includes the details below!
Sign 1: Likely letters
Your college may give you a "likely letter" to let you know that they plan to admit you while you wait for the decision date. What does "likely letter" mean? A letter from a college notifying you of your admission status is probably in the form of a message and contains important information.
Typically, these letters arrive prior to the official deadline for admissions decisions.
A probable letter—is it a promise? Does a likely letter, then, ensure admission? Yes! Typically, such a letter expresses the college's intention to accept the concerned student.
Simply put, this indicates that every application that receives a likely letter is "likely" to be accepted, let's say 70% sure. At that stage, it is generally advised for the candidate to always maintain in touch and expect an acceptance letter sooner because just a few universities had yet to send such letters.
Sign 2: College-related phone calls
The college or university may call you in order to speak with some applicants.
How should you interpret a call from a college? If a college you applied to calls you, it can be a sign that the school is considering admitting you.
When a college coach phones, what does it signify, though? It could be a sign that the college is sincerely interested in recruiting and admitting you if a coach from the school where you applied calls you, especially more than once. They could thus wish to speak with you personally.
Ivy League institutions are among those with a reputation for calling desirable applicants to let them know whether they have been accepted.
Sign 3: Letter of acceptance before the decision date
You might not receive a call or a letter from some institutions as expected. Some employers might not even contact you during the application process, but they might give you an acceptance letter a few weeks before the deadline.
You can be confident that you have been accepted into the college if you receive an acceptance letter before the decision date.
Sign 4: Evidence that you and the college are a perfect fit
Have you spent time determining whether the college needs students like you after or before applying? How can you tell if a college is the right fit for you? Comparing yourself to the students who received in previous years' exams is the simplest approach to learning that.
Why do you do this? To do this, review the college's historical admission statistics and look up the types of students who were admitted.
A strong early indicator that an applicant has a good chance of being admitted is a convincing and impressive presentation of how well they match the college and the applicant.
Every senior in high school has a college that they aspire to attend, and every applicant has the same question in mind, how long does it take to get accepted into college after applying? At AdmissionSight, our expertise is in assisting students in streamlining their applications to significantly improve their chances of being accepted into these coveted schools.
We know what it takes to get into elite colleges because three out of every four students we help are admitted to Ivy League and Top 10 institutions. To arrange a free consultation and find out more about the services we provide, get in touch with us.