How to Write a Peer Recommendation?
In order for us to obtain a better idea of your interests and character from another perspective, we strongly encourage you to get a reference from one of your peers.
A peer recommendation is a letter of support for an applicant's candidacy that is written by someone the applicant regards to be a peer.  It shouldn't be someone who is currently in a position of authority or responsibility over the applicant in any way.
For some instances, this would be a classmate or teammate; a sibling, sister, or cousin; a coworker; a friend whom you met at summer programs or summer camp; or a lab or debate partner. As a result, it is essential to be familiar with the process of how to write a peer recommendation.
What is a Peer Recommendation?
First things first, what exactly is a peer recommendation? A peer recommendation is exactly what it sounds like: it is a letter written by someone who knows you well and who can provide insight into who you are outside of the context of an academic environment.
In an admissions process that takes into account the applicant as a whole person and not just as a collection of grades and test scores, peer recommendations are an essential component that should not be overlooked.
A friend who knows you well can write a letter of recommendation that provides insight into your personality, character, and extracurricular interests. It may also give insight into how you will fit in on campus and what you will contribute there.
When applying to highly selective colleges, having a letter that stands out from the rest of the applicants can be helpful. Formal letters of recommendation written by professors typically center on the student's academic accomplishments and potential, whereas letters written by advisers center on the student's past accomplishments as well as their potential in the future.
Peer recommendations are often more individualistic. It is essentially just a buddy making the case for why a college should want to have you as a student at their institution.
What is the purpose of peer recommendation?
Of course, we won't be able to know how to write a peer recommendation well if we're uncertain about its purpose. So, what is the purpose of peer recommendation?
To this point, only Dartmouth and Davidson require applicants to submit to a peer review as part of their application process. Some students only opt to include it as an additional letter of recommendation in their application package. This can be an excellent option if it adds an important dimension to their application or makes up for subpar letters from instructors and counselors who don't know them very well.
In the majority of cases, supplementary materials are typically not encouraged, and admissions officers may prefer that the additional letter come from a coach, employer, or some other type of supervisory individual. However, peer recommendation is an essential component of the application for admission to Dartmouth and Davidson.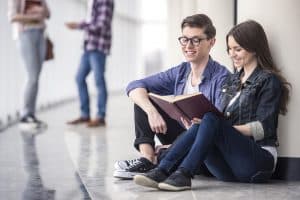 An average one probably won't ruin an application, but a truly excellent one has the potential to offer it a significant boost. What a genuinely exceptional letter may accomplish is to give profound insight into the character and personality of a student, going above and beyond what a teacher or counselor can say in their review.
As an Ivy League institution, it should come as no surprise that admission to Dartmouth is extremely competitive, and the academic standards are rigorous. Additionally, Davidson is known for its high level of intellectual rigor and rigorous admissions process for prospective students.
However, the purpose of the peer recommendation is not to extol the academic prowess of the individual being recommended. Instead, it should speak to the character and personality of the applicant, as well as how she would behave socially on a college campus.
How to write a peer recommendation?
If you want your recommendation letters to be as strong as possible, it won't take you a day to write them, and instead of winging it, you should absolutely look over a guide like this one. Let's break down the steps of how to write a peer recommendation:
Brainstorm
Come up with some ideas. When it comes to other types of writing, you might be able to get away with skipping this stage, but before you start working on your peer recommendation, you should definitely spend some time doing some mental mapping. This is due to the fact that the most effective recommendation letters are targeted and detailed in their language.
They highlight the most crucial characteristics and noteworthy features of the individuals who have applied for the position. Recommendation letters that are most memorable focus on a single subject at a time rather than trying to portray the person being referenced as well-rounded in all aspects. Then, they proceed to relate particular anecdotes that serve to highlight and, in a way, provide evidence for these characteristics.
Before beginning the process of outlining and drafting, there are three primary inquiries that you need to pose to yourself:
What characteristics of my peer most resonate with me?
In order to exemplify these attributes, what concrete examples and personal tales can I provide?
In order to make the most of my suggestion, what kind of speech should I use?
Outline and Draft
The standard length for a peer recommendation is one page. It's possible that it will go onto a second page, but beyond that, it wouldn't be recommended to make it any longer.
Your presentation can be as creative as you like; nonetheless, there are a few essential components that must be included in each and every recommendation letter.
Revise your letter
It is important to recognize the significance of a letter of recommendation and approach it accordingly. You should reread your letter and check to see that it makes a convincing, well-organized, and succinct case for your peer.
Also, take the time to verify that you have utilized clear examples that demonstrate your friend's skills, and make sure that the tone is one that you feel comfortable sending to a college. This is an important part of the application process.
Submit your letter
As a peer recommender, it is imperative that you submit your letter before the time limit that has been set. Make sure you are aware of when the deadline is, as well as the specifics of how the submission should be made.
Your buddy will invite you to the Common Application for Dartmouth as the "Other Recommender," and it is likely that you will upload your endorsement here. When everything is finished and turned in, you can congratulate yourself and give yourself a pat on the back because you are such a wonderful friend!
Now that we have gone over these guides on how to write a peer recommendation, we should also remember that the most effective letters are detailed and detailed. They don't just provide generic compliments or speak in platitudes; rather, they bolster their statements with real-life instances and tales. Your peer recommendation needs to indicate that you have a thorough understanding of your friend and that you are qualified to evaluate him or her.
Above all else, keep in mind your objective to assist your friend in gaining admission to a college. Your goal should be to persuade the admissions officers that your buddy possesses exceptional abilities and to demonstrate why the school would benefit from having her enrolled there.
Alongside peer recommendation, know that completing other admission requirements is crucial so getting ahead of the submission deadlines will be very beneficial. At AdmissionSight, we got you covered! Over the past decade, we have helped countless students successfully navigate the admissions process. Contact us to book your initial consultation at AdmissionSight.