International Students at UPenn
How Does An International Student Get Into UPenn?
The undergraduate population at UPenn is comprised of students who came from more than 100 different nations. They are a part of the vibrant community with access to professors who are experts in their fields as they form friendships with other passionate learners. The international students at UPenn make use of all opportunities on campus while at the same time exploring the dynamic, top-notch city of Philadelphia.
Penn is looking for intellectually curious students, who have an interdisciplinary mindset, and want to make a positive difference in the world. The institution also wants people who have genuine passions and the drive to put their ideas and interests into action, as well as people whose skills and experience will benefit the Penn community.
So, how does an international student get into UPenn? UPenn employs a thorough admissions procedure that considers every facet of each application. The requirements for admission include:
Common Application or Coalition Application
Transcripts
Supplemental essays and personal statement
Student Reports (Mid-year, final)
Letters of recommendation
Supplementary materials (Portfolio or additional LoRs, if necessary)
$75 application fee (or submit a request for a fee waiver)
Testing requirements (Including SAT or ACT and Language tests in necessary)
Interview
Every program at UPenn can need a different set of additional materials. You may check the UPenn website for more information.
Letters of Recommendation
Your letters of recommendation provide Penn with the "story behind the grade" and a glimpse of your "work ethic, class participation, collaboration, and interactions with classmates."
You must submit two letters of recommendation from professors who, ideally, were your senior or junior-year instructors in your major academic subjects. Choose those who know you well and those who can share from their personal experiences about your work and potential. The "best letters" come from teachers who are familiar with you. UPenn also advises that you obtain letters from two instructors who teach different subjects.
Section for Activities
Although your academic record is a key component of your application, Penn is also interested in your extracurricular activities.  The admissions committee is interested in any experiences you may have had in a community, workplace, or educational setting.
Make sure to be specific and do not leave out important details. UPenn wants to know the particulars of your roles and activities, the difference you have made, and how much time you devote to each activity/role.
Importantly, Penn advises that you "pursue activities that are meaningful to you." The school does not "weigh or rank activities and does not prefer one type over another."
Additional Information Section
UPenn cautions students about the "Additional Information" section that while some students may benefit from including more materials with their applications, "in many cases, too many extra documents can take away from the strength of your application."
Penn might consider many types of supplemental materials including the following:
An additional letter of recommendation that is not from a teacher
An art or music sample
Portfolio
Research abstract or expanded resume
International students should finish a secondary education program that prepares them to enroll in a university in their native country or abroad before matriculating at Penn.
The admissions decisions are made before the results of several national exams (such as the A Levels or French Baccalaureate) are released, but applicants are still expected to be enrolled in courses that will help them prepare for these exams. If you are enrolled in these programs but the examination results will be posted beyond the UPenn application deadlines, you must ask your school to send forecasts of the outcomes of the external examinations along with your grades before the deadline comes.
You should have received high marks on any national exams that are necessary for admission to a pre-university program (such as the IGCSE or the SPM), and you should provide verified copies of the results along with your Penn application.
Students in the multicultural, international community have a vast range of interests, worldviews, and skills. UPenn is interested in learning about your extracurricular activities, community work, and interests outside of academia (though UPenn recognizes that patterns for non-academic involvement vary from country to country).
English Language Proficiency Tests
Excellent command of the English language is required for academic success at UPenn. Candidates are regarded as proficient in English if they satisfy one or both of the following requirements.
The applicant's native language is English.
Throughout high school, the applicant's primary language of instruction was English.
Candidates must take the TOEFL, IELTS, or Duolingo English Test to prove their English competence if neither of these requirements is met. Applicants may take the TOEFL iBT Special Home Edition since the TOEFL iBT is unavailable due to COVID-19. Please be aware that UPenn does not presently accept results from the TOEFL MyBest or IELTS Indicator tests.
Each time you register for an exam, be sure to choose Penn as the recipient university. If you have already completed an exam but have not chosen Penn to get your score, kindly add UPenn as a recipient immediately. Official testing agencies should send score reports directly to the Office of Undergraduate Admissions. Self-reported test results of English proficiency tests are not accepted by Penn.
What Percentage Of UPenn Students Are International?
The Ivy League's biggest concentration of international students attends the University of Pennsylvania. UPenn places a great priority on the perspectives and experiences that international students bring to Penn and its lively community.
What percentage of UPenn students are international? International students at UPenn make up 11% of the student body. Out of the 11,579 overseas applicants, approximately 3.2% (376 students) got admitted to UPenn's undergraduate schools for Fall 2021. In total, there were 6,392 international students enrolled in all levels.
For the Class of 2025, the first-year class constitutes 13% of the enrolled students. The following is the geographic distribution of the first-year international students at UPenn:
Africa and the Middle East – 14%
Asia – 40%
Australia and the Pacific – 4%
Canada and Mexico – 17%
Central and South America and the Caribbean – 5%
Europe – 15%
Do International Students Get Financial Aid At UPenn?
Do international students get financial aid at UPenn? Penn provides grant-based aid that fully satisfies your demonstrated need. Regardless of your financial situation, the school is dedicated to making UPenn education accessible and affordable for all students, including students from abroad.
First, Penn accepts students who are citizens or legal residents of the United States, Canada, or Mexico without regard to financial need. This implies that when deciding whether to admit you, UPenn does not consider your financial need. It is as simple as this: if Penn accepts you, the school will take care of your financial need.
Second, you don't have to repay anything in your financial assistance package because it is entirely grant-based and consists of work-study funds and scholarships.
There is a slight difference in financial aid for applicants from abroad. For international applicants, non-citizens, and temporary residents of the United States, Canada, and Mexico, Penn is need-aware. This proves that admissions choices do take a family's financial situation into account. Financial aid applications for international students at UPenn must be submitted concurrently with admissions applications. After being accepted, financial aid requests cannot be taken into consideration any longer.
International students are supported by millions of dollars in undergraduate aid grants each year from Penn. International students who are accepted as beneficiaries of financial aid will get need-based aid that fully satisfies their demonstrated need, just like a student from the United States. Candidates whose families have the financial ability to cover tuition fees are recommended not to apply for financial aid because the need matters in decisions for international students' admissions.
Here are some important points to take note of if want to apply for financial aid:
International students, especially those from Mexico, should adhere to the Student Financial Services Checklist for International Students.
The Penn's Financial Aid Application for Canadian Citizens must be completed, along with copies of the student's and parents' Canadian tax returns, by Canadian citizens and permanent residents of Canada. Visit the Student Financial Services website to view the Checklist for Canadian Citizens.
UPenn will not accept financial aid applicants if they are unable to help them. This means that even some qualified candidates will not be admitted to UPenn.
International applicants must disclose their projected need for financial aid at the time of application if they anticipate needing it at any point during their four-year course of study.
There are few financial assistance options available for international undergraduate students, and Penn utilizes a need-aware process for admissions of non-citizens or non-permanent residents of the United States, Canada, or Mexico. The application for institutional need-based financial aid must be submitted at the same time as the application for admission to Penn. International students at UPenn are ineligible to seek financial aid later in their undergraduate program if they are not admitted with financial aid in their first year.
Nevertheless, Penn's grant-based financial aid policy fully covers admitted international students at Penn, and the school pledges to provide all their demonstrated needs using grant funds and work-study just like it does for all undergraduate students. Over $10 million in financial help is given out by the university each year to students who are not citizens or permanent residents of the US, Canada, or Mexico.
Any financial aid received will be in the form of institutional funding because international students are not eligible for federal funding which covers work-study and grant funds. International students who are interested in borrowing money through a loan should talk to a financial aid counselor and will probably need to find a co-signer who resides in the United States.
Important Tax Information
Please be aware that as an international student, a portion of any grant fund you receive from Penn may be liable to U.S. taxes. Any taxes UPenn has paid on your behalf will appear as a charge on your student account. Please take note that additional grant funding from Penn cannot be used to pay these taxes. By submitting a yearly tax return, you might be able to recuperate part of this funding.
International Students Banking
It is advised that all international students at UPenn should open a U.S. bank account. You can open an account at any of the banks in the area surrounding Penn's campus. For a comprehensive introduction to American banking, you can also find information from Financial Wellness @ Penn.
Is UPenn Good For International Students?
For a smooth transition into university life, UPenn warmly welcomes and assists international students with a variety of language resources and services.
Penn also gives you a great starting place for exploring American culture. Philadelphia, the cradle of the American Revolution and one of the top tourist locations in the country, is where the campus is situated. Philadelphia serves as a major transportation hub for the Northeast and is a great place to begin exploring other significant American cities. It takes only two hours to get to New York City, three hours to get to Washington, D.C., and five hours to get to Boston.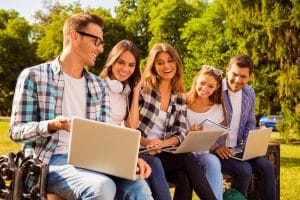 If you wonder "Is UPenn good for international students?" international students can enroll in courses at Penn's College of Liberal and Professional Studies (LPS) that will broaden their horizons intellectually and, if necessary, improve their English language skills. You will obtain an official transcript from the University of Pennsylvania as well as college credits that can be applied to other universities. Programs consist of:
International Guest Student Program: Through the International Guest Student Program, highly qualified international undergraduate students can study credit-bearing coursework at UPenn. You have access to academic support services and your choice of courses across the School of Arts and Sciences as an international guest student.
Penn Summer Global Institute: The Penn Summer Global Institute, a six-week, all-inclusive academic experience for outstanding undergraduates from around the world with strong English proficiency, is a great option for international students.
Programs for International Professionals: If accepted, international professionals will earn a graduate degree from Penn after completing one of the master's degree programs. If you have any inquiries about the application procedure, visas, or school transfers, the College of Liberal and Professional Studies, the English Language Programs, and other departments at UPenn will be happy to assist you.
The University of Pennsylvania's International Student and Scholar Services (ISSS) offers fundamental services to international students, visiting scholars, staff, and academic units. On topics like immigration, employment, and international travel, the ISSS team will provide information, and references for international students at UPenn. The team can help with issues relating to social and personal adjustments to a new culture, along with practical issues about residing in Philadelphia.
For the Class of 2025, Penn received over 11,000 international applications, a record-breaking 50% increase from the previous year. Hugo Leo, a UPenn undergraduate student who is the president of the Association of International Students, stated that despite Penn's high international application rates for the incoming class, stated that Penn's test-optional policy contributed to an increase in the number of applications from foreign applicants. The university declared in March 2020 that it will no longer need applicants for the 2020–2021 admissions cycle to take the SAT and ACT.
Leo also mentioned that U Penn's positive reputation among international applicants may be the cause of the rise in applications. Rudie Altamirano, director of International Scholar and Student Services at UPenn, concurred that Penn's reputation for collegiality toward international students may be responsible for the rise in applications from such students. He claimed that "international students need to go through too many hurdles: bureaucracy, homeland security policies, presidential proclamations, visa restrictions, et cetera."
American colleges must work more to embrace international candidates, Altamirano mentioned. He also added that the ISSS department at UPenn is the only one in the Ivy League that places equal emphasis on immigration and integration.
If you are interested to be part of the community at UPenn and get to enjoy the perks that international students at UPenn have, start building a strong application as early as your junior year in high school. If you need further assistance, regardless of where you are in the world, AdmissionSight is here to assist. Book an initial consultation with AdmissionSight experts to start your college admissions journey the right way.