Is 36 a Good ACT Score?
Whether you've just received your results on the ACT, you're eagerly anticipating your score, or you haven't even taken the test yet, you might be wondering about the value of a 36 ACT score. Is it good? Is it bad? Do you need to retake the test? Is it enough to get into the school of your dreams?
There's no shortage of questions that students have about their ACT results and rightfully so! These exam results play an essential role in determining an applicant's likelihood of being accepted. The better the score you have, the higher your chances of getting into your top-pick schools.
Of course, there are many other factors that contribute to a student's eligibility such as GPA, high school transcripts, extracurriculars, and so much more. Here, we're going to focus on just this standardized test. More specifically, we're going to figure out if a 36 ACT score is good.
How good is a 36 ACT Score?
A 36 ACT score is the highest you can possibly achieve. The ACT is just out of 36, so that means you've received a perfect score!
You should feel incredibly proud of yourself. Whether this is your third time taking the ACT with months and months of difficult preparation or your first time taking the exam without much work, you have every right to feel great about this accomplishment.
The national average composite score for 2022 is 19.8, down from 20.3 for the graduating class of 2021, the lowest average score since 1991.
As you can probably imagine, getting a perfect score on the ACT unlocks a plethora of doors for you in the college admissions world. You've significantly increased your chances of getting accepted at some of the leading colleges and universities across the country.
In addition, you've optimized the number of grants and scholarships to which you qualify based on academic performance. Many financial aid opportunities are offered based on high performance which a 36 ACT score definitely qualifies you for.
What happens if you get a 36 on the ACT?
So, you've received a perfect 36 on the ACT. You might be wondering what happens after achieving this impressive score. Well, nothing happens automatically. You still need to submit a holistic application with equally impressive components.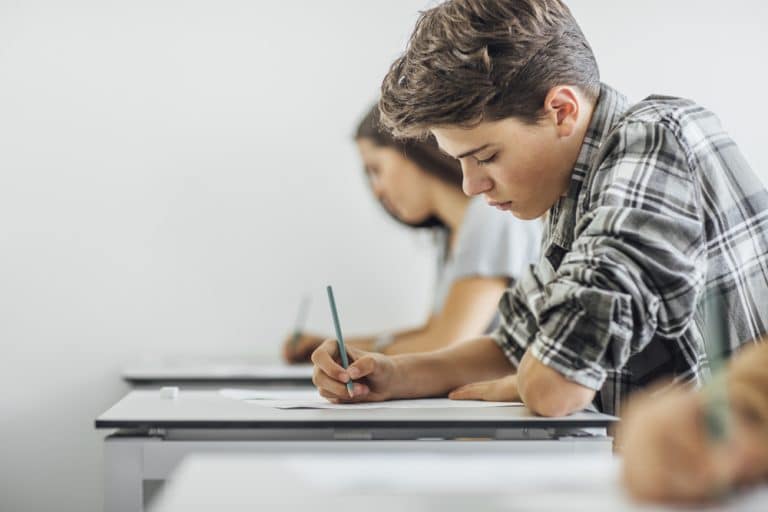 You've definitely increased the number of colleges and universities to which you can gain admittance and automatically improved the impact of your application. Admissions officers at every school will take notice right when they see a perfect ACT score.
Students with this ideal score also unlock a wide range of scholarships and financial aid opportunities which we'll discuss in greater detail in a bit. You've drastically improved your college prospects and things are only going to look uphill for you moving forward following a 36 ACT score.
How many people score a 36 on the ACT?
A 36 ACT score is the highest you can receive on the exam. As you can imagine, you're amongst a high-performing minority of students who take the test. Of all the people who take the ACT – which is a lot of people – you're among the 0.33% who get a perfect score.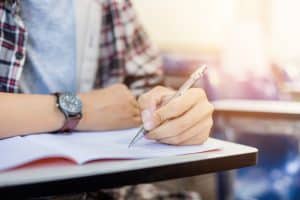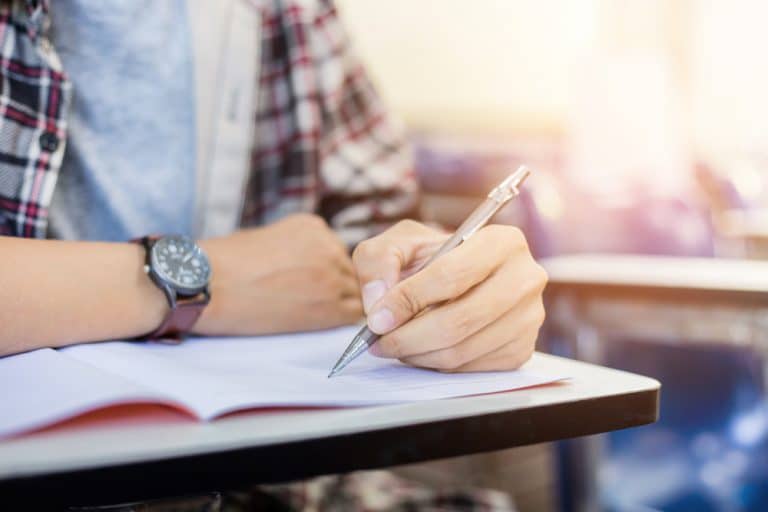 Should you retake ACT if you got a 36?
No, there's no point to retake the ACT after scoring a 36. It's already perfect! Only 0.33% of people end up receiving a perfect score on the ACT!  It really doesn't matter where you apply. This score will make you stand out from the crowd.
Yes, if you're wondering, even the Ivy League and Top 10 universities will consider a 36 ACT score impressive. So, pat yourself on the back! You've successfully knocked one of your college admissions requirements out of the park.
Now is the time to start refocusing your attention on other areas of your application that could use improvement. Maybe you need to work on college supplemental essays or you might need to improve your senior year high school grades.
Regardless, getting a 36 ACT score is an amazing feat, but the college admissions work isn't over yet. There are always areas in which you can improve your overall application.
Colleges you can get into with a 36 ACT score.
We've already established that a 36 ACT score is beyond fantastic. It's perfect! The follow-up question is what colleges you can get into with a 36 ACT score. The high performance of this test score, shows admissions officers that you're more than capable of taking college-level courses.
As long as everything else on your application reflects this level of quality, you'll have the pick of the litter when it comes to colleges and universities. Let's take a look at some of the best schools you can get into with a 36 ACT score.
Brown University
Unlike other universities, Brown University's open curriculum allows students to take courses that they don't have to follow a set curriculum. This allows them to explore different fields.
Before students can start taking courses, they must first go through the approval of a faculty member.
One of the main advantages of Brown University's liberal arts medical program is its ability to complete it with both an undergraduate and a professional component. This means that students can pursue their MD without starting from scratch.
Harvard
One of the most prominent universities in the Ivy League is Harvard, and its low acceptance rate is known to be a concern for some. Despite this, the school still remains regarded as a highly competitive institution.
One of the main factors that set Harvard apart from other universities is its massive endowment, which has the largest amount in the world. This allows the school to spend more on its students and provide world-class faculty members.
Besides these, Harvard also provides financial aid, and this allows students to receive a high-quality education at a great price. The school additionally boasts of its liberal arts programs, which are well-known for being attended by prominent individuals, such as heads of state, politicians, actors, artists, and so much more.
Columbia
The school's Core Curriculum has also been instrumental in Columbia's academic success. It allows students to develop an understanding of various fields. In order to graduate, all students are required to take ten major courses, which include foreign language, art, philosophy, and foreign studies.
These requirements can help them make informed decisions regarding their studies. One of the main reasons why Columbia University is regarded as a highly competitive school is its diversity. This allows the school to attract more highly-qualified individuals.
The school also aims to break down the various barriers that prevent people from attaining a world-class education.
Cornell
Many students avoid applying to Cornell. Instead, they head to other universities, such as those in the Ivy League. Although it's considered to be a less selective school, it still has a high acceptance rate, and it offers over 4,000 courses.
If you're not satisfied with the education being offered by the Ivy League universities, then look into other schools such as Cornell. One of the main reasons why Cornell is known for its interdisciplinary programs is its emphasis on education. This allows students to explore different fields.
UPenn
Besides being regarded as a service-oriented university, UPenn also emphasizes the importance of comprehensive education. The school is committed to developing a positive global impact through its programs and activities.
One of the school's goals is to challenge its students to think critically about the lessons that they've learned. If you're a passionate student who's looking for an education that's world-class, then UPenn is a good choice.
Yale
One of the most selective universities in the league is Yale University, which has a 5% acceptance rate. This prestigious school has maintained its reputation for being able to provide high-quality education. Its student body is additionally known for its dedication to studies, and it has alumni such as Amy Klobuchar and George Bush.
If you're an avid student who enjoys competing against other schools, then consider choosing Yale. Besides being able to produce outstanding leaders, the school also offers various other opportunities for its students.
Dartmouth
One of the most important factors that Dartmouth considers when it comes to choosing a university is its low student-to-faculty ratio. This means that it can provide a more intimate environment for its students. The school also maintains a tight-knit community due to its various traditions and activities.
Dartmouth is known for its liberal arts education. However, it also offers various undergraduate programs in different fields, such as biology, engineering, and computer science. For students who are looking for small class size and a strong community, Dartmouth is a great choice.
Princeton
Despite Princeton being widely regarded as a leading institute for researchers, it also has an important place in the hearts of its undergraduate students. In the last couple of years, it has become one of the top universities in America when it comes to teaching.
One of the main factors that make Princeton highly desirable is its commitment to hiring the very best staff members. This ensures that it can provide an exceptional education to its students.
With a wide range of programs and majors, it's a great choice for anyone who's searching for something a bit different. Princeton is also known for its financial aid packages, which are designed to help students from different backgrounds obtain an Ivy League degree.
Nearly Anywhere
Yes, that's not actually the name of a real university or college, but it's definitely where you can apply and expect to have a good chance of getting accepted with a 36 ACT score. Think of this perfect score as a key unlocking the door to nearly every college. You have the pick of the litter…as long as the rest of your application is up to snuff.
That's an important point that we don't want to gloss over. A perfect ACT score is…well, perfect. However, the college admissions process is holistic in nature which means admissions officers consider every part of your application when determining whether you're a good match for their school or not.
Simply having a perfect ACT score isn't enough along to get you into any school you want. However, if every other part of your application is just as impressive, then you've really achieved the closest thing to a Golden Ticket to your dream school. Now it's time to decide where you want to go!
What to keep in mind about a 36 ACT score?
A 36 ACT score is perfect, and you should feel great about the results. You've worked hard, and it shows. However, a perfect ACT score doesn't necessarily confer a perfect college application. It's important to keep in mind that every factor on an application is considered by college admissions officers.
In addition to standardized test scores, colleges, and universities look at GPA, high school transcripts, college supplemental essays, extracurricular performance, letters of recommendation, college interviews, and a host of other factors when determining what students get admitted.
You can't rely solely on any single component of a college application no matter how powerful and impressive it is. A perfect ACT or SAT score will never act as an automatic shoo-in. Admissions officers are interested in seeing well-rounded and comprehensive applicants that excel in more than one area.
Don't get it wrong – a 36 ACT score is amazing. You've performed better than the overwhelming majority of applicants even at the best universities in the country. Your application is automatically going to the top of the pile. Just don't let this achievement keep you from ensuring your entire application is strong.
Should you take the SAT if you get a 36 on the ACT?
The overwhelming majority of colleges only require students to submit a single standardized test score. In other words, you'll have a choice between taking the ACT or SAT when preparing for college. That's why it's important to understand the difference between these two standardized tests to see which plays to your strong suits and preferences more.
However, once you receive a perfect 36 on the ACT, there's absolutely no reason to take the SAT. Admissions officers aren't going to be much more impressed that you received a great score on your SAT and a perfect score on the ACT. The perfect score on one standardized test is more than enough to catch the attention of colleges and universities.
As mentioned before, we'd highly recommend that students forget about both the ACT and SAT after getting a perfect score to focus their efforts on other parts of their application.
Get into your dream school in the U.S.
Not sure how to approach the college admissions process? You're not alone! Every year, millions upon millions of high schoolers approach this momentous transition without a whole lot of preparation or information. It's a daunting occurrence that only comes around once in your life. It's easy to say "no pressure", but there's no doubt you're going to feel it.
Instead of entering into this period of your life blind, you should have all the tools, resources, and expertise you need. That's where college admissions experts can help. These experts know the ins and outs of the college admission process and offer various services to help college applicants navigate this complex transition.
At AdmissionSight, we have over a decade of experience helping high schoolers just like you master the college admissions process. In fact, 3 out of every 4 of the students we work with end up getting accepted to a Top 10 or Ivy League university. No matter where you want to attend, we can help you realize that goal.
How do we do it? Great question! We offer a wide range of services aimed at helping high schoolers better understand the college admissions process and perfect their applications. If you're interested in learning more about our services and how you can benefit, feel free to contact us today.
We'll set up a free consultation to discuss everything in greater detail and to answer all of your questions. We look forward to hearing from you.