Middlebury vs. Duke: Which Institution is Right for You?
When it comes to selecting a university, there are many factors to consider. From academics to campus life, each university has its unique strengths, weaknesses, and experiences. In this article, we'll take a deep dive into the difference between Middlebury vs. Duke to help you make an informed decision about which university fits your interests and aspirations.
Campus Life: How do the two institutions compare in terms of student life?
Middlebury is known for its tight-knit community, characterized by small class sizes and a personalized learning environment. It has a rural Vermont location, surrounded by the beauty of nature. Sustainability and environmentalism are big on campus. There are over 150 student-run organizations – from clubs for outdoors enthusiasts to films to volunteering. Middlebury values inclusion and diversity, boasting a vibrant student body that is 48% students of color and 10% international students.
On the other hand, Duke, located in Durham, North Carolina, has a more urban setting. Duke follows an 'East Campus-West Campus' concept, where freshmen live on the East Campus for their first year and then move to the West Campus for the next three years. The West Campus has Gothic-style architecture, while the East has newer and modern buildings. Duke students are involved in a wide variety of clubs and activities; Greek life is relatively prominent, and sports play a significant role in student life.
Despite their differences, both Middlebury and Duke offer a rich and fulfilling student life experience. Middlebury's focus on sustainability and environmentalism is reflected in the campus culture, with many students actively involved in environmental initiatives. Duke's East Campus-West Campus concept provides a unique experience for freshmen, allowing them to acclimate to college life in a smaller, more intimate setting before transitioning to the larger, more diverse West Campus. Both offer a wide range of extracurricular activities, allowing students to explore their interests and passions outside of the classroom.
Academics: A comparison of academic programs and faculty at Middlebury and Duke.
Both offer excellent academic programs, but there are differences in their areas of strength. Middlebury focuses on liberal arts and has strong departments in languages, literature, and environmental sciences. It has a 9:1 student-to-faculty ratio and offers a unique undergraduate research opportunity – the summer research program. Middlebury has a rigorous language requirement for all students; therefore, proficiency in a foreign language is emphasized.
Duke, on the other hand, is a world-class research university with seven schools, including the undergraduate Trinity College of Arts and Sciences. It is known for its engineering and business programs and has strong departments in the humanities, social sciences, and natural sciences. Duke has a 6:1 student-to-faculty ratio and a large number of renowned professors in their respective fields.
Another difference between Middlebury and Duke is their approach to education. Middlebury emphasizes a personalized approach to learning, with small class sizes and a focus on student-faculty interaction. Duke, on the other hand, has a more structured approach to education, with larger class sizes and a focus on research and practical experience.
Furthermore, Middlebury has a strong commitment to sustainability and environmental stewardship. The college has implemented numerous initiatives to reduce its carbon footprint and promote sustainable practices, including a biomass plant and a solar array. Duke also has a commitment to sustainability, with a goal of becoming carbon neutral by 2024 and numerous sustainability initiatives across campus.
Campus Location and Size: Analyzing the different campus settings and sizes of Middlebury and Duke.
Middlebury's campus is relatively small, with around 2,500 undergraduate students, providing a close-knit community feel where students and faculty members can easily connect. The rural environment is conducive to quiet study spaces, and there are limited distractions. It is perfect for those who want a more intimate campus experience.
Duke, on the other hand, has a large campus with over 6,000 undergraduates. Its size doesn't mean it's less personal; the East Campus residence hall system is designed to create smaller communities. However, students have to commute between different campuses for classes and activities.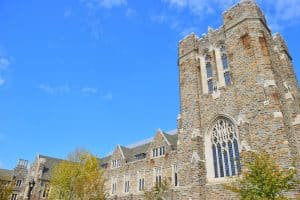 Another factor to consider when analyzing campus location and size is the surrounding community. Middlebury is located in a small town in Vermont, which offers a tight-knit community with a strong sense of local pride. The town is known for its outdoor recreation opportunities, including hiking and skiing. In contrast, Duke is located in Durham, North Carolina, which is a larger city with a more diverse population. Durham offers a variety of cultural events and entertainment options, but it can also be more hectic and overwhelming than Middlebury's rural setting.
Finally, campus size can also impact the availability of resources and facilities. Middlebury's smaller campus means that there are fewer buildings and resources available, but it also means that students have easier access to these resources. Duke's larger campus offers more facilities, including multiple libraries, research centers, and athletic facilities. However, students may have to travel further to access these resources, and they may be more crowded due to the larger student population.
Student Diversity: An examination of diversity statistics at both Middlebury vs. Duke
Middlebury prides itself on its commitment to inclusivity, diversity, and equity. Approximately 14% of enrolled students are Pell Grant recipients, and the college has a need-blind admission policy, meaning that it doesn't consider an applicant's financial status while offering admission. It is also an LGBTQ+ friendly institution.
Duke, too, has made significant strides in creating a more diverse and welcoming community. Its undergraduate student body is 44% white, 20% Asian, 10% Black, and 12% Hispanic/Latinx. Duke provides significant support for first-generation college students, low-income students, and underrepresented minorities.
At Middlebury, the college has also implemented various programs and initiatives to support diversity and inclusion on campus. For instance, the college has a Bias Response Team that addresses incidents of bias and discrimination on campus. Additionally, the college offers various resources and support for students from underrepresented backgrounds, such as the Anderson Freeman Resource Center, which provides a safe and inclusive space for students of color, first-generation students, and LGBTQ+ students.
Similarly, Duke has also taken steps to promote diversity and inclusion on campus. The university has established several centers and programs that support underrepresented students, such as the Center for Multicultural Affairs and the Duke Office of Access and Outreach. Additionally, Duke has implemented various diversity and inclusion training programs for faculty, staff, and students to promote a more welcoming and inclusive campus environment.
Extracurricular Activities: Which university offers more opportunities for extracurricular involvement?
Middlebury offers myriad extracurricular activities for students, as discussed earlier. The college encourages group involvement and community service to further strengthen students' social and leadership skills. Additionally, Middlebury students are known for being outdoor enthusiasts, taking advantage of the surrounding natural beauty.
Similarly, Duke offers a wide variety of clubs and organizations for students to explore their interests. Duke students can get involved in Greek life, community service, sports, and more. Duke has 27 varsity sports teams and offers excellent facilities for intramural sports and leisure activities.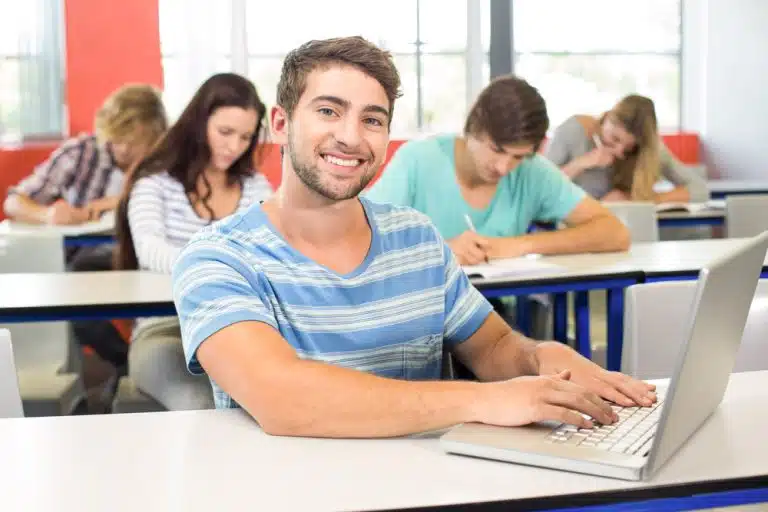 However, Middlebury has a unique program called the "MiddCORE" program, which is an intensive four-week summer program that focuses on leadership, innovation, and social entrepreneurship. This program provides students with hands-on experience and mentorship from industry professionals, allowing them to develop skills that are highly valued in today's job market. Middlebury also has a strong focus on sustainability, with many student-led initiatives and organizations dedicated to promoting environmental awareness and action.
Admissions Criteria: Comparing the admissions requirements and acceptance rates at Middlebury vs. Duke
Both Middlebury and Duke are selective, and the undergraduate application processes are rigorous. Duke's acceptance rate for the class of 2025 was 5.7%, while Middlebury's acceptance rate for the class of 2024 was 24%. Both institutions consider several factors, including academic achievements, extracurricular activities, personal qualities, and writing skills. Duke looks for well-rounded students and considers demonstrated leadership and service. Middlebury's admissions process is holistic and seems to focus on academic interests and diversity.
One notable difference between the admissions criteria at Middlebury and Duke is the standardized testing requirement. Duke requires applicants to submit either SAT or ACT scores, while Middlebury has adopted a test-optional policy. This means that applicants can choose whether or not to submit their test scores, and the admissions committee will not penalize them for not submitting scores.
Another factor that sets Middlebury apart from Duke is its commitment to sustainability. Middlebury has a strong focus on environmental stewardship and sustainability, and this is reflected in its admissions criteria. The university looks for students who are passionate about environmental issues and have demonstrated a commitment to sustainability in their personal and academic pursuits.
Cost of Attendance: An analysis of the costs associated with attending each university
The cost of attending either institution depends on several factors, like financial aid, merit scholarships, residency, and even the courses chosen. Duke's annual tuition and expenses for 2021-22, including books and other costs, are estimated to be around $81,250. Middlebury's cost of attendance, including tuition, room and board, and other expenses for the 2021-22 academic year, is around $75,500. Middlebury offers need-blind admission and meets 100% of each admitted student's demonstrated financial need – ensuring that financial concerns don't hinder one's opportunities.
It is important to note that the cost of attendance is not the only factor to consider when choosing a university. Both Duke and Middlebury offer a wide range of academic programs, extracurricular activities, and resources to support student success. Duke is known for its strong programs in engineering, business, and medicine, while Middlebury is renowned for its language and environmental studies programs. Additionally, both have a diverse student body and a vibrant campus culture that fosters personal growth and development.
Career Opportunities: How do Middlebury and Duke graduates fare in the job market after graduation?
Middlebury and Duke graduates are known for being highly sought-after in the job market. Duke prepares its students well for a variety of career paths and has an incredible alumni network comprising multinational corporations, top law firms, and financial organizations. Middlebury graduates, too, are in high demand, and the college has an impressive post-graduation network. The institution's student-driven 'MiddNet' system provides students with resources, job listings, alumni presentations, and mentors for career development.
Furthermore, both Middlebury and Duke offer extensive career services to their students. These services include resume and cover letter reviews, mock interviews, and career counseling. Middlebury's Center for Careers and Internships also provides students with opportunities for internships, research, and community engagement, which can help them gain valuable experience and skills that are highly valued by employers.
In addition, both have strong programs in entrepreneurship and innovation, which can be beneficial for students who are interested in starting their own businesses or working in startups. Duke's Innovation and Entrepreneurship Initiative offers resources and support for students who want to develop their own ventures, while Middlebury's Center for Social Entrepreneurship provides opportunities for students to work on projects that address social and environmental challenges.
Student Satisfaction: A review of student satisfaction surveys at Middlebury vs. Duke
Both Middlebury and Duke students are, for the most part, satisfied with their university experiences. However, Duke's students rate their university slightly higher than Middlebury's students do, according to surveys. Duke ranks higher than Middlebury in the Princeton Review's rankings for student happiness and in the US News rankings for overall quality of life.
One possible reason for Duke's higher rankings in student satisfaction could be its larger size and greater resources. Duke has a student population of over 16,000, while Middlebury has just over 2,500 students. This means that Duke is able to offer a wider range of academic programs, extracurricular activities, and support services to its students. Additionally, Duke's location in Durham, North Carolina, provides students with access to a vibrant city with many cultural and recreational opportunities.
Athletics Programs: How do the athletic programs at Middlebury vs. Duke
Duke is known for having one of the most successful athletics programs in the country, with a men's basketball team that has won five national championships. Duke participates in the NCAA Division I and the Atlantic Coast Conference and has excellent state-of-the-art facilities for its sports teams. Middlebury, too, has excellent athletics programs but on a smaller scale. Middlebury is a member of NCAA Division III and the New England Small College Athletic Conference (NESCAC). The college takes pride in its high participation rates and an emphasis on athlete wellness, with state-of-the-art conditioning facilities.
When it comes to fan support, Duke has a larger and more passionate fan base, with thousands of students and alumni attending games and cheering on their teams. Middlebury, on the other hand, has a smaller but equally dedicated fan base, with students, faculty, and staff showing up to support their fellow classmates and colleagues. Despite the difference in size, both schools have a strong sense of community and pride in their athletics programs.
Alumni Networks: Examining the strength of alumni networks at Middlebury vs. Duke
Duke has a robust alumni network, with graduates spread across various industries worldwide. It has a vast range of alumni networks, including the Duke Global Entrepreneurship Network, Duke Law Club, and Duke Real Estate. Duke's alumni network is known for its significant contributions to research, nonprofit work, and public service.
Middlebury's alumni network is equally strong, with a powerful emphasis on mentorship and support. The college provides career services at all stages of one's career and has abundant resources available to alumni. Middlebury's network is especially strong in the fields of politics, law, sustainability, and education.
Both institutions have active alumni associations that organize events and activities to bring alumni together. Duke's alumni association hosts events such as networking receptions, career fairs, and alumni reunions. Middlebury's alumni association also organizes similar events, including regional gatherings, homecoming, and alumni travel programs. These events provide opportunities for alumni to connect with each other, share experiences, and build professional relationships.
Research Opportunities: Which university offers more research opportunities for undergraduate students?
Duke is a research powerhouse with a diverse portfolio of research opportunities. The university offers undergraduate research support through several programs like the Duke Research Scholars Program and the Bass Connections Program. These initiatives provide students with opportunities to participate in interdisciplinary research, work with professors, and hone their research skills.
Unlike Duke, Middlebury is primarily an undergraduate institution; however, it offers research opportunities to students through programs like the Middlebury College Summer Research Program. Middlebury places a considerable emphasis on integrating research into the academic curriculum, and students are encouraged to participate in research activities.
Additionally, Duke has a strong focus on research in the sciences, with state-of-the-art facilities and resources available to students. The university also has partnerships with several research institutions, including the National Institutes of Health and the National Science Foundation, providing students with access to cutting-edge research projects.
On the other hand, Middlebury has a unique focus on environmental research, with opportunities for students to participate in fieldwork and research projects related to sustainability and conservation. The college also has partnerships with several environmental organizations, providing students with opportunities to work on real-world environmental issues.
Study Abroad Programs: Comparing the study abroad programs available at Middlebury vs. Duke
Both offer a vast array of study abroad programs for their students to immerse themselves in different cultures and gain valuable educational experiences. Middlebury is well known for its Language Schools and offers intensive courses in 11 languages. As an extension of this program, Middlebury has a network of partner schools across the globe, where students can continue learning a language and participate in academic coursework. Duke has regional study abroad programs, and students have the option to choose from over 300 programs across the world, lasting from a few weeks to a full academic year.
Additionally, Middlebury offers a unique program called the Middlebury School of the Environment, which focuses on environmental studies and sustainability. This program takes place in various locations around the world, including the United States, China, and Brazil. Students in this program have the opportunity to study environmental issues in different cultural contexts and gain hands-on experience through fieldwork and research projects. Duke also offers a program called DukeEngage, which allows students to participate in immersive service projects in communities around the world. These programs provide students with valuable opportunities to engage with global issues and make a positive impact on the world.
Conclusion: A summary of the similarities and differences between Middlebury vs. Duke
In conclusion, both Middlebury and Duke are unique institutions offering exceptional academic programs, myriad extracurricular activities, and unrivaled opportunities for personal and professional growth. Middlebury would be an excellent choice for students seeking a small, intimate campus experience, a commitment to sustainability, and a focus on language and environmental sciences. Duke might be a better choice for students looking for a more extensive campus experience, a research university environment, and a focus on engineering and business programs.
Ultimately, the decision boils down to individual preferences and priorities, as each institution has its unique strengths and weaknesses. We hope this comprehensive article provided you with an in-depth look into both institutions, allowing you to make an informed decision about which university is the right fit for you.
It is important to note that both Middlebury and Duke have strong alumni networks that can provide valuable connections and opportunities for students after graduation. Middlebury's alumni network is particularly strong in the fields of education, environmental advocacy, and international relations, while Duke's alumni network is known for its success in business, law, and medicine. Both also offer robust career services and internship programs to help students gain practical experience and prepare for their future careers.