New York Film Academy's Video Game Design Camp for Teens
Are you a high school student whose heart beats for gaming? Prepare to embark on a remarkable journey as we introduce you to the prestigious New York Film Academy (NYFA) and its remarkable program called NYFA's Video Game Design Camp.
NYFA isn't just an ordinary institution; it's a beacon of creativity where dreams take center stage. Their mission is to nurture your talents, ignite your creative spark, and empower you to become a trailblazer in the thrilling world of video games!
Picture yourself spending your summer immersing yourself in the enchanting realm of video games. NYFA's Video Game Design Camp for Teens is your gateway to becoming a virtuoso in game design!
What is the New York Film Academy Video Game Design Camp?
Successful game designers are typically passionate gamers themselves, excelling in skills like creativity, artistic expression, and gameplay. At New York Film Academy's Video Game Design Camp for high school students (aged 14-17), participants acquire these crucial abilities and begin their journey toward becoming future game developers.
Right from the start at NYFA, students dive deep into the world of games, discovering what makes great games tick. Throughout the camp, they put this knowledge into action as they lay the foundation to create their own video game.
NYFA's game design camps don't just teach game creation; they also help students grasp systems thinking. This way, they develop an understanding of how different systems interact and influence each other, often within larger systems.
This skill isn't just beneficial for game design; it forms the basis for understanding subjects like science, technology, engineering, and math (STEM). NYFA provides various options, including in-person summer camps and weekend camps held on campus, as well as seasonal online programs.
Whether you're a seasoned gamer or just starting your adventure, this summer camp is meticulously designed to elevate your skills and awaken your artistic gaming spirit.
Benefits of Joining the New York Film Academy's Video Game Design Camp
NYFA operates on the principle that the best way to learn is through action. This camp offers a hands-on adventure where you will:
Craft Your Dream Game: Transform your unique gaming concepts into reality, from inception to completion.
Master the Art of Game Mechanics: Dive deep into the world of game design, coding, and storytelling.
Create Stunning Art: Design captivating 3D assets that breathe life into your gaming worlds.
Learn from Industry Titans: Collaborate with seasoned game developers and professionals who will unravel the secrets of the gaming cosmos.
Forge Your Path: Gain practical, real-world skills that will not only unlock doors in the gaming industry but also in many other realms. NYFA's Video Game Design Camp is a launching pad for your aspirations! Here's what sets them apart:
Top-Notch Facilities: Immerse yourself in state-of-the-art classrooms and studios.
Expert Instructors: Learn from industry titans and mentors who have mastered the craft.
Hands-On Learning: Immerse yourself in the world of gaming with practical, real-world experiences.
Join the Community: Connect with fellow gaming enthusiasts who share your fervor. Make friends with kids your age who are also big fans of video games!
What Lies Ahead: After conquering the NYFA Video Game Design Camp, you will leave with newfound skills, lifelong friends, and an unwavering determination to create the next gaming sensation!
Whether you're considering a career in game design or simply want to level up your skills, NYFA stands ready to support you.

New York Film Academy Game Design Summer Camps: Level One
At New York Film Academy's Video Game Design Camp for teens, participants fully immerse themselves in the world of studying and creating games.
No prior experience is required, and students begin building their knowledge from scratch, beginning with the fundamentals of the Unity Game Development Engine.
This software is widely used in various professional fields, including gaming, filmmaking, virtual reality, and architecture.
In addition, you will be introduced to computer programming using the C# language, which is known for its versatility and user-friendly code structure.
By the end of the program, students proudly leave with a game they've personally created!
Please note that while some of the teen camps offer more advanced level-two programs, NYFA's game design camps currently focus exclusively on level-one programs.
Camp Name: One Week Game Design Camp for Teens
In the 1-Week Game Design Camp at NYFA Los Angeles, you will embark on a journey to create a narrative design, develop game mechanics, construct a physical "paper" prototype, and transform your game into a 2D, playable digital version.
You are expected to fully commit to the game's development, including producing assets, completing assignments, and providing written instructions. Here's a glimpse of the topics campers may explore:
Play-Centric Design & Game Mechanics
Campers kick off your journey by diving into the creation of an original game idea through play sessions. These sessions help you gain the vocabulary and perspective needed for game analysis and modification.
On the second day, campers explore play-centric design elements and apply these methods to their own projects.
Finally, you will delve into the fundamentals of game design, learning how to grasp and employ concepts like balance, simplicity, and incentives to make your games more enjoyable for players.
Narrative Design & Art Direction
Day three focuses on combining game mechanics with a compelling and coherent narrative design. Campers use their narrative design to guide the art direction for their games, giving them a unique visual identity that enhances the player experience and complements the game's mechanics.
Iterative Development, Playtesting & Refinement
On the fourth day, students put their knowledge into practice by crafting a playable prototype of their game using arts and crafts materials. This hands-on, easily modifiable format allows you to engage in rounds of playtesting and refinement, mirroring the rapid prototyping techniques used by professional game studios.
Playable Demo & Launch
Campers conclude the week by transforming their game into a polished 2D digital prototype. You will also work on a promotional strategy and pitch deck that conveys their vision for the full development of their games.
During the "Demo Night" event, creators pitch their games to fellow campers, family members, and friends, who then have the opportunity to play the demos.
All participants leave the one-week camp with a newfound understanding of how to craft exceptional games.

Camp Name: Four-Week Video Game Design Camp for Teens
In NYFA's 4-Week Game Design Camp, teenagers transform their unique game ideas into fully playable digital prototypes.
This immersive camp takes place at both New York City and Los Angeles campuses, providing an interactive learning experience for teens aged 14-17 eager to explore the world of game design. Under the guidance of seasoned game design professionals, students dive into the art and practice of game design using user-friendly tools that require no prior experience.
Program Overview
Throughout this game design camp, students embark on a creative journey, crafting story concepts, designing and prototyping core game mechanics, creating original art assets, and programming their very own games in a collaborative "Game Jam" environment.
Over the four weeks of the camp, students delve into various topics, establishing a solid foundation in the fundamentals of game design. Here are the key topics:
Game Design: Striking a balance between goals, rules, materials, and space to create an engaging and enjoyable gaming experience for all participants.
Narrative Design: Developing a rich tapestry of environments, characters, and objects that add depth and texture to the game's mechanics.
Art Direction: Establishing a captivating visual style that conveys the narrative and defines the game's visual identity.
Sound Design: Crafting an auditory landscape that enhances the narrative and provides valuable feedback to support the game's mechanics.
Coding: The essential backbone that brings all the game's elements to life in the digital realm. Students use the Unity game engine as they learn the art of game creation, with each week focusing on a different stage of the game production process.
Schedule
Here's what your schedule will look like over the course of the four-week New York Film Academy's Video Game Design Camp:
Week One
In the first week, you will concentrate on narrative and game design, helping students develop their game concepts. Campers explore nonlinear narrative techniques and traditional storytelling models to conceive fictional worlds, flesh out characters, and define settings.
Game design encourages experimentation through paper prototypes, allowing for playtesting and refinement before transitioning to digital development.
Week Two
Dives into the specifics of art direction and sound design to create assets that will be incorporated into the digital games. Art direction begins with concept art inspired by the game's narrative, followed by the customization of art assets using various digital art programs.
Sound design enhances the gaming experience by providing ambiance and feedback for player actions. You will create your own original sound effects and music using field-recording equipment and digital tools!
Week Three
Focuses on constructing the game in the digital realm, applying basic coding skills to translate game mechanics from paper prototypes to the game engine. Campers start importing art and sound assets and refine the overall gameplay experience.
Week Four
This week will be devoted to extensive rounds of playtesting and refinement until the game is polished and ready for launch. Campers apply game design principles to strategize and execute a mini-marketing campaign to promote their game's release.
In addition to the structured workshops, campers explore a wide variety of games, including card games, console games, board games, sports games, story-driven games, strategy games, cooperative games, competitive games, indoor games, and outdoor games.
Upon completing the 4-Week Game Design Camp, students leave with a collection of digital materials, including code modules, artwork, and playable Unity games, which can be showcased in a personal portfolio. Moreover, you will surely gain a deeper appreciation for games of all types and acquire valuable skills in the digital realm.
Additionally, you will develop systems thinking abilities, a valuable skill that can empower them to excel in science, technology, engineering, and math (STEM) fields.
Camp Name: 4-Week Game Design Camp for Teens (Online)
In New York Film Academy's Video Game Design Camp 4-Week Online Game Design Camp, teenagers have the exciting opportunity to create their very own playable digital game demo featuring original 3D elements. This intensive virtual camp is designed for teens aged 14-17 who share a passion for both video and tabletop games.
Led by active industry professionals, this camp offers a deep dive into the world of game design, and prior experience is not necessary.
Program Overview
Throughout this online game camp, students delve into the core principles of game design, covering a wide range of topics, including:
Game Design: Exploring various game types, roles, platforms, player experiences, prototyping, iterative design, and user experience flowcharts.
Coding: Learning how to write and implement code for a 3D game, whether it's a first-person or third-person perspective, using Unity.
Narrative Design: Crafting captivating concepts, developing characters, writing dialogue, creating character voices, and using object-oriented storytelling techniques. Additionally, students delve into the art of crafting promotional copy for their games.
Acting for Game Designers: Gaining insights into character voice development and the art of directing voice actors for a more immersive gaming experience.
Art: Exploring the basics of 3D modeling using Maya, including texturing, and utilizing Mixamo for animation.
Industry Insights: Understanding the importance of identifying target audiences and branding strategies to reach and engage with players effectively.
Requirements
To participate in this camp, students should have access to a PC or Mac that meets specific requirements and has the necessary software installed:
Unity Personal (free)
Maya program (free trial version)
Please note that the Maya Free Trial version provides access to the software for 30 days, and there's also a Maya Student version available for high school and college students. If students' computers meet the Unity System Requirements, they should be able to run Maya as well.
How to Apply
NYFA offers open enrollment for our summer camps and workshops, and prospective students may apply year-round. Please note that applications require a $25 non-refundable application fee and may be submitted online or via email or mail. The application will not be processed without the payment of the application fee.
Submit Your Application Online
Students are encouraged to fill out an online application, which will also cover the application fee. Kindly ensure that each student submits a separate application. On the NYFA website, look for the online application link. You will be directed to the NYFA student portal, where you need to sign up for an account.
This portal serves as the platform where you can submit your application, provide your admissions documents, and access updates regarding your application status.
Tuition Costs
This summer camp costs $ 2,625 (USD).
Housing and Accommodation Rates
The student housing at NYFA New York is conveniently located just a brief trip away from the Battery Park campus. On the other hand, the housing for the Los Angeles camp is located at 3300 W Riverside Drive in Burbank.
The housing facility offers dormitory-style living with fully furnished rooms that come with amenities like a refrigerator, microwave, internet access, and air conditioning. Additionally, each room has a private bathroom for your convenience. You'll also find laundry facilities on-site, ensuring your needs are met, and there's round-the-clock security for your peace of mind.
NYFA New York Accommodation Rates
1-WEEK SHARED ROOM $1,200*
3-WEEK SHARED ROOM $3,450*
4-WEEK SHARED ROOM $4,600*
6-WEEK SHARED ROOM $6,900*
*A meal plan is not available for this location; Students may spend up to $250 per week on food.
NYFA Los Angeles Accommodation Rates
1-WEEK SHARED ROOM $1,300*
3-WEEK SHARED ROOM $3,750*
4-WEEK SHARED ROOM $5,000*
6-WEEK SHARED ROOM $7,500*
*Breakfast is included. Students may spend around $200 per week for dinners.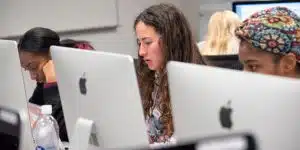 Why Choose NYFA Video Game Design Camp?
In the ever-evolving game design landscape, the New York Film Academy stands as a beacon of innovation and excellence. For years, NYFA has been making significant contributions to the realm of game design, shaping the industry and inspiring the next generation of game developers.
Nurturing Creative Visionaries
New York Film Academy's Video Game Design Camp's commitment to nurturing creative visionaries is at the heart of its impact on the world of game design. The institution has consistently provided a platform for aspiring game designers to transform their ideas into interactive and immersive gaming experiences. This nurturing environment has led to the birth of numerous groundbreaking games, each a testament to the creative genius fostered at NYFA.
Hands-On Learning
One of NYFA's standout contributions to game design is its hands-on approach to learning. Recognizing that the best way to master game design is by doing, NYFA offers students practical, real-world experiences.
Through rigorous coursework, mentorship from industry professionals, and opportunities to work on actual game projects, NYFA equips students with the skills and knowledge needed to excel in the gaming industry.
Cutting-Edge Facilities
NYFA's state-of-the-art facilities have also played a pivotal role in shaping the game design landscape. From advanced computer labs to motion capture studios, students have access to cutting-edge technology that mirrors the tools used by leading game development studios.
This exposure to industry-standard equipment and software ensures that NYFA graduates are not only well-prepared but also ahead of the curve in the competitive world of game design.
A Global Community of Creators
NYFA has cultivated a global community of game creators. Alumni from diverse backgrounds and cultures bring their unique perspectives to the world of game design. This rich tapestry of voices and ideas has led to the creation of games that resonate with players worldwide, breaking down barriers and pushing the boundaries of what gaming can be.
Inspiration and Innovation
NYFA's commitment to innovation is evident in the games produced by its students and alumni. These games not only entertain but also challenge conventions, push artistic boundaries, and explore new frontiers of storytelling. NYFA's influence can be seen in the innovative mechanics, compelling narratives, and stunning visuals that define modern game design.
Shaping the Future
As the gaming industry continues to evolve, New York Film Academy's Video Game Design Camp remains at the forefront of shaping its future. Its contribution to game design extends beyond the classroom and into the industry itself.
Graduates from NYFA go on to become influential figures, contributing their talents and expertise to leading game development studios, startups, and independent projects that push the envelope of what games can achieve.
In conclusion, NYFA's commitment to nurturing creative talent, providing hands-on learning experiences, and fostering a global community of game creators has had a profound and lasting impact on the world of game design. Through inspiration, innovation, and a dedication to excellence, NYFA continues to shape the future of game design, one visionary at a time.
If you need guidance on gaining admission to pre-college programs, it's worth consulting college admission specialists like AdmissionSight. With over a decade of expertise, our team has effectively guided students through the rigorous admissions journey, securing their spots at top global universities. Feel free to arrange your initial consultation with us!