Notable Alumni at Cornell
Introduction to Cornell University
Cornell University, which can be found in Ithaca, New York, is a private Ivy League institution as well as a statutory land-grant research university. Cornell University was established in 1865 by Ezra Cornell and Andrew Dickson White for the purpose of teaching and making contributions to all disciplines of knowledge, ranging from the classics to the sciences and from the theoretical to the applied.
Ezra Cornell aimed to build an institution where different individuals could get their education in any subject, and true enough, the university became a diverse and prestigious university, producing numerous notable alumni at Cornell around the globe that made huge and vital contributions to various industries.
At its main campus in Ithaca, Cornell is structured into seven undergraduate colleges and seven graduate divisions. Each is responsible for establishing its own distinctive entrance standards and academic programs.
The institution is also in charge of running three satellite campuses, two of which are in New York City and one in Education City, Qatar.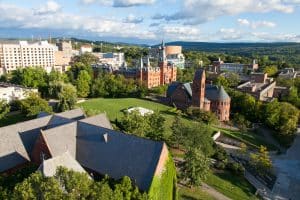 How big is Cornell University? Cornell's Ithaca-based main campus encompasses 745 acres. Cornell University owns more than 4,300 acres of land. When the Cornell Botanic Gardens and other university-owned lands in New York City are added to the total, the area is over 4,300 acres.
Since it was established, Cornell has been a non-sectarian, co-educational university that does not base admission decisions on factors such as religious affiliation or racial background. Students come from all 50 states in the United States as well as 119 other countries, making up the various student body of more than 15,000 undergraduates and 10,000 graduate students.
At AdmissionSight, we are committed to helping students get into their dream colleges. We can provide substantial guidelines and proper tools and resources to improve the chances of a student being admitted. Our team is comprised of professionals that have extensive years of experience in their respective fields. You can depend on their expertise during the admission season.
If Cornell is your dream college and you're already seeing yourself as an alumnus of this prestigious college one day, then you should finish this entire article to get interesting facts about the notable alumni at Cornell. Let us discuss them in the succeeding parts of this article.
Acceptance Rate for the Cornell Class of 2026
What is the acceptance rate for the Cornell Class of 2026? Cornell didn't release the total number of applicants along with the acceptance rate for this incoming class. However, the university stated that the total number of accepted students is 4,908.
The highlight of the Class of 2026 is that the admitted students came from a wider range of places than Cornell had ever done before. Even during the pandemic season, Cornell still breaks records for having a class full of smart and diverse admitted students.
Shawn Felton, the executive director of undergraduate admissions at the university, says that more people are interested and applying because they can learn more about Cornell's history, ethics, and resources online.
Cornell's prior online events attracted thousands of students in a single event, which is an exceptional turnout. As part of Cornell's attempts to engage students from various areas and schools, students from all over the world can now access the institution through numerous virtual components. The accepted students show this diversity in many ways, such as their interests, experiences, backgrounds, and where they come from.
The total number of admitted students at Cornell includes Early Decision (ED) admission candidates. Students are accepted from all fifty states in the United States, as well as the District of Columbia, Puerto Rico, the United States Virgin Islands, Guam, American Samoa, and the Northern Mariana Islands. Additionally, students come from eighty-five different countries.
The percentage of applicants who self-identified as members of underrepresented minorities that were granted admission was 32.7%, and 57.7% of those applicants self-identified as students of color. 19.9% of those who were offered admission, or 978 students, will be the first in their families to attend college.
The Class of 2026 had shown resilience, great perception, and more vigor during their high school years despite being confined to online classes and activities. Each student continues to thrive even with the altered instructional styles due to COVID-19. With such outstanding attributes, several students from this class can become notable alumni at Cornell someday.
Cornell has also just reiterated its commitment to providing need-based financial aid, and the staff of the financial aid office is prepared to assist students who have recently been admitted or who are enrolling. Students are arriving along with a renewed Cornell commitment to supporting any person with the financial support they need which includes a $500 million fundraising campaign for undergraduate financial aid.
Cornell will continue to place an emphasis on remotely interacting with admitted students in order to provide all admitted students with the opportunity to gain further knowledge. During the month of April, prospective and current students will connect through CUontheHill as part of the online engagement with admitted students.
CUontheHill is an online social hub where admitted students can talk with current students, as well as alumni, faculty, and staff members.
How hard is it to get into Cornell?
How hard is it to get into Cornell? As one of the institutions that make up the Ivy League, Cornell is known to have a notorious and competitive admissions process. Based on its acceptance rate in the past, Cornell has always been ranked as one of the most selective schools in the entire world.
If you wish to enroll at Cornell, you must ensure that every component of your application (including your grades, extracurricular activities, essays, and letters of recommendation) is as solid as possible. You also need to have the skills and qualities that Cornell looks for in its undergraduates.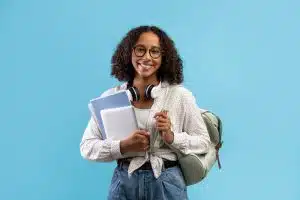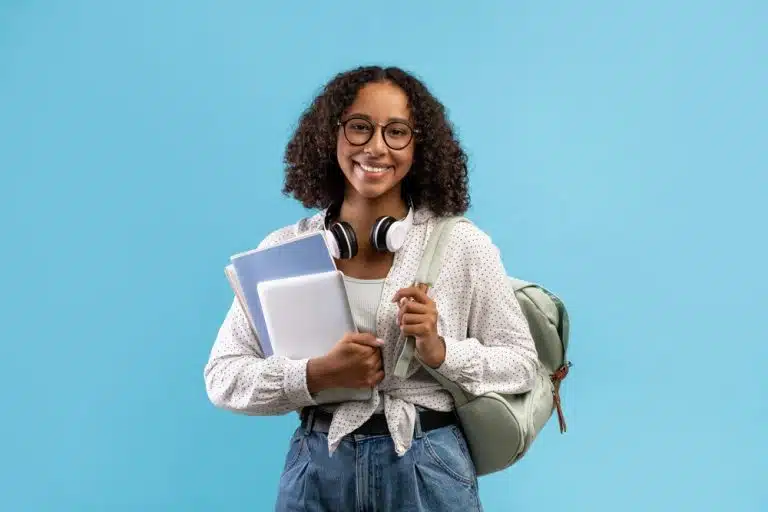 Your application to Cornell University provides you with the opportunity to showcase all of those traits. Your academic abilities will be demonstrated by your grades and how well you do on tests. You will have the opportunity to highlight your involvement in your community as well as your passion for Cornell in several aspects of your application. However, the most crucial opportunity will be in the Cornell essays that you submit.
If you intend to become one of the notable alumni at Cornell, you must be prepared to deliver outstanding performance in the institution consistently.
GPA Requirements
The admissions process at Cornell is notoriously competitive. To be competitive, you need to have a high GPA and demonstrate that you have a history of completing difficult courses. A weighted average grade point average of 3.8 is required for admission to Cornell University. To get this average or higher, most of the grades on your report card will need to be A's.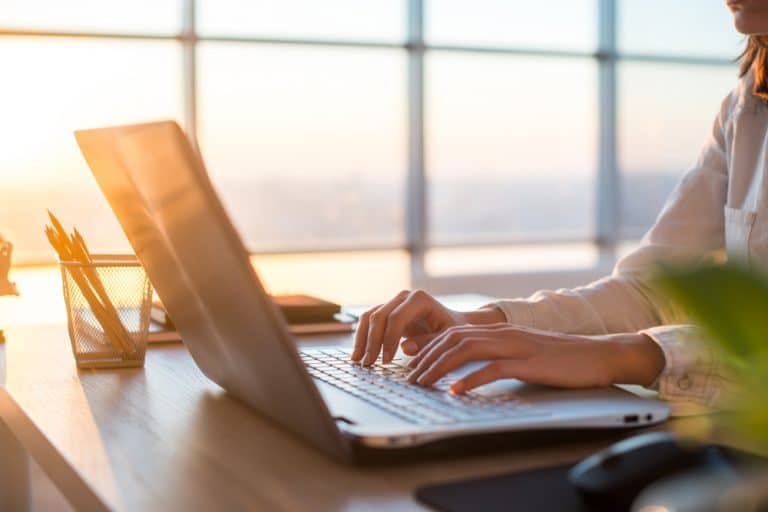 However, this does not imply that you should fill your schedule with classes that are simple in order to achieve satisfactory grades. Cornell wants to know that you can push yourself intellectually since they value that quality in applicants. You should try to sign up for honors, advanced placement, or international business classes whenever you can to show that you can handle difficult academic work.
Keep in mind that a strong application is a key to entering Cornell. You must work hard in high school to be accepted into this prestigious institution.
Cornell Alumni Interview
Is there a Cornell alumni interview? First-year applicants to any college or school at Cornell have the option to schedule an informational meeting with a local alumni admissions ambassador.
These conversations are not part of the admissions requirements. Applicants can learn more about Cornell in this conversation with a member of the Cornell Alumni Admissions Ambassador Network (CAAAN).
Applicants are urged to take advantage of this opportunity, even if it is not required. If an applicant is not contacted or is unavailable to meet with a CAAAN member, there will be no negative impact on their application. Time, geography, and volunteer constraints preclude the university from contacting each applicant.
How many alumni does Cornell have?
How many alumni does Cornell have? With its rich history and a lot of notable alumni at Cornell, the university has already produced more than 250,000 graduates living all over the world.
List of notable alumni at Cornell
In 2005, Cornell University was ranked third in the nation for contributions and bequests received from former students. Cornell graduates are referred to as Cornellians, and a significant number of Cornellians are well-known for their achievements in public, professional, and corporate life. The list of notable alumni at Cornell includes the following:
25 National Medal of Science & National Medal of Technology and Innovation
36 MacArthur Fellows
34 Marshall Scholars
31 Rhodes Scholars
3 unshared Nobel Prize winners among its alumni (Pearl S. Buck, Barbara McClintock, and Toni Morrison)
242 elected members of the National Academy of Sciences
195 elected members of the National Academy of Engineering
190 or more heads of higher learning institutions in the United States and around the world
195 elected members of the National Academy of Medicine
Ruth Bader Ginsburg
American lawyer and jurist Joan Ruth Bader Ginsburg served as an associate judge on the Supreme Court of the United States from 1993 until the year 2020, the year in which she passed away.
She was a moderate consensus-builder during the time President Bill Clinton nominated her to replace Justice Byron White, who was retiring. Ginsburg was the second woman and the first Jewish woman to serve on the Supreme Court.
Gillian Anderson
Gillian Leigh Anderson is a well-known actress in the United States. Her acting credits include the characters of FBI Special Agent Dana Scully in the series The X-Files, the unfortunate socialite Lily Bart in the film The House of Mirth (2000) directed by Terence Davies, and DSU. She has won many awards, including two Primetime Emmy Awards, two Golden Globe Awards, and four Screen Actors Guild Awards, among others.
Christopher Reeve
Christopher D'Olier Reeve was an American actor, director, and activist. He is best known for his role as the main title character in the film Superman (1978) and its first three sequels. Reeve passed away in 2004.
Tsai Ing-wen
Tsai Ing-wen is a politician and scholar hailing from Taiwan. She has held the position of President of the Republic of China (Taiwan) since 2016. Tsai is the first woman to hold the position of President of Taiwan, and she is a member of the Democratic Progressive Party (DPP).
Ann Coulter
Ann Hart Coulter is a well-known conservative television commentator, author, and syndicated columnist who also practices law in the United States. In the late 1990s, she began making appearances in print and on cable news programs as an outspoken critic of the Clinton administration, which led to her becoming regarded as a media commentator. She then became one of the notable alumni at Cornell.
Bill Nye
William Sanford Nye is a mechanical engineer, science communicator, and television presenter based in the United States. He is well known by his popular stage name, Bill Nye the Science Guy. It was as the host of the scientific television show Bill Nye the Science Guy (1993–1999), the show Bill Nye Saves the World (2017–2018) on Netflix, and his many appearances in popular media as a science educator that he gained the most notoriety.
Kurt Vonnegut
Kurt Vonnegut Jr. was a famous American author who was recognized for writing novels that were both sarcastic and darkly comic. During his career that spanned more than 50 years, he wrote and published 14 novels, three collections of short stories, five plays, and five nonfiction works. In addition, further collections of his work were released after he passed away.
Bill Maher
William Maher is a well-known comedian, actor, political pundit, and host on American television. He was born in the United States. Both Real Time with Bill Maher (2003–present) on HBO and Politically Incorrect (1993–2002), which ran first on Comedy Central and then on ABC, have helped to make him known as a political commentator.
Toni Morrison
Toni Morrison was the pen name of the late Chloe Anthony Wofford Morrison, an author from the United States. The Bluest Eye, her debut novel, was released to the public in the year 1970. The Song of Solomon (1977), which received widespread acclaim and earned her the National Book Critics Circle Award, was the catalyst for her rise to national prominence.
Jane Lynch
Actress, comedian, and writer Jane Marie Lynch was born in the United States. She is best known for her role as Sue Sylvester in the musical comedy series Glee, which ran from 2009 to 2015 and for which she was nominated for a Primetime Emmy Award.
Jimmy Smits
Jimmy L. Smits is a well-known actor in the United States. He is best recognized for his roles as attorney Victor Sifuentes in the legal drama L.A. Law during the 1980s and 1990s; NYPD Detective Bobby Simone in the police drama NYPD Blue during the 1990s and 2000s; and Matt Santos in the political drama The West Wing.
Lee Teng-hui
Lee Teng-hui was a prominent Taiwanese statesman and economist who held the position of President of the Republic of China (Taiwan) under the Constitution of 1947 and Chairman of the Kuomintang (KMT) from 1988 to 2000. He remained in both of these roles until his death in 2000.
Huey Lewis
Huey Lewis, better known by his stage name, is a musician from the United States who also writes songs and acts.
William Sadler
William Thomas Sadler is an American actor who has worked in film, television, and on stage. Chesty Puller from "The Pacific," Luther Sloan from "Star Trek: Deep Space Nine," Sheriff Jim Valenti from "Roswell," Convict Heywood from "The Shawshank Redemption," Senator Vernon Trent from "Hard to Kill," Death from "Bill & Ted's Bogus Journey" and "Bill & Ted Face the Music," and Colonel Stuart from "Die Hard 2" are some of the characters he has played on television and in movies.
Thomas Pynchon
Novelist Thomas Ruggles Pynchon Jr. is a native of the United States. He is a MacArthur Fellow, and his novels are renowned for their depth and complexity, making him known as one of the notable alumni at Cornell.
His writings, both fictional and nonfictional, cover a wide range of topics, categories, and topics, including history, music, science, and mathematics. Gravity's Rainbow, a book by Pynchon, won the United States National Book Award for Fiction in 1973.
Francis Fukuyama
Yoshihiro Francis Fukuyama is a well-known name in the fields of political science, political economics, and writing in the United States.
Janet Reno
American attorney Janet Wood Reno was the 78th person to hold the post of United States Attorney General, serving in that capacity from 1993 to 2001. She was the second-longest-serving person in that role. Reno was the first woman to hold the position and was a member of the Democratic Party.
Robert F. Smith
Robert Frederick Smith is a prominent American entrepreneur, philanthropist, chemical engineer, and investor. He is also a member of the National Academy of Engineering. He established the private equity business, Vista Equity Partners, and serves as both its Chairman and Chief Executive Officer.
Edward Bernays
Edward Louis Bernays was an American theorist who is regarded as a pioneer in the fields of public relations and propaganda. His obituary refers to him as "the father of public relations" because of his contributions to these fields. Life magazine recognized Bernays as one of the 100 most influential Americans of the 20th century and placed him on that list.
Martin D. Ginsburg
Martin David Ginsburg was an American attorney who focused his practice on tax law. In Washington, District of Columbia, he was a professor of law at Georgetown University Law Center, and he also served as counsel in the Washington, District of Columbia office of the American law firm Fried, Frank, Harris, Shriver & Jacobson.
Peter Ostrum
Peter Gardner Ostrum is a veterinarian and former child actor who was born and raised in the United States. He is best known for his role as Charlie Bucket in the film Willy Wonka and the Chocolate Factory, which he played for the first time in 1971.
Pearl S. Buck
Pearl Sydenstricker Buck was a novelist and writer who came from the United States. The Good Earth was the novel that had the greatest number of copies sold in the United States in both 1931 and 1932, and it was awarded the Pulitzer Prize in that same year. Buck was the first American woman to win the Nobel Prize in Literature, which she received in 1938. She then became one of the great inspirations of woman writers, and her contributions made her one of the well-known notable alumni at Cornell.
Keith Olbermann
Keith Theodore Olbermann is a well-known political commentator and sports reporter in the US.
Freeman Dyson
Freeman John Dyson was a theoretical physicist and mathematician who was of English and American descent. He is best known for his contributions to the fields of quantum field theory, astrophysics, random matrices, mathematical formulation of quantum mechanics, condensed matter physics, nuclear physics, and engineering, among other areas of study. In addition to being Professor Emeritus at Princeton's Institute for Advanced Study, he was also on the Board of Sponsors for the Bulletin of the Atomic Scientists.
E. Cupp
Television personality, political analyst, and author Sarah Elizabeth Cupp was born and raised in the United States. S.E. Cupp: Unfiltered is a political panel shows that she has been hosting since August 2017, first on HLN and then subsequently on CNN.
Harry Chapin
Harold Forster Chapin is best known for his writing and performing as an American singer-songwriter, philanthropist, and hunger activist. In the 1970s, he achieved widespread acclaim all over the world. Over 16 million copies of Chapin's albums have been sold all over the world, earning her multiple Grammy Awards and induction into the Grammy Hall of Fame.
Howard Hawks
Howard Winchester Hawks, an American film director, producer, and screenwriter, worked in Hollywood during the golden age of the film industry.
Andrea Savage
Andrea Kristen Savage is an American actress, comedian, and writer who is best known for her roles in the films Step Brothers and I'm Sorry, a comedy series on TruTV that she also created, the mockumentary series Dog Bites Man on Comedy Central, the HBO comedy Veep, and the reality TV parody series The Hotwives on Hulu.
Bajrakitiyabha
Princess Bajrakitiyabha Narendira Debyavati, also known as Princess Rajasarinisiribajra, is a Thai diplomat and princess of Thailand.
Steve Reich
Between the middle and end of the 1960s, American composer Stephen Michael Reich made a big contribution to creating a style of music called "minimal music."
Each of the notable alumni at Cornell is an extraordinary individual who entrusted their college education to Cornell, one of the most prestigious educational institutions in the United States. If you're eager to enter this college, you should be dedicated to each step of its admission process. Your ideal life as a student at Cornell can become a reality with our professional assistance at AdmissionSight. Contact us today and we will talk about strengthening your profile to increase your chances of admission.