Private vs Public College Pros and Cons
The choice of which college or university to attend is a significant one that requires careful consideration of factors such as finances, the academic curriculum, and extracurricular opportunities. It's possible that you'll also need to choose between attending a public or private college if you want to get the most out of your education. You need to compare the private vs public college pros and cons, which will allow you to make a decision that is based on accurate information.
When it comes to making a final decision, deciding between a public and a private college doesn't always come down to the cost of attendance; rather, there are a number of other considerations to take into account. But before we get into that, let's start with a few definitions.
What is a Private College?
The availability of financial aid is the primary distinction between public and private educational institutions. Institutions that fall under the category of "private colleges" typically take the form of educational nonprofit organizations.
As a result of this, it does not obtain the majority of its funding from a state government rather, the majority of its funding comes from tuition and private endowments.
Private universities and colleges typically have smaller class sizes as well as smaller student populations. This is because they charge higher tuition.
Private schools can also have specific affiliations, such as with certain religious churches and sects; or private colleges can be ones with more focused educational fields, such as colleges for studying music (for example, the Juilliard School) or technology (for example, the California Institute of Technology — Caltech).
Moreover, it is common for private colleges to offer a smaller selection of majors; however, private schools may also provide more specialized academic and degree programs. This phenomenon is not universal, but it is quite common its part of knowing about private vs public college pros and cons.
What is a Public College?
To reiterate, the primary distinction between public and private colleges is that public universities receive funding from the government, whereas private universities must raise money through student tuition, other fees, and charitable donations.
In exchange for this, the cost of tuition at public colleges typically comes in lower than the cost of tuition at private colleges.
For example, the annual tuition at all private, nonprofit four-year colleges in the state of California costs an average of $32,199 per year. This does not include private colleges whose primary focus is on awarding associate's degrees.
According to data from the National Center for Education Statistics (NCES) College Navigator for the academic year 2021-2022, the average cost of tuition for all four-year public colleges for in-state enrollees is $9,319, and the average cost of tuition for out-of-state enrollees is $26,415; these figures are in contrast to one another.
Public colleges and universities are typically much larger than private colleges, both in terms of the number of students enrolled and the size of the individual classrooms.
In addition, in comparison to private schools, public colleges and universities typically offer a wider variety of academic programs leading to degrees, including a variety of liberal arts programs as well as more specialized programs.
Now that we've covered the fundamentals of the terms "private college" and "public college," as well as the general distinction between the two, let's dig a little deeper into the specifics of the two types of educational institutions, as well as the advantages and disadvantages of each.
Tuition Rates
First, let's compare the approaches taken by public and private colleges toward the pricing of tuition:
Students can typically find better financial aid packages and tuition discounts at public universities. Why? because they benefit from public funding, most of which comes from the states in which they reside in the form of tax money. In addition to that, students who attend these schools are eligible for both scholarships and financial aid assistance.
The vast majority of privately operated schools, on the other hand, charge significantly higher tuition rates across the board. The primary reason for this is that these educational institutions do not receive any financial assistance from the government account of the fact that they are private. Every single penny needs to come from students and alumni in the form of tuition and donations.
On the other hand, a number of these institutions typically offer a greater number of opportunities for scholarships and other forms of financial aid than their public counterparts.
When deciding between the two alternatives, it is important to do research into how much financial aid a school provides, despite the cost of the initial tuition.
Student Diversity
Now let's take a look at how these schools select their incoming freshman classes with an eye toward diversity:
Colleges that are supported financially by the public sector typically have a diverse student body because of a number of factors, including the following:
To begin, the range of subjects that can be studied at public universities is typically much more extensive.
Second, as a result of the lower cost, students coming from a wider variety of economic backgrounds are able to attend classes together on a single campus.
Meanwhile, private educational institutions also have a tendency to attract students from a diverse range of backgrounds, but more so in terms of geographic location.
When it comes to majors, private colleges have a tendency to restrict their areas of expertise. As a result, the programs that are provided may be limited in number, but they will be of higher quality overall. Students may come from a variety of locations, but sharing a major makes it simpler for them to connect with one another.
Campus Life
Now would be a good time to examine the ways in which the student experience varies from school to school:
Colleges that are run by the government typically have a great deal more events and activities going on each day. The most important reasons include an increased number of available students as well as an increased number of organizations and facilities. Students have access to a wide variety of extracurricular activities and clubs thanks to the provision of public education.
It is likely that there will be a club corresponding to each major. There will be many different sponsored sports teams and clubs available for spectators to watch.
To summarize, each and every day at public schools there will be a great deal more activity and commotion. If you are someone who thrives on energy and enjoys having a wide variety of options available to choose from when deciding how to spend your free time, then a public college is the best option for you.
The number of sports teams and extracurricular activities offered at private colleges, on the other side is typically more limited than at public universities. Private schools, which typically place a greater emphasis on academic specialization, tend to place less emphasis on extracurricular activities. Having said that, the variety of options that are typically accessible is quite large.
Most importantly, students at these schools are typically given the opportunity to find their own organizations that are geared toward pursuing their individual passions.
When it comes to education, the ratio of students to teachers at private colleges is typically lower, and students have more opportunities to specialize in their studies. If you feel as though you require more individual attention and customization from your teachers, then you should consider attending a private college.
Education Quality
Let's take one more look at the overall quality of the education you will receive regardless of which path you choose:
Public colleges and universities provide students with access to a wide range of academic programs at reasonable costs. If you attend a public school, you will typically get the most value for your money because these institutions are supported financially by the government and are large enough to provide students with a wide variety of academic options.
You should do additional research into aspects such as the quality of the faculty and the overall prestige of the institution. If the school that you're considering doesn't have a reputation for having experts in their fields teaching students, then you should take some time to think about your decision before making it.
On the other hand, the prestige associated with attending a private institution is the primary factor that influences the majority of students' decision to enroll in one of these schools rather than a public one. If you are able to gain admission to a school that only admits a small number of students, you will give yourself a certain cultural cache that will look good on your resume after you have graduated.
You aren't just trading on name recognition here because many of these schools are ranked among the nation's best academically. These universities frequently have the most talented faculty members and opportunities for cutting-edge research.
Considerations to make when deciding between a public and a private university
Think about the following points as you make your decision about the kind of postsecondary education you want to pursue:
Consider the state of your finances.
It is possible that the price of attendance will be one of the most significant determining factors in your selection of a college. Even though public schools typically have lower tuition rates, those rates can vary widely depending on a variety of factors including size and location.
In a similar vein, there might be a privately funded university that, in comparison to its competitors, has tuition and other fees that are more reasonable.
Taking stock of your financial situation is the best way to determine whether you have the means to enroll in a public or private institution of higher learning. Gather information about the various forms of financial aid that are offered by the institution to help offset the costs.
To determine which school offers the best value for your money, you should also take into account the cost of living on campus and the cost of books.
Think about the academic field that interests you the most.
The availability of the program(s) you want to study at the university is yet another important consideration in your decision. You should look over the school's website and become familiar with the majors and degree programs it offers before you submit your application.
Research should be done because, for instance, even though private schools may have fewer options, they may still offer a reputable program in the area of study that you are interested in or the precise concentration that piques your curiosity.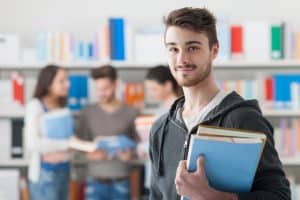 In a similar vein, if you decide that you want to switch your major, the broad offerings that a public school has can provide you with more flexibility. Consider the line of work you would like to go into after graduation so that you can pick a school that will provide you with the educational credentials that are necessary for that line of work. This may be beneficial to you.
Place each quality in order of importance, and rank them.
If the degree programs and costs of the institutions are not compatible with one another, then you should consider other aspects of the schools in order to determine which one is best for you.
Place campus life, class sizes, and diversity in order of how important they are to you, starting with the least important.
Imagine that the public and private colleges that interest you both have reasonable tuition rates and offer the degree program that you want, but that the private college is better able to accommodate your preferred method of instruction. You should have a better comprehension of your option at this point.
If you are considering getting a degree at the same time that you want to participate in sports, then the accessibility of your preferred sport should be a significant factor in your decision.
Additionally, if you are interested in interacting with people who come from a variety of cultural backgrounds, you should consider attending a more prestigious educational establishment.
It's possible that factors from the outside world will influence your decision, but ultimately, it is up to you to determine which qualities are essential to you and which ones you are willing to forego.
So, which kind of school is considered to be the "better" option?
Now that you know the private vs public college pros and cons, it will be easier for you to decide where to go depending on your circumstance. However, you should always remember that there is no such thing as a "better" school; rather, this school is "better" suited to meet your requirements.
A public or private label is not absolute in terms of pros and cons, but it can help you narrow down your search in terms of the size of campus you're looking for, the diversity and cultural aspects you value, the cost of tuition, and the academic majors and specializations you're interested in.
At the end of the day, it is a good idea to make a list of the things that are most important to you and investigate all of the colleges and universities that are of interest to you, both public and private, to determine which of them will provide you with the most satisfying college experience.
In lieu of dismissing one type of educational establishment in favor of another, it is in your best interest to think about both possibilities and investigate individual aspects of the situation in the private vs public college pros and cons.
Regardless, what is important is that you'll be able to achieve your college admission goals. At AdmissionSight, we have more than ten years of experience assisting students in navigating the difficult admissions process required to gain entry into the most prestigious educational institutions in the world. Please feel free to contact us today to schedule an appointment for your initial consultation.