How To Get Into Caltech
The California Institute of Technology, typically referred to as Caltech, is a leading private university renowned for its robust engineering and science programs. It's also one of a select group of technological institutes in the US that's primarily dedicated to teaching applied and pure sciences.
Having produced some of the brightest names in scientific and technological development such as Kip Thorne, Gordon Moore, and Arnold Orville Beckman, Caltech certainly lives up to its reputation.
Given its prestige and world-class academic offerings, Caltech attracts some of the most talented students from across the country and the world, leaving many people wondering how to get into Caltech.
Common Questions Regarding Caltech's Difficulty
Before we explore actional steps you can take to increase your chance of getting into Caltech, it's a good idea to get a clearer picture of what this university's admissions process is like overall.
We'll answer a few common questions applicants have regarding Caltech's acceptance rate, difficulty, and competition. When you have a better understanding of the school's application process, you'll feel more confident about what you need to do in order to get in.
What is the Caltech acceptance rate?
Of the 8,007 applicants that fought for a spot in the Caltech Class of 2024, only 546 were accepted. This translates into an acceptance rate of only 6.7%. In other words, for every 100 students that apply to Caltech, only six get accepted. However, this admission rate was up from the previous year.
Don't forget that this acceptance rate doesn't necessarily reflect your chances of getting into Caltech. Based on your academic performance, extracurricular participation, essay responses, interview, and more, you might have an even higher chance of getting in.
What kind of students are accepted into Caltech?
Another helpful metric for determining how hard it is to get into Caltech is by looking at the academic performance of accepted applicants. It's important to keep in mind, though, that Caltech takes a holistic approach to its admissions process.
That simply means that a wide variety of factors are taken into consideration when determining which applicants are admitted. Since many of these non-academic factors are difficult to measure, they're not worth comparing. On the other hand, academic performance in terms of GPA and standardized test scores are a reliable and objective way to see how you stack up against the competition.
For the Caltech Class of 2024, the mid-50% scores of accepted applicants ranged between 1510 and 1570. On the ACT Composite Score, the mid-50% performance ranged from 35 to 36. An impressive 96% of accepted students performed in the top one-tenth of their classes.
Although Caltech doesn't release specific information regarding the GPA performance of successful applicants, we're still able to make some education assumptions. It's safe to assume that most students admitted to the Caltech Class of 2024 had GPAs close to 4.0 and had straight As in their high school courses.
How difficult is it to get into Caltech?
One of the most common questions applicants have about applying to Caltech is the difficulty of the process. As we just mentioned, Caltech has an acceptance rate of 6.7%. How does that stack up with other universities?
Well, when compared to the average acceptance rate of college in the US, Caltech is nearly ten-times more selective. However, when compared with universities of similar calibre and quality, the acceptance rate is a bit easier to digest. Still, when compared to the Ivy League, Caltech still has a pretty exclusive admission rate. For the Class of 2024, Caltech's acceptance rate falls smack-dab in the middle of the eight Ivies.
7 Tips to Get Into Caltech
1. Apply during early admission.
A popular strategy among college entrance experts like AdmissionSight (that's us!) is to have students apply during a university's early admission timeline. What's that? Great question!
What most applicants don't realize is that most colleges offer two timelines for applying: the standard timeline and early admission. Caltech's early action requires applicants to be submitted by November 1st, while the deadline for regular decision is January 3.
So, what are the advantages of applying early other than getting your results earlier? Well, these early timelines are typically more favorable for students.
Acceptance rates are generally higher during early action than regular decision, making it an excellent strategy for increasing your chances of getting into Caltech. Of course, it requires you to complete your application months in advance which is important to take into consideration.
2. Participate in relevant summer programs.
Caltech admissions officers are looking for applicants who proactively develop their skills in their field of interest. One of the best ways to demonstrate this proactivity while improving your knowledge in your area of study is a summer program.
You'll have a chance to learn from sought-after professors while engaging with other like-minded students during hands-on and real-world activities. Here are some highly esteemed STEM summer programs which you might consider attending:
Yale Summer Astrophysics Project
MIT Minority Introduction to Engineering and Science (MITES)
Penn Medical School Summer Program
Ohio State University Ross Math Project
Stanford University Math Summer Camp (SUMaC)
The California State Summer School for Mathematics & Science (COSMOS)
Research Science Institute
Engineering Summer Academy at Penn (ESAP)
Yale Biological & Biomedical Sciences
Partaking in at least one of these programs, or another that matches your academic interests will illustrate your willingness to pursue academics beyond the classroom and school year – something that will help your application stand out.
3. Write exceptional essay responses.
All hopeful Caltech "teachers" are required to write a series of essays. These prompts are designed to help admissions officers get to know you more personally.
You'll have an opportunity to talk in greater depth about your interest in Caltech, your passion for your field of study, your future goals, and much more. It's imperative that you're open, honest, and candid in these essay responses.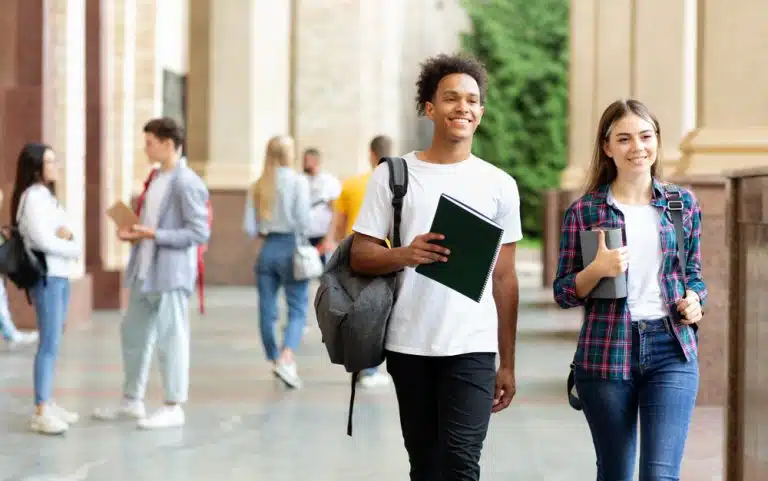 You want your personality to shine through because, after all, you're the most unique part of your application. These essays are a perfect chance to stand out from the horde of applicants. Whether you consider yourself a natural wordsmith or you've struggled with writing for a while, we'd recommend all students work with a professional essay editor to ensure their responses are pristine and tailored for Caltech.
4. Excel in extracurricular activities.
Caltech is first and foremost an academic institution. However, that doesn't mean that Caltech hopefuls can simply forget about non-academic criteria.
Admissions officers want to see that you engage with your school community outside of the classroom and that you can find a balance between academics and other activities.
While you might be ready to sign up for a bunch of different sports, clubs, and events, it's important to keep in mind that quality will always trump quantity in this area.
In other words, Caltech would rather an applicant actively pursue and excel in one or two extracurriculars rather than dabbling in five or six. We advise students to test out a handful at the beginning of their freshman year before deciding on one to pursue for the rest of their high school years.
5. Enroll in academic competitions.
Caltech is a prestigious school with a rigorous curriculum and challenging courses. To make sure students are able to excel in this environment, admissions officers are going to look for applicants that have demonstrated an ability to be competitive academically.
While academic performance covers some of this area, enrolling in academic competitions is a great way to really demonstrate this ability. There are countless STEM-related academic competitions including:
Discovery Education 3M Young Scientist Competition
eCybermission
Future Problem Solving Program
Imagine Cup
Intel International Science & Engineering Fair
MathWorks Math Modeling (M3) Challenge
Modeling the Future Challenge
NASA eClips Spotlites Video Design Challenge
Regeneron Science Talent Search
Rube Goldberg Machine Contest
Zero Robotics Tournaments
Although simply participating in these events is an excellent step in the right direction, placing is the best way to catch the attention of admissions officers.
6. Perform well academically
Your academic performance plays a pivotal role in determining whether or not you get into Caltech – or any college for that matter. There are no two ways around it. While we already discussed the average GPA and test scores of accepted "techers", let's explore a few tips you can take to maximize your academic metrics.
When it comes to choosing high school courses, we advise students to take advanced placement (AP) and honors courses. These classes prepare you for collegiate-level material while also boosting your GPA.
You want to find a course load that strikes the perfect balance between being managing and challenging. To optimize the results of your test scores, we recommend that students take the ACT or SAt at least a few times. This ensures you're getting the best score possible.
7. Get amazing letters of recommendation
In order to get a better idea of each applicant, Caltech admissions officers require two letters of recommendation from high school instructors. One letter has to be completed by a science or math teacher while the other must be from a social sciences or humanities teacher.
Although you can choose any teacher who taught you in high school, it's imperative that you choose someone who knows you well. You'll want to ask an instructor with whom you've developed a close relationship.
Teachers who know you better will be able to provide more in-depth and impactful statements. Make sure you're asking for these letters of recommendation well in advance so you make the deadline on time.
How I got into Caltech: Success Story
"For getting admitted in Caltech, my biggest advice is:
Get good test scores! This of course won't do it alone, but I think it's pretty much a prerequisite. 800 math on the SAT isn't required, but isn't too difficult if you take the SAT a couple of times and looks great. I personally sent in ACT and SAT scores, as well as SAT II's from Math II and Chemistry.
I don't know if/how much they look at AP exams, but take them and do well on them! I've taken 8, including Calculus AB, Computer Science, Chemistry, Statistics, and received 5's on all of them. AP exams don't get you any credit at Caltech, but they can't look bad on your application.
Have a good class rank! I think Caltech actually looks at this less than other elite institutions like MIT, Princeton, Harvard, etc. I was ranked 25th (which was 4 point something percentile) at my extremely competitive high school (but I think unknown to many college admissions people) and an MIT athletics coach told me that top 5% is essentially a requirement to get in, even if you are a recruited athlete.
Do extracurriculars! I was less involved than many of my high achieving peers, but I was vice president of my school's Model United Nations club, a 4 year track and field athlete, 2 year member of successful BEST robotics team (couldn't do FIRST because of track), and worked as a counselor at a summer camp for 3 years.
Write an awesome essay! My supplementary essay for Caltech about interest in science is the single best thing I have ever written.
Be interesting and human! My essay might not make the reader laugh out loud, but they would definitely at least smile at some points. Also, I biked across Iowa one summer (and put it on my application for summer events), and I would think random junk like that made my application stand out.
Be internally driven! My essay was about how I taught myself AP Human Geography because a friend told me it was interesting and easy, and then how that got me interested in sociology, and then used and enhanced my technical skills to build a Facebook application used among my friends to introspect our social graph, and how this taught me a fair amount about graph mathematics and its algorithms, which I implemented myself. I didn't do any of this to help myself get into college; I did it because it was interesting, fun, and I had the time. I don't have any published papers or formal research experiences, but I think something like this helps an application as much, if not more, than research experience.
Good letters of recommendation from STEM teachers are probably helpful. I sent one from my computer science teacher, one from my calc and stats teacher, and one from my spanish teacher. I only saw the letter from my spanish teacher (well after it was sent), and it was horrible. However, I knew my other two teachers very well, and they both liked me, and probably/hopefully have very positive things to say about me. Worth noting: only 2 letters were required (one from STEM, one from humanities), but I sent an extra.
Something I didn't do that could have helped:
Ask someone quite knowledgeable about the school's admissions to review your application. Namely, a current or past Caltech student. They have already been accepted, so they have a good idea of what it takes to be accepted and can help you. I would think more recent student's could be more helpful since they know about the admission's office more recent decisions."
Eric Martin, former student at California Institute of Technology
The best resource for getting into Caltech
As one of the most prestigious and selective research universities in the country, Caltech is a challenge to get into. However, there are some resources you can take advantage of that would greatly increase your chances of getting admitted.
AdmissionSight is a leading college entrance expert with over a decade of experience guiding students just like you through the daunting admissions process. We've helped countless students tailor their application to some of the top universities in the country with overwhelming success.
In fact, 75% of our students are either accepted into Ivy League or Top 10 Universities. So, how do we do it?
At AdmissionSight, we offer a wide range of services designed to help students increase their chances of getting into the university of their choice. We offer essay editing services, extracurricular and academic planning, interview preparation, summer program selection, and even pre-high school preparation.
All of our services are personalized to meet the academic goals of each student for optimum results. We've become experts in the college admissions field through years of extensive research and hands-on experience. We know what it takes to get into the best schools in the country.
Feel free to contact us to learn more about what we offer. We'll set up a free consultation to answer all of your questions.