Caltech GPA and SAT Requirements
Caltech, also known as the California Institute of Technology, is widely regarded as one of the most competitive colleges in the United States. Caltech is a university that is known all over the world for its high research output in the fields of science, engineering, and education. It is situated in Pasadena, California, approximately 18 kilometers northeast of the center of Los Angeles. Students must exceed Caltech GPA and SAT Requirements and scores must be significantly higher than average in order to be competitive given the low acceptance rate.
The Common Application and the Coalition Application are both acceptable forms of application to Caltech. The Institute requires applicants to submit their SAT or ACT scores, academic transcripts, letters of recommendation from teachers, a personal essay, and a number of shorter essays answering specific questions. We will learn more about Caltech GPA and SAT requirements for admission.
What SAT score do you need for Caltech?
What SAT score do you need for Caltech admissions? The Scholastic Aptitude Test (SAT) is a standardized test that is given to high school students in order to evaluate how well they are prepared for college and to give colleges a single point of data that can be used to compare the qualifications of each individual applicant.
The scores you received on standardized tests will be considered by college admissions officers, along with your high school grade point average, the subjects you studied in high school, letters of recommendation from previous instructors or mentors, extracurricular activities, admissions interviews, and personal essays.
The weight that each institution places on SAT scores in relation to the process of applying to colleges and universities varies. The composite score for the average student at Caltech on the SAT is 1545. The score at the 25th percentile on the New SAT is 1530, and the score at the 75th percentile on the SAT is 1570.
To put it another way, if you receive a score of 1530, this places you below the average, whereas a score of 1570 places you above the average. Although a score of at least 1530 on the SAT is preferred for admission to Caltech, the school does not require students to have a perfect score in order to be considered.
The following is a section-by-section breakdown of the new SAT scores:
| | | | |
| --- | --- | --- | --- |
| Section | Average | 25th Percentile | 75th Percentile |
| Math | 795 | 790 | 800 |
| Reading + Writing | 750 | 740 | 760 |
| Composite | 1545 | 1530 | 1570 |
Do they use Scorechoice at Caltech?
A significant component of your testing strategy is the Score Choice policy that is in place at your school. "Contact School" is the Score Choice policy that is followed by Caltech. This indicates that the school would like for you to get in touch with them so that you can learn more about their policies regarding Score Choice.
Score Choice is a feature that is intended to benefit students by reducing the amount of anxiety they feel about performing well on examination days. The most important point is that it is up to the student to decide where their scores should be sent and to take responsibility for doing so. Having the ability to control or "choose" which colleges receive the scores will make the student feel less stressed out during the test.
Suppose a student is failing a test for any reason, particularly a section during which they were distracted by something else; in this case, the student has the option of nullifying the scores and retaking the test at a later date.
In point of fact, each and every score is stored and recorded within the College Board's files. There are very few instances in which students are permitted to completely remove their scores from the College Board's database, and doing so requires a greater level of effort on the part of both the student and their families.
Is the SAT Subject Test required for admission to Caltech?
The SAT subject tests that are required to be taken by schools can vary. In general, selective schools are more likely to impose such requirements, whereas the majority of schools across the country do not. The SAT Subject Tests were separate from the SAT Assessments and consisted of standardized tests that were based on specific subjects.
On each Subject Test, you were tested on how well you understood the material that was covered in class. There were a total of twenty different tests, and each student was permitted to take a maximum of three SAT Subject Tests on any given day of testing. The College Board organized the SAT Subject Tests into the following five primary categories: mathematics, science, English, and history and languages.
There is no longer a requirement for applicants to take SAT subject tests in order to gain admission to Caltech. The SAT Subject Tests typically carry a lot less weight than your overall grade point average and SAT/ACT score. If you are able to choose between raising your overall SAT/ACT score and raising your scores on individual SAT Subject Tests, your best bet is to work on raising your overall SAT/ACT score.
Does Caltech require SAT for 2022?
Does Caltech require SAT for 2022 admissions? The requirement and consideration of SAT and/or ACT test scores as part of the undergraduate admissions process at Caltech will be put on hold for a period of two years beginning in June 2020. This moratorium will take effect. The initial moratorium, which was set to last for two years, had an additional year added to it.
This indicates that Caltech no longer requires applicants to submit two SAT Subject Tests as a condition of admission. This change, which was made in response to the global COVID-19 pandemic and its continuing impact on access to these exams for students across the country and the globe, will be in effect for all first-year students applying to Caltech for the fall of 2021, fall 2022, and fall 2023. The reason for this change was the global COVID-19 pandemic and its continuing impact on access to these exams for students across the country and the globe.
Instead of considering a student's test scores, the Admissions Committee will place a greater emphasis on reviewing and assessing the academic preparedness of a student prior to their application to Caltech. The breadth and depth of the academic experiences available to Caltech undergraduates are reflected in the academic preparedness standards that are used for admissions to the university.
First and foremost, prospective students need to be aware of the fact that the completion of their secondary or high school studies marks the beginning of their academic careers in colleges and universities.
The curriculum for the first year at Caltech is extremely predetermined, and the type of students we look to enroll are those who view that first year as more of an opportunity than as simply coursework that needs to be completed before moving on to the coursework that is specific to their major.
The foundation that is laid for a student's sophomore year, which is traditionally regarded as the most difficult year of their undergraduate career at this institution, is laid during the student's first year of study. Therefore, the admissions committee bases their decision on how confident they are that a student will be able to handle the rigorous coursework beginning in their first year and continuing into subsequent years.
Caltech Scores for International Students
The SAT and ACT testing requirements that were previously required of students applying to Caltech for admission in Fall 2021 and Fall 2022 have been temporarily suspended. However, scores on the English Proficiency Exam are required of all international students, with two exceptions: (1) you speak English as your native language, or (2) English is the primary language of instruction in the secondary school that you attended. The following are examples of valid English proficiency exams:
Test of English as a Foreign Language (IBT) (IBT)
IELTS
The English Exam on Duolingo (DET)
What GPA is needed for Caltech?
What GPA is needed for Caltech admissions? There is no information provided by Caltech regarding the high school grade point averages of admitted students. In 2019, nearly all of the accepted students who supplied their high school rankings claimed to have finished in the top 10 percent of their respective high school classes. Caltech requires that you have a grade point average of 4.19, which places you at the top of your class.
GPAs are not adjusted for weight. In order to compete with other applicants, you will need to have nearly perfect grades in all of your classes. In addition, you must demonstrate that you are capable of easily handling the academic rigors of college by enrolling in challenging classes such as Advanced Placement or International Baccalaureate programs.
It will be difficult for you to improve your grade point average in time for college applications if you are currently junior or senior. If your grade point average is equal to or lower than the 4.19 average for the school, you will need a higher score on either the SAT or the ACT to compensate. Because of this, you will have an easier time competing successfully against other applicants who have higher GPAs than you do.
What exactly does an Unweighted GPA mean?
Historically, grade point averages have been determined using an unweighted scale. The unweighted grade point average is calculated using a scale ranging from 0 to 4.0. It does not take into account the difficulty of the coursework that a student is required to complete. An A is worth a 4.0 on an unweighted grade point average, regardless of whether it was obtained in an honors class, an Advanced Placement class, or a lower-level class.
While High schools frequently make use of weighted grade point averages in order to more accurately represent students' academic accomplishments. Instead of providing every student with the same letter grade to grade point average conversion, weighted GPA takes into account the difficulty of the courses they took. The weighted grade point average is typically calculated using a scale that ranges from 0 to 5.0, although some scales go up to a higher number.
If you get an A in an Advanced Placement class, your weighted grade point average will be 5.0, but if you get an A in a regular level class, your GPA will be 4.0. There are also middle-level classes offered at many schools, such as honors classes, in which the highest possible weighted grade point average is 4.5.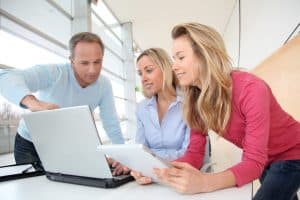 In order to draw conclusions about your academic potential, admissions committees consider both your grade point average and the coursework you have completed. They are aware that the level of difficulty of the classes taken by students at some schools is not factored into the overall grade point average calculation. If you push yourself academically but don't have a perfect grade point average, you will look better to colleges when applying for admission than someone who took regular-level classes but still managed to maintain a 4.0 GPA.
Because a greater number of students will have GPAs that are at the same level when class difficulty is not a factor in the calculation, it may be more difficult for you to distinguish yourself from the other students in your class with your GPA. If your class rank is determined solely by your unweighted grade point average, then it is possible that your class rank does not accurately reflect the amount of effort that you put in.
Even though they are more motivated academically, students who took a greater number of AP classes may have unweighted grade point averages that are lower than those of students who took classes of a lower level of difficulty.
But you shouldn't fret too much about it. College admissions officers are aware of the limitations of the unweighted system, and as a result, they will scrutinize your course record in great detail to determine whether or not your grade point average accurately reflects your academic potential.
Caltech Acceptance Rate
What is the current Caltech Acceptance Rate? In order to be accepted into Caltech, applicants need to have grades that are exceptionally high. On a scale from 0 to 4, the high school grade point average of students accepted into the freshman class at California Institute of Technology was 3.97, which indicates that the majority of students accepted into the school earn an A- or higher.
The institution's grade point average is ranked sixth best in all of California. Even with a 3.97-grade point average, it is extremely difficult to gain admission to Caltech due to the extremely competitive nature of the school's admissions process. Even if your grade point average is 3.97, the school should still be considered a reach for you.
Application Requirements
What are the requirements for submitting an application to Caltech, and what kind of information about prospective students is considered when making admissions decisions?
The Common Application or the Coalition Application, along with the Essays Required for Supplemental Applications
The Common Application or the Coalition Application can be submitted to Caltech; the university does not have a preference. We strongly suggest that you complete the application process on the most suitable platform.
The California Institute of Technology is also a QuestBridge Partner. Through the QuestBridge National College Match, prospective students can submit their applications to Caltech.
Application fee of $75 or fee waivers available (by request)
Results of standardized examinations. Caltech GPA and SAT Requirements will help in considering your application.
Assessments of teaching performance
Report from Secondary School: This is a document that will be submitted to Caltech by the college counselor at your high school. It gives the Admissions Committee background information about your school, which assists them in conducting an all-encompassing review of your application.
Academic transcripts
Admissions Chances
Because it is one of the colleges in the United States with the most stringent admissions requirements, Caltech seeks candidates who have grade point averages and test scores that are significantly higher than average. Nevertheless, Caltech follows a holistic admissions policy, which means that the admissions officers will be looking for more than just good grades and high scores on standardized tests.
In addition to this, aside from Caltech GPA and SAT Requirements, they will be looking for challenging coursework, glowing letters of recommendation, award-winning essays, and significant involvement in extracurricular activities. The admissions committee will not only carefully consider your grades in Advanced Placement, Honors, or IB courses, but they will also read every word of your application essay and responses to the short answer questions.
Keep in mind that Caltech is looking for more than just outstanding scientists and engineers with impecable Caltech GPA and SAT Requirements; the institution is interested in enrolling students who will meaningfully contribute to the improvement of the campus community.
If you need help putting the finishing touches on your early applications, or want some advice on whether or not applying Early Decision or an Early Action is a good option for you, at AdmissionSight, we have over 10 years of experience guiding students through the competitive admissions process, including our athletic recruitment program.
AdmissionSight can help you put your best foot forward when applying to college this fall. Contact us today for more information on our services.