School in Focus: Grinnell College
Grinnell College is a coeducational, private liberal arts and sciences college in Grinnell, Iowa. Founded in 1846, the college has a long-standing tradition of educational excellence and a strong commitment to making a positive impact on society. The college's location in Grinnell, Iowa, a small town with a population of around 9,000, provides a close-knit and supportive student community.
With an undergraduate enrollment of around 1,700 students, the college offers an intimate and personalized educational experience that fosters intellectual curiosity, critical thinking, and social responsibility. Known as "Grinnellians," students at Grinnell College are dedicated to positively impacting the world and contributing to the common good.
The college's commitment to academic excellence and social responsibility has earned it a consistent ranking among the nation's best liberal arts colleges.
The college offers over 40 majors, allowing students to pursue their passions and interests while receiving a well-rounded education in the liberal arts. Students have the unique opportunity to engage in a personalized and enriching academic experience as they work closely with faculty members who are distinguished leaders in their respective fields.
Grinnell College's semester-based academic calendar allows for a deep dive into each subject area, with students taking just three or four classes simultaneously. This allows for a focused and immersive learning experience that fosters intellectual curiosity and encourages students to explore new ideas and perspectives. The small class sizes ensure that students receive individual attention and support from their professors, further enhancing the quality of their education.
Beyond academics, the school offers a vibrant campus life that is full of opportunities for students to explore their interests, develop their talents, and make lasting friendships. With over 160 student organizations, students can find their niche and get involved in everything from music and theater to sports and social justice. The college's location in rural Iowa also provides students with easy access to outdoor activities, such as hiking and camping.
What major is Grinnell College known for?
What major is Grinnell College known for? Grinnell College is known for its commitment to providing a comprehensive education in the liberal arts and sciences. And provides students with a well-rounded foundation for success in a variety of fields.
The college offers over 40 majors across the humanities, social sciences, and natural sciences, with some of the most popular majors being social sciences, biological and biomedical sciences, foreign languages, literature, and linguistics, computer and information sciences and support services, psychology, visual and performing arts, history, physical sciences, English language and literature/letters, and mathematics and statistics.
The college's student-faculty ratio of 9:1 ensures that students receive individualized attention and support from their professors, who are leaders in their respective fields. With over 62.7% of classes having fewer than 20 students, the college fosters an intimate, collaborative learning environment that encourages active participation and discussion.
The college's dedication to small class sizes, personalized attention, and interdisciplinary study prepares students for success in a rapidly changing and complex world. Whether students pursue a major in the humanities, social sciences, or natural sciences, they will develop critical thinking, problem-solving, and communication skills that will serve them well in their future careers and personal lives.
How prestigious is Grinnell College?
How prestigious is Grinnell College? Grinnell College is a highly respected and prestigious institution of higher education. Grinnell is consistently ranked among the best liberal arts colleges in the country by publications such as U.S. News & World Report and Forbes. The college's acceptance rate is just 11%, making it one of the most competitive colleges in the United States.
Attending Grinnell College is a significant achievement and a testament to a student's academic abilities and potential for success. The college's reputation for academic excellence, selectivity, and commitment to social justice attracts the most brilliant and motivated students from across the country and around the world.
The students benefit from a rigorous academic curriculum, world-class faculty, and a supportive community that prepares them for success in their future careers and personal lives.
How to apply for Grinnell College?
Applying to college can be an intimidating and overwhelming process. Still, with this guide on how to apply to Grinnell College, you can streamline the process and increase your chances of being admitted to this prestigious institution.
Research Grinnell College
Before you begin the application process, it is important to research Grinnell College to ensure it is the right fit for you. Visit the college's website, read about its academic programs, extracurricular activities, and campus life, and consider attending an information session or visiting the campus to better understand its culture and community.
Choose an Application Deadline
The school offers two application deadlines: Early Decision and Regular Decision. Early Decision is a binding agreement, meaning that if accepted, you must attend Grinnell College. Regular Decision is non-binding, giving you more time to make your final decision. Choose the deadline that best suits your needs and preferences.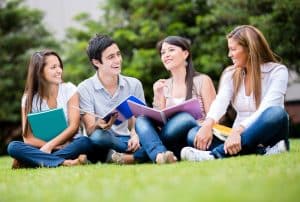 If you're interested in applying to Grinnell, it is highly recommended that you begin by submitting the Preliminary Application. This optional part of the application process serves as an expression of interest to the college. It allows you to receive more information about your area's college search process, timelines, scholarships, and events.
By submitting the preliminary application, you can demonstrate your interest in Grinnell College and engage with the college's admissions team, who will keep you updated on important dates and deadlines throughout the application process.
Submit the Application
The application process for Grinnell College is streamlined and easy to navigate. As a Common Application and QuestBridge school, there are no fees to apply and no required supplements. However, there are several required materials that you must submit, including:
Two teacher evaluations (preferably using the Common Application Teacher Recommendation forms)
A secondary/high school counselor recommendation (preferably using the Common Application Counselor Recommendation form). Home-school applicants may have a parent complete this form.
A Common Application Secondary School Report. Home-school applicants may have a parent complete this form.
An official copy of your secondary/high school transcript with original stamp, signature, or seal
All students enrolling must have a high school diploma, the recognized equivalent of a high school diploma, or be beyond the age of compulsory school attendance in the State of Iowa.
Optional materials
Grinnell College offers optional materials that students may submit to strengthen their applications. First-year applicants are not required to submit SAT and/or ACT test scores but must inform the admissions committee of their decision by the application deadline.
Students are not allowed to change their test score preference after this deadline, and self-reported scores on the Common Application and/or QuestBridge Application are not accepted.
To better understand the school and its offerings, applicants are encouraged to visit the campus, attend virtual events, or attend Grinnell events in their area. These activities can provide valuable insights into the college and enhance your application.
Although Grinnell does not require auditions or portfolio reviews for students interested in pursuing a degree in the arts, applicants are welcome to submit their work for review by the admissions staff.
If you wish to submit supplemental materials, such as writing samples, you may do so only after submitting your Common Application by using the "Edit Portfolio" link on your applicant status page. By submitting optional materials, you can give the admissions committee a more comprehensive picture of your academic achievements and interests, potentially increasing your chances of admission to Grinnell College.
While not required for admission, an interview can be an excellent opportunity for students to get to know Grinnell College better and for the staff to learn more about you as an applicant. An interview is a chance to showcase your personality, interests, and accomplishments and see if the school is the right fit for you.
The college offers several interview options, including on-campus interviews, off-campus interviews, and online interviews, to accommodate applicants' diverse needs and preferences. On-campus interviews provide an opportunity to experience the campus firsthand and meet with an admissions staff member. Online interviews are available for those unable to attend an in-person interview.
By participating in an interview, you can gain valuable insights into the college and demonstrate your enthusiasm and commitment to Grinnell. Additionally, the interview can help the admissions committee to better understand your unique qualities and potential contributions to the Grinnell College community.
Overall, an interview can be an important part of the application process, and we encourage all applicants to consider taking advantage of this opportunity.
Monitor your application status
After submitting your application, you can monitor your application status through the Grinnell College Applicant Portal. You will receive a notification when your application has been received and when a decision has been made.
In conclusion, applying to Grinnell College requires careful research, attention to detail, and a commitment to academic excellence. By carefully following the steps outlined in the application process, you can increase your chances of being admitted to Grinnell College and embark on a transformative educational journey.
If you're set on getting into a world-class college but aren't sure how to make it happen, we can help! AdmissionSight is a leading college entrance expert with over a decade of experience helping students just like you get into the schools of their dreams.
At AdmissionSight, we focus on offering a wide range of services, all aimed at helping students perfect their applications to catch the attention of admissions officers. Contact us today to schedule a free consultation to learn more about what we offer.