Social Life at UChicago
The University of Chicago commonly referred to as UChicago, is located in the Hyde Park area of Chicago, just a short train trip from the Loop. The college is home to the largest university-run press in the country and is located just a few blocks from Lake Michigan's shoreline. The gothic-inspired design of the 217-acre campus's tree cover frequently draws comparisons to Hogwarts.
Do students have fun at UChicago?
The infamous saying about UChicago, "University of Chicago: the place where fun comes to die" is probably familiar to most of you. Even though it may have been the case in the past, the university has recently experienced a significant change in terms of the number of students and their level of sociability.
The Gerald Ratner Athletic Center, Max Palevsky Dormitory, South Campus Dormitory and Dining Hall, Gordon Center for Integrative Research, Mansueto Library, and ultimately the brand-new Logan Arts Center have all been built on UChicago's beautiful Hyde Park campus over the last ten years.
Together, these changes have improved UChicago's appeal to many prospective students and added more useful services to the campus. However, to answer "Do students have fun at UChicago," it is quite challenging to single out one stereotype at UChicago.
10% of the students at the university are from Chicago, but the remaining 90% are from all over the world, representing all 50 states and more than 70 nations. Students routinely overcome prejudices and collaborate on problem sets, compete on intramural sports teams, and yes, even go out together as a result of this multicultural "melting pot" environment.
Although it is only natural for students to eventually form their own organizations and the like, the institution does not support the clichés of the jock, frat kid, or geek and instead provides plenty of opportunities for students from all backgrounds to interact. Some may even perceive it as the environment where "joy comes to thrive," reflecting a very engaging social life at UChicago.
What is student life at UChicago like?
What is student life like in Chicago? Students at UChicago have access to various clubs, organizations, and extracurricular activities, such as chorus, theater companies, a campus newspaper, a radio station, and more.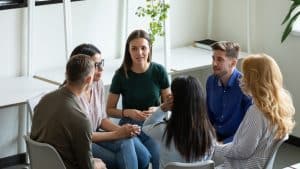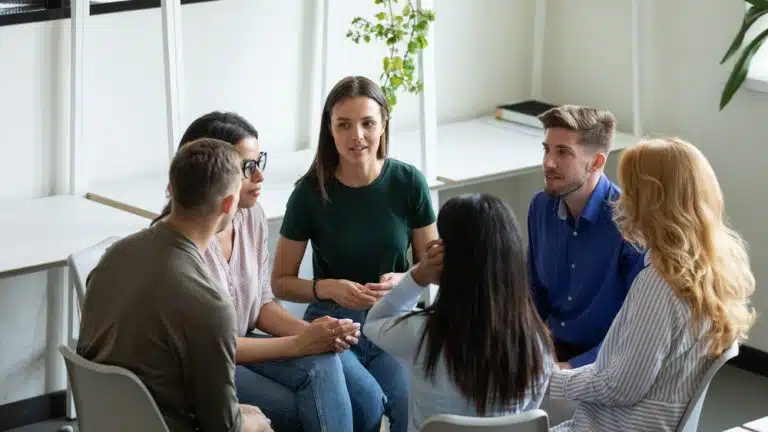 Does the University of Chicago have Greek life?
Does the University of Chicago have Greek life? Greek life exists at UChicago. 20–25% of the whole student population participates in Greek life on campus. This comprises associations with social, charitable, and professional groups.
Greek life is a noticeable and expanding presence on the campus of the University of Chicago. There are currently 19 recognized Greek organizations on campus, including the 10 fraternities and 4 sororities that make up the UChicago Panhellenic Council. While Greek life at the University of Chicago is distinct in that none of the sororities have residences and several of the fraternities are off-campus, student involvement in Greek life has increased significantly over the past few years.
Phi Gamma Delta (FIJI), a popular fraternity among football players, is currently the largest at the University of Chicago. It has over 100 members. Near the Max Palevsky dorms on South University Avenue are residences for the fraternities Psi Upsilon (Psi U) and Alpha Delta Phi (Alpha Delt). Delta Kappa Epsilon (DKE), Lambda Phi Epsilon (Lambda), Sigma Phi Epsilon (Sig Ep), Sigma Chi, and Zeta Psi (Zeta) have houses that are farther from campus than Delta Upsilon (DU), which is also situated on Woodlawn Avenue.
Despite not having actual residences, sororities nonetheless leave a lasting impression on campus. The UChicago Panhellenic Council (Panhel) is made up of the sororities Alpha Omicron Pi (AOII), Delta Gamma (DG), Kappa Alpha Theta (Theta), and Pi Beta Phi (Pi Phi).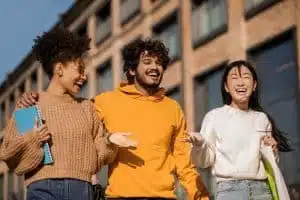 There is also the Multicultural Greek Council, a confederation of fraternities and sororities with an emphasis on identities. The largest of them is Lambda, but there are others, including Lambda Pi Chi (Latina Interest Sorority), Alpha Phi Alpha (Black Interest Fraternity), Alpha Kappa Alpha (Black Interest Sorority), Delta Sigma Theta (Predominantly Black Interest Sorority), and Alpha Kappa Delta Phi (aKDPhi, Asian interest sorority).
On campus, several fraternities bring together students who share hobbies or professional ambitions rather than shared backgrounds. For students interested in business, Alpha Kappa Psi (AKPsi) is a co-ed fraternity, while Phi Alpha Delta is for those interested in law. Both organizations host events, like networking seminars and LSAT prep classes, that are specifically catered to the academic and professional requirements of their members.
Last but not least is Alpha Phi Omega (APO), the only co-ed service fraternity at the University of Chicago. APO's website states that the only requirement for joining is " an earnest desire to help out those that need it," so there's no urgency.
Even though the majority of students who participate in Greek life do so in their first year, there is always the option to do so whenever they feel like it. Students who aren't sure if they want to join can get a feel for the atmosphere by attending fraternity events like Alpha Delt's weekly Bar Night or one of the many charitable activities that Greek organizations sponsor all year long. The sense of community that Greek life provides to its members can undoubtedly be found in housing, RSOs, or any one of the numerous other student organizations and activities on the UChicago campus, despite the fact that Greek life makes up a shrinking portion of the student body—nearly one-fifth at the last count.
Where do students at UChicago hang out?
Are you curious about where do students at UChicago hang out? AdmissionSight listed below some of the students' favorite places as part of the social life at UChicago, especially when exams are just around the corner.
Midterms and finals are unavoidable for college students. Whether you like it or not, studying is an essential component of college life. This does not, however, imply that the procedure must be dull and repetitive. Who said you have to do your homework alone in a library?
Particularly at UChicago, there are a ton of alternatives. You can either study on the bench in front of Botany Pond or in the laundry room of your residence hall (where the WiFi is surprisingly decent and the buzzing of the machines is oddly comfortable). All University of Chicago students are known to have their preferred study locations. Here are a few of them, ranging from well-known student-run cafés to hidden spaces inside academic buildings:
The Reg
The Regenstein Library, sometimes known as "The Reg," contains seven floors, making it simple to locate a space that meets your needs for studying. Lower levels are ideal for group work because they are more laid back and allow for more conversation. For instance, the A-Level is located in the basement and has whiteboards throughout the walls where students may scrawl out scientific calculations and mathematical formulas. On the other hand, the upper levels are calmer and better for tasks that call for concentration. You'll probably end up in one of the second-floor cubicles or the fourth-floor stacks if you ever need to churn out a paper.
House Lounge
All dorms offer shared House lounges (a House is a defined area of a residence) where students can hang out and study in addition to their private rooms. It is commonly utilized for birthday celebrations and four-hour Jenga games. It's an excellent place to study, though, especially if you need to finish up some work after hours or have a question for a senior. There is also a study break a few nights a week as an added bonus! Snacks are typically given by the Resident Heads, who are University academic or staff members who act as community leaders for each House. You can start your social life at UChicago in small circles, starting with your dormmates. This will be an easy start if you like hanging out with all kinds of people.
Ex Libris
Ex Libris, a campus coffee shop managed by students, is situated inside the Reg. They have a fantastic variety of sandwiches and pastries. (AdmissionSight heard that the red velvet donuts are so popular that it nearly feels like a cult! *wink*)
Museums
The Oriental Institute and the Smart Museum are two fantastic museums located on the UChicago campus. The Oriental Institute houses one of the best collections of antiquity and serves as a research hub for Near Eastern studies. Its galleries are turned into a late-night study hall during Reading Period, which is the week before final exams, once every three months. You can actually sit next to a mummy while studying, just as in the movie Night at the Museum!
The Smart Museum is an art gallery with well-known pieces by Degas, Warhol, Picasso, and Matisse. It provides a quarterly study night with complimentary food and coffee, much like the Oriental Institute.
Academic Buildings
The academic building where your class is hosted is an excellent alternative if you procrastinate and often have last-minute tasks to complete before class starts! The lobby of Saieh Hall (the Econ building), which also has a Starbucks café, is a favorite among students. The Social Sciences building is a fantastic spot to read in the winter since the windows allow in just the right amount of light. Because of the small library that is nestled away in a secret spot on the second floor, Eckhart (home to the Math Department) is also a nice site.
Pret
The Reynolds Club's Pret café, located on the first floor, is the ideal location for a quick lunch and work before an afternoon session. A terrific location if you like almond croissants and dark chocolate chunk cookies! It is close to Hutchinson Commons, a food court with a variety of eateries. As is customary at the university, milkshakes cost one dollar on Wednesdays. You will have ready access to sweet treats while you are in Pret, which is, let's face it, the ideal justification.
A Friend's Room
We can tell you from personal experience that if you decide to study in a friend's room, you can wind up eating instant ramen while curled up on their floor. Or you can have your task in front of you but be preoccupied with a contentious discussion about something irrelevant. You might not actually complete that much studying, so be warned. But it's all right! It's called self-care when you need to take a break from Plato's Republic to binge watch!
Harper Library
The Harper Library is renowned for its Hogwarts-inspired architecture and well-liked for its incredibly cozy sofas. Some students go there merely to take naps because they're comfier than most mattresses. You can meet with the writing tutors there for assistance with essays due to its open seating arrangement and several cubicles. The Harper Café, which offers some of the best freshly brewed coffee on campus, should also not be overlooked.
Outdoors
When you're sick of being cooped up inside, you may go outdoors to the Quad and hang out with your pals while taking in the sunshine and fresh air. The Main Quad has been designated by the American Public Garden Association as a Botanic Garden since 1997, making the campus' beauty practically unquestionable. It is also the ideal place to unwind and kill time between classes because of the abundance of benches and food trucks around. We know this is what you've been waiting for when we said social life at UChicago.
Downtown Hyde Park
The cafés and eateries downtown are worth the fifteen-minute walk from the Main Quad! One of the most popular places is Philz Coffee since it provides a comfortable setting for settling in and studying for a forthcoming midterm.
The Logan Center, Plein Air Café, any of the dining halls, and even the graduate school libraries are additional excellent places to study on campus. Studying at UChicago is wonderful because there are always places to find a study location, so it never gets old!
What are the athletics that UChicago offers?
Are you interested to know what athletics UChicago offers? Students interested in participating in sports programs at UChicago have access to a wide range of athletic opportunities.
The most elite level of college sports is intercollegiate, and these events may be extremely competitive. Intercollegiate teams compete against teams from other institutions and are subject to NCAA regulation and institutional funding. A sports team's division is determined by the size of the university, available budget, and level of competition. Division I is the highest level for an intercollegiate school team, followed by Division II and Division III.
Students who are not interested in trying out for an intercollegiate team should consider club sports, which are not governed by the NCAA. Club sports are mostly managed by students; however, they occasionally get university funding. The most informal and relaxed sports are intramural ones. Intramural sports frequently cost nothing and take up very little of your time.
Are there clubs at the University of Chicago?
Are there clubs at the University of Chicago? There are more than 450 student-run clubs, which represent the many backgrounds and interests of its students. The clubs and organizations with a diversity focus listed below are only a sample. Time to widen the circle of your social life at UChicago with these clubs. Why don't you check each of them?
Cultural Organizations
African and Caribbean Students Association
Armenian Students Association
Asian Students Union
Chinese Undergraduate Students Association (CUSA)
Hong Kong Student Association
Japanese Student Association
Kababayan
Korean Students Organization
Malaysian Students Association
Movimiento Estudiantil Chicano de Aztlán
Muslim Students Association
Native American Student Association
Organization of Black Students
Organization of Latin American Students (OLAS)
PanAsia
Puerto Rican Students Organization
Singaporean Society
South Asian Students Association
Taiwanese Student Association
Religious or spiritual organizations
Asian American InterVarsity
Jewish Hillel House
Jewish Chabad House
Spiritual Life
Dance Organizations
Gingarte Capoeira
Rhythmic Bodies in Motion
UChicago Bhangra
LGBTQIA+
Asexuali-tea
GenderQ
Queer & Asian
Queers & Associates
QWorum
UChicago LGBT Business Alliance
Music
Soul Umoja
Middle East Music Ensemble
Special Repertory Ensembles
Traditions and Events at UChicago
The traditions that UChicago upholds, from solemn traditions like the Core curriculum and dedication to free inquiry to even more somber traditions like $1 Milkshake Wednesdays, contribute to the formation of a feeling of distinctive identity.
Superstitions and Traditions
The Phoenix
The official mascot of UChicago's athletic teams and a representation of the university seal is the phoenix, a mythical bird that rises from the ashes and lives again. The phoenix is a nod to the Great Chicago Fire of 1871 and the city's subsequent "rebirth" from the ashes. It was probably also picked because it has a nice appearance.
Reynolds Club Seal
According to a rumor, you will not graduate in four years if you step on the gold seal located on the Reynolds Club's floor. But hey, there's always a chance you'll finish your studies in three, so who knows?
Maroon
The Board of Trustees chose yellow as the University's official color before the institution's first classes were held there in 1892. Amos Alonzo Stagg, a renowned football coach from Chicago, felt that a change was required by 1894, nevertheless. In his autobiography Touchdown!, Stagg stated that "The yellow ran, soiled easily, and had a regrettable symbolism which our opponents might not be above commenting upon." Students and teachers came together that same year and decided that maroon should become UChicago's new official color after realizing that a change was necessary. It stayed.
Dollar Shake Days
The Reynolds Club student center offers milkshakes for $1 every Wednesday, which is the ideal midweek snack break.
With the social life at UChicago, all kinds of people can experience the several dynamic and rewarding activities this institution has to offer. You will definitely find a place to belong at UChicago and create lasting connections with one another. You can even foster a family bond with other students with similar backgrounds and interests as you. You can be one step closer to joining its active social life. Contact us and learn more about our professional consulting services here at AdmissionSight.