Sports Scholarships
Many high school athletes have their sights set on earning a college sports scholarship so that they can continue their careers at the collegiate level. However, there are a lot of myths surrounding the process of receiving sports scholarships offer and the amount of financial assistance that student-athletes actually get.
Understanding the particulars of this stage of the application process is essential if you want to keep your college expenses to a minimum because tuition and fees are so high. You should make yourself well informed about what is a sports scholarship.
What is a sports scholarship?
So what is a sports scholarship? What does it entail? Students who achieve a high level of success in their chosen sport may be eligible to receive a scholarship. The academic year 2018-2019 saw nearly $4.1 billion worth of sports scholarships being given out by varsity sports programs at colleges and universities across the United States.
The purpose of sports scholarships is to reduce the overall financial burden of obtaining a college degree. They are also able to assist schools in the process of talent acquisition for their athletic teams.
It doesn't matter if you are a gifted athlete searching for a full-ride scholarship to the college of your dreams or if you are more of a club sport athlete looking to play at a level that is more recreational; there are scholarships available for both types of athletes, as well as everyone in between.
It is also possible that there will be a greater or a lesser amount of competition for your sport, which will have an effect on the total amount of scholarship money and awards that can be given out. For example, if you want to play a high-visibility sport like football or basketball in college, it may be more difficult to get accepted into a team and receive a full scholarship.
Student-athletes can receive rewards from a variety of organizations and businesses, including colleges and universities, which are typically the most desirable destinations for sports scholarships. When looking into possible sports scholarships, it is important to be aware of your skills and worth as well as to do your research.
What sports offer scholarships?
Scholarships based on athletic performance are available for a variety of different sports. There are a variety of sports, including football, basketball, baseball, soccer, and ice hockey, in which athletes have the opportunity to earn college sports scholarships. The following is an in-depth look at five different athletic scholarships.
Football Scholarships
Scholarships available from the Pinellas All-Star Football Classic range from $500 to $5,000 and have the potential to be renewed. Pinellas County Public High School seniors who meet the requirements can submit an application for the scholarship.
The students will only need to fill out one application since it will cater to both their current requirements and their potential interests. In order to get started, you will need to register in order to set up an account.
Basketball Scholarships
The Berks County Community Foundation will provide this once-a-year award of $400 from the Irv Noll Memorial Scholarship Fund. It is open to graduating high school seniors in Berks County, Pennsylvania, who meet the requirements.
To be eligible, you need a 2.5-grade point average and to demonstrate qualities like kindness and sportsmanship. You must also have played high school basketball for a minimum of two years and have the intention of continuing your education after high school.
Baseball Scholarships
This one-time award of $500 comes courtesy of the Community Foundation of North Central Washington and is designated for the David M. Bohr Memorial Baseball Scholarship. Seniors in high schools that have been approved by NCW are eligible to apply for this program.
In addition to participating in baseball, having a grade point average of 2.0, and demonstrating financial need are requirements for eligibility.
Soccer Scholarships
The Bryan Cline Memorial Soccer Scholarship Program of the Albuquerque Community Foundation grants two annual awards, each worth $800, to deserving high school or college students who play soccer. Seniors on the Eldorado High School soccer team who are about to graduate can apply for them.
In order to apply, you are required to provide two letters of reference and to name the coach of your varsity soccer team. You also need to provide evidence that you are enrolled as a full-time student at a university.
Ice Hockey Scholarships
A scholarship in the amount of $750 is made available each year by the Community Foundations of Hudson Valley and is named after Maynard and Ferne Brownell. Beacon High School, John Jay High School, and Roy C. Ketcham High School seniors who meet the requirements are eligible to apply.
To be eligible, you do not need to be a hockey player. However, applicants are required to be involved in either school sports or community service projects. You are required to submit a fully filled-out form, as well as transcripts, an essay, a resume, a copy of the SAR report, and two letters of reference.
What colleges and universities provide sports scholarships?
Many universities and colleges provide financial aid in the form of sports scholarships to incoming student-athletes. Universities such as UNC-Chapel Hill, Stanford University, and UCLA are examples of institutions that might provide athletic scholarships.
The University of North Carolina at Chapel Hill has a total of 19,117 undergraduate students and 28 varsity sports teams. In addition, there are athletic facilities, sports clubs, and intramural sports available on campus. There are a variety of UNC scholarships available to candidates who meet the requirements.
There are currently 7,087 undergraduate students enrolled at Stanford University. The institution boasts more than 22 varsity sports teams (including the Cardinals). There is a possibility that some athletes at Stanford will be awarded full scholarships.
The costs of tuition, fees, room and board, textbooks, and residence hall dues may all be covered by full rides. In addition to these, there might be opportunities for academic scholarships. There is a good chance that a lot of people living in California are eligible for the Cal Grant Program.
The University of California, Los Angeles (UCLA) on the other hand has 31,577 undergraduate students and 21 major varsity sports teams. The Jackie Robinson Centennial Scholars Endowed Scholarships were established by the University of California, Los Angeles (UCLA).
This honor is given to male students who excel in the sports of track and field, baseball, football, and basketball. Additionally, students who meet the requirements can apply for a variety of merit and need-based scholarships. Students at UCLA, including those with DACA, might be eligible.
Are sports scholarships available in the Ivy League?
You might be one of those who are wondering if sports scholarships are available in the Ivy League, and the straightforward answer is no. The schools in the Ivy League do not provide sports scholarships; the only form of financial aid they offer is based on need. The coaches have the ability to assist their prospective athletes in obtaining financial aid rewards; however, they do not have any scholarship money to give to the athletes themselves.
Families with an annual household income between $65 and $180,000 could be expected to contribute anywhere from 10 to 18 percent of the total cost of tuition. At most, families with an annual income of less than $65,000 do not make any contribution to their student education.
If you want to go to an Ivy League school as a student-athlete, you shouldn't let the fact that there aren't enough dollars available for sports scholarships stop you.
How do eligible athletes receive sports scholarships?
It may be beneficial to take an active role from an early stage if you want to increase your chances of receiving a sports scholarship. Consider the following advice, which may be of assistance to recruiting coaches in their search for you.
Here is the checklist for candidates seeking sports scholarships:
Determine which division you wish to compete in 
Some student-athletes turn to the services of a recruitment agency in order to assist them in making this decision. Utilizing this kind of service could provide you with helpful insight into the skills that you currently possess. And which division level is appropriate for your level of athletic ability.
Check that you meet all of the requirements to participate
There are certain requirements that need to be satisfied before you can compete in your sport at the collegiate level. You are required to register after you have determined which division you wish to compete in.
If you are able to meet their requirements, it will show the coaches that you are prepared to play. However, you may still be required to impress a school and fulfill their admission requirements.
Investigate schools in the division that you have selected
After you have gained a better understanding of these abilities, the next step is to investigate various educational opportunities. Make a list of approximately fifty different schools that you would like to apply to. You might want to organize them based on factors such as location, academics, sports, and culture.
Put together an athletic resume 
Create a compelling athletic resume that highlights your performance statistics, awards, academic transcripts, and ACT/SAT scores. You could also make a video demonstrating your abilities for the coach to watch so they can assess you. While you are doing this, you should also consider compiling a list of the names and email addresses of the coaches.
Make contact with coaches 
You may want to consider using a personal approach rather than sending a mass email to make contact with coaches. You have the ability to write an attention-grabbing subject line. Please include your name, position, grade level, and a key statistic in the box below. Then you should tell each of the coaches what it is about their school that interests you.
Check out the different scholarships that you could be eligible for
To achieve results, you have to make it through the recruiting funnel. If this is the case, you might receive an offer of financial assistance. There are some educational institutions that simply do not have the financial means to provide large athletic scholarships. It's possible that they'll give out merit scholarships in order to make up the difference.
If you want to compete in college athletics, do you need to get a sports scholarship?
In most cases, the number of available spots on a team exceeds the number of scholarships that the coaches are willing to provide. It is therefore not the end of the world if you are not awarded a sports scholarship.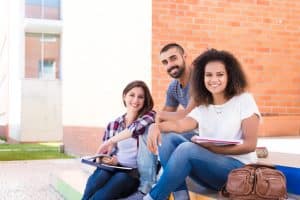 Student-athletes have the opportunity to walk onto a team, which means they can try out for the team even if they are not offered a scholarship. When this occurs, the athletes in question are referred to as preferred walk-ons for the purpose of the competition. You might also be able to walk onto a team without a scholarship one year, and then the following year you might be awarded a scholarship depending on how valuable you are.
What is the difference between a full-ride and a partial sports scholarship?
A variety of sports may provide students with the opportunity to receive either a full scholarship or a partial scholarship to participate in the sport. In addition, they differ from one another in terms of the costs that they cover.
The recipient of a full-ride athletic scholarship is exempt from paying any portion of their education expenses. It will pay for your room and board, as well as any mandatory fees, textbooks, and tuition. It could be a one-year contract or a contract that renews for four years.
There are six different sports in which you could potentially receive a full scholarship to play.
Football
Men's Basketball
Women's Basketball
Volleyball
Female's Gymnastics
Tennis
It's possible that coaches in these sports have access to a pool of scholarship funds that they can share with their players. They might provide a college scholarship to one deserving student-athlete who plays a sport. On the other hand, a member of the group might receive an offer that only pays for the expense of books.
Why student-athletes should apply for a sports scholarship?
If you want to get a degree that takes four years to complete, you should look into getting a sports scholarship. One should apply for a sports scholarship for a variety of reasons, including the following:
Affordability
Obtaining a bachelor's degree could be a costly endeavor. According to the most recent data from the NCES, the typical cost for first-year undergraduate students to live on campus at a public college is $24,900.
Private schools, both for-profit ($33,200) and nonprofit ($51,900), charge significantly more than public schools. You might be able to combine a sports scholarship with other types of financial assistance, such as grants from the government.
Lessen dependence on loans
Nobody but you can predict whether or not you will graduate college with student loans to pay off. However, in contrast to the terms of a loan, scholarship money does not typically need to be repaid. If you comply with the conditions, you will not have to pay the money back.
The display of sportsmanship is admirable 
A great number of scholarship committees investigate candidates from every angle. It's possible that your level of talent isn't high enough for major league teams to want to sign you. However, if you participate in a sport, it may demonstrate to the judges that you have discipline. If you have a history of being a "good sport" in addition to having solid grades, you may have an even better chance of being awarded a scholarship.
Is it possible to lose a college sports scholarship?
Some college student-athletes are forced to face the unfortunate reality of having their athletic scholarship taken away. There are a few distinct contexts in which this could take place, including the following:
In the vast majority of cases, the student-athlete may never have been eligible for the scholarship in the first place. Verbal agreements are not legally binding; therefore, they do not ensure that you will receive a scholarship or a spot on the team.
Even after you have signed your National Letter of Intent, there is still a possibility that your agreement will not include financial assistance in the form of sports scholarships.
If you get hurt, the school you go to and whether the injury occurred during a game or outside of practice will determine whether or not your sports scholarship will be revoked.
The coaches have the ability to choose not to renew your scholarship for the following academic year. Even though these contracts typically only last for one year, it may still come as a shock to some student-athletes, even though this does not technically constitute the scholarship being "taken away."
There are many different things that can lead to a player's contract not being renewed, such as getting into trouble on or off the field, poor performance, or getting into trouble with the law.
If you are not eligible to compete for any reason, whether it be poor academics, not being in good standing with the school, or anything else, it is unlikely that a coach will continue to provide you with financial aid in the form of a scholarship.
Students who put in a lot of effort and show a lot of talent can earn athletic scholarships, which provide them with additional opportunities to shine. Students who have fulfilled all of the program's prerequisites and have demonstrated that they have the ability to do well in the future are eligible for financial assistance.
However, they are so much more than that; they are the key to a better future not only for the student-athlete but also for their loved ones. Sports scholarships don't revolve around physical training and gameplay. It also requires you to prove that you are academically capable as well.
At AdmissionSight, we will provide you with an academic and extracurricular profile evaluation as well as a roadmap that will enable you to plan for the entirety of your high school career and ensure that you are accepted to the college of your choice.
Moreover, we will be able to assist you with making sure that you stay academically guided and competent so that you won't solely rely on sports scholarships. Feel free to set up an appointment today to book your initial consultation.