Stanford Graduation Rate
What Is the Graduation Rate for Stanford University?
Stanford University is a private, non-profit university in a large suburb of California. Its constant placement among the top 10 colleges in the country earned Stanford its well-deserved reputation for being one of the finest educational facilities in the United States.
Stanford is well-known not only for its excellent academics but also for the high return on investment it provides and the entrepreneurial spirit of its student body.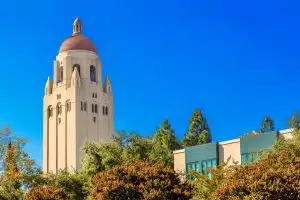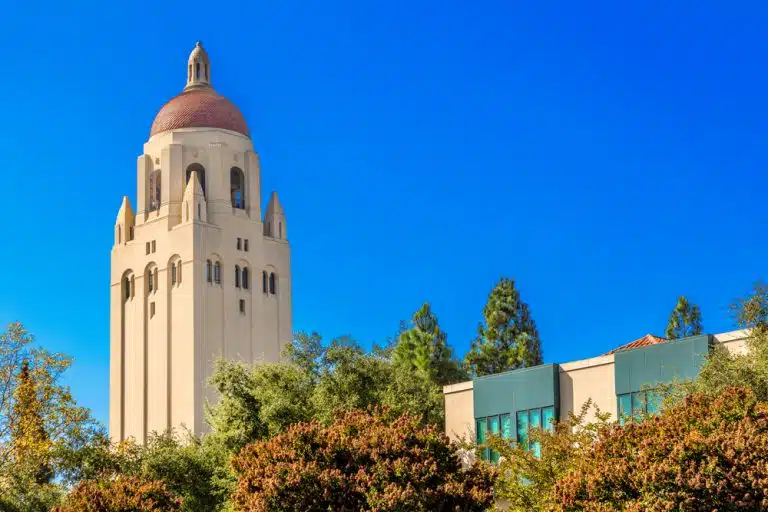 Students and parents might wonder, "What is the graduation rate for Stanford University?" There were 1,642 students out of 1,719 candidates who completed the requirements for their degrees, resulting in a Stanford graduation rate of 95.52 percent.
Stanford Graduation Rate By Gender
| | | | |
| --- | --- | --- | --- |
| | Entering First-Year Students | Completers | 6-Year Graduation Rate |
| Total Students | 1,719 | 1,642 | 95.52% |
| Male | 867 | 814 | 93.89% |
| Female | 852 | 828 | 97.18% |
Within four years, 1,327 students finished their bachelor's degree program and 229 of them finished their courses in 5 years. An additional 86 students graduated within the standard time of six years (150% normal time).
Stanford Graduation Rate By Completion Period
| | | | |
| --- | --- | --- | --- |
| Completion Period | Total Students | Male | Female |
| 4 Years or Less | 77.20% | 74.05% | 80.40% |
| 5 Year | 90.52% | 88.35% | 92.72% |
| 6 Year | 95.52% | 93.89% | 97.18% |
You may get a good idea of the standard of an institution by looking at its graduation rate. These indicators give you insight not just into how many students are enrolling at that college, but also into how many are earning their degrees on time.
It is crucial to pay attention to how institutions support students on their campuses since it is in everyone's best interest to graduate on time due to the high cost of maintaining enrollment.
How Many Credits Do You Need to Graduate From Stanford?
How many credits do you need to graduate from Stanford? You must earn a minimum of 180 units before you can graduate.
You will need to maintain an average of 15 units per quarter if you want to graduate in four years. In addition, you must complete your General Education Requirements (GERs) and your major requirements before graduating.
Stanford University confers the degree of Bachelor of Arts (B.A.) or the degree of Bachelor of Science (B.S.) on those candidates who have been recommended by the Committee on Undergraduate Standards and Policy (C-USP), who have applied in advance for conferral of the degree, and who have fulfilled the following requirements:
A minimum of 180 units of permitted academic work. Units exceeding the permissible limits for activity courses and courses completed on a satisfactory/no credit and credit/no credit basis cannot be credited towards the 180-unit requirement.
Completion of the Writing, General Education, and Language Requirements.
The requirements of at least one major department or program and the department's recommendation.
A minimum of 135 units, including the last quarter at Stanford, are required for students admitted as freshmen. Students who have completed at least 135 units in resident work may request a waiver of the last quarter-in-residence requirement for up to 15 units through the Last Units Out of Residence petition in special cases.
Students admitted as transfers must have completed a minimum of 90 units at Stanford (including their final quarter spent in residence). Students who have completed at least 90 units in resident work may request a waiver of the last quarter-in-residence requirement for up to 15 units through the Last Units Out of Residence petition in special cases.
Students should apply to graduate after completing their degree requirements. The University, however, reserves the right to confer a degree on a student who has completed all the degree requirements prior to a student's application for graduation.
The student would subsequently be subject to the University's standard rules and restrictions for future enrollment or registration.
Students who have withdrawn their graduation applications or do not meet their degree requirements must reapply for graduation in the next academic term. Stanford University confers no honorary degrees.
What Do Most Stanford Graduates Do?
Students who are fortunate enough to get accepted to Stanford University will have a wide various programs and classes to select from.
The college is comprised of seven different schools, which are as follows: the School of Earth, Energy, and Environmental Sciences; the School of Engineering; the School of Humanities and Sciences; the School of Law; the School of Medicine; and the Graduate Schools of Business and Education.
There are around 51% of students at Stanford choose to major in a STEM field and approximately 22% of those students study engineering.
What do most Stanford graduates do? With the 95.52 percent Stanford graduation rate, the school has produced graduates that go on to have successful jobs in the area known as Silicon Valley over the years. Larry Page, CEO of Google; Peter Thiel, co-founder of PayPal; and Kevin Systrom, co-founder of Instagram; are just a few successful entrepreneurs from Stanford.
These extensive linkages to Silicon Valley and the tech industry also help establish a cycle that allows Stanford to produce high-earning alumni, re-invest in students, and build its endowment.
According to the United States Department of Education, Stanford University's endowment is currently valued at $37.8 billion (as of the end of the fiscal year 2021), placing it as the third-largest college endowment among national universities.
Numerous students inquire, "How much money do Stanford University graduates make and which degrees pay the most?" Alumni who are employed six years after enrolling have an average annual income of $95,200. Meanwhile, after 10 years, graduates earn an average of $122,900.
Following is a ranking of degree programs based on the median first-year starting wages of Stanford graduates in their respective fields of study.
The undergraduate degree that first pays the highest is Computer Science with a median starting salary of $126,400, followed by Economics earning $80,900, and Mechanical Engineering graduates with a median starting income of $78,200.
When it comes to post-graduate and doctoral students, those who complete the Law (First Professional Degree) program earn the most, with a median initial income of $156,700.
The next highest-earning program in Computer Science (Master's Degree) earning $153,400, and then the Business Administration, Management, and Operations (Master's Degree) at $150,100.
When discussing Stanford University alumni, there are now 20 Nobel laureates among its members. The university currently has more than 220,000 alumni.
From some of the most famous US presidents to award-winning actors and writers, many Stanford grads are household names.
Famous people who attended Stanford University include the famous Legally Blonde actress Reese Witherspoon, John Steinbeck who wrote the novel "The Grapes of Wrath", and Sandra Day O'Connor who was the first female judge of the Supreme Court.
It is no coincidence that Stanford has produced some of the most well-known, brilliant, and affluent businesses of the twenty-first century. Leadership, professional growth, innovation, and originality are among the traits emphasized at the university.
The Stanford student body is committed to taking action to achieve its goals. While still in school, it looks like everyone is working hard to achieve their professional goals. When you are with other determined, like-minded people, you are more likely to pursue your entrepreneurial aspirations.
With the institution's prestige, businesses may occasionally hire an applicant based only on their graduation from a prestigious university.
The owner may have attended also attended the university, or the company may have acquired many graduates from Stanford. With the high Stanford graduation rate and competitive graduates, being employed in a good company is not impossible.
Is a Degree From Stanford Worth It?
Stanford University is ranked as the sixth-best college in the United States by U.S. News and tied for third place with Harvard University.  It fares even better on the outlet's lists, where it earned ninth place for best value colleges, second place in best undergraduate engineering programs, and first place for the computer science program.
Of those seven colleges mentioned earlier, only three schools have undergraduate programs: the School of Earth, Energy & Environmental Sciences, the School of Engineering, and the School of Humanities & Sciences. The institution provides more than 65 different majors, ranging from Aeronautics and Astronautics to Urban Studies.
Moreover, Stanford offers a wide selection of student organizations, including the Stanford Pre-Business Association and Stanford Solar Car Project, which develops, manufactures, and races a solar car every two years.
The Stanford Cardinal is well known for the historic "Big Game" against Cal, an annual football rivalry that awards the Stanford Axe, a sought-after trophy to the winner. Stanford's tennis and golf teams are also well-known. In addition, approximately one-quarter of all students are involved in some form of Greek life at Stanford.
Is a degree from Stanford worth it? With its location in California, near Silicon Valley, the school has extensive ties to the tech industry.
William Hewlett and David Packard graduated with degrees in electrical engineering from Stanford in 1935 and developed their research into the firm today known as HP. In 2001, the Hewlett Foundation contributed $400 million to Stanford.
It was the most significant single gift to an American college or university at the time. These Stanford alums do not simply contribute back to the university, they also hire Stanford graduates.
In conclusion, graduating in four years implies lower expenses and loans for tuition, room and board, supplies, and other fees. Aside from potentially lower costs and debts, most financial aid, including the Federal Pell Grant, SEOG, state grants, and specific institutional grants and scholarships, is only renewed for four years. You will have to pay for additional school years at your own expense.
Graduating in four years also means you can start your profession sooner and start building your financial wealth.
These are just a few reasons why paying attention to measures like graduation rate as part of the whole picture in your enrollment decision is crucial.
The competitive Stanford graduation rate, outstanding academics, accomplished faculty, brilliant students, and a goal-oriented mentality could be some of the factors to consider for choosing Stanford as your home.
The admission rate at Stanford University is 3.95%, making it even more competitive than MIT, Caltech, and Yale. The acceptance rates at Harvard, Columbia, and Princeton are relatively comparable.
This indicates that the path to getting into Stanford entails surviving a tough admissions process, which will result in the rejection of many valedictorians, geniuses, and incredibly gifted young people.
Make sure to have outstanding grades and coursework in high school, as well as a "hook," whether in sports, music, theatre, or even in STEM, that can help boost your chances at admission. College admissions experts like AdmissionSight can also help you craft a strong application and will guide you through your college application.
At AdmissionSight, we have over 10 years of experience guiding students through the competitive admissions process to get accepted to the top universities in the world. On average, 75% of our students are admitted to an Ivy League university, Stanford, MIT, UChicago, and Caltech, which is one of the highest track records in the industry. Feel free to set up an appointment today to book your initial consultation.