The Best Fraternities in the US
Fraternities have a bad reputation in pop culture for being drunk, obnoxious, and sexist, but in reality, many of the best fraternities offer profoundly moving experiences and tight bonds that last a lifetime.
Men who join fraternities are not only happier than their non-Greek counterparts, according to a 2014 Gallup survey, but they are also physically healthier, less stressed about money, more engaged at work, and more fulfilled in their social interactions.
Men who pledge are also in top companies, as alumni reportedly include 18 US Presidents, 85% of Supreme Court justices since 1910, 76 % of Senators, and 85% of Fortune 500 Executives.
What are the best fraternities in the US?
What are the best fraternities in the US? The top fraternities in the country are listed below even though choosing the "best" fraternity is virtually impossible.
Pi Kappa Alpha
Pi Kappa Alpha, one of the biggest organizations in the world, was established in 1868 at the University of Virginia. As a globally renowned fraternity, Pi Kappa Alpha is committed to the development of intelligence, integrity, high moral character, and success.
This fraternity, also known as "Pike," is made up of gentlemen who have similar values to one another in terms of honor, loyalty, and honesty.
Pike's origins may be traced back to when Waller Tazewell and Frederick Southgate Taylor collaborated to establish a new fraternity in Room 47 West Range. After some time, other of their schoolmates joined, and the brotherhood was eventually created.
Pi Kappa Alpha places a strong emphasis on encouraging excellence in all of its members. Numerous chapter members achieve GPAs that are higher above the college and Greek averages. It offers study hours, fraternal mentorship, and tutoring to assist new members in settling into college life.
Members of Pi Kappa Alpha receive housing in the chapter house as well as opportunities to develop relationships and learn skills that will strengthen their foundation as leaders and professionals in the future.
Members of the fraternity, which was created on the values of scholars, leaders, athletes, and gentlemen, adhere to its regulations while residing in chapter homes.
Alpha Phi Alpha
Alpha Phi Alpha is proud to be the first Greek-letter social fraternity for males of African American origin, having been founded at Cornell University in New York. It is also recognized among the best fraternities in the country.
It was founded in 1906 by seven college students who recognized the need to foster a sense of fraternity among African descendants in the US.
The founders put a lot of effort into creating a brotherhood that radiates camaraderie and moral values. Later, the fraternity grew by creating chapters in other colleges and universities, primarily ones attended by African-American students.
The fundamental objective of the fraternity was to assist in redressing the long-standing social, economic, educational, and political inequalities experienced by African-Americans.
The fraternity's steadfast dedication to the African-American community is certainly laudable as a preeminent Greek institution. A few mentorship initiatives for the next generation of leaders have been pioneered by Alpha Phi Alpha, which also offers homes and scholarships to impoverished families.
Tau Kappa Epsilon
Tau Kappa Epsilon has a long, illustrious history that dates back more than 121 years and is based on the values of generosity, love, and regard. Illinois Wesleyan University's first fraternity chapter was founded on January 10th, 1899.
There are numerous chapters of Tau Kappa Epsilon in various schools and universities, including, among others, Loyola University Chicago, Connecticut State University, and Texas Tech University.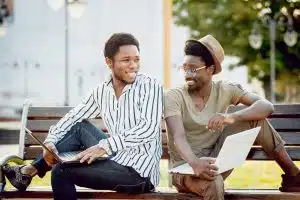 This fraternity is highly listed as one of the best fraternities and is committed to helping members reach their full potential by promoting character development, personal growth, and campus life. The Greek system aids in the social, moral, and intellectual growth of its new members.
The Greek system offers several chances to participants of Greek life. They establish solid linkages between interpersonal, community, and achievement in education and the workplace, whether they are within or outside the chapter house.
TKE has its causes, much like any other Greek organization. Through grants and scholarships worth more than $500k, the TKE Foundation was created to encourage leadership opportunities, training programs, and academic accomplishment.
As part of its charitable endeavors, TKE has also partnered with St. Jude Children's Research Hospital.
Sigma Alpha Epsilon
Sigma Alpha Epsilon was the first fraternity to ever include a leadership education curriculum with on-campus activities. Sigma Alpha Epsilon is distinct from the Alpha Sigma group despite sounding similar.
This fraternity, one of the oldest and largest in the country, was founded at the University of Alabama. More than 300,000 people have been initiated into this fraternity since its foundation in 1856 through its more than 200 chapters.
The Sigma Alpha Epsilon Greek system, which should not be confused with Alpha Sigma, emphasizes the significance of being a True Gentleman by exemplifying firm convictions and concentrated principles.
For example, the Phoenix Member Education Program, which includes brother-to-brother training, member onboarding, and awards, is one of the many programs it gives to its members.
Sigma Phi Epsilon
The biggest and one of the best fraternities in the nation, Sigma Phi Epsilon, was established on November 1st, 1901.
At Richmond College (now the University of Richmond), 12 founding fathers of Sigma Phi Epsilon established the standards for their succeeding members by living up to their values and beliefs.
Sigma Phi Epsilon, a well-known Greek-letter organization, is most recognized for its Education Foundation, an idea of the fraternity's founder, William L. "Uncle Billy" Philips. Its goal is to provide undergraduate and graduate students with scholarship money in light of the rising cost of a college education.
Kappa Alpha Society
John Hart initiated the Kappa Alpha Society, which was founded in 1825 at Union College.
Hart founded the Kappa Alpha organization as a literary secret society of intellectuals who participated in Greek life because he loved literature and was a free thinker.
The US's first social fraternity on college campuses is known as Kappa Alpha Society. Its Greek system places a strong emphasis on assisting undergraduate members in improving themselves while encouraging lifetime bonds between its members and alumni.
The Kappa Alpha Society promoted a discussion of liberal principles in its early years. There are currently nine active chapters and a large number of alumni members. Hence, it is considered among the best fraternities in the US.
Sigma Chi
Sigma Chi was founded as a result of the aspirations of seven college freshmen to create a better fraternity that would improve the value of their academic experience.
Sigma Chi was established in 1855 on the campuses of Miami University in Ohio, and today it has about 260,000 members who participate in Greek life! More than 350,000 men have been initiated into the fraternity after 164 years. Additionally, it created the Sigma Chi Foundation, a nonprofit educational and charitable institution that is tax-exempt and offers stewardship and financial support to Sigma Chi.
As part of how its members experience campus life, the Greek society also oversees Sigma Chi Leadership, which offers undergraduate students training and certification possibilities in leadership. Through leadership training sessions and other events, it also promotes volunteerism among its members.
Lambda Sigma Upsilon
Twenty Latino undergraduate students at Rutgers University decided to band together in 1979 to advocate for their rights as minority students. They established the Latino Social Fellowship, which was subsequently renamed Lambda Sigma Upsilon, after many get-togethers. The fraternity now works to promote diversity and inclusivity on campus. Lambda Sigma Upsilon is recognized among the best fraternities in the country.
The goal of the HIV/AIDS Research and Awareness program is to pay tribute to the founding members. The organization distributes thousands of dollars through philanthropic initiatives like tournaments, banquets, raffles, and fundraising events each year.
The LSU Foundation is a nonprofit organization that works to provide Latino students in high school and college with opportunities for leadership development and academic progress. These are funded by grants and scholarships.
Kapa Delta Rho
The history of Kappa Delta Rho's Greek letter, which has been around for 100 years, began on May 17, 1905, in the Middlebury College residential halls.
This fraternity sought to have higher standards for what constitutes brotherly and manly behavior, with both of these ideas serving as their compass in life. Their motto was "Honor Super Omnia," and they lived by it.
The Kappa Delta Rho Foundation was established because Kappa Delta Rho emphasizes that its commitment endures long after college graduates. The National Fraternity of Kappa Delta Rho's character development, leadership, and educational campus life initiatives are supported financially by this educational and humanitarian organization.
Additionally, it supports the Williams Leadership Academy, Undergraduate Intern Program, Quill and Scroll, and many other leadership and educational manuals, publications, and materials for the Legion.
The educational initiatives of Kappa Delta Rho have a lasting effect. Every August, the Williams Leadership Academy holds courses for KDR members that highlight successful leadership techniques for both the workplace and individual chapters.
Sigma Nu
The founding of Sigma Nu can be dated back to 1869 at the Lexington campus of the Virginia Military Institute.
They finally established a "Legion of Honor," and their new name was Sigma Nu. The founders initially kept the fraternity a secret until deciding to come out on January 1, 1869.
The Virginia Military Institute-based organization started to grow a year later. Following the founding of a branch at the University of Virginia, another chapter was created at the North Georgia Agricultural College. Sigma Nu is pleased to have 166 active chapters today. Since its founding, they have initiated around 235,000 men.
The Virginia Military-founded fraternity Sigma Nu upholds the ideal of "excelling with honor." It seeks to develop men of character who are destined to serve as moral leaders in the future, guided by the values of love, truth, and honor. Additionally, it encourages camaraderie and enduring loyalty among its members. Thus, it is among the best fraternities in the country.
Over the years, Sigma Nu has donated more than $1.5 million to charitable causes and clocked more than 350,000 hours of volunteer work. The fraternity also participates in several charitable endeavors, including The Amazing Snake Race.
Alpha Tau Omega
At the Virginia Military Institute, Otis Allan Glazebrook, Alfred Marshall, and Erskine Mayor Ross established the Alpha Tau Omega. The ideals upon which the fraternity was founded were Christian, not Greek. This fraternity consistently ranks in the top ten national fraternities in terms of membership and chapter count.
With 200,000 members and 65,000 undergraduates, it has over 250 chapters (both active and inactive), both active and inactive.
The ATO Foundation was established by Alpha Tau Omega as a part of their activism. This charity would raise money every year to give its members more than $150,000 in scholarships. The awards support various initiatives aimed at assisting the members in becoming outstanding leaders since it is particularly focused on the value of true leadership.
Delta Chi
The desire to start a second law fraternity at Cornell University led to the founding of Delta Chi on October 13, 1890.
The fraternity has upheld its primary principles and standards of equity, inclusivity, and diversity ever since it was created. Additionally, the DEI (diversity, equality, and inclusion) workgroup has been established to study the resolutions and statutes of the fraternity.
The Delta Chi Educational Foundation was established in 1954. This non-profit organization runs courses in leadership development and offers a range of scholarships, including the ones listed below:
Graduate Student Scholarship
Washburn Scholarship
Duane and Mary Meyer Scholarship
American actors Ashton Kutcher and Kevin Costner, the 23rd US President Benjamin Harrison, US Representative Jim Banks, Henry Hartsfield, the former FBI Director William S. Sessions, and countless others are among the notable alumni of Delta Chi.
Lambda Chi Alpha
It is still unknown if Lambda Chi Alpha was established in 1909 or 1911. The Cosmopolitan Law Club at Boston University was reorganized as a Greek letter society at a conference held on November 2, 1909, which led to the founding of the Lambda Chi Alpha fraternity.
Even yet, the fraternity has successfully spread to other campuses and prospered and recognized as one of the best fraternities in the US. At the Universities of Pennsylvania, Massachusetts Agricultural College, and Pennsylvania State University, chapters have begun to open.
Lambda Chi Alpha formed the Lambda Chi Alpha Education Foundation because they truly believe in diversity in terms of color, sexual orientation, ethnicity, class, religion, and cultural background. This strives to establish, finance, and promote educational projects for leadership, service, fraternal ties, and personal improvement.
With more than 180 chapters and more than 300,000 members, the Greek letters fraternity is one of the largest in the nation today, with about 9,000 members actively participating.
Beta Theta Phi
On August 8, 1939, eight freshmen college students met in Miami University's Union Literary Society Hall to form Beta Theta Phi.
Additionally, Beta Theta Phi was the first fraternity or group to ever host a general convention.
The founding of the Men of Principle Initiative was one of Beta Theta Pi's most significant events. As a result of this action, the ambitious cultural change initiative was begun, expanding the fraternity's interfraternal leadership and putting more of an emphasis on the members' GPAs, leadership development, accountability, recruitment, and volunteerism.
Additionally, Beta Theta Pi is a steadfast supporter of social awareness and education. It founded the Men of Principle Scholarship to honor unaffiliated male college students who exhibit the principles of Beta Theta Pi, such as intellectual development, cooperation, and honesty.
Additionally, members of the fraternity are urged to get involved in planning activities like the Keystone Regional Leadership Conferences and General Convention sessions for the Wooden Institute and Leadership College.
More than 200,000 men have been inducted into the fraternity since its founding, the majority of whom went on to hold significant positions.
Nu Alpha Kappa
The largest Latina-based fraternity, Nu Alpha Kappa, was founded on February 26, 1988, at California Polytechnic State University. It was developed to aid Latino pupils in overcoming culture shock in a school with a large Anglo population.
For each chapter leader, it also organizes the National Leadership Development Conference, which brings everyone together for a week of professional development. It also debuted the National Sports League and the sports competition NAKFest.
Additionally, Nu Alpha Kappa founded the National Alumni Association, which awards undergraduate and graduate brothers who qualify and merit academic scholarships. The fraternity has raised over $170,000 for scholarships since 2014. Hence, it is considered among the best fraternities in the US.
What are the benefits of being in a fraternity?
What are the benefits of being in a fraternity? Students who are debating joining a fraternity might wish to consider all of its benefits. Why ought they to think about pledging a fraternity? Just a few strong arguments for why are as follows:
Connections
Fraternities offer several possibilities for new members to engage with their peers who share the same beliefs and aims, just like clubs and other school organizations. The relationship they developed while in school does not, however, disappear after they graduate.
Building a network with alumni and potential new members of one's chapter is made possible by joining a fraternity. Alumni from the best fraternities have close relationships with their organizations and are frequently eager to offer advice or even assist them in obtaining internships at their current employers. One's future professional success depends on these ties.
Unique resume
Being a member of a fraternity may do wonders for one's résumé in addition to allowing one to interact with a network of alumni. There may be employers who are associated with a specific chapter, increasing the likelihood of employment.
In addition, most employers recognize your involvement in a fraternity, especially in light of the principles and abilities these organizations have helped you develop throughout your time in college.
New skills
The majority of fraternities participate in leadership development and community service activities, and some even organize these activities themselves. Members will be encouraged to gain new talents outside of their academic obligations by becoming a part of one.
They will be able to gain social skills, such as managing a budget, speaking in front of an audience, and leading meetings, as they assist in planning and launching events. They will interact with new individuals and pick up social skills in the process.
Members of the best fraternities would be able to push themselves beyond their comfort zones and gain confidence. Most importantly, as they take command of a specific event, they will be able to develop and demonstrate their leadership abilities.
Community involvement and volunteerism
Numerous fraternities plan projects to engage the local community. They hold charitable activities in which members are obligated to take part, emulating volunteerism. Fraternities have a reputation for giving back to the community by serving it directly.
It could take the form of serving as a tutor or mentor for neighborhood organizations. They occasionally assist with park cleanup, provide food assistance, and interact with veterans. There are instances where fraternities donate money to nearby nonprofits as well.
These are frequently carried out amusingly, with activities like athletic competitions, bake sales, and even dinner parties with a theme.
Lasting friendships
Fraternities attract students from a variety of backgrounds. They frequently become close because they share similar ideals and objectives. Students get the opportunity to share their interests and gain knowledge from one another as members of a fraternity.
They frequently encourage one another through academic challenges and applaud one another for their successes. When times are bad, members provide one another with a solid support system they can rely on.
The desire to excel academically
One of the main goals of fraternities is to foster a supportive academic environment for their members. Peer tutoring, chapter study sessions, and even upperclassman counseling are among the activities they offer.
Students need all the assistance and support they can get to thrive academically in college since it is challenging and demanding. Students can combine their studies and make the most of their university experience by joining fraternities.
How do you choose the right fraternity?
You can find a strong community where you can play, learn, have fun, and volunteer with your college brothers through fraternity (and sorority!) life. If you are determined to join Greek life, keep in mind that selecting the ideal group takes time.
So, how do you choose the right fraternity where you can create lifelong friendships and business connections?
Tip #1: look at the fraternity's reputation
Discover the principles, past, and objectives of any prospective fraternity or sorority.
How well-known is the particular fraternity you want to join in the Greek community?
What do the participants do in their free time?
Do fraternities and sororities have a reputation for being pro-social?
These straightforward but fundamental inquiries might help you go forward before making a wise choice.
Tip #2: Search for brothers with similar viewpoints.
In a fraternity or sorority, look for students who share your interests. Having the correct support system in fraternities and sororities can be very beneficial because college life can be very overwhelming.
Before joining a fraternity or sorority, consider what qualities you look for in a buddy. Loyalty? humor sense? Honesty? Make a list of your strengths. Choose the best fraternities and sororities based on your tastes and social life, much like other college women would when selecting a national sorority.
Tip #3: Take into account legacy options
Keep in mind that because they are based on long-standing customs, fraternities, and sororities have particular values that have not changed. It's best to carry on their legacy if your grandfather, father, or close family was a member of the same fraternity. Being a descendant of a fraternity member ensured your admission in the past.
This isn't always the case with fraternities and sororities today. Before making a fraternity or sorority pledge, it is wise to investigate legacy benefits.
Tip #4: Ask About Dues
You should investigate the fraternity dues before pledging unless having access to more money is not a concern. For instance, if you're considering living in a fraternity or chapter house, be prepared to shell out a lot of money for rent as well as other event costs. Living in sorority houses is roughly equivalent to this.
Resources like the in-depth study of Greek life that Nicholas Syrett, a specialist in Women, Gender, and Sexuality Studies, performed involving 20 national fraternities, are also at your disposal.
If you're set on getting into a world-class college but aren't sure how to make it happen, we can help! AdmissionSight is a leading college entrance expert with over a decade of experience helping students just like you get into the schools of their dreams.
AdmissionSight focus on offering a wide range of services all aimed at helping students perfect their applications to catch the attention of admissions officers. Contact us today to schedule a free consultation to learn more about what we offer.