The Best Ivy League Schools for Chemistry
When it comes to fields that young people are pursuing in high school, undergraduate school, graduate school and ultimately for their professions, STEM (science, technology, engineering and math) subjects are amongst the most popular.
Amongst that wide array of subjects, there is little doubt that chemistry is one of the most popular focuses and majors.
But what is the best Ivy League school for chemistry and what are the Ivy League chemistry major admissions criteria?
If you are a highly dedicated high school student who is interested in attending one of the eight fantastic Ivy League schools and want to know the Ivy League schools ranking for a chemistry major, then you have come to the right place.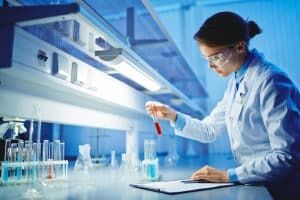 Every application cycle, AdmissionSight helps some of the most intelligent and passionate high school students across the globe gain admission to some of the top schools in the country, including the Ivy League schools.
When it comes to getting into top schools, AdmissionSight believes that one of the most important tools that any high school student can wield is knowledge.
Knowledge when it comes to what schools they should be targeting and knowledge when it comes to what kind of students the Ivy League universities are looking for every year.
So, without further delay, let's get started on breaking down the best Ivy League school for chemistry list.
What is a chemistry major?
Before we jump right into the Ivy League schools ranking for chemistry, we thought that it would be a good idea to first briefly explain what a chemistry major is like at an undergraduate program.
While style of teaching, faculty and resources will differ from school to school, the basic principles of pursuing a degree in chemistry remains consistent in every school across the United States.
Essentially, the study of chemists is to primarily work in controlled environments and use the scientific method to offer valuable and impactful contributions to the world of science in an abundance of important fields such as medicine, biology, psychology, geology and more.
As a chemistry major, students explore many different topics and paths of career – from learning about the chemical basis of life to solving environmental problems that can be caused – and solved – by chemicals.
In terms of what students will primarily be asked to do when pursuing a college major, they will spend much of their time in the classroom:
Learning how everyday products such as plastics and fabrics are created
Craft lab reports
Create and study chemical reactions in the wet lab
Use laboratory tests to identify known and unknown compounds
Take man important STEM classes such as advanced math, physics, biology, chemistry and more
How to know if a chemistry major is right for you
Without a doubt, chemistry is one of the most challenging and competitive majors to pursue at many private and public universities.
These days, it is quite common for students who perform best in school to pursue degrees and professional paths in STEM, which requires every student to remain committed and up their game throughout their academic journey.
For that reason, students need to be really confident that they are interested in pursuing a major in chemistry not just because they like the idea of a career path that could open up for them as a result, but primarily because they are truly passionate about the study of chemistry on its own.
Here are some questions that every student interested in pursuing a major in chemistry should ask themselves before they even start worrying about the best Ivy League school for chemistry.
Do I enjoy lab work?
This is a great place to start! When you were involved in science courses in high school, did you have fun taking part in the lab aspects of the courses? As a chemistry major, you can be sure that you will be spending a lot of time in a controlled lab conducting many different kinds of experiments to complete various assignments.
If you enjoyed that process and working within the scientific method in high school, chances are good that you will continue to enjoy the more advanced and involved courses once you get to your undergraduate program.
Am I a curious person?
Students who tend to major in chemistry should certainly be naturally curious, especially when it comes to the composition of natural and created objects and substances.
How are my math skills?
Without a doubt, if you want to succeed as a chemistry major at an undergraduate program – and especially at one of the highly competitive and rigorous Ivy League schools – you are going to want to be sure that you are confident in your skills as a mathematician.
When it comes to chemistry specifically, students need to be sure that they are comfortable with both advanced calculus and analytical geometry.
How did I perform in a variety of science subjects?
While the majority of your focus during your courses related to your major will be within the realm of chemistry, you are likely going to have to take a number of other important science-related courses in order to complete your major.
Some of the most complex and challenging include physics and bioscience. You will want to be sure that you can succeed while taking these courses if you want to pursue a major in chemistry once you enroll as an undergraduate student.
Do I enjoy research?
It is important to enjoy research if you want to succeed as a chemistry major. That is true even though the majority of your chemistry classes will not require a great deal of research.
The reason for this is because at most schools with highly regarded chemistry programs, conducting independent research is encouraged. On top of that, research activities are highly important for students who are planning to pursue graduate school when they conclude their undergraduate education.
Do I know what you would like to do with my undergraduate chemistry degree?
While there are many other important questions that you can ask yourself, this may be the most important.
Gaining a chemistry degree at any college or university – and especially at one of the most challenging schools in the country like any of the eight Ivy League schools – you are going to want to have the commitment and dedication that comes with knowing what you are all doing it for.
If you are considering pursuing a degree in chemistry simply because you think it is a good idea, you may want to think more about what it is that you really want out of your degree and subsequent career.
If what you want to pursue in graduate school or your career lends itself well to a chemistry major, fantastic!
Ivy League chemistry major admissions criteria
One final and important thing that we want to go over before we go over the Ivy League schools ranking for chemistry are the Ivy league chemistry major admissions criteria.
You will not have to have any perquisites from high school in order to pursue a major in chemistry at an ivy League school, but there are absolutely several courses that you will want to focus your attention on in high school to make sure that you are prepared for the rigor and demands that come with majoring in chemistry at an Ivy League school.
Whenever possible, students should take the listed courses as advanced AP courses.
Algebra
Geometry
Trigonometry
Pre-calculus
Physics
Chemistry
What is the best Ivy League school for chemistry?
So, now that we have covered some important facts about gaining a chemistry major, as well as broken down some questions that any student thinking about pursuing a major in chemistry may want to ask themselves, it is now time for AdmissionSight to break down the best ivy league school for undergraduate chemistry.
Let's get started.
No. 1 Harvard University
Perhaps it should not come as much of a surprise that Harvard is at the top of this list and the schools Department of Chemistry and Chemical Biology is truly considered to be one of the most advanced and impressive in the world.
In fact, Harvard boasts the impressive distinction of having the first American recipient of the Nobel Prize in Chemistry, Professor Theodore William Richard. Furthermore, the department is associated with a total of seven Nobel laureates, with four of them currently working on the school's staff.
Of course, Harvard is home to the most advanced and some of the most well-funded research labs in the United States. While much of the top facilities are used primarily for graduate students at the school, undergraduates can still utilize incredible resources while getting their degree as well.
No. 2 Yale University
Yale University is one of the oldest and most well-respected universities in the United States, and its chemistry department is consistent with the prestige and incredible selectivity at the school.
In 2009, Profession Thomas Steitz was awarded the Nobel Prizes in chemistry thanks to his work with the ribosome.
There are many other heavily heralded and successful chemists who have both studied at Yale and who currently teach there. There are four primary areas of study within Yale's chemistry department, including:
Biophysical chemistry
Inorganic chemistry
Organic chemistry
Physical and theoretical chemistry
No. 3 Princeton University
Perhaps it is not all that surprising that the top 3 schools when it comes to the best Ivy League school for chemistry list are made up of the three schools that are classically known as the "Big Three" of the Ivy League.
For years, Harvard, Yale and Princeton have been known as the most selective and prestigious schools in the Ivy League. They are also known for having three of the most successful and devoted alumni bases in the world.
As for Princeton and its chemistry program specifically, it is highly regarded across the world, and any student who excels within the program can expect to have their pick of career options and graduate education options abound. Overall, Princeton offers undergrad, graduate and postdoctoral research positions.
Princeton's chemistry faculty specializes in a few specific areas:
Catalysis and synthesis
Chemical biology
Inorganic chemistry
Materials chemistry
Spectroscopy and physical chemistry
Theoretical chemistry
On top of that, there are four ongoing projects which are part of the department's collegial forum where the school's faculty is able to take part in collaborative projects with professors both within and outside of the field of chemistry include:
Computational science and engineering
Energy and the environment
Materials science and technology
Theoretical science
No. 4 Cornell University
Often thought of as one of the easier Ivy League schools to get into, Cornell should not be considered lightly when it comes to the selectiveness, prestige and overall quality of the undergraduate program in general and its chemistry department.
Two members of the school's alumni recently won Nobel prizes in 2014 in connection to achievements in optical microscopy.
Moreover, a great aspect of the chemistry department at Cornell that adds to the department's prestige is the peer-reviewed "Journal of Physical Chemistry."
The facilities at Cornell that are used by undergraduate and graduate chemistry students include:
The Advanced Center for Electron Spin Resonance Technology
The Center for Materials Research
The Cornell High Energy Synchrotron Source
The Cornell Nanofabrication center
No. 5 Columbia University
Located at the epicenter of business, culture, and many different fields of scientific study, Columbia University has continued to gain prestige and importance within academics with each passing year.
These days, there are many that would consider Columbia right next to – if not even perhaps a bit above – the "Big Three" of Harvard, Yale, and Princeton that were previously mentioned.
One of the most unique aspects of Columbia overall is that the school makes it a priority to give its students the opportunity to blend and mix what they learn as part of their primary focuses. For that reason, it should not come as much of a surprise that Columbia fosters shared research for its chemistry students including opportunities in:
The Ancient Ink Laboratory
The Center for Precision Assembly of Superstratic and Superatomic Solids
The Columbia Science Initiative
The Energy Frontiers Research Centers
The Genome Center
The Integrated Science and Engineering Center
No. 6 University of Pennsylvania
Coming in at number six on this list is the highly prestigious and well-respected University of Pennsylvania.
The founding of the school's chemistry program – fascinatingly enough – can be traced back to before the birth of the United States itself. The Department of Chemistry can be traced back to 1740.
Since then, Penn has been home to seven recipients of the Nobel Prices and 18 members of the National Academy of Sciences. The most recent Nobel laureates came in 2010 and 2000.  Research facilities at Penn's Department of Chemistry include:
The Laboratory for Research on the Structure of Matter
The Parallel Reaction Screening Service Center
The Wistar Center for Cancer Research
No. 7 Dartmouth College
Though Dartmouth may be the only liberal arts college and not university within the Ivy League, it's chemistry program is nothing to undermine.
Though chemistry is not one of the most popular majors at Dartmouth, it is absolutely gaining popularity and between the years of 2019-20 and 2020-21, the program saw a 38 percent increase in the program.
In addition, the school also offers master's and doctoral programs.
No. 8 Brown University
Coming in at the final spot here is Brown University. Much like Dartmouth, Brown is not likely the first school that students consider if they are highly committed to receive an undergraduate degree in chemistry they are not likely to pursue Brown University as a top choice.
With that being said, the school still does offer incredible faculties, resources and opportunities for students to both pursue a degree in chemistry and widen their horizons in many other related and unrelated focuses.
Need more help getting in an Ivy League to study chemistry as an undergraduate?
If you are a high school student that is interested in pursuing a degree and career in the world of chemistry, there is little doubt that you have at least a few Ivy League schools circled on your list of schools that you want to apply to and ideally get accepted into.
With that being said, it is important to know that every Ivy League school is incredibly hard to get into. In fact, they are some of the hardest programs to get into in the entire world.
That's where AdmissionSight comes in. At AdmissionSight, we help students every year accomplish their admissions goals and get into the schools of their dreams.
If you want to learn more about how we accomplish that, and how we manage to get 75 percent of the students that we work with into Ivy League or top 10 programs elsewhere, contact us today to set up a free consultation.