The Columbia Motto
Columbia Motto
In 1754, King's College, which would later become Columbia University, was established by a royal charter issued by King George II of England. It is the fifth oldest educational establishment in the whole of the United States, as well as the oldest in the state of New York where it is located. Demonstrating the institution's long and illustrious history as a place of higher education. The University has established itself as a leading research and educational institution over the course of several decades by living up to the Columbia motto, "In Lumine Tuo Videbimis Lumen."
The phrase "In Lumine Tuo Videbimis Lumen" is a Latin translation of Psalm 36: 9 from the Hebrew book of Psalms, which is known as Tehillim in Hebrew, which means "Praises" in English. This phrase serves as the Columbia motto. It was generally accepted that King David was the author of the Psalms. The phrase "In thy light we see light" is what the words of the motto signify, and they are a reference to the light that God provides.
The Columbia motto serves as a compass for the efforts of Columbia University, which are directed toward fostering the continuation of creative endeavors and promoting an environment that maintains the best standards of scholarship, learning, and safety. In this article, we look deeper into the ways in which the Columbia motto embodies both the university as a whole and the students that attend the university.
What is the Columbia University Motto?
What is the Columbia University motto? The Columbia motto is "In Lumine Tuo Videbimus Lumen," which literally translates to "In thy light shall we behold light." More than 40,000 students, teachers, and staff members from all over the country and the world call Columbia University home. They study and live on one of the university's many vibrant campuses located in one of the world's most important and influential cities.
Since even before the time of the American Revolution, Columbia University has been laying a foundation of education for thousands upon thousands of students. The standard for academic achievement has been set by Columbia University's dedication to equipping its students with the critical thinking abilities, problem-solving strategies, and community involvement practices they require to be successful in their chosen fields.
The academic offerings at Columbia University are unparalleled in quality and unrivaled in scope, exemplifying the ideals that are embodied in the Columbia motto. There are three undergraduate schools, thirteen graduate and professional schools, a medical center that is known all over the world, four affiliated colleges and seminaries, twenty-five libraries, and more than one hundred research centers and institutes. In addition, there are four affiliated colleges and seminaries.
What is Columbia University Mission Statement?
Knowing the ideals of the Columbia motto, what is Columbia University's mission statement? In addition to being one of the most significant research institutions in the world, Columbia University also provides an exceptional and illustrious educational environment for undergraduate and graduate students who are pursuing studies in a wide variety of academic and professional subjects.
The University acknowledges the significance of its position in New York City and strives to connect its academic pursuits, including research and instruction, to the extensive resources available in a major urban center.
Thru the Columbia motto, the University's goal is to encourage research and teaching that focuses on global concerns, to build academic partnerships with a wide variety of nations and areas, and to recruit a faculty, staff, and student body that is diverse and international. It anticipates that all parts of the University will develop learning and knowledge to the highest possible level and will communicate the results of the University's efforts to the rest of the world.
This university has a long history within the academic sector, which offers it an edge in terms of preparedness and being strategic in academic structuring. The benefit comes from the fact that it enjoys a long history. In point of fact, this is demonstrated by the fact that it offers such a diverse selection of programs that cover a wide range of topics.
Unlocking human potential can be accomplished in a variety of ways, some of which include the university's medical center, research centers, and graduate schools. In order to ensure that its influence is felt well beyond the borders of the United States, Columbia University welcomes thousands of students from other countries each year. They contribute an atmosphere of international renown and a sense of diversity to this establishment.
Research is put first on the agenda at the university, which is one of the primary ways in which the institution moves closer to realizing its mission. In point of fact, it declares that it "works to nurture the continuation of such creative pursuits and to provide an atmosphere that sustains the greatest levels of scholarship, learning, and safety." In this manner, it is able to maintain its rich history of gaining new knowledge while simultaneously accelerating its ability to become a pioneer in the development of more ideas.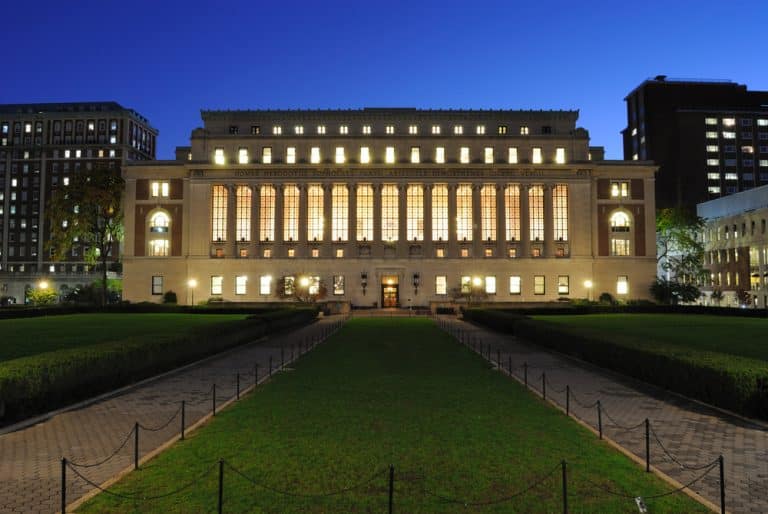 The phrase "kindness and respect, welcome diversity, support research, and flexibility" is included on the list of core values at Columbia University. Because of the existence of these values, there is a supportive environment on campus, which elevates the quality of life for both the teaching staff and the students. As a consequence of this, the organization is one step closer to realizing its mission and achieving its vision – the true essence of the Columbia motto.
What is Columbia Most Known for?
What is Columbia most known for? It depends on who you ask; some people will refer to its illustrious history, others will point to its membership in the Ivy League, and yet others will point to its prominent location in one of the major cities of the globe. It doesn't matter if you know Columbia for its illustrious academics or for the fact that it is one of the oldest institutions of higher education in the United States; the truth is that there is a great deal to learn about Columbia.
Columbia University is consistently ranked among the top five universities in the United States. The university places a significant emphasis on academics, much like its Ivy League peers Brown and UPenn do; however, it does so with a stronger and more overt commitment to intellectual diversity. This indicates that even if a student has great courses on their transcript that are related to STEM (science, technology, engineering, and mathematics), they should also have strong courses that are related to the humanities, and vice versa.
The Fu Foundation School of Engineering at Columbia University offers some of the most rigorous academic requirements of any of the university's schools. The academic requirements for admission to Columbia College are lower, but applicants must have a more robust profile in terms of their extracurricular involvement.
The "Core Curriculum" at Columbia University is the foundation of the school's educational program. This curriculum introduces students to a diverse range of concepts and points of view in the areas of literature, history, philosophy, music, art, and science. Students are able to interact and build relationships with faculty members in core classes, which are known for their small size (only about 22 students per class).
Embodying the ideals of the Columbia motto, this allows students to develop skills that are essential for successfully navigating the greater world, such as observation, analysis, argument, and respect for a variety of ideas. Core classes are known for their small size.
The undergraduate education at Columbia University is offered through one of three schools and colleges: Columbia College, the School of General Studies, and the Fu Foundation School of Engineering and Applied Science (also sometimes called SEAS or Columbia Engineering).
The engineering school at this university is home to one of the United States' most prestigious and venerable engineering degree programs. Calculus, chemistry, computer science, design fundamentals using advanced computer technologies, and physics are all subjects that Columbia engineering students are required to take as part of the school's "technical core." The Core Curriculum plays a significant role in the education that engineering students receive at Columbia.
Barnard College is an all-women's institution that is extremely prestigious and located directly across the street from Columbia University. Although the two institutions are separate, students are allowed to attend classes at either location and engage in the activities and organizations offered by the other institution. Students are able to get a taste of life at both a huge Ivy League institution and a more intimate liberal arts college as a result of this.
What kind of student is Columbia looking for?
With everything there is to know about the ideals of the Columbia motto, what kind of student is Columbia looking for? The culture of Columbia University fosters an environment in which students who are well-rounded and ambitious have the opportunity to achieve.
Your application should demonstrate not only a dedication to your academic development but also a dedication to your involvement in the community and in extracurricular activities. You should make an effort to tell a story that is consistent throughout your application and that accurately portrays who you are.
The admissions committee at Columbia University uses what is known as a "holistic approach," which means that in addition to your standardized test scores and academic record, they take into consideration a variety of other aspects of your application. In spite of this, students with standardized test results close to those listed above have the highest chance of being accepted into this highly regarded liberal arts institution.
Students who attend classes in Columbia's historic buildings have a hunger for information and a capacity for analytical thought that does not abate after a lecture is over. Those that push themselves intellectually will discover that their classmates share their interests and goals in life. Students at Columbia are given the support they need to achieve the kind of intellectual development that will propel them toward achievement.
Students that do well at Columbia are constantly thinking about how they can make a difference. After all, effective innovators don't stop at merely spotting problems; they also come up with novel solutions for those challenges.
Students who have the desire to find solutions to challenges can find inspiration wherever on campus since they are surrounded by a diverse group of forward-thinking people at their college.
In the same vein as many other elite educational institutions, Columbia University emphasizes the significance of being a contributing member of one's community. The institution is extremely proud of its ability to instill in its students a strong and enduring sense of community. Students at Columbia University acquire the skills necessary to become aspirational and influential members of the communities in which they live.
Dedication is the single most important factor in determining a student's level of success at Columbia University. The chances that are accessible to those who naturally have a "can't quit" attitude are practically limitless at Columbia University. Students who are prepared to fully immerse themselves in Columbia Blue and make the most of every opportunity that the college has to offer are the ones who do the best academically at Columbia.
The ideal student at Columbia University is someone who challenges themselves to the point where they are willing to push the boundaries of what they believe is achievable. Those students who have a burning interest that they carry with them throughout their lives are the ones who do best at this exclusive private school.
Students who are committed to the search for information and the application of that knowledge to the betterment of the lives of those in their communities will feel at home at Columbia University.
Want to learn more about the ideals of the Columbia motto? You've come to the right place. At AdmissionSight, we have over 10 years of experience guiding students through the competitive admissions process.
AdmissionSight can help you put your best foot forward when applying to college. Contact us today for more information on our services.