The Stanford Motto
The Stanford motto "Die Luft der Freiheit weht," which means "The wind of freedom blows" is a remarkable motto encompassing the university's identity. The Stanford family, who were the original founders of the university, had the intention of establishing a university that was unconventional.
When Stanford University was first established, the only other options available were male-dominated religious private schools. However, Stanford's decision to establish a school that would be open to students of both sexes and of no particular religious affiliation. The Stanford motto has guided the university's brand for generations.
We are going to look deeper into the guiding principles of the Stanford motto and how they connect to the institution and the students who call it home.
What is the Stanford University motto?
What is the Stanford University motto? The Stanford motto "the wind of freedom blows," which can be translated literally as "the wind of freedom blows." began with David Starr Jordan, the first president of Stanford University. Jordan wrote that he first encountered the phrase in the writings of Ulrich von Hutten (1488-1523), the German humanist and revolutionary who defended Martin Luther and criticized the abuses of the Catholic Church in the early years of the Protestant Reformation.
Jordan got the idea from a remark that was made by Ulrich von Hutten, a relatively insignificant figure during the Protestant Reformation. It was meant to be a daring move on Jordan's part, considering universities in the United States rarely used German mottoes at the time.
However, the observation was initially stated in Latin and translated as follows: "Videtis Illam Spirare Libertatis Auram." There was a translation error in the German version, as the word "Luft" in German really refers to "air," not "wind." Former Stanford University President Gerhard Casper, who was born and raised in Hamburg, Germany, believes that the slogan should more accurately read "The Wind of Freedom Blows."
He elucidates the significance of the "winds of freedom" as the condensed statement of the guiding principles that Stanford University should adhere to. According to him, the primary function of academic freedom at a university should be the unrestricted pursuit of knowledge in all its forms and across all disciplines.
A university must have the freedom to confront both established dogma and emerging orthodoxy, and this freedom must extend to its members, faculty, and students in the form of the ability to think and speak for themselves without interference.
Inquisitive people who want to make a difference congregate at Stanford because it has historically been a rich source of novel concepts and novel approaches. But the scope and severity of the problems we face in the modern world demand that Stanford enhance the factors that have contributed to our institution's past successes and identify novel approaches to making a difference in the world.
The University is developing new channels of discovery in all areas of study at the same time that it is establishing new routes for applying knowledge in areas of the globe where it is required. At the same time, through the Stanford motto, the University is working to ensure those novel concepts are founded in ethics and that the solutions we develop benefit from multiple points of view.
The Stanford motto serves as a compass for the university's approach to research, education, and impact, and it includes new initiatives that seek to accelerate the creation and application of new knowledge; anchor research and education in ethics and civic responsibility; and promote access and inclusion across all of our activities.
In addition to this, it acknowledges the necessity of developing stronger partnerships within our community and throughout the world in order to turn ideas into reality.
What is Stanford University's mission statement?
With the knowledge of the Stanford motto, you might wonder what Stanford University's mission statement is. The mission and vision statements of Stanford University, which is located in the state of California, represent the institution's significant influence and the leading position that it currently has in the academic and research industries.
Stanford University's mission is "to extend the frontiers of knowledge, to stimulate creativity, and to solve real-world problems; to prepare students to think broadly, deeply, and critically, and to contribute to the world; and to deploy Stanford's strengths to the benefit of our region, country, and world." In the statement, everything that the institution focuses on in terms of research, education, and service is broken down and explained.
One of the pioneering institutions in the movement to open up access to higher education for all people was Stanford University. Men and women were equally encouraged to sign up for classes from the very beginning of the program. Similar to other educational institutions, Stanford University made a radical break from the conventional pedagogical approach.
Stanford provides its students with the opportunity to develop personally by making available to them the most conducive research environment in which they can investigate their capabilities. In addition to this, it does so through its specialized educational programs that are directed by seasoned professionals. Through these means, the university bestows to the world imaginative minds that possess qualities of leadership and are able to contribute productively to the world.
What is Stanford most known for?
What is Stanford most known for? Because of its regular placement among the best colleges in the country, Stanford has earned a well-deserved reputation as one of the most prestigious educational facilities in the United States. Stanford University, established in 1885 as a coeducational and nonsectarian institution, is frequently mistaken for an Ivy League university, despite the fact that it is a private school.
Academics have always been Stanford University's strong suit, and they continue to be its primary draw today. The fact that admission to Stanford University consistently ranks among the most competitive in the country has resulted in the institution's campus being crowded with outstanding professors, smart students, and a mindset that is achievement-oriented.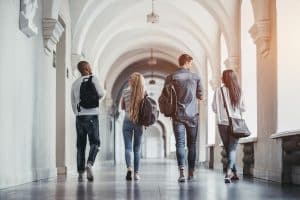 The most important contributions that Stanford has made are in the STEM fields. The school's program in computer science has been the origin of ground-breaking research, that has led to the creation of companies like Google and Sun Microsystems, as well as the foundation for the internet itself.
Interdisciplinary research is given a high priority at Stanford University, and the institution has established plenty of opportunities for students to work together who come from a variety of academic disciplines. The School of Engineering's Hasso Plattner Institute of Design (also known as "the d.school") brings together students and faculty from a wide variety of disciplines in order to facilitate the exchange of unique points of view and advance the design process.
Computer science is still the most popular major among students at Stanford, since many of them have high hopes of following in the distinguished footsteps of those who came before them in the field.
The Engineering Program at Stanford does more than merely encourage collaboration on campus; it also trains its students to participate in a world that is continually becoming smaller. Students get the opportunity to learn about technology and engineering on a worldwide scale through the university's Global Engineering Programs (GEPs), during which they also receive experience in the real world and create professional networks in an international context.
Both the medical and pre-med programs at Stanford University are quite well-known, as the Stanford School of Medicine is consistently ranked among the very top medical schools in the entire world. Partnerships with local hospitals that are members of the Stanford Health Care system have contributed significantly to the organization's success.
Students who participate in this program are given the chance to gain clinical experience in a level-I trauma center that has 620 beds as well as the Lucile Packard Children's Hospital, which is widely regarded as one of the top teaching pediatric hospitals in the United States.
Although the name Stanford is often associated with advancements in science and technology, those are hardly the only fields in which the university excels. Stanford University, which was initially established as a liberal arts college with a concentration on the humanities and soft sciences, has a long history of success in these areas of study.
At Stanford, regardless of the field in which you choose to pursue your education, you will be exposed to an outstanding community of academics, including the following:
19 Nobel Laureates
34 Nobel Prize winners (since the university's founding)
4 Pulitzer Prize winners
12 National Medal of Science recipients
31 MacArthur Fellows
4 National Humanities Medal recipients
2 Presidential Medal of Freedom recipients
What kind of student is Stanford looking for?
With everything there is to know about the ideals of the Stanford motto, what kind of student is Stanford looking for? It is common knowledge that Stanford University is a highly esteemed educational institution, despite the fact that it is not one of the eight Ivy League schools in the United States. Because of this, a significant number of high school seniors are considering applying. You are considering doing the same thing, but you are unsure if you fit the profile of the ideal student that Stanford is seeking.
The majority of students who were granted admission to Stanford had grade point averages and academic achievements that placed them in the top 5-10 percent of their respective high schools. If you want to have a shot at getting into Stanford, your grades can't simply be average; they have to be exceptional as well. Students who do not meet a set benchmark in terms of their grade point average and SAT/ACT scores have very little room for maneuver as the number of applicants with strong academic credentials continue to rise at a rapid rate year after year.
Above all else, having an outstanding academic background that has been maintained throughout time displays diligence, adaptability, and critical thinking, which are characteristics that tell Stanford you are capable of thriving at their institution.
In its mission statement and overall Stanford motto, Stanford places an emphasis on a handful of key values that are essential to the functioning of the institution as a whole as well as to its ongoing progression. These principles are reflected not only in the policies of the university, but more significantly in the community of the institution, which includes the teachers, staff, and students.
The admissions process at Stanford takes a holistic approach. Your application as a whole is cohesive and thorough, which is reflected in each individual component.
One piece tells us about your background and life experiences, and another about your school and your academic accomplishments. They will learn about your personality and intellectual contributions through the opinions of other people. They will learn about your thoughts and interests, as well as what is significant to you, from the writings that you submit.
Every year, the University of Stanford seeks to assemble a student body that represents a wide range of cultural and personal experiences, scholastic pursuits, and perspectives on the world.
During a holistic assessment, Stanford tries to get a sense of how you, as a whole person, would develop, contribute, and flourish at Stanford, as well as how Stanford would be altered as a result of your attending there.
In addition to your academic prowess, Stanford is looking for evidence of your devotion, commitment, and genuine desire in broadening your intellectual horizons. This can be demonstrated in the essays you submit about yourself as well as in the essays that others submit on your behalf. The admissions committee wants to see that you have the kind of insatiable curiosity and boundless passion that will enable you to kick off a lively discussion during your first-year seminar and continue the conversation with your family over dinner.
In addition, in line with the Stanford motto, the school is looking for evidence of your enthusiasm and level of dedication to your future efforts, whether they take place in a research lab, as part of a community organization, at a performance, or on a sports field. The initiative with which you pursue new chances and broaden your horizons is something we are interested in seeing.
Understanding your prospective contributions to the Stanford community is facilitated by our acquisition of knowledge regarding your extracurricular activities and interests outside of the academic realm. Students frequently have the misconception that the primary concern of Stanford University is the number of extracurricular activities in which a student engages.
In point of fact, if you participate in only one or two activities to an outstanding depth, this may display your passion for those activities more than minimal engagement in five or six clubs. You can also be responsible for your family in addition to holding down a career. These are just as vital as any other extracurricular activity that you might participate in.
The admissions committee at Stanford wants to know how the experiences you've had at your job, in your family, in a club, at your school, or in the larger community have shaped you, and they want to learn about the impact you've had on those experiences. In general, Stanford is interested in learning about the impact you've had.
It is possible that an applicant with outstanding athletic ability could sway Stanford's judgment if they were otherwise a strong candidate for admission; nonetheless, exceptional athletic abilities do not, on their own, guarantee admission to Stanford.
Each person who applies to attend Stanford is an individual in their own right, just as no two students at Stanford are the same. This indicates that the admissions committee pays close attention to the particulars of each application as they go through the process of reviewing them. They take into account your history, your educational route, as well as the responsibilities you have at work and in your home.
By concentrating on your accomplishments in their proper setting, they will be able to determine how well you have done in the academic setting of your school and how well you have made use of the resources that are available to you in both your school and your community.
Want to learn more about the ideals of the Stanford motto? You've come to the right place. At AdmissionSight, we have over 10 years of experience guiding students through the competitive admissions process.
AdmissionSight can help you put your best foot forward when applying to college. Contact us today for more information on our services.