Psychology Major at Princeton
Does Princeton Offer A Psychology Major?
Every undergraduate student at Princeton is required to choose a concentration, which is the school's term for a major. This is the departmental program of study that will lead to the awarding of either a Bachelor of Arts (A.B.) or a Bachelor of Science in Engineering (B.S.E.) degree upon completion of the program. Does Princeton offer a psychology major? The psychology major at Princeton is a four-year course of study leading to awarding of a Bachelor of Arts degree.
You will select your concentration after your first year if you are enrolled in the School of Engineering and Applied Science. While in the spring of your sophomore year, you will have to choose your concentration if you are in the A.B. program. From among the 36 departments in the humanities, social sciences, natural sciences, and engineering, you can select a concentration.
The Division of Natural Sciences houses the psychology concentration, which offers both introductory and advanced undergraduate courses on sensation, perception, movement, language, reasoning, decision-making, social interaction, and computational models of the brain. These topics are covered within the context of the study of human behavior.
Students in psychological science are required to understand statistical methods because the field entails working with extensive and complicated data sets. The concentration in psychology also gives a foundation in neuroscience, which is useful given that mental processes and behavior are products of the brain.
Through both introductory and advanced coursework on topics such as sensation, perception, movement, language, reasoning, decision-making, social interaction, and computational models of the brain, the undergraduate program offers students a comprehensive understanding of human behavior and the mental processes that underlie it. The concentration in psychology also gives a foundation in neuroscience, which is useful given that mental processes and behavior are products of the brain.
In addition, students who choose a psychology major at Princeton can choose from a variety of undergraduate certificate programs offered by the university.
The Certificate in Neuroscience is by far and away the most popular certificate program for psychology majors to pursue after earning their degree. Even though the university provides a focus on neuroscience, most students opt to study psychology instead and then get a certificate in neuroscience after they graduate. Students who take this course often have an interest in either the cognitive or social facets of neuroscience. For further information, please refer to the PNI Undergraduate Certificate Program in Neuroscience.
Many students who major in psychology additionally choose to get one or more of the following certificates:
African American Studies
Cognitive Science
Applications of Computing
Gender and Sexuality Studies
Language and Culture
Linguistics
Please consult the Undergraduate Certificate Areas of Study page for information on all certificate programs.
What Courses Do You Need To Take To Major In Psychology At Princeton?
What courses do you need to take to major in psychology at Princeton? For admission to the Department of Psychology, applicants must have successfully graded completion (without PDF) of PSY 251 (Quantitative Methods) or a pre-authorized statistics course in a different department (for example, ORF 245, or ECO 202, WWS 200, SML 201, or POL 345) is required. In addition, two other courses should be completed from the following list:
PSY 101 (Introduction to Psychology)
PSY 252 (Social Psychology)
PSY 254 (Developmental Psychology)
PSY 255 (Cognitive Psychology)
PSY 258 (Fundamentals of Neuroscience) or NEU 200 (Functional Neuroanatomy)
It is the responsibility of the Director of Undergraduate Studies to decide whether to grant a request for an alternate set of prerequisites.
Those students who are sophomores who have already completed the prerequisites are eligible to apply for early concentration. Should their application be successful, students will be allowed to do some independent reading under the guidance of a faculty member and will be required to hand in a paper at the end of the spring semester. Because of their prior preparation, they may be eligible to undertake more complex and independent work during their junior year.
If you are presently a sophomore and are interested in meeting to discuss a psychology major at Princeton, please make an appointment using the Online Appointment Scheduling System or email the Department of Psychology Undergraduate Administrator to arrange for a consultation.
In addition to the three prerequisite classes, students who choose to concentrate on Psychology are required to complete and receive grades for a minimum of eight courses offered by the department.
Students are required to take PSY 252, PSY 255, and either PSY 258 or NEU 200 if they have not already satisfied the prerequisites for those courses. It is strongly suggested that students complete all three of these classes by the end of their junior year.
PSY 300, also known as "Research Methods in Psychology," must be finished by the conclusion of the junior year and must count as one of the eight required courses within the department.
All the remaining departmental classes must be at least 200-level or higher and at least four of them must be at a level that is at least 300. Students have the option of taking up to two cognate courses from other departments if they are approved by the Director of Undergraduate Studies in Psychology. These courses can count toward the Psychology department's course requirements.
Any deviations from these prerequisites need to get approval from the Psychology Departmental Representative before they may be implemented.
Additionally, students who major in psychology are required to pass both the independent work for juniors and seniors.
The PSY GPA is calculated by taking the average of all the letter grades received in Psychology courses (main and cross-listed courses) as well as approved cognates that were taken for a grade. No credit is given for courses taken at institutions other than Princeton University.
Does Princeton Offer A Master's Degree In Psychology?
Does Princeton offer a master's degree in psychology? Princeton does not offer a master's degree in psychology. Instead, the objective of the graduate program at the Department of Psychology is to provide students with the knowledge and skills necessary to earn the degree of Doctor of Philosophy (Ph.D.) and to launch successful careers as scholars in the field of psychological science.
The program allows students to specialize in a wide variety of topics, such as behavioral economics, cognitive neuroscience, developmental psychology, language, learning and memory, perception and cognition, the psychology of inequality, social neuroscience, social psychology, and systems neuroscience. There are joint degrees that can be earned in the fields of psychology and neuroscience as well as psychology and social policy through interdisciplinary programs.
You must have a bachelor's degree in psychology or an area that is closely linked to it (such as cognitive science, neuroscience, linguistics, or computer science). Candidates that are selected typically have extensive experience conducting research, either as part of their undergraduate program or thereafter, such as in a work as a research assistant or during their pursuit of a master's degree.
The Graduate Record Examination (GRE) score that you provide is completely voluntary, and its submission is not necessary for admission. Because all graduate students are assigned a principal adviser as soon as they begin the program, prospective students are strongly urged to inquire in advance with at least one member of the relevant faculty about whether they are accepting new students for the upcoming academic year.
When planning and carrying out research and getting their academic work started, first-year students collaborate closely with a faculty advisor. Students in their second year carry out research, compile a written report on a research project, and develop a theoretical overview of research in their respective fields. Students will frequently participate in relevant seminars and classes offered by other departments.
After taking the general exam at the beginning of the third year, the student then devotes the rest of the year to undertaking research and extending their education in their chosen field of specialization using courses, independent reading, and advanced seminars.
Students are expected to devote their time during the fourth and fifth years to mastering methods and techniques in the relevant area of study, discussing a dissertation proposal with their committee, completing research related to the dissertation, and writing the thesis.
This is in addition to the other responsibilities that are associated with these years. During their graduate education, students are expected to continuously document and submit their research for publication based on the findings of their studies.
The dissertation's research questions, methods, results, and the relevance of those results to ongoing issues in psychology research are all topics that will be covered in the final public oral examination required for the Ph.D. degree.
Is Princeton A Good School For Psychology?
A psychology major at Princeton covers a thorough comprehension of human behavior and the mental processes underlying it can be beneficial in any line of work. Students who graduate with a degree in psychology have found employment in a wide variety of fields, including science, clinical psychology, computer technology, education, public policy, medicine, business, law, economics, and even the performing arts on occasion.
If you wonder "Is Princeton a good school for psychology?" the 2023 rankings of the Best Psychology Schools placed Princeton in sixth place. A survey of academics at peer institutions was used to determine each school's score.
Independent projects for psychology majors can provide them with the opportunity to participate in cutting-edge research in their field. The faculty members research a wide variety of topics, some of which include the impact of implicit biases and stereotypes on social cognition, the neural basis of social communication, the development of perception and language in infants and children, the use of neural measures for understanding memory and attention, the use of neural measures for understanding memory and attention, the use of neural measures for understanding memory and attention, and many more topics.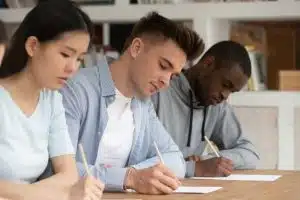 Concentrators are prepared for a wide variety of potential occupations because of the combination of their research experiences and the courses they take. Some students pursue graduate degrees in psychological science, cognitive science, or neuroscience. Others choose to work in education, policymaking, or the field of data science. The psychology emphasis allows students to meet prerequisites for both medical school and law school at the same time.
Because it may be used in such a diverse array of different professions, psychology is a one-of-a-kind field of study. Students who have graduated from the department of psychology have access to a wider variety of employment paths than students who have graduated from any other science department.
The following are just a few examples of the diverse range of jobs that former students with a psychology major at Princeton have gone on to pursue.
Clinical Psychology
An advanced degree in clinical psychology (Ph.D./Psy.D.) can open a variety of fascinating professional doors. Earning a master's degree in clinical psychology can prepare you for a variety of careers, including working as a therapist, conducting clinical research, or instructing students. The clinical psychology doctoral program emphasizes several important skill areas, including therapy, evaluation, research, consultation, and supervision.
The curriculum is designed to prepare students for admission to clinical psychology graduate institutions. Statistics, research methods, and psychopathology are some of the top-recommended electives for students with a concentration in psychology who are interested in obtaining a graduate degree in clinical psychology. In-depth familiarity with the conduct of psychological research is also highly recommended.
Medicine
It is possible to meet the educational requirements for entry into medical school with a psychology degree from Princeton.
Neuroscience
Although the school also provides a neuroscience concentration, most students who graduate with a degree in psychology go on to pursue doctoral studies in the field of neuroscience. Check out the information on the Certificate Programs page if you are interested in merging psychology and neuroscience in your education.
Alternative Professions to Consider
Law
Teaching
Data Science
Public Policy
Business
Economics
Information Technology
Behavioral Science
Philosophy
Arts (Some Princeton students have even pursued jobs in music, art, dancing, or acting and discovered that having a psychology degree and a specific understanding of human psychology gave them career prospects.)
According to research published by the American Psychological Association (APA), psychology is the fourth most popular major overall among students who are working toward earning a degree. Taking a psychology major at Princeton would greatly benefit you since it is one of the best universities in terms of its academics, professors, and research, not only in the US but worldwide. However, because of its reputation, the admissions process has become extremely challenging as the years go by.
With this, students opt to consult college admissions counseling companies like AdmissionSight for guidance in the admissions process and boost their chances of getting into their dream schools. Feel free to schedule an appointment for an initial consultation with AdmissionSight to know more about what we can offer.