What Are Trade Schools: All You Need to Know
What Are Trade Schools?
The pandemic has significantly impacted how people see higher education. Due to financial and practical considerations, some students choose to attend trade schools rather than traditional colleges and universities.
Now, what are trade schools? Trade schools, also known as vocational or technical schools, offer specialized training and education for students who want to develop skills in a particular trade or occupation. Trade schools provide practical, hands-on training to prepare students for specific careers, such as plumbing, electrician, automotive repair, or cosmetology.
You can earn a diploma in information technology, nursing and health sciences, automotive technician training, and medical assistance at a trade school. Program lengths vary, but commonly range from eight months to two years.
Unlike a four-year institution, a trade school does not award a bachelor's degree. You will often be awarded a diploma or trade certificate upon completing the program. Some programs allow you to achieve an associate degree equivalent to a two-year college diploma.
These schools are a popular alternative to traditional four-year colleges, as they offer a more direct path to the workforce and often have lower tuition costs.
Is It Hard to Get Into Trade School?
Since we have already answered "What are trade schools?" students and parents are often curious about the chances of admission.
Is it hard to get into trade school? Compared to four-year universities, the admission process for these schools is much simpler. The standards vary per institution and state, although they generally follow similar guidelines.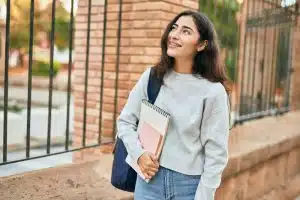 Let's look at different aspects of admission to trade schools:
Admission Requirements: While essays are rarely required in trade school applications, applicants must complete other requirements. Some schools, for example, require a high school diploma or a GED certificate. Applicants who have not finished high school may be required to take a standardized exam.
Minimum Age Requirements: If you have finished high school, you should be able to attend trade school. The age requirements differ for each school however, candidates must be at least 17 years old to apply. Applicants under the age of 17 may be required to provide parental consent to enroll.
Candidates as young as 16 and a half years old are allowed to apply at times with a release letter from their high school. However, applicants must be at least 17 years old to work as a dental assistant or in cosmetology.
State Requirements: States establish application rules for trade schools, such as age limits. Whereas New York schools may admit students as early as 16 and a half, Missouri schools strictly require candidates to be at least 17 and a half years old.
Tuition rates will also fluctuate depending on where students reside. Financial aid opportunities such as loans and scholarships may also depend on the location.
Testing Requirements: Normally, students are not required to submit SAT or ACT scores. Instead, students who have not completed high school may be required to take placement exams to enroll.
On the other hand, students with high ACT or SAT scores can sometimes be exempted from these placement exam requirements. These exams may be beneficial, but they are not required.
Important Application Materials: Many trade schools accept applications online. Common prerequisites include a high school diploma or GED certificate, as well as academic transcripts. While letters of recommendation and SAT/ACT scores are rarely required for trade schools, they can help applicants stand out.
Trade schools typically have a less stringent admissions process than a four-year college or university. Test results, grades, and extracurricular involvement might not be as important as commitment and passion. The requirements for these schools are normally less demanding, though some programs may include work experience as a prerequisite.
What Is the Difference Between a Trade School and a College?
When it comes to furthering your education, there are many options to consider. Two common paths include attending a trade school or a college. While both can provide valuable educational experiences, there are some key differences between the two.
Earlier we discussed the query "What are trade schools?" and tackled how to get into one. Regarding the college admissions process, you may check AdmissionSight's guide for college applications. Apart from the admissions process, you might ask "What is the difference between a trade school and a college?"
Here are a few factors to consider when deciding between a trade school and a college.
1. Focus: Trade schools are designed to provide students with specialized training in a specific trade or occupation, such as carpentry, welding, or medical assisting. The focus is on hands-on, practical training that prepares students for a particular career. In contrast, colleges provide a broader range of academic programs, from the liberal arts to science and technology. College programs are often more theoretical and provide a foundation for a range of career paths.
2. Duration: Trade school programs are typically shorter than college programs, usually lasting between six months to two years. This is because the focus is on providing specific skills and knowledge necessary for a particular career, rather than a broad-based education. College programs, on the other hand, usually last four years for a bachelor's degree or two years for an associate's degree.
3. Cost: Trade schools are often less expensive than colleges, both in terms of tuition and the cost of materials and textbooks. This is because trade schools do not require the same level of infrastructure and resources as colleges. Additionally, trade school graduates are often able to enter the workforce more quickly and start earning a salary sooner, making the investment in their education more immediately worthwhile.
Depending on the trade school and the field of study, you could pay as little as $5,000 per year. Tuition at public trade schools, such as community colleges, is the lowest, although tuition at for-profit trade schools is frequently compared to that of a four-year college degree. Four-year academic college degrees can be expensive, but many colleges provide scholarships to help with the fees. Students may pay anywhere from $10,000 to $60,000 per year for tuition alone, but they will also need to pay for room and board, as well as any books and school supplies they may require.
4. Job Readiness: As discussed earlier, the curricula of trade schools and universities are different in the sense that the former concentrates on job-specific courses while the latter focuses on general learning routes.
This simply implies that students enrolled in trade schools receive the practical instruction required to hit the ground running once they begin a job. They no longer require extensive instruction outside business rules because their vocational training has already prepared them to work to industry standards.
College students, on the other hand, are given a curriculum that mostly focuses on theoretical topics. This allows individuals to learn the principles of a discipline, develop critical thinking abilities, and get a broad understanding of industry-related issues. However, this does not necessarily imply that they are qualified to execute specific tasks once employed.
As a result, they will rely on their employers for more training. The curriculum that college graduates are exposed to has the advantage of not limiting them to a single career route.
The main distinction between a trade school and a college is the emphasis on the educational experience. Colleges give a broad-based education in a variety of academic disciplines, whereas trade schools provide concentrated, hands-on instruction for specific vocations or occupations. Additionally, trade school programs tend to be shorter, less expensive, and have more flexible enrollment procedures.
When deciding which path to pursue, it is important to consider your career goals, financial situation, and learning style to determine which option is the best fit for you.
What Are the Top Trade Schools in America?
After learning "What are trade schools?" and how it differs from a traditional college or university, attending a trade school might have piqued your interest. Now, what are the top trade schools in America? Here are some of the best trade schools in the United States.
Ashland County-West Holmes Career Center (Ashland, Ohio)
Students can select from 14 programs in high-demand industries such as industrial maintenance, plumbing, welding, and healthcare. The school provides adult career training as well as high school instruction. The school also offers hands-on learning and work-based placements in its programs.
Baptist Health College Little Rock (Little Rock, Arkansas)
Nursing, occupational therapy assistant, and sleep technology are among the nine medical specialties taught at Baptist Health College. Traditional and expedited tracks are available in the nursing program.
B.M. Spurr School of Practical Nursing (Glen Dale, West Virginia)
This one-year program, offered by Reynolds Memorial Hospital and West Virginia University, prepares practical nurses for careers. The curriculum combines classroom learning with clinical encounters.
Butte County CTE Regional Occupational Program (Chico, California)
The Butte County ROP provides students with vocational skills and career guidance through its four programs: medical assistant, dental assistant, veterinary assistant, and phlebotomy. The school reports placement for all dental assistant graduates.
Cape Girardeau Career and Technology Center (Cape Girardeau, Missouri)
Healthcare, computer programming and networking, automotive services, culinary arts, and technology are all full-time programs at CTC. In addition, they provide short-term evening courses for continuing education and personal development.
Charlotte Technical College (Port Charlotte, Florida)
Charlotte Technical College has strong industry partnerships and offers over 20 career-focused educational programs. Students may choose from cybersecurity, aviation mechanics, or culinary arts vocations. CTC maintains articulation agreements, which allow students to transfer their skills toward a four-year degree in addition to industry certification.
Concorde Career College-Garden Grove (Garden Grove, California)
Concorde specializes in healthcare education, offering degrees such as nursing, physical therapy assistant, dental hygiene, and more. The institution provides frequent class starts, as well as personalized attention and hands-on education. Blended learning including clinical experiences and in-person labs may be used by instructors at Concorde.
These are just a few of the top trade schools in America, but there are many more to choose from depending on your interests and career goals. When selecting a trade school, it's important to research the specific programs and admissions requirements to ensure that the school is the right fit for you.
Additionally, consider factors such as location, cost, and job placement rates to make an informed decision about which school to attend. With the right training and education, you can develop the skills and knowledge necessary to pursue a rewarding career in a skilled trade or occupation.
Is It Worth Going to Trade School?
With the cost of higher education on the rise, many people are questioning whether it's worth it to attend college. For those who are interested in pursuing a career in a specific trade or occupation, trade school may be a viable alternative. At the same time, people also ask, "Is it worth going to trade school?" Here are a few factors to consider when making this decision.
Employment Opportunities
One of the main benefits of attending trade school is that it prepares you for a specific career in a skilled trade or occupation. Many trades, such as plumbing, welding, and electrician work, are in high demand and offer good job prospects. Trade school can provide you with the skills and knowledge necessary to enter the workforce quickly and start earning a decent salary.
Lower Cost
Trade schools are often less expensive than traditional colleges and universities. This is because the programs are shorter and more specialized, and the schools do not have the same overhead costs as larger institutions. Additionally, many trade schools offer financial aid and scholarships to help offset the cost of tuition.
Hands-On Training
Trade schools provide hands-on training and practical experience that can prepare you for the challenges of the job. This type of training can be more effective than theoretical classroom learning and can help you feel confident in your abilities when you enter the workforce.
Potential Earnings
Many trade jobs offer good earning potential, especially for highly skilled and experienced workers. Some trades, such as welding and electrical work, can offer salaries that rival or even exceed those of some college-educated professionals. Additionally, some trade jobs offer opportunities for advancement and higher earning potential over time.
Job Satisfaction
For many people, working in a skilled trade can be highly rewarding. These jobs often offer the opportunity to work with your hands and see the tangible results of your work. Additionally, trades can offer a sense of pride and accomplishment in knowing that you are providing an essential service to your community.
In conclusion, attending trade school can be a worthwhile investment for those who are interested in pursuing a career in a specific skilled trade or occupation. Trade schools can provide hands-on training, good job prospects, and lower costs than traditional colleges and universities. While it may not be the right choice for everyone, trade school can be a viable and rewarding path for those who want to develop valuable skills and pursue a fulfilling career.
If you want an in-depth discussion about "What are trade schools?" and how their admission process works, do not hesitate to reach AdmissionSight. We have more than 10 years of experience in guiding students through the admissions process to different schools in the country. Set up an initial consultation with our experts today.