What Is It Like to Attend Columbia?
How is college life at Columbia?
How is the college experience at Columbia? There is more to college life at Columbia than merely having access to exceptional educational opportunities. There are a lot of things that will better describe "What is it like to attend Columbia?" other than all the strict academic life of the students such as follows:
Undergraduate Student Life
Undergraduate Student Life is in charge of various aspects of student life, such as the New Student Orientation Program (NSOP), Residential Life, Multicultural Affairs, and Student Engagement.
Its mission is to connect, engage, and support students through a variety of programs that are one of a kind and that work in conjunction with one another.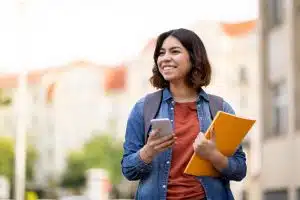 General academic advising, Academic Success Programs, the Columbia Undergraduate Scholars Program (CUSP), and the Office of Preprofessional Advising are all brought together under the James H. and Christine Turk Berick Center for Student Advising (CSA).
During their time at Columbia, each student is paired with a CSA adviser who serves as a resource for them during their studies.
Athletics
Along with the Dodge Fitness Center, physical education programs, intramural and club sports teams, and the administration of the swim test, which is a graduation requirement for all College students, Athletics is home to several Division 1 sports teams known as the Columbia Lions.
Center for Career Education
Students and alumni can receive assistance from the Center for Career Education in developing the core competencies necessary to make well-informed decisions and to take the necessary measures to accomplish their career goals.
The CCE creates links between undergraduate students, graduate students, alumni, employers, and organizations to produce possibilities that assist students in pursuing their personal and professional goals.
Dining Services
Dining Services is responsible for the provision of nourishing cuisine at a variety of locations across campus, ranging from cafes to dining halls.
Financial Aid
The Financial Aid and Educational Financing department at Columbia collaborates with students and their families to build a strategy for paying for higher education.
Student Engagement
Students are empowered to grow new knowledge and gain the skills necessary to be active and informed citizens of our global community through the Center for Undergraduate Global Engagement's ability to connect students with worldwide educational opportunities.
Undergraduate students at Columbia are supported by the OGP Fellowships Office as they investigate and apply for internal, national, and foreign fellowship opportunities.
Health and Wellbeing
Access to medical practitioners, therapists, psychiatrists, disability specialists, health promotion specialists, nutritionists, and peer counselors who help to maintain the mental and physical health of the Columbia student population is provided by Columbia Health.
What are students like at Columbia?
What is it like to be a student at Columbia? The students have a wide range of backgrounds and perspectives concerning issues like race, religion, sexual orientation, and socioeconomic standing and this makes it always possible to talk to a new person who will let you see the world in a completely different light.
Because Columbia attracts such a diverse group of individuals, the atmosphere on campus frequently reaches unrealistically high levels of competition. You, as the student, are the one who needs to find techniques to handle stress and figure out what you should pay attention to and what you should avoid.
In light of this, there are many ways to achieve this goal, such as traveling to New York City to experience the myriad of things the city has to offer, going for a run, or engaging in some other form of exercise in any of the city's parks or using the school's exercise facilities, or designing your personal space and time for relaxation, in whatever form this may take for you.
What is the vibe of Columbia?
How would you describe the ambiance of Columbia? Students from all walks of life can take advantage of the numerous opportunities that are available at Columbia University in New York City and this alone will help you understand "What is it like to attend Columbia?".
Its first appeal is in the variety of people it attracts; subsequently, you discover that many of your classmates may have interests that are comparable to your own. There are a great number of chances, both on campus and in other parts of the city, that are tailored to practically every field imaginable, including but not limited to finance scientific research and interior design.
Not only is Columbia University well-known for its innovative research (it has more Nobel laureates than any other university in the United States), but it is also well-known for the strength of its undergraduate program, which is defined by the well-known Core Curriculum that exposes students to a wide range of studies meant to broaden the student's academic horizons.
Student Life is committed to fostering a community that is warm and welcoming by assisting first-year students in the development of the knowledge, abilities, and awareness of themselves and others that are necessary to participate, serve, and take leadership roles responsibly at Columbia University, in New York City, and beyond.
They are in charge of many aspects of campus life, including but not limited to the orientation program for new students, affinity groups, organizational advising, heritage months, community programming, fraternity and sorority life, and a lot more.
So, what is it like to attend Columbia? Well, being a student at Columbia is, in general, a fantastic experience. You will have to put in a lot of effort, but in exchange, you will have a lot of fun.
We at AdmissionSight, greatly hope that the information provided above will be helpful to you. But, should you need more, we got you covered.
With over a decade of experience, AdmissionSight can help and supply you with all the information you need to go to the school of your dreams. Contact us at your earliest convenience.