Best Art Schools in the US
What Are the Best Art Schools in the US?
What are the best art schools in the US? An outstanding art school should have a modern, varied curriculum first and foremost. Best art schools in the US students graduate with the abilities necessary to compete in today's quickly evolving employment market. It should include a wide range of activities that follow the most recent artistic movements and trends.
Excellent student facilities with access to the most recent technology and creative tools are characteristics of a superb art school. Numerous institutions on this list provide students the chance to practice metalworking, laser cutting, woodworking, and other less accessible artistic skills in comprehensive digital labs, on-campus art museums, and workshops.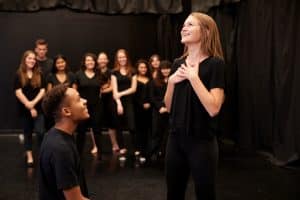 The caliber of the faculty is also crucial. The top art institutions hire professors who are also well-known authorities in their subjects and successful practicing artists. Another element that is related to this is reputation. If a school's graduates have achieved success in their careers, it will be more well-known and provide you with more possibilities in the future.
Here are the top 10 best art schools in the US:
Rhode Island School of Design
Undergraduate enrollment: 2,009
Acceptance rate: 24%
Average GPA: 3.6
Average SAT score: 1310
Average ACT score: 29
There are over 80,000 works of art on show at the campus museum, so ideas are everywhere! Students at RISD have access to cutting-edge equipment like laser cutters and a kiln chamber. Numerous well-known professors, like Chris Van Allsburg (the illustrator of The Polar Express), are employed by RISD.
School of the Art Institute of Chicago
Undergraduate enrollment: 2,487
Acceptance rate: 49%
Average GPA: 3.5
Average SAT score: 1230
Average ACT score: 25
The Computer Resources and Information Technologies Center, a facility at the School of the Art Institute of Chicago, makes sure that students have access to and training on the most recent technology. Additionally, there are special curriculum offers including visual communication and art therapy. Walt Disney is one of the many notable alumni of SAIC.
California Institute of the Arts
Undergraduate enrollment: 982
Acceptance rate: 23%
Average GPA: Not reported
Average SAT score: Not reported
Average ACT score: Not reported
At the California Institute of the Arts, all of the professors are practicing artists with extensive real-world artistic experience. Each student is given a mentor who helps them with individual study and walks them through the curriculum. Eight galleries at CalArts are devoted to displaying student work and assisting students in becoming comfortable with hanging and presenting art in a variety of formats.
One of the best art schools in the US, the school offers a variety of media labs and a "Super Shop" for activities like woodworking, welding, and mold making, among other vast facilities for student usage.
Pratt Institute
Undergraduate enrollment: 3,483
Acceptance rate: 49%
Average GPA: 3.85
Average SAT score: 1300
Average ACT score: 28
Due to Pratt's proximity to New York City, you'll have access to a wide range of fantastic internship possibilities and contacts in the art industry. Members of the faculty are active, well-known artists who are also passionate educators. The Frick Collection, the MOMA, the Whitney Museum, and others are all accessible to students without charge.
Maryland Institute College of Art
Undergraduate enrollment: 1,696
Acceptance rate: 64%
Average GPA: 3.47
Average SAT score: 1200
Average ACT score: 25
To give students a solid basis for employment in the arts, The Maryland Institute incorporates internships and other professional development programs into its curriculum. Each year, students, professors, and visitors from Maryland Institute put on more than 150 shows. Students are guided by an effective advising system throughout their four years at MICA.
ArtCenter College of Design
Undergraduate enrollment: 2,062
Acceptance rate: 80%
Average GPA: 3.39
Average SAT score: 1250
Average ACT score: Not reported
This college is for students who are certain of their career goals: There is no first-year general education curriculum at Art Center, instead, students receive a thorough education in their chosen field from day one. However, the Transdisciplinary Studios program also enables cross-major collaboration among students.
In their Designmatters initiative, ArtCenter College of Design collaborates with businesses and organizations to support student projects that have a real-world impact which made it land on the list of the best art schools in the US.
California College of the Arts
Undergraduate enrollment: 1,466
Acceptance rate: 23%
Average GPA: Not reported
Average SAT score: Not reported
Average ACT score: Not reported
One-on-one attention is prevalent, and the faculty includes luminaries from a variety of artistic disciplines (the average student-teacher ratio is 8:1). Additionally, it is regarded as one of the most diverse institutions in the country.
Academically, CCA offers a First Year Program that introduces students to studio practice and involves a portfolio examination at the end of the year to determine whether or not students are prepared for the majors. Every year, there is also a first-year student exhibition. CCA provides a wealth of opportunities for networking and professional development in the arts that will assist students in launching successful careers.
School of Visual Arts
Undergraduate enrollment: 3,872
Acceptance rate: 70%
Average GPA: 3.34
Average SAT score: 1190
Average ACT score: 26
Students frequently get the chance to showcase their work because SVA has three galleries that host more than 50 exhibitions annually. Students at SVA get the opportunity to work with renowned New York City creative agencies through the school's Internship for Credit program. Students studying graphic design and advertising or taking programs at the Center have access to a wealth of technological resources through the Digital Imaging Center and Print Lab.
Parsons School of Design – The New School
Undergraduate enrollment: 7,444
Acceptance rate: 51%
Average GPA: 3.42
Average SAT score: 1210
Average ACT score: 26
Digital arts are heavily incorporated into Parsons' undergraduate curriculum, especially in the first year of study. A unique first-year study program at Parsons teaches students how to think creatively across disciplines.
As part of the best art schools in the US, this is a fantastic venue for students to learn about various art-making techniques and discover how to turn their passion for creativity into a career because of its location in the heart of the New York art scene.
Massachusetts College of Art and Design
Undergraduate enrollment: 1,955
Acceptance rate: 71%
Average GPA: 3.45
Average SAT score: 1170
Average ACT score: 24
The first independent public art and design college in the country is MassArt.  The college includes seven on-campus galleries where teachers, staff, and visiting artists frequently exhibit their work. A wide range of areas, including Industrial Design, Animation, and Art Education, offer degrees.
What Is the Number One Art School in the World?
After we tackled the best art schools in the US, you might be curious "What is the number one art school in the world?" One of the top institutions for art and design in the world is thought to be the Royal College of Art. The broadest global assessment of academic and industry opinion, the QS World University Rankings by Subject 2022, recognizes The Royal College of Art (RCA), London as the top university for art and design for the eighth consecutive year.
The College scored 100% (2021: 100%) for academic reputation and 96.1% (2021: 96.2%) for employer reputation in the most recent results, which highlight the College's repute.
The institution, which was founded in 1837, has high requirements and only enrolls the most gifted individuals in its postgraduate training program. Over half of the students are from outside the country, while the acceptance rate is around 25%.
Each student receives individualized instruction and supervision along with extensive hands-on exposure to art and design at one of the three campuses, all of which are situated within the city of London. Many well-known artists, including Chris Dresser, Sir George Clausen, Kate Greenaway, Sir Luke Fides, and Edwin Lutyens, received their degrees from this institution.
What Are the Majors in Art And Design?
Several majors in the arts are available to students attending the best art schools in the US. Many of those majors might not be offered in standard universities. To answer "What are the majors in art and design?" you might find the following majors and concentrations in art schools:
Architecture
The study of architecture blends engineering's technical know-how and problem-solving abilities with the fine arts' aesthetics and design principles. Students are drawn to the industry because of its distinctive blend. Studies in design, construction techniques, art history, theory, and technical drawing are frequently included in curricula.
Art History
The study of visual arts and how they reflect history, culture, religion, politics, and society is the emphasis of the academic field of art history. Students interested in expanding their knowledge of art while pursuing a future profession in another artistic discipline should choose this major.
Computer Animation
The fundamentals of 2D and 3D animation, video game programming and design, graphic design, cinematography, and digital photography will all be covered for students who choose to concentrate in computer animation. Most curricula explore both classic and new media, such as movies, video games, television, and digital arts.
Digital Arts
The term "digital arts," sometimes known as "new media," is frequently used to refer to the fusion of art and technology. A major in digital arts focuses on producing art using computer hardware and software. Students may choose to focus on 2D motion graphics or animation effects, 3D modeling, rendering, lighting, animation, game design, virtual reality (VR), novel user interfaces for user interaction, or web design.
Fashion Design
It includes more than just the construction of garments; it also involves the use of fabric, color, texture, line, decoration, pattern-making, draping, styling, and other elements.
Fashion history, color theory, sketching methods, fashion illustration, sewing and textiles, fashion textiles technology (fiber chemistry and finishes), pattern making (flat patterns and full body patterns), construction (seam treatments in a woven fabric; seam treatments in the knit fabric; darts; tucks; contour seams; pleats; buttonholes; pockets; button placement; closures), and draping are common subjects covered in the curriculum for a degree in fashion design (cloth manipulations, multi-fabric manipulation).
Film and Cinematic Arts
Studying different directors and cinematographers, learning about diverse genres, and delving into subjects like camera movement, storyboarding, editing techniques, lighting for photography, and sound design in post-production are all part of the film curriculum. Film students will learn about the theory and practice of the film industry during their studies, including topics like production (scriptwriting, directing, lighting), distribution, and funding.
Game and Interactive Media
Students studying the game and interactive media will examine how computer programming or animation techniques are used to develop video games, mobile applications, virtual worlds, and social media platforms.
Typical course offerings include digital modeling, interface design for human-computer interaction and usability, 2D and 3D animation, game design principles, video game programming languages (C++ and C#), interactive media design, and game engine technologies (Unity 3D, Unreal).
Interior Design
Planning, developing, and analyzing interior space for useful, secure, and aesthetically pleasing reasons are all part of the subject of interior design in the best art schools in the US. Students can anticipate taking courses in design theory, space planning, consumer behavior and product marketing, color theory and material application, landscape architecture, furniture finishes and materials, flooring systems, and applications of installation methods.
Music and Music Production
In order to focus on performance, composition, and theory while improving their talents in their primary instrument, students pursuing a degree in music should anticipate doing so. Students of music will study different composers and musicians, learn about diverse musical genres, and explore the history of music. They will also study acoustics and sound technology, as well as topics like music theory and performance skills.
Students who major in music production will also take courses in audio engineering and production, studio recording techniques, commercial song composition, live sound performance techniques, and advanced mixing.
Photography
The technical, theoretical, and practical facets of photography will be the main topics of study. The history and theory of photography, lighting and exposure, composition, and how to successfully communicate a story via images are among the topics that will be covered by students.
They will also become experts in professional photography techniques and study camera systems, photographic chemistry and technology, darkroom development, digital printing, and video technology for photographers.
Studio Arts
The term "studio arts" describes the process of making visual art with one's hands utilizing a range of methods, such as painting, drawing, sculpting, printmaking, and ceramics.
Students who study studio art can anticipate learning about many movements, styles, and methods. In addition to studying the history of the fine arts, they will also examine design theory, composition, color theory, drawing skills, anatomical structure for human form sculpture, and creative concepts for various media (pastels or oil paints, for example).
What Are Potential Jobs in Arts And Design?
Employees in this group design functional or aesthetically pleasing goods and concepts. Over the next ten years, it is anticipated that overall employment in the arts and design will expand by 2 percent, which is slower than the average for all occupations. Despite this slower growth, the increase is anticipated to create roughly 20,500 additional job opportunities for graduates from the best art schools in the US. On average, 94,500 openings per year are anticipated to result from expansion and replacement requirements.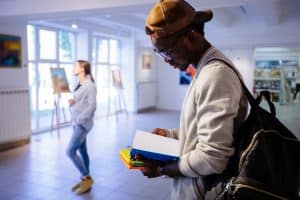 In comparison to the $45,760 median annual wage for all jobs, the median annual wage for art and design occupations is $48,220.
Now, let's list down what are potential jobs in arts and design.
Art Directors
The visual aesthetic and pictures used in publications like periodicals, newspapers, product packaging, and film and television projects are the work of art directors. They develop the overall layout and give instructions to others who make the artwork or layouts.
Craft and Fine Artists
Craftspeople and fine artists produce unique pieces of art for sale and exhibition using a variety of tools and methods. Craftspeople make items with a utilitarian design, such as ceramics, glassware, and textiles. Artists that specialize in fine arts, such as painters, sculptors, and illustrators, produce works of art more for beauty than for use.
Fashion Designers
Original apparel, accessories, and footwear are produced by fashion designers. They draw sketches of their ideas, choose fabrics and patterns, and provide guidelines for making the objects they design.
Floral Designers
Florists, often known as floral designers, put live, dried, and silk flowers and plants in decorative arrangements. Additionally, they offer assistance to clients in choosing flowers, containers, ribbons, and other accents.
Graphic Designers
Using computer software or by hand, graphic designers create visual concepts that engage, inspire, and instruct consumers. For applications like commercials, brochures, magazines, and reports, they create the overall layout and production design.
Industrial Engineers
Industrial engineers provide the concepts for manufactured goods including toys, gadgets for the house, and automobiles. They blend engineering, business, and the arts to create things that people use daily. When creating new product concepts, industrial designers take into account the usability, production costs, aesthetics, and purpose of the product.
Interior Designers
Interior designers determine the necessary amount of space and choose both functional and decorative elements, such as colors, lighting, and materials, to create indoor environments aesthetically pleasing, safe, and functional. They need to be proficient in drawing, reading, and editing blueprints. They must also be knowledgeable about accessibility requirements, inspection rules, and construction codes.
Special Effects Artists and Animators
For television, movies, video games, and other forms of media, special effects artists and animators create two- and three-dimensional models, pictures that seem to move, and visual effects.
Other Occupations
Designers (all other)
Not every designer is listed individually.
Performers in the entertainment and sports industries (all other)
Workers in sports, entertainment, and similar industries are not listed separately.
Merchandise Displayers and Window Trimmers
Retail store windows, interiors, and displays at trade shows are all examples of commercial displays that are planned and put up by merchandise displayers and window trimmers.
Set and Exhibit Designers
Special exhibits, movie, television, and theater sets are created by set and exhibit designers.
A degree in art can be the perfect outlet for your creativity and imagination if you're looking for a way to express yourself. Even while art may not be a vocational subject—one that leads to a certain career—it will nonetheless be a useful tool for preparing for the working world. The abilities you acquire while earning your degree are probably highly appreciated and transferable to many industries, including specialist art careers as well as many other graduate roles, whether you decide to specialize in fine art or the history of art.
Getting into the best art schools in the US might be difficult but AdmissionSight is here to help. We at AdmissionSight have more than ten years of experience helping students navigate the challenging college admissions process so they can enroll in the best colleges in the world. Feel free to book an initial consultation to start.