Best Colleges for Veterinarians in the World
The role of veterinarians
What do veterinarians do? Veterinarians are doctors with a lot of training who care for the health and well-being of all kinds of animals. They use problem-solving skills and in-depth knowledge of biological, physical, and social science to diagnose, treat, and prevent animal diseases and help keep the quality of our environment high. Nowadays, there is a growing population of students who graduate from colleges for veterinarians and eventually follow the profession.
Veterinarians work with doctors and public health agencies to stop and control diseases, protect the food supply, and keep wildlife safe. They also improve medical technology by teaching and doing research. Human medicine and veterinary medicine are increasingly connected, and the UC Davis medical and veterinary schools work together often.
Reasons to study veterinary medicine
Why should you learn veterinary medicine? The average salary for a vet is $89,000 annually, while the average salary for a new vet is around $50,000. Established doctors can make up to $200,000 a year, and specialists and surgeons with a lot of training can make even more. But even though many people like having a high salary, most people don't go into veterinary medicine because they want to make a lot of money. Most of them work with animals because they care about them.
Vets also have varied jobs where no two days are the same. They often become part of a close-knit group of people who love animals, like pet owners, people who work for animal rescue groups, nurses, and kennel attendants.
Also, vets never stop learning, which makes it a great job for people who like to grow as people and take on new challenges. There are also many chances to move into more specialized areas of medicine or new industries, such as drug development, environmental protection, or consulting for the government.
Best vet colleges in the world
Royal Veterinary College, University of London
The oldest and one of the best schools for vets in the world is the Royal Veterinary College (RVC). When the college was founded in 1791, it marked the beginning of the veterinary field in Britain. Over the years, it has always been at the forefront of veterinary science and practice. Our students have always been at the center of everything we do, just like our graduates are at the center of veterinary care, science, and practice.
The RVC is the only veterinary school in the world with the highest accreditation from the American Veterinary Medical Association, the European Association of Establishments of Veterinary Education, the Royal College of Veterinary Surgeons, the Australian Veterinary Boards Council Inc., and the Royal Society of Biology. This gives it a lot of credibility as one of the colleges for veterinarians that one can study.
The level and scope of our veterinary and biomedical science research show that the college is committed to improving human and animal health and welfare and the important role that veterinarians and biological scientists play on the international stage.
A degree from the Royal Veterinary College signifies high quality worldwide. It shows that a person has worked hard, put in a lot of effort, and is a professional with the highest standards.
University of California, Davis
The University of California, Davis, one of 10 schools in the University of California system, started as a farm school for the University of California, Berkeley. The UC Davis campus is only 15 miles from Sacramento. It has an airport, a fire department, and a group of sculptures called Eggheads.
UC Davis has changed the field of veterinary medicine by making important discoveries and coming up with new ways to treat animals and improve the health of people and the environment. As the best veterinary medicine program globally, our graduates are in high demand. Year after year, nearly all of them find jobs.
At 0.8, the debt-to-income ratio of UC Davis graduates is the best of all 30 U.S. veterinary schools. This means that, as graduates of one of the best colleges for veterinarians in the world, new D.V.M.s have more options when choosing a career path or getting more education.
Utrecht University
Utrecht University is a public school that has been around since 1636. It is in the Dutch city of Utrecht, about 50 kilometers (31 miles) south of Amsterdam. The university has four locations, but the Utrecht Science Park – De Uithof campus, which is east of the city center, is its main campus.
Around 30,000 people go to the university. Students from countries outside of the European Union and the European Economic Area have to pay more for tuition, except for Swiss and Surinamese students. Students can apply to live in dorms outside of the campus.
The School of Veterinary Medicine, which is part of the Faculty of Veterinary Medicine, is the country's and, increasingly, the world's center of expertise and reference for veterinary issues.
Utrecht does things like ensuring different kinds of animals are healthy and happy, keeping an eye on food safety, and stopping diseases from spreading from animals to humans (diseases transferable from animals to humans). The Faculty of Veterinary Medicine is thought to be one of the best in Europe and is ranked in the top ten in the whole world.
Even the Faculty of Veterinary Medicine has its own chair group for Quality Control in Veterinary Education, where we do academic research on different education-related issues. Because we pay so much attention to quality and hold our students to high standards, no less than 87% of our new students can finish their course of study.
Cornell University
Cornell University was started as a private school in 1865. It has a total of 15,503 first-year students (fall 2021), is in a rural area, and is spread out over 745 acres. Cornell University is in Ithaca, New York, and has more than 1,000 student groups, from the Big Red Marching Band to the International Affairs Society. North Campus is where first-year students live together. The university has housing options for upperclassmen and graduate students, but most live off campus.
As the only medical school on Cornell's Ithaca campus, the College of Veterinary Medicine is the center of biomedical research and teaching at a world-famous research university. This helps our students learn more about science and get a wider range of experiences.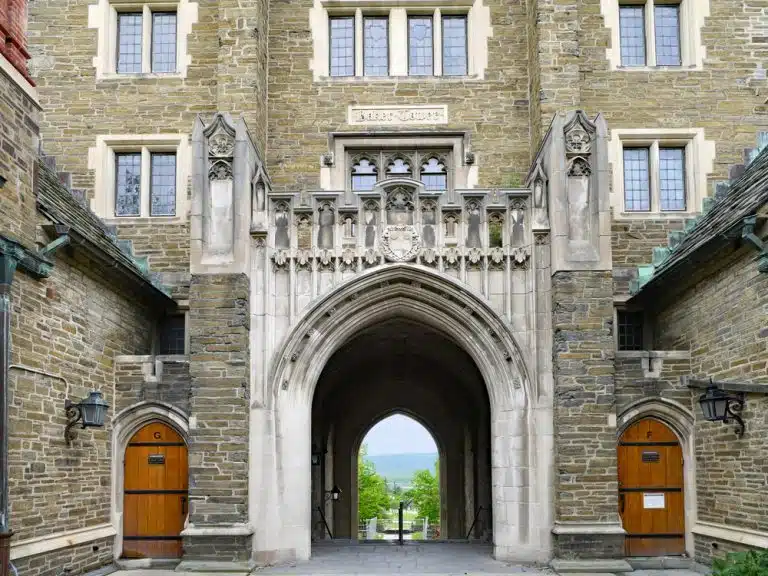 In its D.V.M., post-D.V.M., and Ph.D. programs, the College of Veterinary Medicine trains leaders in veterinary medicine and biomedical research. These leaders then advance knowledge at the point where discovery and application meet.
As one of the best colleges for veterinarians, the college is proud of its long history of being a leader in veterinary education, the study of animal diseases, clinical medicine, and biomedical research. The Cornell University Hospital for Animals has training for large, small, and exotic animals in one place. About 19,000 animals are treated there every year for complex medical problems that veterinarians from all over the United States have sent there.
University of Guelph
The Ontario Veterinary College started as one of the colleges for veterinarians in Toronto in 1862 by Andrew Smith, a veterinary surgeon from Scotland, with some help from Duncan McNab McEachran. Both were graduates of the Royal School of Veterinary Studies at the University of Edinburgh. The school was first called the Upper Canada Veterinary School.
The college got its current name in 1867, the same year Canada joined as one country. McEachran worked there, but he thought the academic requirements and standards for admission were not good enough. After three years, he left and moved to Montreal, where he helped start the Montreal Veterinary College.
By 1897, the college was linked to the University of Toronto, and in 1908, the government of Ontario bought it from Smith. Later, in 1922, it moved to Guelph, Ontario, and stayed connected to the University of Toronto until 1964, when it became one of the founding colleges of the University of Guelph.
The Ontario Veterinary College (OVC) at the University of Guelph is a world leader in improving the health of animals, people, and the planet through veterinary medicine and health research. Since 1862, OVC has done a great job of teaching students how to be good veterinarians and helping them grow in the field as one of the top colleges for veterinarians.
Students learn about career paths through OVC's program, alumni mentoring, and many student clubs and extracurricular activities. They also get the right direction and support to help them reach their career goals.
Now that you have an idea of which of the colleges for veterinarians you can attend, your college admissions should be where you pay attention next. To ensure that you get into the college you want, you can get help with AdmissionSight. With ten years of experience with college admission experts, Admissionsight can help you get into the college of your choice. You can talk to our experts today to get an initial consultation.