Best Private Schools in Chicago
The best private elementary schools in Chicago
What are the best private schools in Chicago? For a variety of reasons, you could be seeking out the top schools in Chicago. Perhaps you wish to locate the top schools for your children before coming to the city. Or maybe you currently reside in Chicago and wish to enroll your children in one of the city's top-rated charter schools.
Finding the best private schools in Chicago might be difficult for a variety of reasons. But don't worry; we've got you covered. Included in this blog are lists of the best private schools in Chicago.
1. Lincoln Park Campus of the British International School of Chicago
Children aged 15 months to 11 years are educated at the British International School of Chicago, Lincoln Park, to achieve academic achievement and gain admission to the top colleges in the world.
Collaborations with well-known institutions like Juilliard, MIT, and UNICEF improve courses that are known all over the world. This helps make sure that every child gets the knowledge and outlook they need to do well in a world that is always changing.
2. City Day School of Chicago
JK–8th graders attend the distinctive and compassionate elementary school City Day, which was established in 1981. Students at City Day create poetry, construct rockets, research historical events, and invent new technologies. This private school's lively 2-acre urban campus, knowledgeable staff, abundant experiential learning opportunities, and supportive environment inspire students to take calculated chances. Top high schools in Chicago and elsewhere are attended by graduates.
3. Montessori School at Gateway
The Association Montessori International (AMI) has acknowledged the tiny, nonprofit PreK–6 Gateway Montessori School, which is situated in a thriving, diverse Chicago neighborhood. Since 2006, it has cultivated each child's potential. The Community, for children ages 15 months to 3 years; Children's House, for kids ages 3-6 years; and Elementary, for kids ages 6 to 12, are its child-centered activities. There are also accessible aftercare and summer programs.
4. Chicago's GEMS World Academy
International Baccalaureate (IB) World School GEMS World Academy Chicago (GWAC) offers the acclaimed IB curriculum from preschool through grade 12. The design curriculum that GWAC uses exposes students to issues and opportunities outside of the classroom. Within a multicultural learning environment, students gain knowledge of systems, problem solving, creative thinking, and teamwork. Daily world language training, extensive field study options, and inquiry-based, experiential learning are all available at GWAC. As students apply and extend classroom concepts to real-world circumstances, GWAC cultivates global citizens and provides them with a "passport for success in life," which makes them one of the best private schools in Chicago.
5. Global Citizenship Experience Lab School (GCE Lab School),
Every subject includes interactions with businesses, charities, and civic leaders to demonstrate to students the value of what they learn in class. Students are known and supported because of their small class sizes and personalized learning methods. It pushes students to acquire the information and abilities required to bravely take initiative, both locally and worldwide.
6. Music School Merit
Since 1979, the Merit School of Music has attracted thousands of young people from the Chicago area by providing equal access to a rich, fulfilling, and high-quality music education. In addition to learning to play an instrument or sing at Merit, PreK–12 children also develop persistence, self-confidence, and creativity by taking part in a dynamic and friendly musical community.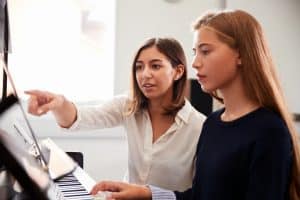 Through the famous music school's broad roster of group programs, private lessons, early childhood programming, and other offerings, students of all ages, backgrounds, and experience levels come together from 135+ ZIP codes to study with the top music educators in the area.
7. North Montessori School
Children from infancy to grade 8 learn in dynamic learning laboratories at Near North Montessori, one of the top Montessori schools, where students are always investigating their surroundings. Students spend three years studying and developing in these lively communities. Younger children observe older students as they develop new skills. Younger pupils are mentored by older students as they overcome new difficulties. The teacher carefully plans this journey while acting as a guide, adjusting each student's trajectory before launch. Students are encouraged to handle difficult academic work and realize their innate potential here by teachers who question, challenge, and excite them.
8. Quest Academy
Students who are gifted and talented attend Quest Academy, where skilled teachers use cutting-edge teaching techniques to help children satisfy their curiosity and build strong character. The dynamic, "ceiling-less" curriculum at Quest Academy is designed to engage gifted kids in engaging material with friends who share their interests. The community is filled with chances for students to engage with one another, put what they've learned into practice, and have an effect, which makes this academy one of the best private schools in Chicago. Their faculty members are skilled educators committed to giving gifted students a challenging and motivating learning environment.
9. Rowe Elementary School
Rowe Elementary School's goal is to help students in grades K–8 be successful in high school and graduate. They do this by giving them challenging academic instruction, working with their parents, and helping students and their families socially and emotionally.
10. Sacred Heart Schools in Chicago
Sacred Heart Institutions Chicago is a prekindergarten–8 independent Catholic school that operates under the five tenets of faith, knowledge, service, community, and personal development. Every aspect of community life at Sacred Heart, where they warmly embrace families of all faiths, is intertwined with these five goals.
Graduates not only achieve academic success but also develop a great sense of social justice, empathy for others, and curiosity about the outside world. Sacred Heart places equal emphasis on the heart and the head because they know that children learn best when they are fully engaged. All students are known and liked thanks to this supportive environment.
The best private K–12 schools in Chicago
This time, let's check out the best private K-12 schools in Chicago as prepared by AdmissionSight:
1. New School (Fayetteville, AR): New School in Fayetteville, Arkansas
Children in nursery school through eighth grade benefit from a varied STEAM (science, technology, engineering, arts, and math) program on a 26-acre campus with an amphitheater, designated wildlife habitat, paths, and outdoor classrooms. Each student in grades one through eight has access to a computer. Physical education starts at age three, and there is a designated indoor gym for the young pupils in nursery and preschool. There are four playgrounds and four buildings housing the schools. There are 63 full-time instructors, 52 part-time teachers, and over 350 pupils at The New School. Truly one of the best private schools in Chicago.
2. The School at Lexington (Lexington, KY) Lexington, Kentucky's The Lexington School
The Lexington School has almost 600 children from a variety of racial and geographic backgrounds who attend kindergarten through eighth grade. The school is accredited by both the Independent Schools Association of the Central States and the National Association of Independent Schools, and it offers a specific learning program for dyslexic students. The student-to-teacher ratio is about seven students per teacher.
3. Forsyth Country Day School (Winston-Salem, NC) NC Lewisville Forsyth Country Day School
According to a January 2014 article in Forsyth Family Magazine, 60% of Forsyth Country Day School students in grades four through seven qualified for the Duke Talent Identification Program (TIP) because they scored in the top 5% on the national exams administered by the Education Records Bureau. When compared to students who started at FCDS later in life, those who started during or before first grade had a twofold higher chance of being eligible for the TIP program.
4. Rock Bottom Christian School (Niceville, FL) Niceville, Florida's Rocky Bayou Christian School
The Northwest Florida Christian Education Association and Christian Schools International both recognize Rocky Bayou Christian Academy as a member. The National Institute of Learning Development and the Florida Association of Christian Colleges and Schools both accredit RBCA, which makes them one of the best private schools in Chicago. The RBCA program runs from preschool through the 12th grade. 90% of RBCA graduates over the past ten years have qualified for the Florida Bright Futures Scholarship, and graduates receive millions in scholarships each year.
5. Brearley High School (New York, NY) Brearley High School
The Brearley School holds the distinction of being one of the nation's oldest schools. The institution was established in 1884 and continues to be an all-girl college prep school, instructing about 700 students from kindergarten through twelfth grade. The lower school, which includes kindergarten through fourth grade, has about 250 students. The middle school serves fifth through eighth graders and has just over 200 students.
6. Forest Ridge High School (Schererville, IN) Schererville, Indiana's Forest Ridge Academy
Forest Ridge Academy accepts students from junior kindergarten through eighth grade. The activities used in junior kindergarten involve students interacting with peers, others, events, and hands-on learning centers. To encourage kids to read, teachers present the daily schedule in both written and pictorial form. Children are given the chance to choose what they do and engage in activities that include problem-solving.
7. Teton Science Schools Journeys School (Jackson, WY) Teton Science Schools Journeys School
Prekindergarten through grade 12 are covered by Journeys School. Journeys is a day school for the time being, but boarding is a possibility in the future. There is also a well-established homestay program for students from other countries.
8. Cliff Valley School (Atlanta, GA)
The Southern Association of Colleges and Schools and the Southern Association for Independent Schools both accredit Cliff Valley School. Cliff Valley is a member of both the National Association of Independent Schools and the Georgia Independent School Association. There are 57 full-time teachers, most of whom have PhD degrees, and about 300 students. The faculty turnover rate is quite low, ensuring continuity within the school, which makes it one of the best private schools in Chicago.
9. Maret College (Washington, DC) Washington, DC's Market School
The Maret School, founded in 1911, educates nearly 650 students in kindergarten through twelfth grade on a seven and a half-acre campus.With its origins as a French school that educated students from various countries, it unquestionably values and embraces diversity.42 percent of pupils are people of color and come from 41 different countries. On a single campus, students attend lessons with an average class size of 15 and a student-to-teacher ratio of 7:1. 65 percent of the 106 teachers have master's degrees or higher. The Association of Independent Maryland Schools has accredited the school.
10. North Pacific Academy (Anchorage, AK) Anchorage's Pacific Northern Academy
Pacific Northern School relocated to a brand-new campus in August 2013 that features a multipurpose gym, a music room, a sizable art studio, and a complete science lab where students are regularly pushed to develop autonomous and critical thinking abilities. The opportunity for students to investigate themes is provided across the curriculum.
The best private high schools in Chicago
This time, let's focus on the best private high schools in Chicago:
1. University of Chicago Laboratory Schools
The Laboratory Schools at the University of Chicago are located across the street from some of the city's "world's foremost researchers," giving pupils the chance to speak with highly esteemed professionals, the magazine reports.
The report claims that because the school's new head spent 11 years working for the World Bank, there is a greater emphasis on "real-world issues" on campus, such as in Lab's civic engagement program. Students are given paid internships where they work to help the nearby South Side neighborhoods.
2. Latin School of Chicago
According to Chicago Magazine, the 130-year-old school in the Near North Side area of Chicago holds a variety of student hackathons and fake Nuremberg trials.
According to the head of the school, it also teaches students about other historical events and the Russian Revolution through simulations.
3. Francis W. Parker School
Chicago Magazine says that when Parker students in the Lincoln Park neighborhood on the North Side of Chicago were given the chance to redesign the school's common areas, they surprised the teachers.
The principal of the school, which is regarded as one of Chicago's "most inventive," told the magazine that there is a focus on thought-provoking lectures there.
4. Lake Forest Academy
According to the survey, Lake Forest Academy in suburban Lake Forest was crowded with students last year from 18 states and 34 different countries.
The institution wants to "inspire global citizens," the dean of students tells Chicago Magazine. According to the report, 5% of the class of 2017 attended institutions abroad.
5. North Shore Country Day School
Chicago Magazine says that this Winnetka campus, which has 535 students from junior kindergarten to senior year, has a small but lively group of students.
According to the magazine's interview with the school's leader, cultivating relationships between students and teachers is highly valued. According to the study, some classrooms only have 13 students. Additionally, each student is required to take part in at least two theatrical productions and play a sport for at least three seasons.
6. Ignatius College Prep
The academic environment is described by the administration as "rigorous," with a constant Jesuit culture and a diverse student body. The school has 24 advanced placement options and has recently put a lot of effort into STEM.
7. Benet Academy
Altruism is just as significant in suburban Lisle as academics. The paper claims that relief missions are frequently made abroad. Sports and athletics rank highly as well.
8. Morgan Park Academy
Chicago Magazine says that the Morgan Park Academy on the Far South Side of Chicago is famous for its "project week." During this week, students can go to Iceland to see Facebook's headquarters.
10. Rochelle Zell Jewish High School
According to the school dean, this 16-year-old from the suburb of Deerfield wants to combine studying the Jewish religion with receiving an "exemplary education."
Rochelle Zell Jewish High School, which enrolled 168 students this year, was named the "finest Jewish school in America" which made it part of the best private schools in Chicago..
11. Loyola Academy
According to the research, Loyola Academy in Wilmette has the largest Jesuit high school campus in the country. 2,113 kids attend the North Shore school and are obligated to take theology studies. On campus, Mass is said every morning.
Now that you have a general idea of the best private schools in Chicago, the next step is to enroll in the top school of your choice.
You can speak with professionals at AdmissionSight with ten years of experience about any private school you choose. By employing AdmissionSight's guidance, you can save yourself the hassle and work of enrolling in the private school of your choice. Make an appointment right away to discuss how we can assist.