Best University for Criminal Justice
What can you do with a bachelor's degree in criminal justice?
What can you do with a bachelor's degree in criminal justice? Graduates of criminal justice programs can work in law enforcement as federal intelligence analysts and police officers. They can also work as lawyers, counselors for rehabilitation, and advocates for victims in the court system. What is the best university for criminal justice? Read on to learn more about the program, its field, the universities that offer it, and its requirements.
An interdisciplinary field, criminal justice integrates ideas from the law, psychology, sociology, mathematics, and public administration. Students of criminal justice are taught about the characteristics of deviance and the causes of crime. They also study the arrest, detention, and rehabilitation of criminals in the American criminal justice system.
Law enforcement, national security, correctional services, and legal professions are all included in the category of criminal justice careers. Between 2019 and 2029, the Bureau of Labor Statistics (BLS) forecasts a 5% increase in legal occupations. Paralegals, among these occupations, enjoy the highest predicted growth rate of 10%.
Social and community service managers are a field that professionals with experience in team leadership and program management can enter. The BLS predicts that this field will expand 17% between 2019 and 2029.
Another fascinating area for criminal justice professionals is cybersecurity. The BLS predicts a 31% increase in employment for information security analysts between 2019 and 2029, driven in part by government and commercial worries about the increasing frequency and destructiveness of cyberattacks.
What is the best university for criminal justice?
What is the best university for criminal justice? Let's explore the several top institutions that offer criminal justice rather than trying to identify the greatest one. Both on-campus and online criminal justice programs are widely available in the US. However, which are the best? Below is AdmissionSight's own list of the finest criminal justice programs after looking through numerous lists of the best criminal justice programs.
CUNY John Jay College of Criminal Justice—New York, NY
The CUNY John Jay College of Criminal Justice is a top criminal justice institution with 13,000 undergraduate students, 33% of whom are majoring in criminal justice. Forensic psychology and criminology are two other prominent majors.
John Jay offers a wide range of majors in criminal justice, ranging from theory and practice to crime control and prevention.
There are also numerous graduate degrees in criminal justice available. Several more related programs are available at the master's level, including forensic psychology, international crime and justice, and criminal justice (both on-campus and online). You can get a doctorate in either psychology or criminal justice.
John Jay Online, the college's online learning branch, also offers a fully online Master of Arts in Criminal Justice or International Crime and Justice.
Northeastern University – Boston
The School of Criminology and Criminal Justice at Northeastern University was founded in 1967 and is a premier university for criminal justice studies. Here, students benefit from smaller class sizes and have the chance to collaborate closely with professors on research projects.
Professors have expertise in a range of criminal justice-related subjects, including trafficking, juvenile justice, and incarceration, as well as criminal law and terrorism. Additionally, you can combine criminal justice with other disciplines, including computer science, psychology, cybersecurity, and political science, thanks to the multidisciplinary range of majors and minors available.
At the school, you are not just getting the bachelor's degree but can also get a MS, JD, or PhD in criminal justice, and there is also a student advisory council and an honor society, which makes it the best university for criminal justice.
Penn State University – Pennsylvania
One of the top criminology departments in the nation is housed in Penn State's Department of Sociology and Criminology. With the help of this well-regarded bachelor's degree, you'll learn all you need to get started in the criminal justice field.
Studies include why people commit crimes, the criminal justice system, and social research techniques. These subjects are more sociological in nature.
This school offers the following two majors:
A BS in Criminology helps students improve their science and research skills; and
A BA in Criminology focuses on giving students a thorough liberal arts education.
Penn State has a highly regarded online BS in Criminal Justice if you would prefer to major in criminal justice specifically. Along with criminology, you'll also study ethics, law, policing, alternatives to incarceration, and security with this curriculum.
Michigan State University – East Lansing, MI
Students in the School of Criminal Justice at Michigan State University can get a BS in Criminal Justice from another reputable criminal justice school.
This bachelor's degree provides a wide range of courses in subjects like criminology, police procedure, juvenile justice, private security, incarceration, violence against women, and cyber-crime.
Criminal justice majors at Michigan State University can also choose from four study abroad programs in the Philippines, Australia, Madagascar, and the Caribbean.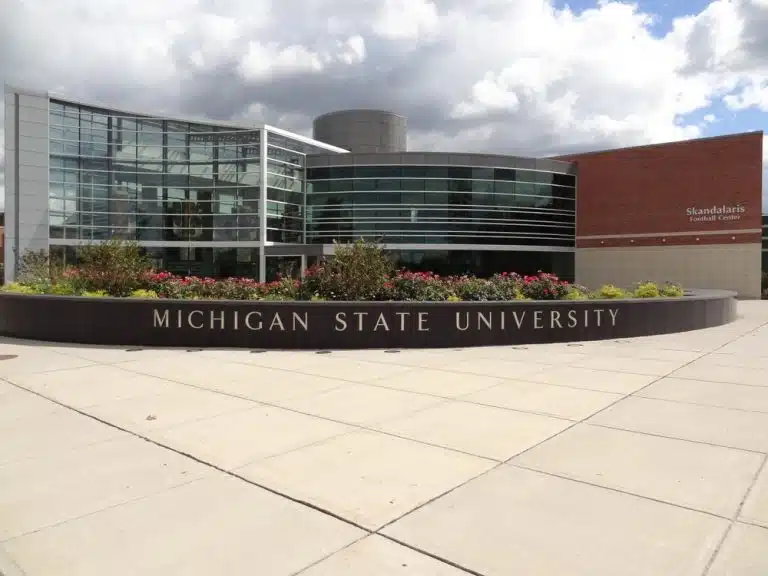 For further studies, Michigan State University offers an online master's program in criminal justice, plus, there are four master's degrees (in criminal justice, cybercrime and digital investigation, forensic science, and enforcement intelligence and analysis) and a PhD program in criminal justice available to you for graduate study, making it the best university for criminal justice.
University of Cincinnati – Cincinnati, OH
You can choose to major or minor in criminal justice or paralegal studies at the University of Cincinnati School of Criminal Justice. The former, an interdisciplinary program, trains students to work as risk managers, criminal detectives, parole officers, court administrators, etc. If you are unable to visit campus, you're in luck because this institution also offers the program online.
In addition to these two undergraduate majors, there are certificates offered in the more specific fields of forensic populations, cybersecurity, and penal rehabilitation. These certificates are like fields of specialization. A master's (offered on-campus or online) and a doctoral program in criminal justice are also available from UC.
University of California, Irvine – Irvine, CA
The Department of Criminology, Law, and Society at the University of California – Irvine has some of the best undergraduate and graduate criminal justice programs in the country. These programs are often at the top of the US News rankings.
One of the few criminology departments among the University of California schools, the multidisciplinary department blends the study of criminology with that of law and society. The faculty at this institution has expertise in a wide range of fields, including gangs and crime, race and justice, and psychology and law.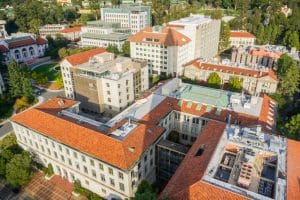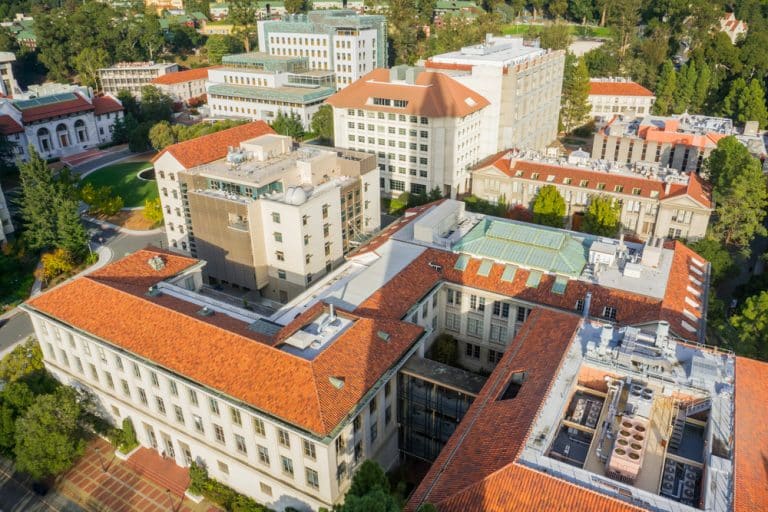 Numerous subjects are covered in the classes offered in the bachelor's program in criminology, law, and society, including social media and the law, juvenile delinquency, the law and inequality, gender and social control, and immigration and crime. Additionally, it emphasizes the value of fieldwork by frequently placing students in public defender's offices, probation offices, and police stations. All these made the University of California the best university for Criminal Justice.
Sam Houston State University – Huntsville, TX
Sam Houston's College of Criminal Justice, which is roughly an hour's drive north of Houston, provides a wide range of criminal justice courses (both in-person and online), the chance to study at nearby research institutes, and various criminal justice scholarships.
Numerous undergraduate and graduate degree programs are offered by the institution, including the following:
Criminal Justice BA/BS
Victim Studies BA/BS
Criminal Justice (MA/MS)
Forensic Science MS
Criminal Justice PhD
Here at Sam Houston's College of Criminal Justice, you can also obtain a degree online. The BA/BS in Criminal Justice, MS in Criminal Justice, and MS in Homeland Security Management are all available online. In terms of its graduate criminal justice programs offered online, Sam Houston State is now ranked second by US News, making it one of the best if not the best university for criminal justice.
Florida State University – Tallahassee, FL
Excellent criminology and criminal justice programs can be found at the Florida State University of Criminology and Criminal Justice. Through its Center for Criminology and Public Policy Research, FSU offers students lots of chances to do practical research. Additionally, it collaborates with the Pat Thomas Law Enforcement Academy so that candidates for law enforcement careers can acquire their state officer certifications in addition to their degrees.
Here at Florida State University, you can enroll in a traditional or online program to acquire a bachelor's degree in criminology and criminal justice. There are also master's and doctoral programs in criminology and criminal justice, such as an MS in Criminology that can be completed in one year and a master's that can be completed entirely online.
University of Maryland – College Park, MD
The Department of Criminology and Criminal Justice at University of Maryland is an excellent place to get a criminal justice degree.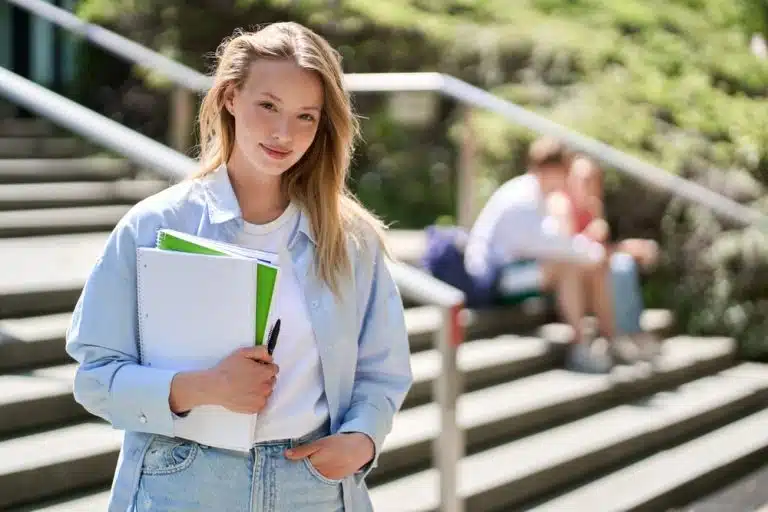 Students who enroll in the BA in Criminology and Criminal Justice degree take a number of classes that cover subjects like policing, courts and punishments, corrections, and criminological theory.
While the Ph.D. program at University of Maryland strives to assist students in becoming researchers and lecturers in the field of criminal justice, the master's degree program there prepares students for positions in private non-profit organizations, the government, and research institutions.
Requirements for a criminal justice degree
What are the requirements for a criminal justice degree at the best university for criminal justice? Someone who appreciates the legalese has a strong sense of justice and fairness and wants to engage with their community to make it a safer, nicer place to live might pursue a criminal justice study.
Laws, rules, and penalties meted out to people accused of crimes are studied by students pursuing a criminal justice education. They will also research the impact of crime and punishment on society as a whole. For police officers, advocates, detectives, legal prosecutors, and defenders, as well as other people interested in a career in protective, legal, or judicial services, criminal justice education is a good place to start.
Requirements for a criminal justice degree:
Earning a high school diploma and taking classes in sociology, psychology, political science, public administration, history, economics, philosophy, and many areas of law are prerequisites for those interested in a career in criminal justice teaching or working for a law enforcement organization;
Pass a background check without any criminal convictions;
Fulfill strict physical requirements.
Requirements for a criminal justice training program:
You need to have a high school diploma; and
Be a citizen of the United States.
It is best to get a head start on your college application if you are interested in this career path and want to attend the best university for criminal justice.
In the past ten years, AdmissionSight has emerged as a market leader in assisting students in being accepted into prestigious universities around the globe. Our success rate is among the highest in the industry, with 75% of our students getting into prestigious colleges like Stanford, MIT, UChicago, and Caltech. To arrange your free initial consultation, don't hesitate to get in touch with us today.