Brown Diversity Statistics
What is the current Brown diversity statistics? Brown University is a preeminent research institution that is home to faculty members who are known throughout the world. In addition, Brown is a forward-thinking educational institution where the intellectual joy, inventiveness, and curiosity of students drive academic excellence. Brown University is ranked as the 14th best university in the United States by "US News Ranking 2021." According to the "2021 QS World University Ranking," Brown University is ranked as one of the top 60 universities in the world.
Students at Brown University have the opportunity to pursue their individual passions within the context of an open curriculum, which frees them from the constraints of a predetermined set of prerequisites and other requirements. The university's ability to develop meaningful initiatives to recruit, keep, and support a diverse community is directly correlated to its understanding of the composition of its student body, faculty, and staff.
At Brown University, the Brown diversity statistics show that there are a total of 9,948 students enrolled, including 6,792 undergraduate students and 3,156 graduate students. There are 9,613 full-time students and 335 part-time students at this institution, and the gender distribution is as follows: there are 4,740 male students and 5,208 female students. Of the total student body, 51.9% are women and 48.1% are men.
Brown University has 9,613 students enrolled there on a full-time basis, while the number of students enrolled there part-time is 335. This indicates that 96.6% of the student body at Brown University is attending classes on a full-time basis. There are currently 5,520 students enrolled in Brown University's online degree program, which was made available to them through the university's distance learning opportunity (online degree program).
Student Gender Distribution
Brown diversity statistics show that there are a total of 9,948 students enrolled at Brown University, with male students making up 47.65% (4,740) of the student body and female students making up 52.35%. (5,208 students). At Brown University, there are 3,176 male students and 3,616 female students enrolled in the undergraduate program, and there are 1,564 male students and 1,592 female students enrolled in the graduate program. 
| | | | |
| --- | --- | --- | --- |
| | Total | Men | Women |
| Total | 9,948 | 4,740 | 5,208 |
| Undergraduate | 6,792 | 3,176 | 3,616 |
| Graduate | 3,156 | 1,564 | 1,592 |
| Full-time | 9,613 | 4,625 | 4,988 |
| Part-time | 335 | 115 | 220 |
Distribution According to Race and Ethnicity
This section of the Brown diversity statistics provides an analysis of the racial and ethnic composition of Brown University's student body. There are 13 native Hawaiian or other Pacific Islander students, 31 American Indian or Native American students, 3,880 White students, 700 Black or African American students, 1,569 Asian students, 1,019 Hispanic students, and 402 students of other races.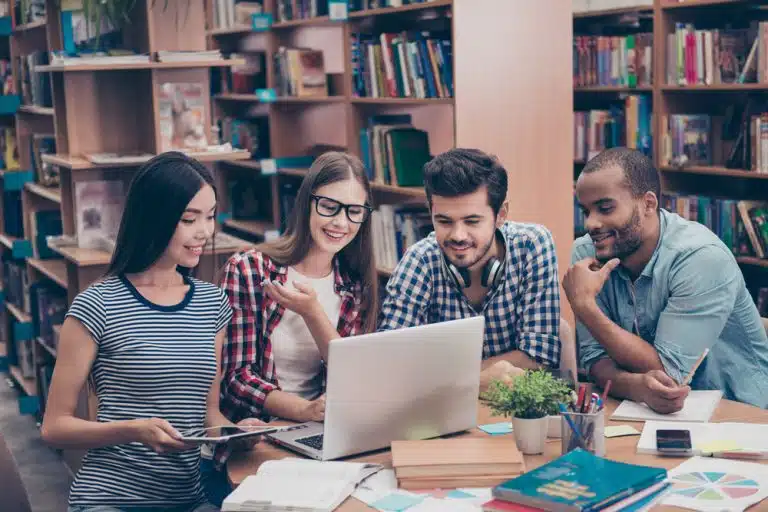 This means that 39% of the student population at Brown University is White, 15.8% of the student population is Asian, 10.2% of the student population is Hispanic or Latino, 7.04% of the student population is Black or African American, 5.39% of the student population is Two or More Races, 0.312% of the student population is American Indian or Alaska Native, and 0.131% of the student population is Native Hawaiian or Other Pacific Islanders. This includes students who are enrolled either full or part-time, as well as those who are pursuing graduate or undergraduate degrees. 
| | | | |
| --- | --- | --- | --- |
| | Total | Men | Women |
| Total | 9,948 | 4,740 | 5,208 |
| Native American | 31 | 10 | 21 |
| Asian | 1,569 | 726 | 843 |
| African American | 700 | 275 | 425 |
| Hispanic | 1,019 | 456 | 563 |
| Other Pacific Islander | 13 | 7 | 6 |
| White | 3,880 | 1,984 | 1,896 |
| Two More | 536 | 202 | 334 |
| Race Un-Known | 438 | 200 | 238 |
The majority of students enrolled in full-time Undergraduate programs at Brown University are White Males (21.8%), followed by White Females (19.8%) and Asian Females (9.99%). The majority of students enrolled in full-time graduate programs are white women (18.3%), followed by white men (17.3%), and then Asian women (5.59%).
Faculty at Brown 
At this particular school, Brown diversity statistics show that the number of female teachers outnumbers the number of male teachers. There are approximately 2,355 female teachers and 2,112 male teachers, which indicates that female teachers make up 52.7% of the teaching workforce while male teachers make up 47.3%. 
The ratio of students to teachers is a common metric that is used to evaluate the number of educational resources that are made available to a school's pupils. When compared to the national average of 15, Brown University's ratio of six students to one member of the teaching faculty places it among the nation's top institutions of higher learning. White people make up the vast majority of Brown's faculty.
| | | |
| --- | --- | --- |
| Faculty Race/Ethnicity | Number | Percent |
| White | 3,044 | 72.00% |
| African American | 302 | 7.14% |
| Asian | 251 | 5.94% |
| Multi-Ethnic | 89 | 2.11% |
| Native Hawaiian | 7 | 0.17% |
Where do most Brown Students come from?
Where do most Brown students come from? 95.54% of students at Brown University are not from the state in which the university is located, and 14.18% are not even from the United States. The undergraduate student body is comprised of students from 46 different states (may include Washington D.C.). The Golden State is home to a disproportionate number of Brown University students studying in the United States. The variety of student locations is significantly higher than average.
| | | |
| --- | --- | --- |
| State | Number of Students | Percent |
| California | 245 | 17.07% |
| New York | 214 | 14.91% |
| Massachusetts | 176 | 12.26% |
| Connecticut | 68 | 4.74% |
| New Jersey | 68 | 4.74% |
| Rhode Island | 64 | 4.46% |
| Texas | 61 | 4.25% |
| Florida | 52 | 3.62% |
| Illinois | 50 | 3.48% |
| Pennsylvania | 43 | 3.00% |
International Students 
Brown University is consistently ranked highly by students who come from countries other than the United States. The presence of international students on campus results in an increase in the variety of available choices, points of view, and areas of expertise, which contributes to the existing variety of ways of thinking on campus. As a result of the increasing globalization of the economy, interaction with students hailing from a variety of nations has become an essential component of the higher education system.
According to the findings of an analysis of data from student visa applications, there were as many as 1,159,798 international students who entered the United States in 2019 to attend colleges and universities here. Roughly 1,845 students from other countries called Brown their home during their time there.
Brown's student body is reflective of the world's rich diversity. There are representatives from at least 47 different countries on the Brown campus. China, India, and Canada are the three nations that have the most students enrolled in their respective universities.
The number of international students attending Brown University is reported to be 1,845, with 870 of those students enrolled in undergraduate programs. This is out of a total student body of 10,257, with 7,043 being enrolled in the undergraduate program. It appears that approximately 18.0% of Brown's student body is comprised of students from other countries.
The proportion of students on campus who are citizens of countries other than their own has increased at an annualized rate of 5.2% over the past few years. With an estimated total of 635 students, China is the country that has made the greatest contribution to this growth.
What Majors are Brown Known for?
What majors are Brown known for? Brown University is a prestigious research institution as well as the seventh-oldest college in the United States. A commitment to academic excellence, intellectual freedom, and making an impact to better serve people, communities, and society is at the core of the University's teaching, research, and scholarship. This commitment is at the heart of everything the University does.
Brown University makes a significant and long-lasting contribution to the expansion of knowledge in all subfields of academic inquiry as a result of its ground-breaking research and cutting-edge pedagogical practices. The following are some of Brown University's most popular areas of study:
Computer Science
The field of computer science has become an indispensable resource for researching an ever-expanding variety of subjects, from the workings of the human mind to the depths of space.
The use of computational methods is becoming increasingly important in cutting-edge work across the board in the sciences as well as in many areas of the liberal arts. The computer science curriculum for first-year students at Brown is intended to provide a foundation in both the practical and theoretical aspects of the field while also providing an in-depth study of selected subfields. 
Traditional topics like analysis of algorithms, artificial intelligence, databases, distributed systems, graphics, mobile computing, networks, operating systems, programming languages, robotics, and security are included here, while novel areas like games and scientific visualization are also present.
Economics
Students gain a better understanding of markets, firms, and financial organizations, as well as the public debate about economic policy, which includes taxation, government expenditure, trade, globalization, health, and welfare, through the study of economics.
The study of economics focuses on how individuals, businesses, and governments decide how to utilize their available resources in order to achieve their goals. The concentration in economics prepares students for graduate study in fields such as business and law, as well as for graduate study leading to teaching and research in economics. 
Additionally, the concentration in economics can serve as a stepping stone to employment in business, and finance, as well as non-profit and government organizations. Students have the option of pursuing either business economics or the standard concentration, both of which also offer a professional track as an additional option.
Biology
Students are encouraged to study the science of life and living matter in both a comprehensive and in-depth manner as part of the Biology concentration. Students who intend to earn a Bachelor of Arts (A.B.) or Bachelor of Science (Sc.B.) degree in biology can anticipate receiving a well-rounded education in the field by taking a variety of classes in one or more of the following three subfields: cell and molecular biology, structure and function, and organismal biology. 
In addition, students who are working toward a Bachelor of Science degree are required to finish a thematic track. This allows them to acquire a comprehensive knowledge of a specific subfield, such as immunopathology, ecology, and evolutionary biology, physiology/biotechnology, cell, and molecular biology, or physical sciences. 
The concentration places an additional emphasis on both practical skills and the design of experiments. At least three of the concentrator's required classes must include some kind of hands-on experience in the lab or in the field. Students have a great deal of leeway and options within all of these requirements thanks to the availability of multiple options. In addition, numerous departments within the basic sciences each offer their own unique research opportunities, which can be found throughout the university.
History
The study of history focuses on how societies and cultures from different parts of the world evolved over the course of time. Students who major in history develop skills in writing and critical thinking, as well as in understanding issues from a variety of points of view.
The history department provides students with the opportunity to study a wide range of topics, from ancient Greek and Roman civilizations to the histories of Africa, the Middle East, the Americas, and Asia. These topics are covered in a variety of different classes that are offered throughout the year. 
Some classes focus on the history of a specific nation (like China or Brazil), while others emphasize a specific era in that nation's or country's history (e.g. Antiquity or the 20th century). Students are able to engage in a variety of activities and develop a wide range of perspectives on both the past and the present if they take advantage of our extensive course offerings.
Mathematics
Quantity, structure, space, and change are the topics that are investigated by mathematics, which is a grouping of scientific disciplines that includes geometry, algebra, and calculus.
Brown students who choose to concentrate on mathematics have the opportunity to investigate these ideas thanks to the department's extensive course offerings and adaptable concentration requirements. Bachelor of Arts or Bachelor of Science degrees are both possible upon completion of the concentration (the latter is strongly recommended for students interested in pursuing graduate study in mathematics or related fields). 
Calculus with multiple variables, linear algebra, and abstract algebra are the first subjects that concentrators study when they begin their education. After completing these prerequisites, students can choose from a wide range of advanced subjects offered at the 1000 and 2000 levels to further their education. The completion of a thesis project is an additional available option for students.
International Relations 
The concentration in International Relations has two main goals: the first is to encourage students to think creatively about pressing issues on a global scale, and the second is to provide students with the analytical tools, language skills, and understanding of different cultures that will help them navigate this process. 
In order to accomplish this goal, the concentration draws from a wide range of departments, some of which are as follows: political science, history, economics, anthropology, sociology, psychology, religious studies, and area studies.
The International Relations (IR) concentration is structured with a multidisciplinary core at its center and two sub-themes: political economy and society, and security and society. There is a language requirement that must be fulfilled over the course of three years, and it must be connected to the student's chosen area of the world. A capstone project that incorporates research in a second language is required of all students who choose to concentrate in that area.
What type of Student goes to Brown?
What type of student goes to Brown? The perfect candidate for admission to Brown University is someone who is extremely well-qualified academically and has a strong desire to do well in their chosen field. The admissions process at Brown University is extremely selective, and every year there are a growing number of outstanding candidates, which makes the process even more competitive. Students who are interested in attending Brown University should strive to achieve high academic marks and test scores in order to increase their chances of being accepted there.
Brown University, just like many other highly regarded educational institutions, does not publish a required minimum for either standardized test scores or grade point averages. However, despite the fact that having scored at or above the averages will increase your chances of acceptance, you should not let your scores prevent you from applying to Brown!
Brown University requires applicants to submit a comprehensive application, which includes a number of different components that can help increase their chances of admission. These components include supplemental essays and either a video profile or an alumni interview.
The campus of Brown University is renowned for its rich diversity, and the university makes a concerted effort to involve students in all aspects of their education, from the arts to the sciences. Students who have demonstrated excellence in their academic pursuits and have a passion for the arts, humanities, or both may find that Brown University is the ideal setting for them to pursue their educational goals.
The students at Brown are known to be intellectually inquisitive, intellectually open-minded, creative thinkers (creative in all fields, not just the arts), and interested in the world around them.
Brown Acceptance Rate
What is the current Brown acceptance rate? The number of applications that Brown University received was the highest it has ever been, but the university only selected 5% of those who applied. Only 2,546 students were selected to enroll at the prestigious Ivy League university out of a total of 50,649 applicants. 
Comparing this year's record of 46,568 applicants to the previous year's record of 46,568 applicants, the applicant pool increased by an astounding 9%. In December 2021, 1,651 students who had been admitted during the regular round joined the 896 students who had been admitted during the early decision round.
Not only did 96% of this year's applicants place in the top 10% of their high school graduating class, but 17% of them also described themselves as being the first in their families to attend college. Brown University's Class of 2026 included students from all 50 states, as well as Puerto Rico and Washington, District of Columbia.
China, the United Kingdom, Canada, India, Singapore, and Ukraine are among the most prominent nations to be represented in the incoming class of international students for this academic year. Because of the political unrest and economic instability in their home countries, students who were accepted from Afghanistan and Ukraine were given additional support.
Acceptance Ratios for the Class of 2026 at Brown University
| | | | |
| --- | --- | --- | --- |
| | Number of Applications | Accepted Students | Acceptance Rate |
| Regular Applications | 44,503 | 1,651 | 3.6% |
| Early Applications | 6,146 | 896 | 14.6% |
If you need help putting the finishing touches on your early applications, or want some advice on whether or not applying Early Decision or an Early Action is a good option for you, at AdmissionSight, we have over 10 years of experience guiding students through the competitive admissions process, including our athletic recruitment program. 
AdmissionSight can help you put your best foot forward when applying to college this fall. Contact us today for more information on our services.