Brown Music Program
At colleges and universities all around the United States, students can choose to major in a wide range of different types of music. Some of the most prestigious college music programs may place an emphasis on performing, whereas others may place more of a spotlight on composition or music theory. Students who are interested in pursuing a career in music have access to a wide variety of programs, such as the Brown music program, from which they can select the one that caters to their own desires and passions the most.
Instrumental performance, vocal performance, and conducting are examples of popular performance-based areas of study at the university level. The music curriculum at Brown University primarily consists of individual lessons, involvement in groups and ensembles, and solo concerts. Students who enroll in the Brown music program are given the opportunity to hone their skills as performers while also becoming familiar with a wide range of musical styles.
Does Brown have a Music Program?
Does Brown have a music program? Absolutely! Brown University offers a Bachelor of Arts degree with a concentration in Music. This degree is considered a liberal arts degree; hence, graduates of the Brown music program go on to pursue a wide variety of careers.
Some individuals go on to have successful careers as professional musicians, composers, producers, music academics, or arts administrators. Others decide to pursue jobs in areas such as law, teaching, technology, or public policy, all of which benefit greatly from a background in the liberal arts. The possibilities are virtually limitless, much like the opportunities available at Brown.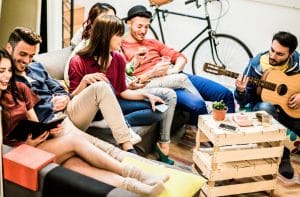 Cultural theory and music theory are two of the topics that faculty teach and research. Other areas of interest include popular music and performance studies, media and technology, globalization and diaspora, materiality and instrument making, nature and ecology, cognitive ethnomusicology, and legal studies. North America, the African diaspora, Asia, and Latin America, in addition to the indigenous populations of the Americas, are some of the geographic locations that are the center of attention.
In addition to that, the department of music has entry to a number of different excellent performing venues. Opera is being worked on in a workshop setting. Both the James T. Koetting Ethnomusicology Archive and the Neiman Archive of Sound Recordings can be found within the Orwig Music Library. The James T. Koetting Ethnomusicology Archive includes sound recordings, videos, unreleased field tape recordings, photographs, and field notes.
In addition to the Harris Collection of American Poetry and Plays, the John Hay Library at Brown houses a collection of more than 500,000 individual pieces of American sheet music, including vocal music, piano music from the nineteenth century, and British and American instrumental music (including over 17,000 musical works from the seventeenth century to the present). The Department of Music has a Javanese gamelan in its collection in addition to Ghanaian drum sets, bell sets, and shaker sets.
What is the Brown Music Program like?
With the knowledge of the Brown music program, it's natural for you to wonder what is the Brown music program like. The Brown music program promotes new ways of perceiving music as a form of creative expression and cultural activity all over the world by doing research and gaining experience using a variety of methodologies.
The Brown music program is committed to fostering musical participation, research, and education at the highest possible levels of quality while maintaining an open and welcoming environment.
The study of music, which is something that people of all ages are familiar with, has always had a natural place at the center of a liberal education. The integrated faculty of the Department of Music at Brown University, which includes scholars, performers, composers/media artists, and theorists, makes for an ideal setting for education of this kind. Brown's Department of Music provides an ideal atmosphere for such an education.
The curriculum at Brown is quite varied, and it includes both creative and theoretical studies in music history, theory, ethnomusicology, philosophy, and musical aesthetics. Performance, composition, and technology classes are some examples of these. In this one-of-a-kind department, across the Brown music program, application and analysis are combined, production and cultural study are explored, and broad musings on sound are incorporated into experiments with multimedia.
What are the various Brown Music Groups?
So, what are the various Brown music groups? Brown University's Department of Music provides students with a diverse selection of opportunities and courses, both inside and outside of the classroom. Students in the Brown music program have the freedom to choose their own educational route across the various components of our curriculum.
A jazz pianist could learn to compose experimental concert music, a cellist with classical training could obtain expertise in studio production, and a performer in a musical theater production could become interested in Latin American music, popular music theory, or the construction of instruments.
Brown University provides its students with a robust music department from which they can select options that both cater to their individual interests and broaden their intellectual and artistic horizons. The Brown music program sponsors the following musical ensembles, which can be found below.
Chamber Music
All undergraduate and graduate students, as well as students enrolled at RISD, are welcome to take part in Chamber Music Performances.
After every effort has been made to place Brown and RISD students in ensembles, faculty, staff, and members of the Brown and RISD communities may also be allowed to participate depending on what gaps are available after all efforts have been made to fill those openings with students.
The ability to play an instrument will be used to form groups, and each group will typically include between three and five musicians. Chamber music coaches are typically teaching associates in the Applied Music Program. These highly-trained professional musicians have a strong background in the genre. The repertoire for the group will typically be decided by the coach after discussing the matter with the students who participate in that ensemble.
The Orwig Music Library has a collection that includes scores and parts for a significant portion of the chamber music repertoire. These items can be checked out of the library for use. Students who have a significant interest in playing chamber music are strongly encouraged to purchase their own copies of the music so that they can annotate it and keep it for future use.
Chorus
The Brown University Chorus is a wonderful opportunity to get to know a diverse group of undergraduate and graduate students, all while contributing to Brown's pursuit of a musically and artistically superior product.
A satisfying experience is certain to be had by singers who are dedicated to the group because they are obliged to attend rehearsals and sectionals on a regular basis, as well as frequent performance chances and social gatherings.
The Brown University Chorus is one of the oldest choruses at Brown University and is comprised of 55 committed singers from different concentrations within the University.
Ghanaian Drumming
This is a dynamic course on the performance of modern drumming and dancing techniques of West Africa, and it focuses on Ghanaian drumming and dancing. There are no prerequisites, and students are permitted to retake the class in order to earn credit. There will only be room for 15 participants.
The information and abilities acquired are built upon and expanded upon in Advanced Ghanaian Drumming and Dancing. The class may be taken more than once for credit, but there is a maximum enrollment of 15 students.
Composer, master drummer, dancer, and educator Kwaku Kwaakye (Martin) Obeng has been active in the music industry for the past 25 years, performing and teaching all over the world. Kwaku started playing the drums at the age of five and by the time he was seventeen he was appointed Royal Court Drummer to the high chief of the Aburi-Akuapim region of Eastern Ghana. Kwaku was born in Ghana, which is located in West Africa.
After performing as a drummer and dancer with Ghana's National Arts Council Folkloric Company on tour, he moved to the United States in 181 and joined the Talking Drum Ensemble, which was based in New England. This was his first tour with the company. Since 1988, he has been Brown University's drum instructor.
Students learn to play a variety of ceremonial and recreational music from Ghana through rehearsals, conversations, readings, and listening in the beginning-level Ghanaian Drumming class. Beginners as well as more experienced percussionists can learn from Obeng the ceremonial songs and dances of Ghana, which are performed in West Africa.
Students gather together at the beginning of each semester to learn how to play African drums, bells, and shakers, as well as the music of diverse West African ethnic groups. At the conclusion of each semester, the ensemble puts on a celebratory concert in which they showcase their accomplishments. The program frequently involves performances by guest artists and group dance.
Students at the advanced level learn to perform a repertoire of contemporary drumming and dancing styles of West Africa that is more difficult and specialized. This is accomplished through more advanced practices, talks, readings, and listening.
Javanese Gamelan
The Southeast Asian region is home to a diverse collection of gongs and other tuned-metal percussion instruments. Gamelan is the term used to refer to ensembles that are created around such instruments in Java, which is an island in the Republic of Indonesia.
The music of the gamelan is primarily an ensemble form; hence, the musicians and vocalists, despite their distinct musical duties, are required to have sensitivity toward one another. Although there is no visible conductor, the ensemble is led by the drum (kendhang) and the bowed lute (rebab) through the use of subtle aural signals.
The name "Sekar Setaman" has been given to the gamelan at Brown University (literally, a garden of flowers). In 1997 and 1998, the Solonese gongsmith Tentrem Sawwanto created this one-of-a-kind instrument specifically for Brown. It's possible to use its name as a metaphor for the peaceful coexistence of a wide variety of people and points of view within an environment of tolerance and harmony.
Jazz Band
The history of jazz at Brown University is nearly identical to the history of the form itself. The eighteen-member large band is an essential component of the school's jazz department. It features a vocalist, five players of woodwind instruments (most of them play saxophones), eight players of brass instruments (four trumpets and four trombones), a "rhythm section" featuring a piano, bass, drums, and guitar, and eight players of brass instruments.
Since the days of the famous Ellington, Basie, and Goodman orchestras in the 1930s, this configuration of musicians has been the typical structure for the jazz "large band."
The band's repertoire has previously featured modern jazz works by composers such as Thad Jones, Herbie Hancock, Bob Mintzer, Toshiko Akiyoshi, and Dave Holland, in addition to traditional jazz compositions written by artists such as Duke Ellington (during a collaborative retrospective of Ellington's music in 1990 with the Brown Dance Extension).
Orchestra
All members of the Brown University community, including undergraduate and graduate students, faculty members, and staff members, are welcome to take part in the Brown University Orchestra. Participants can also come from the RISD community if they meet the requirements. Musicians from the surrounding community are encouraged to try out for the group and may be offered positions if there are vacancies.
Everyone who plays an instrument and is interested in joining the orchestra is required to audition during the autumn season, and this includes returning members. People who will not be in the country or otherwise unavailable during the fall should schedule their auditions to take place at the beginning of the spring semester.
String quartets and other chamber groups can sometimes find compensated chances to perform at social occasions both on and off campus. Notify the director of your interest in playing for such occasions if the members of your ensemble would like to do so.
In addition, during the autumn semester of each year, the Brown University Orchestra hosts its annual concerto competition in order to provide the chance for its members who possess the highest level of talent to perform as soloists with the orchestra.
This privilege is also offered to musicians at Brown whose fields of expertise do not typically permit membership in an orchestra, such as pianists, vocalists, and performers of guitar, saxophone, and other instruments that are not typically found in orchestras.
Wind Symphony
There is no other kind of musical organization that is more ingrained in the annals of American history than the concert band. The distinctive character of Brown University is mirrored in the Brown University Wind Symphony, which is known for its strong sense of community and democratic consensus among its members.
Students majoring in fields as varied as Engineering and Egyptology contribute their talents as musicians, conductors, and composers to the department's band, making it one of the most diversified organizations available within the department.
The Wind Symphony's repertoire includes well-known works by composers such as Holst, Mozart, and Hindemith, as well as recent compositions made for unusual configurations of wind instruments. In recent years, concerts have featured a wide variety of amazing guest artists from all over the world.
World Music Ensemble
Based on the broad musical experiences of the instructors, this band has an emphasis on the percussion and song traditions of different parts of the world, particularly those of the African diaspora.
In this setting, traditional musicians from all around the world, including bongo, gyil, ukulele, and tabla, collaborate with western instrumentalists. The students will grow and develop their musical skills by learning new techniques on their own instruments and exploring a range of repertoire representing genres such as highlife, reggae, salsa, afrobeat, Afro-jazz, and global fusions. This will allow the students to grow and develop their musical skills.
There will be one-of-a-kind chances to practice improvisation while drawing inspiration from musicians such as Steve Reich, Tito Puente, Randy Weston, Hugh Masekela, Paul Simon, Miriam Makeba, Ghanaba, and Milton Nasimiento.
Old-Time String Band
In Brown's old-time string band, musicians who play the fiddle, banjo, mandolin, and guitar create the high, lonesome sounds that are characteristic of traditional music from the Southern Appalachian Mountains. Everyone in the Brown community who can play their instrument at an intermediate or better level is encouraged to sign up to participate.
The old-time string band does not practice in preparation for a performance; rather, they take the format of the jam session as their model, with the intention of picking up new tunes, getting better at playing the ones they already know, and simply taking pleasure in the music and the company of one another. When the weather is nice, the band may sometimes play outside in public, where passersby may linger to listen to the music.
Want to learn more about the Brown music program? You've come to the right place. At AdmissionSight, we have over 10 years of experience guiding students through the competitive admissions process.
AdmissionSight can help you put your best foot forward when applying to college. Contact us today for more information on our services.