Cornell Campus Tour
Unlocking the gates to knowledge and discovery, the Cornell campus tour offers a captivating glimpse into the heart and soul of this esteemed institution. Nestled amidst the picturesque landscapes of Ithaca, New York, the Cornell campus beckons with open arms to all who seek to explore its hallowed grounds. Whether you're a prospective student eager to chart your academic journey or an inquisitive traveller drawn to the allure of higher education, the Cornell campus tour promises an immersive experience that goes beyond mere sightseeing.
Is the Cornell campus open to the public?
Is it possible for anyone to visit the Cornell campus? The campus is accessible to members of the general public. Students who are considering applying to the university are encouraged to visit. Visitors can get an insider's perspective on what sets Cornell apart from other educational institutions by taking the Cornell campus tour.
Visit the campus to get an insider's perspective on the factors that influence students' decisions to make Cornell their educational destination and their intellectual home.
In-Person Campus Tours
All campus tours require prior registration as a prerequisite. Please register in advance of your trip to Ithaca, as there will be a limit on the number of spots available. Please register in advance of your trip to Ithaca, as there will be a limit on the number of spots available. In addition, the requirements for public health must be adhered to by any guests who intend to take a tour of the campus.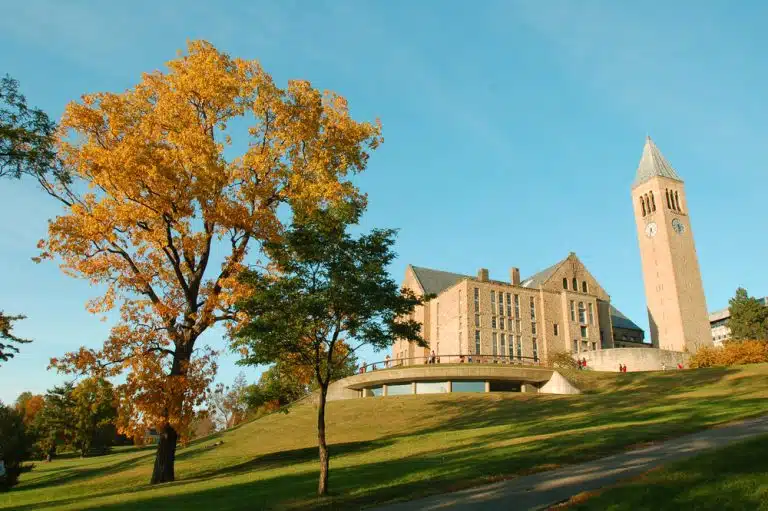 Visitor Relations serves as the entry point to Cornell's Ithaca campus, providing prospective students and their families, as well as alumni and visitors from the surrounding Ithaca area, with information and campus tours.
Visitors are welcome to stop by the Martin Y. Tang Welcome Center between the hours of 8 a.m. and 5 p.m., Monday through Friday, and between 8 a.m. and 3 p.m., Saturdays. Staff members in Visitor Relations are on hand to provide assistance and respond to general inquiries.
Special & Group Tours
Unfortunately, Cornell is unable to fulfill special requests for group tours or specialized experiences. Please check back at the website of the university for any updates.
COVID-19 Guidelines
People who are going to visit the campus or take the Cornell campus tour are strongly encouraged to get an antigen test before they go so that they can determine whether or not they should stay home if they are feeling sick.
While wearing a mask is not required in the majority of the spaces on campus, doing so is strongly encouraged. It is well known that lowering the risk of getting COVID-19 or spreading it by donning a mask of sufficient quality while inside a building can be accomplished. The decision to cover one's face is a deeply personal one, and no one else should be made to feel uneasy as a result of another person's choice to do so. In hospitals and other medical facilities, wearing a mask is mandatory.
The university does not check the vaccination status of campus visitors, but visitors are strongly encouraged to have received a primary COVID-19 vaccine series and be up to date on eligible boosters. The university does not check the vaccination status of campus visitors. If event organizers have questions about the COVID practices that are currently in place, they can contact the Cornell Campus Public Health Support.
Does Cornell have a virtual tour?
Is there a way to explore Cornell virtually? At this time, Cornell University strongly encourages prospective students, as well as their families and advocates, to meet virtually through live sessions and recordings that are posted on the university's websites.
Cornell has had a lot of success with its virtual outreach, which aims to provide information and connections to students all over the world, and the university plans to keep doing these kinds of things.
Virtual Visits
Visitor Relations and the Office of Undergraduate Admissions will continue to provide recorded as well as virtual Livestream campus tours and information sessions for anyone who is interested in learning more about Cornell but is unable to take the in-person Cornell campus tour.
Take note that demonstrated interest is not something that Cornell University keeps track of. It is neither required nor expected of applicants that they come to campus. Students have the opportunity to speak about how well they would fit in at Cornell as well as their interest in the university through the application's specific essay questions.
Visit Alternatives
The majority of potential students are unable to tour the campus before enrolling, and that is perfectly fine. From the convenience of your own home, you can educate yourself on Cornell in several different ways. You can:
Attend a Virtual Visit
Take a Virtual Campus Tour
Watch online information session
Meet the students
Learn more about Cornell's colleges and schools
Email a current student
Read the admissions blog
Connect with Cornell Admissions on social media
Watch the latest interviews, lectures, and Cornell video productions on CornellCast
Get the inside scoop with the Cornell Daily Sun, an independent, student-run newspaper.
Check out the live view of campus.
Watch the "Glorious to View" video.
See when Cornell will be in your hometown!
How long is the Cornell campus tour?
How long does it take to tour the Cornell campus? Tours of the campus typically last about an hour and a half and are designed with the experience of an undergraduate student in mind. The tours will take place regardless of the weather, so please dress appropriately. Visitors are required to adhere to all public health guidelines, including Cornell's policy regarding masks.
What can you see at Cornell?
What kinds of things are there to see at Cornell? On April 27, 1865, Cornell University was established as a learning institution. The primary campus of Cornell University is located on East Hill in Ithaca, New York.
From the top of East Hill, the Ithaca Campus offers a view of the surrounding area, which includes the 38-mile-long (61.4-kilometer-long) Lake Cayuga. The Ithaca Campus is located among the rolling valleys of the Finger Lakes region. Central Campus is surrounded by two gorges: Fall Creek Gorge and Cascadilla Gorge, both of which turn into popular swimming holes when the weather warms up (although the university and city code discourage their use).
The Ithaca Campus of Cornell University consists of 745 acres, but the overall size of the university is much greater because it also includes the Cornell Plantations, which cover more than 4,300 acres, and the numerous lands in New York that are owned by the university.
Numerous Cornell University activities and attractions are available to the general public. The vast majority of them are accessible daily and offer free admission. Below you will find a list of some of the most well-known places of interest on the campus.
Cornell Botanic Gardens
The Cornell Botanic Gardens, one of the best attractions to visit during the Cornell campus tour, consist of three primary components: the actual 35-acre botanic gardens, the 150-acre F. R. Newman Arboretum, and the 3,500-acre of natural areas in and around Cornell. The F. R. Newman Arboretum is the largest of the three components.
There are a total of 12 distinct gardens within the botanic gardens. The gardens showcase plants that are native to the state of New York, and each garden has a distinct emphasis on a particular aspect of botany. The Conifer Collection and the Walnut Collection are just two of the many types of tree collections that can be found in the arboretum.
You are free to roam around these collections as you please along the winding paths. The natural areas consist of gorges, woodlands, meadows, and a vast number of other types of terrain. Trails spanning approximately nine miles and dozens of distinct locations can be found in these areas.
A. D. White Library
The A. D. White Library is a haven for people who are passionate about reading and was designed by William Henry Miller. The height of the library is three stories, and intricately designed metalwork forms the walkways between the floors.
You can unwind and enjoy a good book in any one of the many nooks and corners that are available to you. In addition to this, there are a plethora of books. At one point in time, the library housed more than 30,000 books, all of which had been donated by Andrew Dickson White, Cornell's first president. At the moment, the majority of the space that it occupies is devoted to storing books that are primarily concerned with book publishing and book collecting.
Cornell provides a wonderful virtual tour of the A. D. White Library that you can take if you are curious about the history of the building. But if there is one library that you make it a point to go to during the Cornell campus tour and explore for yourself, it should be this one.
Cornell Chimes
A 21-bell chime that is played regularly by student "chime masters" is known as the Cornell Chimes. The bells are housed in McGraw Tower, which is located on the Cornell campus and is utilized to signal the hours as well as for concerts. Concerts are performed daily by chime masters, and anyone is welcome to attend.
There is no need to make a reservation. The available options are very diverse. There is no telling what kind of music you will hear at any given concert; it could be anything from the Beatles to Beethoven to Coldplay. Take into consideration that going to a concert will require you to ascend more than 160 steps. No elevator is available.
Johnson Museum of Art
The Johnson Museum of Art, which was designed by I. M. Pei, is home to a permanent collection that includes more than 40,000 individual pieces of artwork. And one of the best places you shouldn't miss during the Cornell campus tour. The collections feature works by well-known artists such as Andy Warhol, Georgia O'Keeffe, Francisco Goya, and Henri Matisse, as well as works from a variety of cultures around the world.
In addition, there are over 23,000 photographs, prints, and drawings contained within the permanent collection.
The museum features several rotating exhibitions in addition to the collection of items that are kept on display permanently. If there is a specific piece that you are interested in purchasing, you can check the museum's online database to see if it is currently for sale.
Cornell Lab of Ornithology
In addition to its other name, Sapsucker Woods, the Cornell Lab of Ornithology is a bird sanctuary that spans over 230 acres and features more than four miles of hiking trails. (The research facility is situated in Sapsucker Woods.)
You can stroll through densely wooded areas and beside peaceful ponds, all the while observing a variety of bird species in the environments in which they are most comfortable. In addition to guided tours and bird walks, the Cornell Lab of Ornithology features art and science exhibits for visitors to explore. Please take note that we are unable to accommodate any pets, as this goes without saying.
Cornell Orchards
The Cornell Orchards, another stop of interest on the Cornell campus tour, are a primary research and education facility within the College of Agriculture and Life Sciences at Cornell University. They were established in 1910. The University of Cornell maintains two orchards, each of which is home to a unique assortment of fruit trees.
The Ithaca orchard features cider and grape pressing operations, a teaching winery, a postharvest lab, and a retail store where visitors can sample free cider and find an assortment of specialty foods and gift items. Other features include a teaching winery and a postharvest laboratory.
Fuertes Observatory
Estevan Fuertes, who served as dean of the Engineering School in 1873, is honored with the naming of the observatory. This building is not being used for research at this time; however, on Friday nights, when the sky is clear, it is open to the public for astronomical viewing.
The Heasley Mineralogy Museum and Rock Parks are open to the public. Minerals, fossils, lapidary works, and antique instruments can be found in the secluded display case that can be found at the very top of Snee Hall. Continue your rock-collecting expeditions outside to view the specimens that are on display in the various rock parks located across the campus.
Herbert F. Johnson Museum of Art
The Herbert F. Johnson Museum of Art is widely regarded as one of the most significant university museums in the United States. It is home to one of the most impressive collections of artworks to be found in the state of New York. Andrew Dickson White, Cornell's first president, is credited with initiating the collection in the 1880s. Hence, it is among the best attractions to visit during your Cornell campus tour.
The building, which was designed by I.M. Pei, is a landmark both at Cornell and in the surrounding community. Do not miss Leo Villareal's Cosmos, a mesmerizing outdoor light installation that is a homage to the late Cornell astronomy professor Carl Sagan and is located on the ceiling of the Sherry and Joel Mallin Sculpture Court.
Liberty Hyde Bailey Conservatory
Discover plant collections that include Cornell's titan arums, also fondly referred to as "Wee Stinky." This flower is one of the world's largest and is famous for the odor it gives off, which has been described as a "rotting corpse." Just outside of the Plant Science Building is picturesque Minn's Garden, which can be reached via a quick stroll. This garden is a great spot to enjoy some peace.
Spacecraft Planetary Imaging Facility (SPIF)
The Space Vehicle Information Facility (SPIF) is a repository of data collected by spacecraft, a facilitator of research, and an educational hub. It is jointly sponsored by NASA and Cornell University. Visitors will have the opportunity to interact with a meteorite, view photographs of the solar system, and view a flag that was presented to Cornell University that was flown aboard the Space Shuttle Columbia.
Veterans Memorials
On the Cornell campus, several memorials pay tribute to Cornell alumni who have served in the armed forces of the United States of America during times of war. You can learn the history of and obtain information about locations all over campus by visiting the webpage that can be found below. These locations include Barton Hall, Willard Straight Hall, Anabel Taylor Hall, and the War Memorial at Lyon and McFadden Halls.
The Cornell campus tour may be one of the things that pique your interest in attending the university. Admission to Cornell University is extremely competitive due to the institution's consistent placement in the top 20 national university rankings. The school has an acceptance rate of only 11%, making it a very competitive process to get in.
As a result, obtaining admission to this prestigious university calls for outstanding academic credentials. You will require aid from college admissions professionals like AdmissionSight if your objective is to be admitted to Yale.
We at AdmissionSight have more than ten years of experience helping students navigate the challenging admissions process so they can enroll in the best colleges in the world. Feel free to schedule a consultation session today.