Dartmouth Likely Letter: What to Know
If you're a student that is interested in one day attending an incredible Ivy League school like Dartmouth, chances are good that you are also interested in learning all that you can about the experience of applying – and getting into – the school.
The truth is that the application process at Dartmouth is just as competitive as it is as the other seven Ivy League schools, and the vast majority of students who apply to Dartmouth do not end up getting in.
While getting accepted at Dartmouth in itself is impressive, an even more elite group of applicants get something that is known as a Dartmouth likely letter.
While students applying to any school in the United States tend not to hear back until they receive an official letter of acceptance or rejection, there is a tiny fraction of hyper elite applicants who do may get a likely letter from Dartmouth, Harvard, Princeton or any of the other schools they apply to.
But what is a Dartmouth likely letter and what does getting a likely letter from Dartmouth truly mean when it comes to your chances of actually getting into the school? On top of that, what can any student do to improve their own chances of getting a Dartmouth College likely letter?
At AdmissionSight, we make it a top priority to give the high school students that we work with from all over the world the tools, strategies and information that they need to give themselves the best chance possible at getting into the schools of their dreams.
Unsurprisingly, those dream schools are often made up of some of the most competitive and prestigious schools in the United States. That is part of the reason why we are so proud of the record that we have when it comes to helping our students get into such schools. In fact, 75.0 percent of the students that we have worked with from one application cycle to the next end up getting into an Ivy League school like Dartmouth, Brown or Columbia or a top 10 school that is not in the Ivy League such as MIT, Stanford or UChicago.
We're especially proud of that track record given the fact that many of these schools have acceptance rates either slightly above or well below 5.0 percent. They are – without a doubt – some of the hardest undergraduate learning institutions for high school and transfer students to get into, but we make that path more realistic for all of our students.
While we are not able to guarantee that any of our students will be among the almost statistically insignificant number of students that end up getting likely letters from these top schools, we surely can help you get your application in the kind of state that will help you become one of the most sought after students in your application class!
So, if you are interested in learning about what it means to get a Dartmouth likely letter, what to do once you receive one, and how you can improve your chance of getting one (and getting into a school as prestigious as Dartmouth at all), then you have come to the right place!
Let's get started on breaking it all down together
What are likely letters?
Before we get into the specifics of Dartmouth likely letters, we wanted to quickly break down the basic facts when it comes to what likely letters are in general and what role they play in the undergraduate admissions ecosystem.
Essentially, highly selective universities and colleges, such as Dartmouth will sometimes write what are known as "likely letters" (also sometimes known as "love letters") to elite applicants who have applied to the school.
These letters are especially popular for students who are being considered to receive merit-based or athletic financial aid such as a scholarship or a full ride. Essentially, these letters are used to give these top tier applicants a "heads up" or sorts that they will likely be admitted to the school before the official decision notifications go out in March and April. The letters are not only used to flatter the applicant, but they are also used to start planning for their enrollment at the school!
Likely letters do effectively have the effect of a letter of admission, but that does not mean that students are as good as in no matter what they do.
Even when a student does receive a likely letter, students do have to sustain "the academic and personal record reflected in the completed application." That means that a student still has to make it a top priority to uphold their great grades and remain involved in their extracurricular activities even after getting a likely letter or official letter of acceptance. Moreover, students need to avoid any run-ins with the police or getting in trouble at school. Given the fact that these types of students are typically very mature and highly focused on their future and success, these kinds of lapses are rare, but they are still important to mention!
Does Dartmouth send likely letters?
Even though we have already established that many of the country's most elite schools do send out likely letters, if you are interested in applying to Dartmouth you should be certain that Dartmouth is indeed on that list. In fact, all eight Ivy League schools are known to send out a small number of likely letters each application cycle. Usually, around 100-200 students are believed to receive a likely letter from each of the 8 Ivies. As Dartmouth says on its official website:
"All Ivy institutions use a small number of likely letters as a way to reassure highly recruited athletes and other outstanding applicants. Most students do not receive likely letters; it's not the usual path to an acceptance. But if you get one, athlete or not, congratulations are in order!"
Beyond that, it is important to know that the vast majority of undergraduate programs in the United States are not known for sending out likely letters. On the whole, it is more commonly a practice that is held up by private schools as opposed to public universities and colleges. Here is a list of schools that are known to send out likely letters:
 Amherst College
Barnard College
Brandeis University
Brown University
Bowdoin College
Clark University
Columbia University
Cornell University
Dartmouth College
Duke University
Grinnell College
Harvard University
Princeton University
Rice University
Smith College
Stanford University
UCLA
University of Chicago
University of North Carolina at Chapel Hill
University of Pennsylvania
University of Virginia
William & Mary
Williams College
Yale University
There are likely many more schools that send out likely letters, but this list should give you a really solid idea of what kinds of schools are known to practice this aspect of the admissions process.
All of this is to say that while Dartmouth does indeed send out likely letters, it is also far from the only school to do so! On top of that, we do want to give a basic idea of how many students can expect to receive a likely letter in any given year if they apply to Dartmouth.
It is generally believed that approximately 1/5th of the students that are eventually offered a spot at Dartmouth will be offered a likely letter. Moreover, about one half of the total number of likely letters are sent to athletes applying to Dartmouth.
So what kind of numbers are we looking at now that we know that approximately 1/5th of students who are accepted to Dartmouth end up getting likely letters? Let's take a look at some of the statistics surrounding the class of 2026 to find out.
In the 2021-22 application cycle, Dartmouth received a total of 28,336 applications. It was just 21 total applications shy of the school's all-time record of most applications ever. That record was set in the 2020-21 application cycle. Of that massive pool, the school reported that the acceptance rate was just 6.2 percent, another record for the school. That acceptance rate tied the all-time mark set by the school in the previous cycle as the most selective in the history of the school.
So, 6.2 percent of the 28,336 students ended up getting in, meaning that around 1,767 students ended up getting an official letter of acceptance. But 1/5th of those students received a likely letter before even getting official word from the school.
So how many students ended up getting a likely letter during the 2021-22 application cycle? Approximately 350 students, and the truth is that the number is probably closer to 100 or 200 students per year. That is an incredibly small number compared to the over 28,000 students that applied to the school that year!
That should give you a pretty good idea of just how hard it is to get one of these letters from Dartmouth or any other Ivy League school.
What does a Dartmouth likely letter typically say?
If you are hoping to one day get a likely letter from Dartmouth, you may be curious about what these kinds of letters typically say. Overall, likely letters are known to be somewhat flattering so entice the student to remain invested in potentially attending that school one day.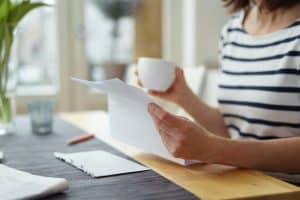 As it turns out, we actually have an example of a likely letter that a student who ended up getting into Dartmouth received when they got their likely letter. As you see, it is quite short and quite complimentary. While some schools include other information such as next steps, financial aid options and more, Dartmouth keeps it short and sweet. Take a look, below:
"Dear ________,
"Greetings from Dartmouth! It is a pleasure to contact you to share some encouraging news.
"We have received your application for admission and think you are an outstanding prospect for Dartmouth. In fact, I recently read your file and was exceedingly impressed with your academic accomplishments and intellectual potential.
"There is no question that when we make our final decisions at the end of March, you will be offered admission at Dartmouth. We hope you will strongly consider joining the Class of _____ next fall!"
To make matters more exciting, letters are almost always written and signed from the Dean of Undergraduate Admissions him or herself. The current Dean of Admissions at Dartmouth right now is Lee Coffin.
Does a likely letter from Dartmouth guarantee admission?
This is a really important thing for any student who is hoping to receive a likely letter from Dartmouth – or any other school for that matter – to know. The question of course is whether or not a likely letter from any school can basically serve as an official letter of acceptance? That answer to that question is a resounding yes!
Especially if that likely letter is coming from an Ivy League school. These schools are not in the business of giving students false hope, and they only send out likely letters if students are truly at the very top of the admissions committee's list of students that it desperately wants to attend in the next fall.
With that in mind, there are some very important caveats to this point. The most important caveat is that students who receive likely letters still need to make sure that they are keeping up with their grades, their extracurriculars and staying out of trouble! Schools do not want to see a student who receives a likely letter immediately start performing poorly in classes or abandoning their extracurricular activities.
Of course, the worst way to ruin a likely letter and end up not getting into that school is by getting in trouble with the law.
With that in mind, it is important to know that even if you receive an official letter of admission from a school, if your grades start suffering or the school finds something that seems to be a cause for concern that occurred after you were accepted, your acceptance can be rescinded. It is very important for students who get into their dream school to not fall victim to "Senioritis" as it is often called.
How to get a likely letter from Dartmouth?
There is no tried and true method for any student to really guarantee that they will end up receiving a likely letter from Dartmouth or any school for that matter. However, there are some traits that we have recognized in students that do end up getting likely letters. Here are the most important ones to keep in mind.
A clear need for additional time to prepare
Perhaps the most common reason for schools to send out likely letters is because they identified a need for additional time to prepare for enrollment from a specific applicant that they think is a perfect fit for the school. These reasons typically are reserved for students who are from very rural or remote areas, are set to be the first person in their family to pursue a college education, or a person who needs substantial financial aid. The likely letter is meant to give that student the additional time they need to enroll in Dartmouth smoothly and comfortably.
Be a distinguished athlete
One of the best ways for students to improve their chances of getting a likely letter from Dartmouth is to be a great student athlete. As a member of the Ivy League, Dartmouth does not award either academic or athletic scholarships. With that being said, that does not mean that the school does not value student athletes.
If a world-class athlete with a highly impressive academic record, especially if that student plays a sport that the school is well-known for, the chances of receiving a likely letter go up dramatically.
Dartmouth has a number of varsity sports teams that it is home to for its undergraduate students, including:
Baseball
Basketball
Rowing
Cycling
Equestrian
Football
Men's Golf
Ice Hockey
Lacrosse
Soccer
Softball
Squash
Swimming
Track and Field
Volleyball
If you play any of these sports and are interested in getting into Dartmouth or getting a likely letter from Dartmouth, make sure to mention your athletic involvement as well as your achievements!
When will Dartmouth likely letters come out?
Per Ivy League regulations, colleges are able to send out likely letters between October 1st and March 15th. Of course, the timing of a likely letter being sent is going to depend entirely on whether a student applies to Dartmouth through early admissions or regular admissions. And when students do get likely letters, they can feel confident that an official acceptance letter is going to follow close behind.
Overall, students who apply to schools via regular admissions are known to receive likely letters more often than early admissions applicants.
Get a Dartmouth likely letter
There is no way to truly guarantee getting a likely letter from a school as selective as Dartmouth. If you are interested in learning more about the Dartmouth application process and what goes into getting a likely letter from this school, contact us at AdmissionSight today to schedule a free consultation.