A Closer Look at Dartmouth Medical School
Dartmouth Medical School, now known as the Geisel School of Medicine at Dartmouth, was founded in 1797, making it the fourth-oldest medical school in the United States. Originally established by a Dartmouth College Trustee and New Hampshire's governor, John Wheelock, the institution addressed the dire need for trained physicians in rural areas.
The school's early curriculum was based on the model provided by Edinburgh University's medical school, which emphasized direct observation and hands-on experience. Over the centuries, the school has grown and evolved, consistently maintaining a commitment to innovative medical education and research. In 2012, the name of the school was changed to the Geisel School of Medicine in honor of Audrey and Theodor Geisel, better known as Dr. Seuss, in recognition of their generous support.
Today, the Geisel School of Medicine is renowned for its pioneering advancements in medical education, clinical care, medical research, and health care policy. Its reputation for excellence is bolstered by a strong emphasis on student-faculty interaction, a focus on primary care, and a commitment to serving communities.
The school's unique approach to medical education, which encourages students to engage with the health care system from their first days of study, has established Dartmouth as a leader in the field. Its graduates are widely recognized for their clinical acumen, leadership skills, and dedication to service.
Dartmouth Med School Location and Campus Facilities
The Dartmouth Med School is in Hanover, New Hampshire, a picturesque New England town nestled along the Connecticut River in the Upper Valley region. Hanover is known for its charming, vibrant downtown area, scenic landscapes, and tight-knit community. The area offers a serene setting for study, with plenty of opportunities to do outdoor activities such as hiking, skiing, and kayaking.
Despite its small-town feel, Hanover has rich cultural offerings with art galleries, theaters, and various restaurants and shops. Its location also provides access to world-class medical facilities, including the Dartmouth-Hitchcock Medical Center. Hanover's safe, welcoming environment contributes to a well-rounded medical education experience at Dartmouth.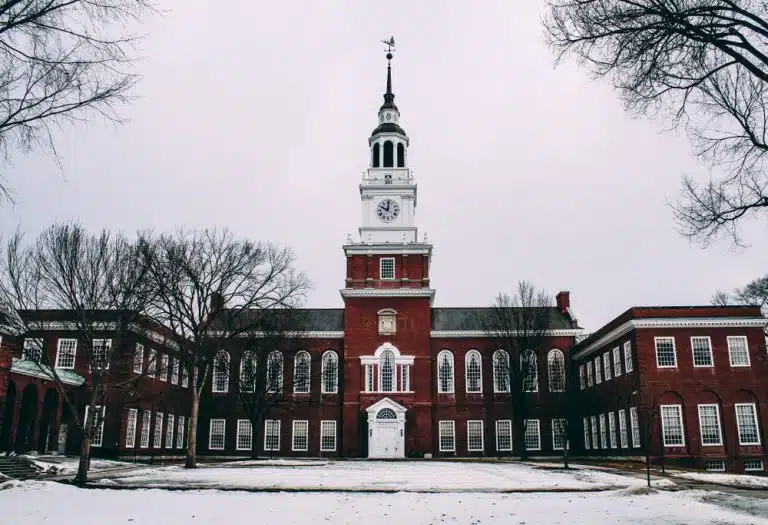 The Dartmouth Medical School boasts state-of-the-art campus facilities designed to foster an enriching and collaborative learning environment. The classrooms and lecture halls are modern and equipped with advanced technology to facilitate interactive learning. These spaces accommodate teaching styles, from traditional lectures to small group discussions and workshops, and feature cutting-edge audio-visual equipment for presentations and teleconferencing.
The school is also home to numerous top-tier research laboratories, where faculty and students engage in groundbreaking medical research. These labs have the latest scientific equipment, providing the infrastructure for various biomedical investigations. In addition, the school has comprehensive medical libraries that house extensive collections of books, journals, and electronic resources.
The libraries also offer study spaces, computer workstations, and access to medical databases and research assistance for students and faculty. These facilities create a supportive and stimulating environment for medical education and research.
Dartmouth Academics
Overview of Academic Programs
The Geisel School of Medicine at Dartmouth offers a comprehensive range of academic programs that span the spectrum of medical education. Its Undergraduate Medical Education program leads to a Doctor of Medicine (M.D.) degree. This program integrates clinical, research, and health systems science, offering students an innovative and hands-on approach to medical learning from the beginning of their studies.
For Graduate Medical Education, the school offers numerous residency and fellowship programs in partnership with Dartmouth-Hitchcock Medical Center, providing advanced clinical training in various specialties. Dartmouth's Postgraduate Medical Education programs also include Master's and Doctoral degree options in fields like Public Health, Clinical and Translational Science, and Health Care Delivery Science.
These programs are designed to provide in-depth knowledge and research skills in specific areas of medicine, preparing students for careers as healthcare leaders, clinicians, and researchers. The breadth and depth of these Dartmouth academic programs highlight the school's commitment to training well-rounded physicians and healthcare professionals capable of addressing contemporary health challenges.
Special Programs and Opportunities
The Dartmouth Medical School offers a wealth of special programs and opportunities designed to broaden students' perspectives and skills in medicine. The school is known for its robust dual-degree programs.
For instance, the MD-MPH (Master of Public Health) program equips students with skills to address population health and health policy issues. In contrast, the MD-PhD program is designed for students interested in becoming physician-scientists, merging clinical medicine with biomedical research. The MD-MBA program, in collaboration with Dartmouth's Tuck School of Business, prepares students for leadership roles in healthcare management.
In addition, Dartmouth offers exchange programs in collaboration with international institutions. These programs allow students to spend part of their study abroad, gaining exposure to different health systems, cultures, and medical practices. These special programs and opportunities further Dartmouth's mission to produce well-rounded, globally competent medical professionals.
Research Opportunities
Research is a fundamental component of the Geisel School of Medicine at Dartmouth's mission. Students have many opportunities to engage in cutting-edge research across various biomedical fields. These opportunities extend from basic science research, investigating the molecular mechanisms of disease, to clinical research, focused on improving patient care and outcomes.
The school encourages students to participate in research projects as early as their first year, fostering a deep understanding of the scientific process and evidence-based medicine. There are numerous research centers and institutes at Dartmouth, such as the Norris Cotton Cancer Center and the Dartmouth Institute for Health Policy and Clinical Practice, where students can collaborate with experienced faculty mentors on impactful research projects.
Additionally, summer research internships, independent study projects, and the opportunity to complete a scholarly thesis project further enrich the research experience for students. Through these opportunities, students contribute to the advancement of medical knowledge and develop critical thinking and problem-solving skills that will help them throughout their medical careers.
Teaching Methods and Pedagogical Approach
The Dartmouth Medical School employs innovative teaching methods and a unique pedagogical approach centered around patient-focused learning and early clinical exposure. Students begin learning about the human body and diseases in an integrated, organ-system-based curriculum from the first year, blending classroom learning with practical, hands-on experience.
The teaching methods include traditional lectures, small group discussions, laboratory work, and simulated patient interactions. Problem-based learning is heavily emphasized, wherein students work in small teams to solve complex clinical problems, fostering critical thinking, teamwork, and communication skills.
Additionally, Dartmouth is known for its On Doctoring course, a longitudinal program where students learn clinical skills and professional development directly from faculty mentors in real-world clinical settings from the first weeks of medical school. This combination of innovative teaching methods and early clinical immersion aims to produce well-rounded physicians who are knowledgeable and skilled in patient care and problem-solving.
Dartmouth Medical School Admissions
Admission Requirements
The Geisel School of Medicine at Dartmouth has a competitive admissions process considering various factors. Academic excellence is essential, with prospective students expected to have a strong foundation in natural sciences, mathematics, and humanities. While a specific major is not a requirement, all applicants must complete prerequisite coursework in biology, chemistry, physics, and mathematics.
The Medical College Admission Test (MCAT) scores are also crucial to the application. However, Dartmouth also adopts a holistic admissions approach, considering non-academic factors. These include experiences in healthcare (such as clinical shadowing or volunteering), research, leadership roles, community service, and other activities that demonstrate a commitment to the medical profession.
Personal qualities like empathy, resilience, teamwork, and communication skills are highly valued. The school encourages applications from a diverse range of candidates, including those from underrepresented medical backgrounds. Applicants must be U.S. citizens, permanent residents, or hold DACA status. International applicants are also considered, but they must have completed their premedical coursework at a U.S. or Canadian college or university.
Application Process
The application process for Dartmouth Medical School is facilitated through the American Medical College Application Service (AMCAS), a centralized application service used by most U.S. medical schools. After submitting the AMCAS application, including sections for academic history, work, activities, and personal comments, selected candidates are invited to complete Dartmouth's secondary application.
This secondary application includes additional essays to provide a more comprehensive understanding of the applicant's experiences, skills, and motivations for pursuing medicine. The school also requires letters of recommendation, which should ideally come from individuals who can provide insight into the applicant's suitability for a medical career. After thoroughly reviewing the primary and secondary applications, promising candidates are invited for an interview.
The interview day is an essential part of the application process, providing an opportunity for the applicants to learn about the school and for the Dartmouth Medical School Admissions Committee to assess the applicant's interpersonal skills, motivation for medicine, and fit with the school's mission and values. The admissions committee conducts a final review following the interview to make admissions decisions.
Dartmouth Alumni and Post-Graduation Success
Notable Alumni
The Geisel School of Medicine at Dartmouth has produced numerous distinguished alumni who have significantly contributed to medicine and beyond. One such notable alumnus is Dr. C. Everett Koop (MD, 1941), who served as the U.S. Surgeon General from 1981 to 1989 and was instrumental in efforts to combat tobacco use and HIV/AIDS.
Dr. James Strickler (MD, 1950) is another prominent alumnus who served as Dean of the medical school from 1973 to 1981 and played a key role in developing Dartmouth's biomedical research enterprise. Dr. Norman E. "Ned" Sharpless (MD, 1993) currently serves as the director of the National Cancer Institute.
Dr. H. Gilbert Welch (MD, 1984) is a well-known researcher and writer who has significantly contributed to understanding overdiagnosis and overtreatment in healthcare. These individuals, among many other accomplished Dartmouth Alumni, exemplify the diverse impact that Geisel School of Medicine graduates have had in advancing health and medicine.
Career Outcomes and Residency Placements
The Geisel School of Medicine graduates at Dartmouth have a strong track record of successful career outcomes and residency placements. They are well-prepared to enter any field of medicine, from primary care to highly specialized surgical disciplines. Dartmouth's rigorous training and emphasis on clinical skills have consistently resulted in a high match rate in the National Residency Matching Program, with students securing positions in prestigious residency programs nationwide.
These residencies span diverse specialties, including internal medicine, pediatrics, surgery, psychiatry, and more. Graduates often pursue careers in various settings, including academic medicine, private practice, healthcare administration, public health, and biomedical research. Dartmouth's comprehensive education, clinical training, and research opportunities equip students with the knowledge and skills needed to succeed in their chosen paths and make meaningful contributions to improving healthcare.
Alumni Network and Support
The Dartmouth Medical School boasts a strong and active alumni network globally. This community serves as a valuable resource for current students and fellow alumni, offering mentorship, networking, and career development opportunities. The school's alumni relations office organizes various events and reunions, fostering a strong sense of community and connection among graduates.
Moreover, many alumni remain engaged with the school, contributing their time and expertise to support current students through mentoring, teaching, and offering shadowing opportunities. Dartmouth also has a robust career services office that supports alumni, including career counseling, job search resources, and professional development opportunities.
As you learn about Dartmouth Medical School, your college admissions to that university should be next on your mind. To ensure that you get into Dartmouth, you can get help with AdmissionSight. With ten years of experience with college admission experts, AdmissionSight can help you get into Dartmouth. You can talk to our experts today to get an initial consultation.