Harvard Pre-College Programs
Through the Harvard Pre-College Programs for high school students, you will develop superior academic skills as well as incredible memories that will be with you for the rest of your life.
On Harvard University's campus, you'll develop the skills necessary to live on your own. You'll have the opportunity to meet people from all over the world. And by putting in a lot of effort and studying thoroughly, you'll be able to enhance your knowledge while participating in an immersive college course.
Your time spent in high school will be significantly improved as a result of these experiences. As you prepare to begin your journey through college, the Harvard Pre-College Programs will put you on the right track.
What do pre-college programs mean?
What do pre-college programs mean? High school students who are interested in furthering their education have the opportunity to attend college or university programs through their participation in a pre-college program, which often takes place over the summer months.
Students are able to form a more accurate mental image of what their lives would be like if they joined the specified college after completing their high school education thanks to this activity.
Students have the option of participating in pre-college programs that are residential, in which case they would live in the college's dorms with their fellow classmates, or commuter, in which case they would remain at home and travel to the school each day. Pre-college programs typically last anywhere from one to eight weeks.
Students have the opportunity to attend a variety of lectures and take part in other social activities on campus while participating in these programs.
Some high school juniors and seniors who are interested in participating in pre-college programs have the opportunity to do so, while other programs may choose their participants through a variety of means. A standardized test, an essay, or a recommendation from a teacher are all examples of these procedures.
The Harvard Pre-College Programs are intensive summer programs that last for two weeks and are aimed at offering high school students a taste of what it is like to be a college student on the Harvard campus.
What are the pre-college programs at Harvard?
What are the pre-college programs at Harvard? During the course of each summer, Harvard University plays host to a number of summer programs geared specifically toward high school students. Participants in these programs get the opportunity to experience pre-college living at Harvard as well as great academics on the university's campus.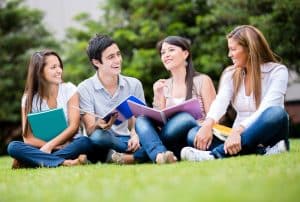 Every year, the Harvard pre-college programs host three distinct summer programs geared specifically toward high school students. These events are hosted on campus and are made possible by the institution when they do take place in person.
Harvard Pre-College Program
Harvard Secondary School Program
Harvard Academies @ Home
Harvard's Pre-College Program
Students in high school who are interested in participating in an intensive summer enrichment program have the option of enrolling in Harvard's Pre-College Program. This curriculum would be a good fit for high school students who are mature and committed to their academics.
Participants in the pre-college program attend one class that does not count toward their degree and participate in a wide range of extracurricular activities with their classmates over the course of two weeks.
Students are provided with a written evaluation from their professors at the conclusion of the program. This feedback can serve as an outstanding addition to the student's college applications.
Students have a choice among thirty different classes that fall into the following categories:
Business and Leadership
STEM
Race, Gender, and Ethics
Speech, Writing, and Literature
Psychology, Medicine, and Public Health
Law, Politics, Philosophy, and History
The Secondary School Program
Consider the versatile 7-week Secondary School Program offered by Harvard University for high school students who are looking for a longer summer enrichment program. It is one of the Harvard pre-college programs where participants can get access to over 200 different classes and earn academic credit for the courses they attend, which are taught by Harvard faculty members.
The Secondary School Program offers a variety of classes that put an emphasis on several career tracks. These classes give students the opportunity to figure out what they want to study in college. Participants have access to various advising services so that they may make sure they are enrolling in the most appropriate classes based on their unique interests.
The following types of classes are included in career pathway programs:
Animal Transgenesis: A Laboratory Primer on Genetics
Becoming a Brain Scientist: Neuroscience and Psychology Research
Basic Journalism in the Digital Age
Connecting to the World Through Chemistry
Introduction to Entrepreneurship
Problem Solving and Project Design
Start-Ups from the Perspective of Business and IP Law
Harvard Academies @ Home
Students in high school are given the opportunity to receive instruction from Harvard undergraduates through the Harvard Academies program. Participants in academies have the opportunity to engage in an in-depth study of any academic field that piques their interest thanks to the program's combination of demanding coursework and practical application.
In the year 2022, students will have the choice of attending classes on or off campus.
Participants in the academies who are interested in gaining on-campus experience in 2022 have the option of pursuing either business, coding, or pre-medical programs. In addition, pre-law and politics are both available through online platform.
The goal of the initiative is to facilitate connections between high school students and mentors who are currently enrolled as undergraduates at Harvard.
Business Academy
Participants at the Harvard Firm Academy are provided with all of the information that they require to learn everything there is to know about starting their very own business.
Participants in one of the Harvard pre-college programs are taken through the entire process of becoming entrepreneurs, beginning with the generation of ideas and ending with the formulation of a business plan. At the conclusion of the session, participants will present a pitch for their businesses.
Business Consulting Academy
Attending the Harvard Business Consulting Academy will allow you to gain an understanding of what it takes to be a successful business consultant.
Over the course of two weekends, you will learn the ins and outs of a variety of business topics, including market size, mergers and acquisitions, profit and loss, and more. Case studies from Harvard Business School will also be discussed and analyzed by participants.
Coding Academy
Participants in Harvard's Coding Academies can choose to study either the foundations of web development or the fundamentals of coding (Coding Level 1) during their time there (Coding Level 2). Obtain an expert level of knowledge in both Python (Level 1) and React (Level 2).
Politics Academy
Students in high school who are interested in politics have the opportunity to take a comprehensive course through the Politics Academy @ Home that covers the fundamentals of the topic, including theory, campaign management, and international relations.
Students work on a policy project in groups with their classmates, and the capstone of the program is a presentation of their collective research.
Pre-Law Academy
Students in high school who have a strong interest in the legal system will find a lot to like about the Pre-Law Academy at Harvard. Learn about seminal court cases from the United States, the concept of due process, and what it takes to get ready for the LSAT and beyond. Develop your talents in order to enter a pre-law program at a university.
Pre-Med Academy
Are you thinking about majoring in pre-medicine in college? The Pre-Med Academy is one of the Harvard pre-college programs that provides high school students who are interested in medicine with a comprehensive introduction to the pre-med curriculum (Level 1) as well as emergency room patient care (Level 2).
Students are also given an overview of the MCAT procedure throughout their time at the Level 1 Academy.
Are pre-college programs worth it?
Are pre-college programs worth it? Students in high school who participate in summer pre-college classes reap various benefits from their participation. They receive a taste of the campus as well as the atmosphere of college life when they take a class that is offered at a college or university.
They are also able to meet people who are already enrolled in college, which gives them the opportunity to maybe form friendships with people their own age before they start school.
The Harvard Pre-College Programs are designed to give you the opportunity to become familiar with the academic requirements of colleges and universities without the stress of grading. You may investigate a field that you think you might want to major in, or you could investigate something that sounds fascinating and do it just for fun.
The courses in the Pre-College Program are, nonetheless, very rigorous. You should plan on spending two to four hours a night on your homework in addition to the three hours that you will spend in class each day. In order to graduate from the program with honors, you will need to make it to every class, participate actively in the discussions there, and turn in all of your work.
In addition, participation in the Harvard Pre-College Programs can aid a student in a number of significant ways to improve their chances of being admitted to college.
It is evidence of your capability to do well in challenging college work if you are able to complete a pre-college program with flying colors. In addition to this, it demonstrates to the admissions committee that you are a highly motivated and dedicated student who is willing to put in extra effort to achieve success.
The most significant aspect of the Harvard Pre-College Programs is that they are intended to provide you with the resources you need to successfully navigate the process of applying to colleges.
The programs that are offered by Harvard in preparation for college include workshops on how to write your college admissions essay, seminars on understanding the process of applying for financial assistance, and panel discussions on how to select the appropriate college. Even more, Harvard hosts a series of forums featuring admissions officers from other colleges and universities from all across the country.
Students who have participated in activities like these are more likely to be well-prepared for college and have an easier time navigating the application process. Even in this age of widespread COVID infection, there are numerous compelling reasons to enroll in a school that prepares students for college.
Therefore, when you finish the pre-college program, you will be prepared to immediately begin the process of applying to colleges and submitting applications.
Want to learn more about the Harvard pre-college programs? You've come to the right place. At AdmissionSight, we have over 10 years of experience guiding students through the competitive admissions process.
AdmissionSight can help you put your best foot forward when applying to college. Contact us today for more information on our services.