International Students at UCLA
How Does An International Student Get Into UCLA?
International students at UCLA come from all around the world. The institution accepts students from around 90 different nations every year. The diverse range of experiences and backgrounds that students bring to the campus community contributes to UCLA's reputation; ranking 14th place among the Best Global Universities. The school believes that diversity helps students get ready to work in a multicultural society. By being a diverse and welcoming community, UCLA is establishing the foundation for students to succeed no matter where their future takes them.
Academic Requirements
If you have completed high school and have not enrolled in a regular session at a college or university, you are considered a freshman applicant. When making admissions decisions concerning prospective students, the UCLA admissions committee takes a variety of factors into account. They look for students with strong academic records, experience, and compelling personal narratives that highlight the students' positive traits.
Required Courses
There is no set academic path that students must take, although UCLA expects applicants to attain good grades in the most challenging courses they can choose from, including AP or IB programs.
The 15 A-G courses are required for prospective students, at least 11 of which must be finished before the commencement of their final year in high school. The following items are in the A-G requirements list:
Social Science and History: 2 years
English (college preparatory): 4 years
Mathematics: 3 years (four years recommended)
Laboratory Science: 2 years (three years recommended)
Foreign Language (other than English): 2 years (three years recommended)
Visual and Performing Arts: 1 year (if available)
College-Preparatory Elective: 1 year
Education System Requirements
Depending on your country or educational system, you might need to fulfill additional admission requirements, adhere to specific instructions for filling out the undergraduate application, or provide specific documents after being accepted.
Application
Now, how does an international student get into UCLA? First, you must register for a UCLA application account to apply for any course at UCLA. The school does not accept the Coalition App or the Common App, in contrast to many other universities.
The UC application season runs from November 1 to November 30. The UC application opens on August 1st and does not offer an early decision option. As a result, all materials must be submitted before the final UCLA application deadline on November 30.
Application Fee or Fee Waiver
You must send an $80 application fee as part of the application requirements for international students at UCLA. The application cost is non-refundable and it can be paid by credit card or by mail.
You can also request an application fee waiver if paying the application fee presents difficulty for you and your family. Up to four campuses at UCLA will waive your application fee. This implies that if you apply to more than four schools, you must pay an application cost of $80 for each additional campus.
However, the fee waiver only applies to applicants who are U.S. citizens, permanent residents, or who qualify for AB540 benefits. International students are not eligible for fee exemptions at UCLA.
Citizenship Status
You must enter the country of your citizenship in your application. You must also specify your immigration status and kind of visa if you are not an American citizen.
Transcripts and Official Records
Transcripts from the secondary schools you have attended are required. These records must detail the courses you took, your grades, and any national or government certificates you received.
All college or university coursework documentation must be submitted in both the original language and an English translation. Do not submit these documents right away. If you get admitted, instructions will be in your admission packet.
Activities and Awards
Make a list of the accomplishments and honors you are most proud of, as well as those that you think, will help UCLA see you as a strong applicant. The distinctions and accolades are divided into six groups:
Award or honor: Any awards or commendations from a state, country, school, or organization
Educational preparation programs: Any program that has improved your academic performance or assisted you in getting ready for college courses
Other coursework: Courses like religion or leadership, that are not necessary for UC admission
Community service or volunteering
Work experience: Work placements, internships, or prior employment
Scholarships and Programs
You can choose any scholarship categories that apply to you in this area. While you're at a UC, the UC system offers support services. You should mention in this portion if you are interested in their Educational Opportunity Program (EOP).
Personal Insight Questions
Eight personal insight questions were compiled by the UC schools. Each response must be 350 words long and students must answer four questions. These personal insight questions help in personalizing your application and provide the admissions committee with some insight into your character, interests, upbringing, and accomplishments. They should be written in your distinctive voice.
Test Scores
UCLA will not use SAT/ACT scores to determine admissions due to the COVID-19 pandemic. However, you may still submit your SAT results. If you provide your test scores, it can be considered to evaluate your level of qualification for the California statewide admissions guarantee. They might utilize it as an alternative method to meet the eligibility requirements.
Language Requirements for International Students at UCLA
Your ability to communicate in English is essential to your success at UCLA. If you finished your entire secondary or high school education in English, you are considered proficient and do not need to fulfill this prerequisite. You will need to prove your English proficiency if you have had less than three years of instruction in English or if you finished all or part of your high school or secondary education in a nation where English was not the language of instruction.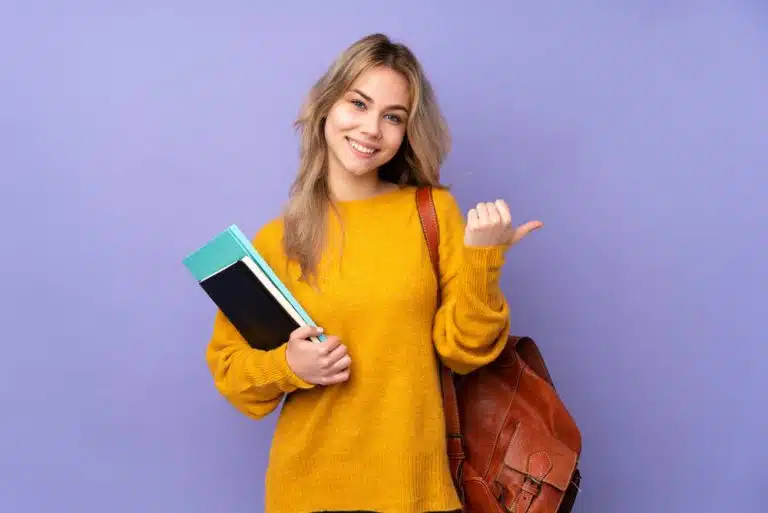 Students must take the Test of English as a Foreign Language (TOEFL), the International English Language Testing Service (IELTS), or the Duolingo English Test (DET) to prove their competency in the English language (Fall 2023 only).  UCLA looks for a competitive TOEFL score above 100 (with sub-scores above 22), an IELTS score of 7 or higher, or a DET score of 120 or higher.
For current applicants, you only need to send your TOEFL results to one UC school; they will be forwarded to all the campuses you apply to however, you must send your IELTS and DET scores to every campus you apply to. You can directly update your TOEFL and IELTS scores on the UC Application website.  DET test results must be uploaded through the DET testing portal; they cannot be changed directly on the application. When sending DET results, remember to include your UC Application ID. All results must be submitted by the end of January.
You may also need to take UCLA's English-as-a-Second-Language Placement Examination (ESLPE) right before the term in which you enter UCLA if you are admitted and your first language is not English. Several terms of a degree may contain specific English courses for international students at UCLA if their test results show a deficit in English. If the test results reveal that a student is seriously lacking in English, he/she will need to improve before being allowed to continue studying at UCLA.
What Percentage Of UCLA Students Are International?
UCLA takes pride in its diverse community and in giving everyone the chance to succeed, regardless of socioeconomic status and citizenship. The capacity of the university to positively influence society by bringing together diverse minds from students around the world is one of its greatest strengths. The information and figures below highlight the breadth and depth of the University of California, Los Angeles.
What percentage of UCLA students are international? There are currently 5,400 international students at UCLA. These students make up 12% of the undergraduate population and roughly 20% of the graduate student body.
Do International Students Get Financial Aid At UCLA?
Do international students get financial aid at UCLA? Undergraduate students who are neither US citizens nor legal permanent residents are not eligible for financial aid or scholarships from UCLA. International students must demonstrate that they have the resources necessary to cover their living and educational costs. For instance, students accepted for Fall Quarter 2022 will require at least $68,474 (with an additional $5,000 advised for personal expenses, contingencies, and summer expenses). Every year, this minimum amount typically increases.
Additionally, it is mandated that all international students at UCLA with non-immigrant visas carry sufficient health insurance throughout their entire education. Students that are accepted will receive more details regarding these prerequisites.
Financial aid and scholarships may be tough to come by for students who are not residents of the country, but there are options available, like foreign scholarships, to help you pay for your education.
When you start searching for your options, keep in mind that you should never have to pay to find or apply for scholarships. Avoid using a scholarship search engine or application if it requires you to provide your credit card number or other financial details before you can use it. There are many top-notch free search engines and reputable scholarship providers that never charge an application fee.
Despite having fewer alternatives than residents, international students can nevertheless take advantage of a wide range of resources. When conducting your research, remember that international students typically are not qualified for government financial aid since UCLA is a public school. You should concentrate on looking for outside funds and check out eligibility requirements for citizenship.
Grants and scholarships are given based on both merit and need, with no repayment requirements. On the other hand, loans must be repaid and will eventually accrue interest. Federal student loans have different restrictions than private student loans for international students, which are available through private lenders.
Remember to search for resources in your own country as well. To find out which options are appropriate for your major or area of study, you can also meet with your academic advisor.
Is UCLA Good For International Students?
UCLA provides top-notch academic opportunities thanks to its talented faculty and abundant resources. Additionally, UCLA is a university that genuinely appreciates the presence of international students, offering a variety of services and activities designed specifically to help you make the most of your study abroad experience.
If you wonder "Is UCLA good for international students?" more than 12,000 international students and scholars call UCLA their home. The Dashew Center for International Students & Scholars serves as the main point for providing visa services, resources, assistance, and advocacy on campus to international students, along with scholars and their departments from the moment they arrive at UCLA.
As the best resource for international students at UCLA, its staff offers advice and assistance and makes sure that you have plenty of opportunities while you are studying at the institution. To enhance your educational experience while attending UCLA, the Dashew Center organizes excursions throughout Southern California, hosts activities on campus for cultural and linguistic immersion, conducts workshops, and offers tours of university facilities and resources.
Undergraduate Orientation and Transition Programs
New Student Orientation is the initial step for international undergraduate students. To reduce travel time, international students can choose a session in September or sign up for an orientation program that is both online and in-person.
The College Summer Institute program is also open to incoming freshmen at UCLA. Before the rigorous classes begin, this seven-week residence program enables students to get accustomed to UCLA and the university experience.
Other Educational Initiatives
The educational community is open to students from all over the world, including high school students, through a range of programs, such as summer courses and institutes, longer-term certificate programs, and language immersion programs.
Visa Services
You will be assisted in obtaining and keeping your F-1 visa during your time at UCLA with the help of Dashew Center personnel. The Center also provides you guidance in obtaining the I-20 paperwork you need to present to U.S. Consul Office to acquire your student visa.
Health Insurance
At UCLA, all students, domestic and foreign, must have health insurance. The UC Student Health Insurance Plan (UC SHIP) will be available automatically to most students. Your tuition statement will include this cost. You may waive the fee if you can submit proof for equivalent private insurance. The United States does not have a universal health care system; thus, each person is responsible for securing his or her own health insurance.
The University of California, Los Angeles consistently ranks among the top public universities in the country, and with good reason. UCLA offers amazing opportunities in its academic programs, extracurricular activities, and vibrant campus life. For you to boost your chances of getting into UCLA, make sure to prepare a strong application. AdmissionSight has various programs that could help you in each component of your application.
AdmissionSight has over 10 years of experience in college admissions counseling. We are here to assist you through the tough processes in universities in the US and around the world. Book an initial consultation to discuss your application strategies with our experts.