Pre-med at Brown
At Brown University, the Health Careers Advising team works with students beginning their first year to help them begin finding the correct balance between fulfilling the requirements for their pre-med program and taking advantage of the academic freedom offered by Brown's Open Curriculum. In addition to assisting students as they progress through the required coursework for pre-med, the pre-med at Brown is also home to the program in Liberal Medical Education.
If you are certain that you want to go into the medical field after college, you should investigate the PLME program.
This is a very difficult program, but it gives students the opportunity to be accepted not only to Brown University for their undergraduate studies but also to Warren Alpert Medical School.
Pre-med at Brown requires students to demonstrate that they are capable of maintaining a rigorous academic pace. Also, students must have a commitment to discipline through their participation in extracurricular activities.
Does Brown have a Pre-med?
Does Brown have a pre-med? There is a Pre-Medical Program available at Brown University. Brown provides its candidates with a number of additional pre-health summer programs from which they can select one to participate in.
In addition to this, Brown University's Department of Pathology provides a pre-med program for students interested in attending medical school. In order to apply for the program, students are required to write an essay in which they discuss the reasons for their interest in the program.
The pre-med at Brown have the opportunity to strengthen their leadership skills thanks to Brown University. For instance, Brown University offers pre-med students the opportunity to participate in presentations, leadership conferences, and seminars in a designated area on campus.
Students who are enrolled in the summer program can work as interns in laboratories or under the supervision of faculty members. Students participating in summer programs at Brown University are eligible to receive paid internship opportunities through the university's internship program.
In addition, no other school in the Ivy League offers a combined Bachelor of Science and Doctor of Medicine (BS/MD) degree like Brown University does. Students who are accepted into Brown's 8-year Program in Liberal Medical Education (PLME) have the opportunity to attend Brown University for both their undergraduate and medical school education.
Students who graduate from Brown University are exempt from the MCAT requirement because they are admitted directly into the Warren Alpert Medical School. Students who are convinced that they want to pursue a career in medicine and who want to attend Brown University for the full eight years can benefit greatly from the PLME.
What Percent of Brown Pre-meds Get Into Med School?
What percent of Brown pre-meds get into med school? Getting accepted into pre-med at Brown is not a walk in the park. Brown, a member of the Ivy League and known for its exceptionally rigorous admissions process, granted admission to around 5% of applicants (2,546 out of 50,649) for the class of 2026.
As a pre-med at Brown, everything you do throughout your undergraduate years is done, at least in part, with the intention of eventually enrolling in medical school. The admissions rate at Brown University is 81%, which is approximately 45 percentage points higher than the average admissions rate (38%), which is found at medical schools across the country.
In addition, applicants to Brown who are granted admission to the medical school often do so with an MCAT score that is higher than the national average. It is estimated that as many as 70 percent of Brown students who intend to apply to medical school will instead choose to take a gap year or years.
The Warren Alpert Medical School is known for its rigorous admissions process. The institution received a total of 10,259 applications for the class of 2025 and decided to conduct interviews with 366 of the applicants. One hundred forty-four of the people interviewed for the position ended up enrolling in the school. This group was comprised of 62 unique universities hailing from 34 different states.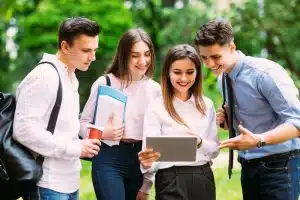 According to the collected data for the Class of 2026, 58% of students entered The Warren Alpert Medical School through the regular pathway (i.e., by finishing a pre-med at Brown, taking the MCAT, and applying), while 37% enrolled through Brown's guaranteed admission program, the PLME.
Which Undergrad is Best for Med School?
Which undergrad is best for med school? When you are an undergraduate student, selecting a major can seem like an impossible task, mainly if you attend a school that offers a diverse range of challenging course options from which to pick.
The Open Curriculum is one of the aspects that sets pre-med at Brown apart from others. This means that there are no prerequisites for "general education" like at many other schools.
Even though this is a source of relief for many students, Brown pre-med students are still required to take a certain number of science, technology, engineering, and mathematics classes, unless they are enrolled in the PLME program, in which case they are permitted to pursue a liberal arts degree during their time as an undergraduate student.
You need to contact the medical schools you are interested in attending to find out what kinds of additional classes would benefit you.
If you want to get into medical school, picking the appropriate pre-med at Brown is essential since it can help you get the most out of your preparation and improve the quality of your application to medical schools.
Select the appropriate undergraduate degree program. You will be able to get significant educational experience in a variety of subject areas, including biology, human anatomy and physiology, biochemistry, clinical practices, clinical research, psychology, genetics, and other areas of study.
Biology
You will gain useful knowledge of the living sciences, biological processes, and human anatomy if you pursue an undergraduate degree in biology. You will learn how a variety of species are able to survive and reproduce, and the classes you attend will demonstrate how your body's many organs coordinate their functions to keep you alive.
You will not only gain knowledge about organisms that are still alive today, but you will also travel through time to find out about creatures that existed a very long time before humanity.
If you want to get as much information as possible regarding life and the myriad of forms it can take, taking a biology class is the way to go.
This degree piques your curiosity and motivates you to keep working for the long-term professional goals you've set for yourself.
Biochemistry
Students who choose to focus their academic studies on biochemistry get an in-depth comprehension of the ways in which living things engage with and are affected by chemical processes. Obtaining a degree in biochemistry can assist students in their preparation for medical school as well as future professions in fields such as immunology and epidemiology.
Following an introduction to the fundamentals of cellular life, you will investigate DNA and genetics, the fundamental components of living things.
You not only learn how genetics affect a person's likelihood of developing certain diseases, but you also gain an understanding of how the color of a person's hair and eyes is determined by genetics.
Prospective employers will take note of your fundamental grasp of life if you have a degree in biochemistry, which proves that you have this insight.
Biomedical engineering
Students pursuing an undergraduate degree in biomedical engineering gain knowledge about the intersection of technology, science, and medicine through participation in both in-class lectures and hands-on laboratory experiences.
Students will ultimately be prepared to develop and operate various biomedical devices such as heart monitors, X-ray machines, and infusion systems after completing this curriculum. Additionally, it prepares students to test and produce goods such as artificial organs or tissue that can assist patients in maintaining their health.
Suppose you pursue an education in this subject. In that case, you will provide the tools you need to succeed in any area of specialization that you choose to focus on later in your studies, provided that you continue your study in this field.
An amazing accomplishment that no employer will be able to overlook is earning a degree in biomedical engineering with a good grade point average. As a result of this accomplishment, you will have many more job alternatives available to you.
Foreign language
It is important to differentiate yourself from other applicants to medical school by completing your undergraduate degree in a foreign language. In addition to this, it proves that you are able to converse with patients who speak a different language and that you are able to function as a translator between patients and medical staff.
You can improve your speaking, writing, and reading abilities in a foreign language like Spanish or French by participating in this program and working through its several stages of instruction. If you do choose to pursue a degree in a foreign language as your major. In that case, you might be required to take additional prerequisite classes in mathematics or the sciences in order to be eligible for medical school.
Psychology
An undergraduate degree in psychology is an excellent preparation for medical school because it gives students the opportunity to acquire in-depth knowledge about the behaviors and mental processes that are often the causes or symptoms of medical disorders, as well as the research skills that physicians need to become familiar with, evaluate, and advance contemporary medical science.
In addition, an undergraduate degree in psychology can be earned in a shorter amount of time than it takes to complete an MD program. Those interested in pursuing jobs in medical subspecialties such as psychiatry, pediatrics, geriatrics, neurology, rehabilitation, sports medicine, or ophthalmology should strongly consider earning a degree with a major in psychology. This is an especially prudent choice.
The following undergraduate psychology courses can assist you in developing the information and abilities that will be necessary for you to not only enter and succeed in medical school but also to thrive as a practicing physician after graduation.
An additional advantage of pursuing a degree in psychology as an undergraduate is the fact that a significant portion of the MCAT is devoted to a psychology and sociology section. This section of the exam contains questions and answers that are identical to those covered in undergraduate psychology courses.
Economics
Although traditional medicine may not have a place for economics, those who perform well in this discipline are logical thinkers with excellent problem-solving skills, which are great attributes for any doctor to have.
A physician who is skilled in mathematical problem-solving may be able to apply those abilities to the resolution of their patient's medical issues, but there are other benefits of having such knowledge. If you work in the public sector long enough, there is a chance that one day you will be in control of a health clinic.
When it comes time for you to manage the budget, having a degree in economics will come in very handy for you. Also, keep in mind that not all medical students examine the financial implications of attending a particular institution before making their decision.
Math and statistics
Majoring in mathematics or statistics might also be an excellent way to prepare yourself for medical school. Even though it is common knowledge that math classes can be challenging, some medical professionals believe that the effort they put forth in their undergraduate studies better prepared them for the effort they would have to put forth as a student in medical school.
They were also better prepared to think critically and analytically, thanks to the math classes they took. Learning mathematics can also help you develop the kind of precision that is necessary for a career as a doctor or surgeon.
What GPA is Required for Brown?
What GPA is required for Brown? There are several institutions that require a minimum grade point average (GPA), but in most cases, this is just the minimal number that you need to have in order to keep your application from being automatically rejected. However, this does not ensure that you will be admitted.
Therefore, the grade point average that should really important to you is the one that actually helps you get into the school. Let's have a look at the average grade point average at the university for the students who are currently enrolled at Brown.
Although most institutions utilize a weighted grade point average out of 4.0, a few publish an unweighted grade point average. We have made an educated guess based on the available statistical data regarding Brown University's average GPA despite the fact that the university does not report it.
The pre-med at Brown requires a cumulative grade point average of 4.08, which indicates that they anticipate you will be around the top of your class. If you want to be competitive with other applicants, you absolutely must strive to earn A grades in every single one of your classes. In addition, in order to demonstrate that you are capable academically, you ought to select the most difficult classes possible (whether they be IB or AP courses).
Want to learn more about pre-med at Brown? You've come to the right place. At AdmissionSight, we have over 10 years of experience guiding students through the competitive admissions process.
AdmissionSight can help you put your best foot forward when applying to college. Contact us today for more information on our services.