Psychology Major at UPenn
Does UPenn Offer A Psychology Major?
Does UPenn offer a psychology major? Let's first quickly determine what this field of study covers. Studies in psychology gain a contemporary grasp of how organisms perceive, learn, think, and interact with one another; how they evolve; how they are motivated; and how they can be compared with one another both individually and as members of the same species. The psychology major at UPenn is an expansive field that covers a wide range of topics, from neuroscience to psychopathology.
At Penn, students who want to major in psychology must complete 13 credits of coursework and will have the opportunity to study the most important areas of scientific psychology. The course is designed to introduce students to contemporary understandings of how organisms perceive, learn, think, and interact with one another.
The major offers a comprehensive analysis of the most significant problems in the field of psychology. This analysis considers the specific research techniques from which understanding is derived as well as the conceptual frameworks that are used to organize the empirical foundations of the field.
Moreover, students can study psychology as an independent fundamental scientific discipline on its own or in collaboration with a wide variety of other fields of inquiry, such as cognitive science, biology, philosophy, linguistics, and sociology. The major is designed to offer students a unified and well-rounded intellectual experience that can either act as a springboard for further study at the graduate level or as a foundation for further education and professions in other areas.
All students must declare a major or minor through [email protected] The undergraduate advising staff will discuss the Psychology major, Psychology minor, and Consumer Psychology minor in detail. They can also assist students with concerns such as course selection, research guidance, and post-college discussions during their undergraduate careers.
Minor in Psychology
Six different courses make up the Psychology Minor. A minor in Psychology is designed to provide the student with a comprehensive foundation in Psychology without requiring them to commit to taking all the required classes for the major. Therefore, the requirements are analogous to those of the psychology major at UPenn in terms of their structure, although they are less stringent overall. Students who want to get a Psychology minor need to have completed at least three PSYC classes that can only be credited toward the minor.
Consumer Psychology Minor
The interschool Consumer Psychology Minor aims to develop a program that will encourage and support the natural connection that exists between Psychology at the College and Marketing at Wharton. Students are required to finish one semester of statistics as well as four classes from the Psychology department in SAS, four classes from the Marketing department in Wharton, and one overall course in statistics to earn their minor.
Honors Program
The Honors Program at Penn was designed to both acknowledge and encourage academic achievement in the field of psychology among Penn's undergraduates, as well as to improve students' ability to conduct psychological research.
The Honors Program is comprised of two basic components, which are as follows: (1) a significant independent research project that lasts for an entire academic year (PSYC 4999), and (2) a complementary Honors Seminar (PSYC 4997).
In the spring of the students' junior year, they will be evaluated and chosen by the faculty to participate in the Honors Program. The student will be given a degree in Psychology with Honors upon graduation if they have been successful in completing all the requirements.
After completing the psychology major at UPenn, many students go on to pursue training as scientists and scholars. Meanwhile, other students choose to pursue professional education in areas such as clinical, counseling, industrial, or educational psychology, in the legal and medical professions, or in business schools.
What Courses Do You Need To Take To Major In Psychology At UPenn?
What courses do you need to take to major in psychology at UPenn? You are required to consult with an advisor at the Undergraduate Office to enroll in a psychology major at UPenn. Before your scheduled advising appointment, you will need to finish filling out your Psychology Major Worksheet and bring it with you to the appointment.
The introductory psychology course is the first class taken by psychology majors (PSYC 001). This introduction to the facts and fundamental ideas that form the basis of the discipline is covered in depth for one semester.
Because it is an integrated examination of the scientific basis of the area, the content of this course is assumed in the other psychology courses, but it is not replicated in any way. Unless otherwise specified, students need to have completed Psychology 001 before enrolling in any subsequent psychology classes at the 100-level or higher.
Students who scored a 5 on the AP exam are exempt from PSYC 0001. In place of PSYC 0001, these students must complete any other 1000- to 40000-level PSYC course, for a total of 13 credits toward the major. Obtaining the waiver should be discussed with the College advisor.
Does UPenn Offer A Master's Degree In Psychology?
Does UPenn offer a master's degree in psychology? UPenn only reviews applications for the doctoral program in psychology.  Students who are primarily interested in earning their master's degree from the University of Pennsylvania cannot be accepted into the department because it currently does not provide a terminal master's degree.
After a student has completed 8 credit units and the research requirements for the first year of the program, they are eligible to apply for a Master's Degree. This degree is permitted as it is advantageous to a student who is pursuing summer employment elsewhere or for some reason, must withdraw from the Department's Ph.D. program.
The Masters in Applied Positive Psychology is not under Psychology Department in the School of Arts and Sciences rather, this program is administered by the College of Liberal and Professional Studies. Please address any questions you may have about the program to the corresponding college.
The purpose of the Doctor of Philosophy in Psychology program is to train students to become researchers who will make important contributions to the field of psychology. Because this is a program with an emphasis on research, the department looks for applicants who not only have the intellectual capacity but also the experience and motivation to become successful researchers.
The Psychology Department also seeks students whose intellectual interests align well with those of the program, considering the compatibility of the student with the program and the compatibility between the student and the potential advisor as well.
Reaching out to potential advisors is not required but highly encouraged in the graduate program. By doing so, you will be able to establish whether your intellectual interests and the research interests of the advisor are a good match. The potential advisor may also have ideas regarding the specific abilities or achievements that would make a student successful in their lab, and they can advise you if submitting a GRE score is necessary.
Last year, the psychology graduate program received about seven hundred applications. Typically, the program accepts between eight and ten new students each year.
It is not necessary to have completed an undergraduate degree in Psychology to be accepted into the program; however, most students who are accepted into the program have completed some Psychology coursework. Take note that throughout the first two years of the program, you will be expected to complete graduate-level coursework in a wide variety of Psychology courses therefore, it is beneficial to have some prior experience in the field.
To assess the applicants to the psychology graduate program, UPenn considers several factors. The admissions team looks at your academic transcript to obtain a sense of your academic prowess. This includes looking at your grades, the level of difficulty of the courses taken, and how relevant the coursework is to the intended study. If you decided to send in your GRE score, it will also be considered for the admissions process.
Both your curriculum vitae and your personal statement will be reviewed to obtain an idea of your research aptitude as well as your interests, abilities, and accomplishments. The admissions officers are going to read your letters of recommendation carefully thus, make sure to submit strong and impressive materials for your application.
Furthermore, the admissions will take into consideration what you want to do once you earn your Ph.D., what research challenges you want to work on during your first year, and who might be your research advisor. There is not a single requirement or benchmark for admission; rather, each prospective student is evaluated through a holistic process.
Is UPenn A Good School For Psychology?
As a recap, the field of psychology interacts with a diverse range of other academic fields as well as interdisciplinary activities. It is possible to use it either as the primary focus of a liberal arts education or as a supporting focus for another primary area of study. It teaches the kind of analytic and conceptual skills that are important for being a thinking person. In addition to this, this field of study might be used as a foundation for different vocations.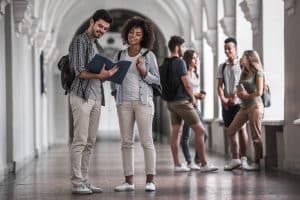 Now, a lot of students are curious "Is UPenn a good school for psychology?" Since 1887, the University of Pennsylvania has been home to the study of psychology. Since its inception, it has placed an emphasis not only on scientific accuracy but also on practical application, albeit not at the same time. James McKeen Cattell, who served as the institution's first professor, was a supporter of the scientific method and meticulous data collection (with expensive apparatus). One of his successors, Lightner Witmer, is credited with coining the phrase "clinical psychology" and establishing the first "psychological clinic" in the United States. He also helped establish the field of clinical psychology.
Since the psychology major at UPenn has become a popular choice for students at the present time, the institution and continuing students have initiated programs and organizations to assist incoming and existing psychology students and to foster the community on campus.
All undergraduate students at the University of Pennsylvania who have an interest in pursuing studies in psychology are welcome to join the Penn Undergraduate Psychology Society (PUPS) organization. PUPS hosts a variety of activities throughout the academic year to facilitate undergraduates' integration into the psychology community at Penn and beyond.
Lunches with members of the psychology faculty, guidance sessions before the start of each semester's classes, round-table talks on pressing issues in the field of psychology, career and graduate school panels, and other activities take place on a regular basis.
All undergraduate students enrolled at Penn are eligible to become members. Everyone is welcome in PUPS, not only those who are studying psychology major at UPenn or those pursuing minor courses in psychology.
Psi Chi is the National Honor Society in Psychology, and it was established in 1929 aiming to support, inspire, and maintain excellence in scholarship while also advancing the science of psychology. Undergraduate students who are considering making the study of psychology one of their primary interests and who meet the minimum requirements are eligible to become members of the organization. In addition to being a part of the Association of College Honor Societies, Psi Chi is also a part of the American Psychological Association (APA), as well as the American Psychological Society (APS).
For graduate students, the Psychology Graduate Group provides a full-time Ph.D. program with curricular and research opportunities in a wide variety of subfields. Some of these subfields include sensation and perception, cognition, language, learning, memory, motivation, psychopathology, judgments and decisions, and social processes. Approaches in the fields of biology, culture, development, experimentation, mathematics, and neuroscience are utilized in teaching and research pertaining to these subjects.
The clinical psychology Ph.D. program offered by The Graduate Group is accredited by the American Psychological Association (APA). The program's primary focus is on developing clinical researchers rather than clinical practitioners.
The Graduate Group is made up of a total of 50 graduate students and 75 academic members. It is widely recognized as one of the most illustrious organizations of its sort anywhere in the globe. Both the Psychology Department and the Graduate Group work together to accomplish their goals. There are no "area groups" in the Psychology Department; rather, students and professors are allowed to define their own areas of interest. These disciplines frequently integrate two or more of the classic subfields of psychology or a subfield of psychology and another subject.
The University of Pennsylvania was ranked 12th among the 2023 Best Psychology Schools among the top universities offering a psychology program in the United States. This only proves that UPenn is a great choice for students who want to major in psychology in a competitive institution.
UPenn is sometimes referred to as the "Social Ivy" because students have active lives outside of the classroom and a "work hard, play hard" mentality dominates the campus. However, despite the school's laid-back atmosphere, the academics are demanding. On top of that, UPenn is a highly selective institution. The acceptance rate for the Class of 2025 was 5.68 percent, a significant decrease from last year's rate of 8.02 percent.
Consider consulting with a knowledgeable admissions expert to improve your application. As stated previously, just 5.68% of Penn's applications get accepted, therefore your application must stand out. Preparing application materials while maintaining good grades in high school would be extremely challenging. That is why AdmissionSight is here to help. We have assisted thousands of students to get into their dream schools for more than ten years now. Feel free to contact AdmissionSight and schedule an initial consultation with our experts today.