Social Life at Harvard
Does Harvard have an excellent social life?
Does Harvard have a good social life? Harvard is a lively community that can make you feel supported and encouraged, and that community includes everyone from your friends and teammates to your professors and House counselors. Home is wherever you make it, and Harvard welcomes everyone.
In addition to its renowned academics and brilliant minds on its campus, the thriving social life at Harvard is to be expected at this institution as well. Students at Harvard know how to balance their academic and social lives. With hundreds of student organizations available, you will often see lots of students engaged in enjoyable activities, and cultural and meaningful events within their groups and even with the entire campus. If you are eager to meet the amazing people at Harvard and are dedicated to entering the institution, our consulting services at AdmissionSight can help you survive its rigorous admissions process.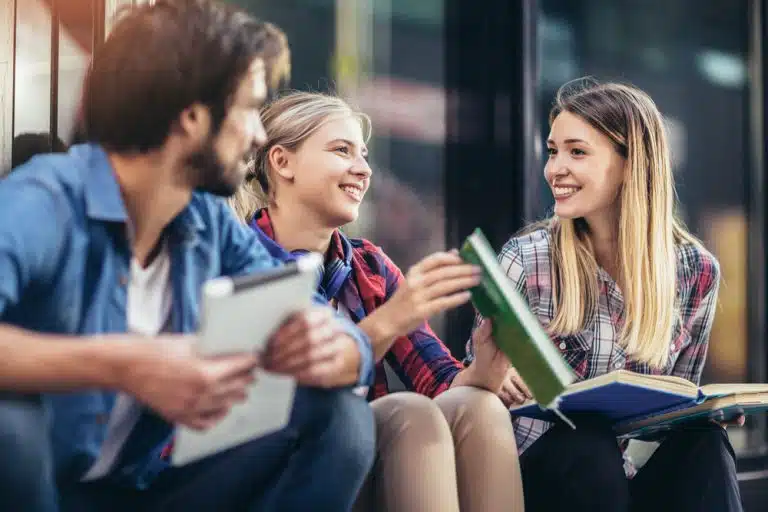 In particular, social life also involves students that are able to readily find their places in Harvard's community, and there is no single dominant group. Students can make some of their closest friends during their first year at this institution through the housing system.
Screaming is even part of its tradition, making the vibrant social life at Harvard even more memorable. Students can also be seen conducting parties on weekends. The majority of students' social lives take place on campus. There are many choices for those who do not consume alcohol, and there is also plenty of alcohol available if that is what you choose.
At Harvard, there are lots of opportunities to enjoy your college life to the fullest.
What do students do for fun at Harvard?
There can be a lot of answers to "What do students do for fun at Harvard?" because of the hundreds of available student organizations and diverse activities, along with other events taking place at the campus. The list of enjoyable things to do at Harvard can be quite long.
It is really unusual to come across a student who is not participating in some kind of group activity. Students tend to take their roles in student groups very seriously as well. The student body is partitioned into houses, which function in a manner analogous to that of Yale's residential colleges. Students "block" toward the end of their first years with a group of friends. Even though all of the houses are now supposed to be the same, there is no doubt that many people think some are better than others.
In particular, Adams continues to be a type of aristocratic home since it is the one with the most golden atmosphere and also because it is the house that is located closest to campus. Students have a tendency to keep the doors to their suites closed when they are upperclassmen, and when they are at home, they tend to socialize primarily with their roommates.
Because some student rooms and suites are really stunning, people tend to leave their suite doors closed. It is important for more students to be aware of the Dudley Co-Op as an option to the Houses and to check it out regardless of whether or not they ultimately choose to live there. Look forward to its big, steaming dinners each and every night; 32 imaginative students living in two Victorian houses; front porches; fresh bread; more affordable than the houses; an unending supply of food; and a lot of affection.
Look forward to fun and entertaining activities on the campus of this institution, and experiencing the entertaining social life at Harvard.
What traditions does Harvard have?
In this part, we will talk about the answers to "What traditions does Harvard have?" that its current students are taking part.
Crimson Fridays
Wearing crimson on Fridays is a great way to show your Harvard passion. On Fridays, members of Harvard's staff and interns will take a stroll around the campus in search of students who demonstrate the highest levels of school spirit. You will be entered into a raffle for a reward if they see you wearing anything crimson or anything that is associated with Harvard College.
Crimson Jam
Students may dine, catch up with friends, and watch a play at the first major social event of the year immediately following the Student Organization Fair. This is also regarded as the first significant social event of the year. At this neighborhood event, you will have your first opportunity to catch up with old friends, establish new connections, and toast the beginning of the new year. There will also be a music festival atmosphere with four of the top student bands from Harvard College, plus a special guest headliner.
Harvard-Yale
The Harvard-Yale football rivalry was the first of its kind in the history of collegiate athletics. It was originally played on November 13, 1875, at Hamilton Field in New Haven and ended with a Harvard victory of 4-0. The students show their utmost support for this popular football game that has a long history, and it is now often referred to as "The Game" across the country.
Housing Day
Students also participate in the fun of Housing Day as part of the dynamic social life at Harvard by observing the process through which first-year students are given their House assignments and upper-level students welcome them to their new homes. The Houses provide a wide variety of options for cultural and social engagement, as well as their very own film, music, art, and theater resources, which can take the form of anything from intimate jam sessions to full-scale opera performances.
By participating in a wide range of competitive intramural sports teams, houses encourage students to take care of their physical health. Students are given the chance to unwind and engage in conversation with other people who are a part of their House community during social occasions such as open houses hosted by the Faculty Dean, formal dances, and coffee hours.
First-year students have until one week before Housing Day to register for the sophomore housing lottery and identify potential housemates for their second year. Housing Day takes place on the first Monday of April.
Upper-level students gather in their respective houses on the Wednesday before Housing Day to prepare to greet first-year students who will be moving in the following day. The t-shirts and movies created for Housing Day allow one to get a feel of the character and sense of humor that each House possesses.
Members of the House Committees rush to University Hall on the Thursday morning before spring break in order to pick up letters for the first-year students to whom they have been assigned to serve as mentors. Each House, accompanied by hordes of applauding upper-level students, marches through the Yard to individually deliver letters to each first-year student and to extend a warm welcome to them. The first-year students have the most difficult time waiting, but by 10 o'clock in the morning, everyone is informed of their House assignment.
As soon as each House secures a location in Annenberg for its new recruits, the atmosphere there transforms into one of a lively party. You may anticipate loud music, the colors of the House, and a festive atmosphere. Students are given a warm welcome to each House by being treated to a special meal, being given a tour of the building, and being introduced to the Faculty Deans, Resident deans, House staff, and student leaders.
Student Organization Fair
Can you imagine how lively it would be to gather nearly 500 student organizations on campus of Harvard? This particular sight makes the active social life at Harvard more eventful.
Tercentenary Theatre is the location of an event held each September by Registered Student Organizations with the goal of assisting you in discovering your community at Harvard. It is possible to feel overwhelmed at first since there are so many wonderful things to select from in one location. Consequently, it might be helpful to begin investigating student groups in advance.
Yardfest
In April of every year, the whole Harvard College community gets together at Tercentenary Theatre for a big barbecue and music festival.
The two student bands that came out on top in the Battle for Yardfest competition, which took place in either February or March, are given the incredible opportunity to perform before the thrilling professional headliner. Students can spend the evening listening to music.
One of the most exciting competitions of musical ability that takes place on campus is the yearly battle of the bands. Students with impressive musical abilities compete for the opportunity to play as the festival's opening act. The student body in attendance will have the opportunity to choose the winners.
What extracurricular opportunities are available at Harvard?
In this part, we will discuss what extracurricular opportunities are available at Harvard that make the campus life of students more exciting.
As was already said, Harvard students can take part in a wide range of activities, including artistic, musical, political, and social ones. They can do this through the hundreds of student organizations, which include dozens of publications, five orchestras, a large community service program, and more than 40 intercollegiate sports teams, among many other things.
As part of the lively social life at Harvard, the institution promotes and supports participation in extracurricular activities since they offer crucial settings for the development of both individuals and friendships. You have the freedom to choose what interests you the most. If you want the most up-to-date information about the top organizations in a specific field, you should talk to upperclassmen who are involved in that area.
Students at Harvard can develop personal growth by taking on a significant role or responsibility in whatever organization they are in, which eventually allows them to make challenging decisions for the organization.
You can even create your own organization and pursue your passion through that organization. For instance, if your organization is extinct, you can still hope someone has similar interests as you and establish worthwhile connections with other groups. By doing this, you are creating a remarkable experience for yourself and the future members of your organization.
The institution's First-Year Social Committee is one of the most significant at Harvard. As you might guess, the goal of the FYSC is to help new students get to know each other and feel safe in their new environment.
Students coming from outside of Boston who is participating in the Host Family Program at the FYSC have the opportunity to become involved with a family from the community.
Students at Harvard can participate in a program that introduces them to a member of the Harvard community and then gives them the freedom to explore on their own. Activities could range from simple check-ins to meals and trips, and the goal is to make sure that new students never feel alone or ignored.
Working at the Harvard Lampoon is a noteworthy extracurricular activity that many students participate in. The famous humor magazine helped launch the careers of many comedians, such as Conan O'Brien and Greg Daniels, the creator of The Office.
Even in the 21st century, the National Lampoon is still an important part of the culture. Its intellectual comedy is read and talked about by millions of people all over the world.
At Harvard, you can find or even create extracurricular activities you would definitely enjoy and create memorable memories with other students.
Does Harvard have social clubs?
Does Harvard have social clubs? As part of the social life at Harvard, its community is home to a wide variety of social clubs. These are separated into two categories: those that are gender-inclusive and recognized by the college, and those that are single-gender and unrecognized and hence susceptible to sanctions by the college.
The typically male-only final clubs are the ones that have been around the longest, having been founded in 1791. Until their first expulsions and then subsequent resurgence off of Harvard's campus in the 1990s, fraternities were prevalent during the late 19th century as well. However, they were banned for a while. It wasn't until 1991 that the first all-female final clubs and sororities emerged on college campuses. Because the social groups at the school did not want to include both men and women, the school did not recognize any social groups from 1984 to 2018.
In 2015, the Spee Club was the first of a number of organizations that had previously been restricted to only one gender to begin welcoming new members of any gender. On the other hand, in 2016, Harvard made a decision to use fines on members of the school's few remaining single-gender clubs in an effort to encourage them to transition into coed organizations.
Eventually, on September 8, 2018, Harvard made the announcement that it would recognize a preliminary list of fifteen social groups that either were already gender-inclusive or had committed to being gender-inclusive in the near future.
In addition, Harvard does not recognize any of the eleven clubs that are only open to members of one gender.
What athletics does Harvard offer?
Let us discuss here "What athletics does Harvard offer?" that incoming students can look forward to at this institution.
The list of sports that can be played at the varsity level includes baseball, basketball, crew, cross-country, fencing, field hockey, football, golf, ice hockey, lacrosse, rugby, sailing, skiing, softball, squash, swimming and diving, tennis, track and field, volleyball, water polo, and wrestling.
As previously discussed, "The Game" plays a huge part in the social life at Harvard, and athletics overall indeed plays a significant part in the campus life of students.
In point of fact, the illustrious Ivy League, of which Harvard is a member, is not an academic distinction but rather an athletic league. This conference is responsible for organizing the football and basketball games that are played by the institutions that are a part of it.
The Harvard Crimson competes in 42 different NCAA Division I sports, making it the institution with the most overall participation in the division. Since 1873, Harvard has sponsored a football team, which has gone on to win eleven national titles since its inception. Even more crucially, the Harvard squad was instrumental in the development of a tactic known as the forward pass, which has since become the norm for how football is played today.
One of the oldest intercollegiate teams in the United States is the university's men's ice hockey team, which has been playing for decades. In the nearly 125 years since it was founded, the team has won the ECAC title 10 times and the NCAA championship once, with the most recent victory coming in 2017.
The women's ice hockey team has had its fair share of success, having won the national title in 1999 as well as the ECAC championship four times. The squad is not nearly as old as the men's ice hockey team.
Before "The Game," the rivalry between Harvard and Yale was played out between their respective men's rowing teams, which continue to compete against one another on the Thames River on an annual basis.
With the exciting social life at Harvard, all kinds of people can experience the several dynamic and rewarding activities this institution has to offer. You will definitely find a place to belong at Harvard and create lasting connections with one another. You can even foster a family bond with other students with similar backgrounds and interests as you. You can be one step closer to joining its active social life. Contact us and learn more about our professional consulting services here at AdmissionSight.