Social Life at Princeton
Does Princeton have an excellent social life?
In addition to its renowned academics and brilliant minds on its campus, there's also a thriving social life at Princeton. Students at Princeton know how to balance their academic and social lives. With hundreds of student organizations available, you will often see lots of students engaged in enjoyable activities, and cultural and meaningful events within their groups and even with the entire campus.
Students let themselves be vulnerable and open up to others while also sharing their thoughts. This helps them build relationships that will last a long time.
Students at Princeton also have a strong sense of commitment to various extracurricular activities they participate in. The range of interests pursued by students at this institution is as broad as it is possible be. Examples include dancing organizations such as Bhangra and debating clubs such as Whig-Clio.
Does Princeton have a good social life? The social life at Princeton is rich in enjoyable activities, and students often find it hard to put it into words since such activities manage to be both thrilling and supportive while also posing a number of substantial challenges. Students also often refer to the Princeton campus as a place with the perfect size because you never stop running into people you know and talking about lots of nice things and sharing good information with one another, which is one of the predominant factors of the social scene at this institution.
At Princeton, you can anticipate the following:
Strong alumni support
Lively traditions
Hundreds of student organizations
Diverse extracurricular activities
Vibrant school spirit
After visiting the university and seeing everything it has to offer, you will place high importance on its rigorous academics and vibrant social scene. The overwhelming majority of the students enjoy living on its campus, and this sentiment never fades for them.
What do students do for fun at Princeton?
With the very lively social life at Princeton, its students, in particular, can be involved in a variety of fun activities, including those sponsored by student organizations, extracurricular activities, and sports.
What do students do for fun at Princeton? Because there are so many activities taking place, it is difficult to determine which ones are the most well-attended on campus. If this is taken into account, then the eating clubs have the highest participation among the students, indicating that they are the most popular among the upperclassmen. The comedy musical theater group, the school paper, a cappella groups, and performing groups in general, wherein there are so many dancing groups, are a few well-known organizations that immediately come to mind of its current students. After you've completed your freshman year, participation in Greek life becomes more appealing to specific demographics.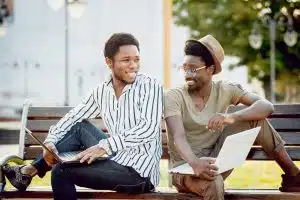 The best thing about Princeton, according to students, is that it provides a wonderful academic experience by providing ample-sized classrooms taught by amazing professors and providing students interested in extracurricular activities with numerous opportunities to pursue their hobbies, passions, and interests on the grounds of this institution. Because of this, the students value the fun yet friendly social life at Princeton.
In addition, the entire institution functions as a massive gaming board for some students. You have the option of making it a competitive endeavor or a pleasurable experience both ways. There is a possibility that you may succeed, but there is also a risk that you will fail. However, you will get new talents regardless of the outcome. You will also have access to any and all resources that may become accessible to you at Princeton. With the dynamic social life at Princeton, it is clear that having fun at this institution can be prevalent among its students.
What traditions does Princeton have?
What traditions does Princeton have? Traditions are something that has been upheld at each and every college over the years. Some of them are truly strange, giving you the sensation that you are somewhere else entirely other than at college. That is precisely what occurs at Princeton every year without fail. If this is the school of your dreams, you are going to fall even more in love with it once you learn about all of its unique customs.
To begin, during the one-day celebration of Newman's Day, you will hear students shouting "cheers!" from all across campus and witness gigantic stacks of beer bottles becoming even larger. On April 24 of each year, Princeton students get together for a drinking competition in which they attempt to down 24 cans of beer in one day, in an effort to prove that they can live up to the challenge set out by Paul Newman.
In addition, the custom of either passing through the Fitz Randolph Gate or, more commonly, avoiding it altogether dates back to the 1980s and is shrouded in mystery. It warns that it is possible for a student to not complete their education if they leave the school by this door before graduating. But in spite of this superstition, the gate is opened with great fanfare on reunion day, or P-Rade, as it is known by the students. This is the day when all of the graduates return to Princeton so that they may share their professional experiences with the younger students.
Furthermore, when the annual sporting tournament known as the Princeton Nude Olympics, which included players who were completely nude, was finally outlawed in 1999, college life in Princeton became even more peculiar. It goes without saying why this custom is not kept alive anymore. Can you even fathom the sight of hundreds of shirtless men and women competing in a sport during the dead of winter? It's quite unlikely that they were both sober and unscathed after the encounter.
How do you manage the stress in your life? Consuming a lot? Drinking? Students at Princeton have discovered a risk-free method to alleviate all of the worries that have built up during the course of the academic year. At the beginning of each semester, a deadline is provided for the students to finish the written assignments they were assigned. The students are becoming increasingly anxious as the due date draws nearer. Therefore, just before the clock strikes twelve, all the kids rush outside and shout as loudly as they can.
The sought-after social life at Princeton would not be complete without a bonfire. If the Princeton Tigers come out on top against the other prestigious universities, they will be rewarded with a fantastic celebration for all of their hard work. The event is marked by a big bonfire in the yard, around which hundreds of happy students gather to celebrate their success.
Are you prepared to participate in such fascinating festivities at an Ivy League institution? If you want to go to Princeton and meet all the great people there, AdmissionSight's counseling services can help you get through the college's tough enrollment process.
What extracurricular opportunities are available at Princeton?
At Princeton University, there is never a shortage of students vying for membership in distinguished student groups, which makes participation in a wide range of extracurricular activities notoriously tough. Even filling out an application is needed to take part in most of the extracurricular activities at the school.
What extracurricular opportunities are available at Princeton? With nearly 500 recognized student groups at Princeton, the number of extracurricular activities available at this institution would definitely be a long one, so let us talk about the most popular groups and activities students can join at Princeton.
The American Whig-Cliosophic Society is the nation's oldest collegiate political, literary, and debate society. It was established around the year 1765, and it is both the largest and oldest student organization on campus.
The Whig-Clio Society is comprised of a number of subordinate groups, each of which focuses on a particular aspect of politics. These subordinate organizations include:

The Princeton Debate Panel
International Relations Council
The Princeton Mock Trial
The Princeton Model Congress

The Daily Princetonian, which is sometimes called "The Prince," was started in 1876. It is the second-oldest college daily student newspaper in the United States.
The WPRB radio station on 103.3 FM at Princeton University is the oldest licensed college radio station in the whole United States.
The Performing Arts Council is an organization that represents a significant number of the ensembles and is part of the active social life at Princeton.
The Princeton Triangle Club is the oldest traveling musical-comedy theatrical group in the United States, having been established in 1883. It puts on its annual Triangle Show every autumn in the McCarter Theatre, which has a capacity of 1,000 seats, in addition to performing original musical comedies, revues, and other performances all across campus.
The oldest choir at Princeton is the Glee Club, which has been around since 1874.
The funny scrambling Tiger Band started in 1919 and has played many times since then, including at halftime concerts.
The Princeton University Orchestra, which has been around since 1896 and serves as the university's primary symphony orchestra group, and the Princeton Symphony Orchestra, both of which perform in Alexander Hall.
A large number of acappella groups may be found on college campuses, and these groups frequently put on concerts, casual events, and solo singing.
The Nassoons, who has been performing a cappella music since 1941, holds the title of the world's oldest a cappella group.
The Tigertones (1946) and the Footnotes (1959) are examples of all-male a cappella groups.
The Tigerlilies (1971), Tigressions (1981), and Wildcats (1987) are examples of all-female a cappella groups.
The Princeton Katzenjammers (1973) is the oldest co-ed a cappella group in the Ivy League.
In addition, Princeton has numerous student centers on campus that are dedicated to offering students with certain identities access to a variety of tools and information. These centers include the following:
Women's Center
LGBT Center
The Center for Jewish Life
Davis International Center
Carl A. Fields Center for Equality and Cultural Understanding
The Frist Campus Center and the University Club are two additional venues on campus that are open to all members of the campus community and host a wide range of events and activities.
Furthermore, this prestigious institution includes 15 chaplaincies and many religious student clubs and can be part of the engaging social life at Princeton. On campus, those practicing the religions of Baha'i, Buddhism, Christianity, Hinduism, Judaism, Islam, Sikhism, and Unitarian Universalism are able to express their beliefs.
Does Princeton have social clubs?
Does Princeton have social clubs? You can join extracurricular groups, clubs, and centers at Princeton, even if you don't know what you're interested in right now or if you find new interests once you get there.
In particular, you can't talk about Princeton's social scene without talking about the eating clubs that meet in the mansions on Prospect Avenue and Washington Road, which are right next to the university campus.
Despite the fact that they are not officially affiliated with the university, they have strong links to it and aim to foster a feeling of duty and community. The juniors and seniors who are members have their meals in the clubs, and in the evenings, when the clubs are "on tap," they are frequently available to both members and other Princeton students (i.e., serving beer).
There are a number of misconceptions regarding the clubs and the customs that are associated with them. As previously discussed, it is sufficient to say that the majority of the student organizations on campus are responsible for organizing the majority of the social events that take place on campus. These organizations host theme evenings, bands, non-alcoholic parties, and yearly celebrations on a consistent basis.
Although a typical student will spend most weekends at "the Street" (the collective name for the eating clubs), there are almost always other events happening on campus as part of the very active social life at Princeton, such as a cappella concerts under Gothic arches, dance performances, groups of friends heading to dinner on Nassau Street, trips to New York and Philadelphia (both of which are only a short train ride away, making them easily accessible from campus), and lecture series and symposia. There is never a lack of things to do on any given day.
The majority of students will go out socializing on Thursday and Saturday evenings, respectively. There is typically a large crowd at clubs on Wednesday and Friday evenings, but this might vary depending on the type of club you like to go to. Sunday evenings are typically the only time of the week when it may be more difficult to locate a location to grab a drink, but this does not mean it is impossible.
Finding a balance between having fun and fulfilling your commitments is the key to long-term success. Some Princeton students are able to balance going out six nights a week with excellent academic performance. Others are prepared to go out anywhere from once to three times each week, and most college students prefer moderation to binge drinking.
At the moment, there are 68 eating clubs at Princeton, whereby juniors and seniors make up 68% of the student body. An eating club membership is good for one's whole life, and former members regularly come back for reunions and to socialize with newcomers. Even though being a member of a dining club is strongly encouraged at Princeton, it is not required to go there.
What athletics does Princeton offer?
What athletics does Princeton offer? As part of the vibrant social life at Princeton, students are also dedicated to various sports. The institution possesses an ice hockey rink, an Olympic track with eight lanes, stunning facilities for tennis, soccer, softball, baseball, field hockey, lacrosse, swimming and diving, and rugby, and more than fifty acres of field space. Every single student has the opportunity to get some much-needed exercise and have fun by taking part in various intramural and club activities.
In particular, the 37 varsity sports teams that call Princeton University their home play at the highest level of the NCAA's Division I. Over eighteen percent of Princeton's undergraduates compete in one or more varsity sports each year.
Due to the aforementioned circumstances, the sports departments of the prestigious colleges are now considered to be among the largest and most successful in both the Ivy League and NCAA Division I as a whole.
In addition, the Princeton Tigers have accumulated a grand total of 208 national championships throughout their history. The institution had a remarkable run of 43 years, beginning in 1972 and ending in 2014, in which at least one of its athletic teams or individual athletes won a national championship title. During this time, the college was located in the United States.
Because of this, it is reasonable to assume that every single one of Princeton's sporting teams is held in extremely high esteem. Despite this, the school's football team is consistently ranked among the top squads in Division I of the NCAA.
The 115 members of the Princeton Tigers football team are now rated seventh among the 117 universities that compete in NCAA Division I.
The water polo teams at Princeton, both men's and women's, have a long-standing reputation for being among the most formidable rivals in their respective divisions. Both the men's and women's teams are currently placed in the top seven spots among all of the schools in their category that participate in this sport. The men's team is currently ranked tenth.
The lacrosse teams at Princeton are well-known. There are 64 schools competing at the same level as the men's lacrosse team, and they are currently ranked 24th. In terms of rankings, the women's lacrosse team is even more well-known than it already was, as seen by the fact that they now hold the number 22 slot out of a total of one hundred other teams competing in their category.
With the worthwhile social life at Princeton, all kinds of people can experience the several dynamic and rewarding activities this institution has to offer. You will definitely find a place to belong at Princeton and create lasting connections with one another. You can even foster a family bond with other students with similar backgrounds and interests as you. You can be one step closer to joining its active social life. Contact us and learn more about our professional consulting services here at AdmissionSight.