Social Life at USC
Maintaining a spot among the top academic institutions and the greatest locations for college students to have a blast is no minor accomplishment for an American university. It turns out that the school with the most well-regarded real estate, international business, and video game production programs also has some of the most passionate sports fans.
There is a lot to discover off campus, even if the majority of undergraduates stick to home parties and Greek life activities. When it comes to the social life at USC, the university has something to offer for every one of its 50,000 students because of its location close to the seaside and near a variety of sports arenas and performance halls.
Does USC have a good social life?
Does USC have a good social life? Yes, it does. One of the top party schools in the country is USC. For years, the Trojans have consistently appeared on lists of the top ten party schools. The hub of social activity at USC is Greek life. Fraternities and sororities have more than a quarter of both male and female members, and their registered gatherings are among the biggest on campus.
The three most well-liked events of the year are Springfest, Conquest, and Welcome Back Week. USC organizes a variety of events during the Welcome Experience, including club fairs, game evenings, and scavenger hunts.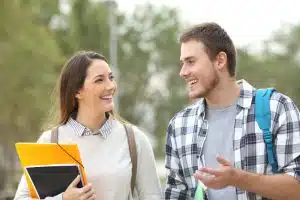 While Springfest is a free event with past headliners like Diplo and 2 Chainz, Conquest honors the UCLA versus USC rivalry with a concert before their football game. Aside from live music, Springfest also has food trucks, arcade games, and large crowds.
Every week, USC's Campus Activities department provides students with free late-night events on Thursdays, Fridays, and Saturdays. Trips to the theater or roller rink, paint evenings, and game nights are examples of previous activities.
In addition, USC sponsors a range of cultural events supported by its more than 850 student clubs, including concerts, pep rallies, conferences, talks, and lectures. It is not surprising that USC is one of the top party schools in the country, given the abundance of opportunities for on-campus involvement and displaying school spirit.
What are the campus life and extracurricular activities at USC?
What are the campus life and extracurricular activities at USC? To get a clearer image of the social life at USC, let's take a look at the activities on campus.
Currently, the freshman class at USC is not required to reside on campus. However, the 40 resident halls and apartment buildings on campus are still home to nearly 98% of USC students.
Living options include niche neighborhoods like the Rainbow LGBTQ+ Community; Asian, Pacific Islander, Desi American Leadership Community; Women in Science and Engineering Floor; Latinx Sol y La Luna Floors; and Somerville Place, which aims to foster a sense of family and community while promoting respect and understanding for Black culture.
With so many students residing on campus, USC provides a vibrant on-campus community as well as a large range of clubs and extracurricular activities for students to participate in.
The university is renowned for having more than a thousand student organizations, including teams for recreational athletics, clubs connected to degree programs and professional interests, religious and cultural organizations, and organizations related to degree programs. Additionally, USC has a thriving Greek community with over 50 chapters and a participation rate of roughly 25%. USC's thriving Greek community contributes to the campus's reputation as a "party school."
Athletics
USC is renowned for its successful Division I Pac-12 Conference athletics program as well. The USC Trojans are the school's athletic teams, and they play in cardinal and gold. Teams from USC have triumphed in 131 national titles overall.
The football squad is particularly well-known, having won seven Heisman Trophy winners and 11 national titles. More USC alumni than any other university in the country have earned Olympic medals—more than 300 in all!
Diversity
Social life at USC involves interaction with people, with diverse people.
Another characteristic that makes USC stand out is its diversity. According to the information website Priceonomics, USC is among the top 10 colleges in the United States for diversity. 15% of USC students are Hispanic, 5.8% are Black/African American, 27% are White, and 8.4% are other races. International students make up 23.8% of the total population at USC.
Traditions
One of the nation's most energetic universities, USC's traditions showcase this ardent feeling of pride. Many of USC's most cherished traditions are associated with athletics because sports play a significant role in student life there.
For instance, as they walk toward Exposition Boulevard from campus to the football stadium (the Coliseum), students kick a flagpole to bring luck to the football team. The week before the yearly football game against the rival UCLA Bruins, sometimes known as Troy Week, is when USC holds its most cherished traditions.
The CONQUEST Bonfire and the CONQUEST celebration, which feature a spirit rally, a carnival, and live entertainment, are part of Troy Week. Vigils are held to defend the university's campus and its landmarks from the UCLA Bruins. (The vigils started after a number of UCLA students daubed the Tommy Trojan statue with paint in the early 1940s.)
Songfest, an annual event that showcases student talent and performances from the university's sororities and fraternities, is another USC tradition. The prized Songfest trophy and one year of bragging rights go to the winner!
What are the available student clubs at USC?
The majority of programs and events offered on campus, such as concerts, lectures, special events, spirit rallies, cultural and social events, and conferences, are organized by USC's more than 1,000 student clubs. Clubs are the primary source of a student's social life at USC. They may not be in any sports, but they will surely be engaged in what they enjoy the most.
What are the available student clubs at USC? The clubs offered by USC are for professional, leisure, charitable, and artistic purposes. The USC LavaLab is one of the greatest professional clubs. In order to build a start-up company from scratch, LavaLab divides a cohort of 28 student designers, developers, and project coordinators into manageable teams of four each semester.
Participants gain knowledge about product development, innovation, and project management. Additionally, cohort participants will participate in team retreats, hear from eminent guest speakers and attend workshops run by alumni on a range of business-related subjects.
The Healing Process and Active Mind, two well-known clubs, are focused on health and well-being. By providing group activities, therapy sessions, and peer exercises, Active Mind is committed to promoting greater awareness of mental health concerns and eradicating the stigma associated with anxiety and despair.
The Healing Process brings together a love of health and wellness with a gift for writing and art. Members of the club create a biannual journal that examines health-related subjects through illustrations, poems, stories, and other creative works.
Best Buddies, on the other hand, matches USC students with local Los Angeles adults who have a disability of some kind. While meeting twice a month, pairs go to sporting events or engage in other enjoyable activities together.
The USC Helenes is one of the oldest and most well-known charitable groups on campus. The Downtown Women's Center, 32nd Street School, and CSU/Expo Urban Mini Farm are just a few of the charity organizations they support in the broader Los Angeles area, in addition to USC.
At basketball games and other campus-wide activities, Helenes are regarded as the cheerleaders. They frequently paint people's faces, conduct chants, and create crafts with USC themes. Another reputable campus organization that fosters ongoing mentoring relationships with South LA kids is Troy Camp.
There are numerous performing and visual arts options available for those who have a stronger artistic bent. For instance, the Concerto Chamber Orchestra is a student-run ensemble that welcomes musicians of all experience levels. Each semester, they perform two concerts.
Decipher is the only club at the institution devoted to freestyle rapping; members go to talks on the history of the genre, hear from well-known guest speakers, and frequently go to Los Angeles to take part in open cyphers.
How is Greek life at USC?
AdmissionSight wouldn't miss adding Greek life to this because many students are participate here, contributing to the rich social life at USC. How is Greek life at USC? Continue reading; you may find this interesting.
Sororities
The Asian Greek Council, Multicultural Greek Council, National Panhellenic Council, and Panhellenic Council are all represented on campus by 22 chapters. In the fall and spring semesters, more students attend recruiting activities, and 27% of female students at USC are sorority members. The sororities at USC share a variety of values. The largest historically Latina-based national sorority is Sigma Lambda Gamma, while organizations that support campus leadership include Kappa Kappa Gamma.
Their members are in charge of organizations on the USC campus, like the Joint Education Program, ROTC, and the Undergraduate Student Government. It goes without saying that joining a sorority at USC has a lot of social appeal. Four "invitations" are held each year by Alpha Chi Omega and many other chapters, including Beach Bash, a semi-formal in the fall, and formal/informal parties in the spring.
Over the course of a year, sororities frequently co-host "exchanges" with a number of campus fraternities with the intention of strengthening their relationships. "Pajama Party," "Holidaze," and "Rep Your Hometown" are a few examples of previous themes.
Fraternities
The Multicultural Greek Council, Interfraternity Council, and National Panhellenic Council are all represented by 25 on-campus fraternities. A fraternity hosts a themed party almost every night of the week. The registered parties hosted by Tau Kappa Epsilon are without a doubt the most expensive and well-attended events held each year at USC.
Professional DJ sets, concert-quality production equipment, and elaborate installations resembling lagoons, waterfalls, and rainforests are all features of festivals like Tropik Thunder and Brochella. Members of Phi Delta go on numerous outings throughout the year, including deep-sea fishing and skiing expeditions, outings to national parks, outings to concerts, and outings to music festivals.
Additionally, the variety of their membership is a strength for many of USC's fraternities. Gamma Zeta Alpha is a minor Latino-interest fraternity with a focus on community service, whereas Lambda Theta Phi is the largest and oldest Latino fraternity in the United States.
Events like TRIO Scholars, the Academic Decathlon, and Dia de Los Jornaleros are held by Gamma Zeta Alpha as fundraisers. Members and recruits can be observed having fun during the rush, whether it be playing basketball, eating tacos, or bowling.
What do USC students do for fun?
Still, has a question about the social life at USC? What do USC students do for fun? Hmm, let's see.
While most undergraduates choose to party on campus, students over the age of 21 can visit venues with "exclusively" senior patrons, such as Exchange LA and 901 Grill & Bar. One of the greatest DJ venues in the area is known as Exchange, while the 9-0 (pronounced "Nine-Oh") is a well-known happy hour hangout.
The Santa Monica Pier, which features a variety of eateries, amusement park rides, and boutiques, is a great place for students searching for additional entertainment. Olvera Street features street dancing performances, paintings, and Mexican-American cuisine. Some of LA's nicest neighborhoods are accessible thanks to the city's bus and train networks. Students can unwind at Venice Beach, enjoy jazz music at The Grove, or visit several clubs in Hollywood & Vine.
Naturally, weekend nights are frequently used to celebrate a USC football victory in the fall. Before the game even starts, students are tailgating! The USC vs. UCLA Conquest game is undoubtedly a major occasion, and for more than a century, the Trojan Knights have dedicated the whole rivalry week to guarding campus mascots and statues against theft or vandalism.
Students from all areas and backgrounds are united by their shared skills and interests, thanks to USC's extensive social network.
What are the places to visit while attending USC?
What are the places to visit while attending USC? Many are excited to discover all that the city has to offer. In order to truly experience Los Angeles during your first year at USC, AdmissionSight strongly advises visiting a number of locations. Visit these locations before you graduate, even if you have been to LA before. Expand your social life at USC and enjoy it!
The Getty Center: One of California's most spectacular collections of American and European paintings and sculptures can be seen at the Getty Museum. It is praised for its artwork as well as its lovely gardens and perspective of downtown Los Angeles. Take the Expo Line from USC to the Santa Monica Station and then board bus 234 to the Getty Center to get to the Getty from USC.
Griffith Park: There are many enjoyable events held in Griffith Park, and most of them are free. The Griffith Observatory offers live performances, one of the best public telescopes on the West Coast, views of the Hollywood sign, and much more. It also provides a panoramic perspective of the entire city of Los Angeles. Take Bus 204 to the DASH Observatory Bus from USC to get there.
Santa Monica Pier: As the epitome of Southern California beach culture, the Santa Monica Pier is a destination that every USC student should visit. The pier is home to a small amusement park, numerous stores and eateries, and a vibrant street culture. From USC, take the Expo Line to its terminus to travel to Santa Monica Pier.
Pink's: In the vicinity of Melrose Avenue, Pink's has been serving famous hot dogs since 1939. Books, TV shows, and movies have all mentioned Pinks. Over 50,000 pounds of hot dogs are served annually at Pink's, a Los Angeles treasure. Take Bus 200 to Bus 10 to travel from USC to Pinks.
LACMA: The Los Angeles County Museum of Art, the second museum on this list, has just as much to offer as The Getty. You can stroll around the sculpture gardens, view the extensive art collection, or take stylish photos on the Urban Light display. Take Bus 204 to Bus 20 from USC to get there.
El Porto Beach: El Porto is a typical Southern California beach town with mom-and-pop stores, lovely surf, and a lengthy sandy beachfront. The surf can reach a height of 7-8 feet, and the water remains warm from the summer until mid-October. Take Bus 102 to Beach Cities Transit 109 Southbound to reach El Porto.
Olvera Street: Mexican-American cuisine is served on Los Angeles' historic Olvera Street. Additionally, there are galleries, painted walls, patio cafes, folk dancers, and more. For the food on Olvera Street, go; stay for the culture. Bus 204 to Bus 733 is the route that will take you to Olvera Street.
Pantages Theater: The Pantages Theater is located in the center of Hollywood, close to other famous landmarks like the Hollywood Palladium and the Avenue of Stars. The theater is comparable to the Broadway theaters in New York; however, it only has one stage and only performs one play at once. To get to the theater from USC, take Bus 200 to the Metro Red Line.
With the social life at USC, all kinds of people can experience the several dynamic and rewarding activities this institution has to offer. You will definitely find a place to belong at USC and create lasting connections with one another. You can even foster a family bond with other students with similar backgrounds and interests as you. You can be one step closer to joining its active social life. Contact us and learn more about our professional consulting services here at AdmissionSight.