Stanford Freshman Class Size
How Big Is the Freshman Class At Stanford?
How big is the freshman class at Stanford? According to information provided by the Office of Undergraduate Admissions, just 2,190 of the 55,471 applicants—the largest pool in the history of the university—received offers of admission. According to the report, the admit rate is down from last year's 5.19% to 3.95 percent.
The Class of 2025 broke a number of records, not the least of which was the lowest admit rate in Stanford history (3.95%). Stanford freshman class size has 2,126 students in total, with 369 admits from 2020 who took a gap year and 1,757 who accepted the admissions offers. Check out the largest undergraduate class in the history of Stanford.
E.J. Miranda, a spokesman for the university, reported that the yield rate for the Class of 2025, excluding those taking a gap year in 2020, was 80%. "As we entered our autumn quarter and a return to in-person instruction, we anticipated a rise in enrollment for the Class of '25 — largely due to an additional 369 students who had taken a gap year," Miranda wrote in a statement to The Daily.
In comparison to rival universities like Harvard, which had 349 deferrals, and Yale, which had 335 deferrals, the amount of deferrals from 2020 admits is comparable.
E.J. Miranda, a spokesman for the university, reported that the yield rate for the Class of 2025 at Stanford, excluding students taking a gap year in 2020, was 80%. Perhaps no other metric emphasizes a school's desirability more than its yield rate, and Stanford is unrivaled in this regard. It's noteworthy in particular because Stanford doesn't use a formal early decision scheme. Comparatively, Columbia had a yield of 67 percent overall but increased it by binding early decision program admissions of 41 percent of its incoming class.
Where Are Most Stanford Students From?
Where are most Stanford students from? Students from the following places make up the Cardinal student body:
California: 35%
Other States in the U.S.: 52%
International: 13%
Like other elite institutions, Stanford enjoys achieving a level of geographic variety that enables them to claim that their class includes students from almost every state. Stanford freshman class size is made up of students from 77 different nations and 49 different states. Therefore, your geographic location is more likely to improve your chances of admission if you are from the Deep South or a sparsely populated state like Montana or Idaho than if you reside in California or New York.
The new class at Stanford has 14% of foreign-born students. There are 3–4 students per country of citizenship among the 255 students at Stanford, who represent 72 different nations.
What Are the Demographics of Stanford?
The following breakdown of the overall undergraduate student body's ethnic composition show the answer to "What are the demographics of Stanford?":
White: 23%
Asian American: 25%
Hispanic: 18%
African American: 8%
American Indian: Less than 1%
Native Hawaiian/Pacific Islander: Less than 1%
International: 12%
Two or more races: 9%
Unknown: 5%
Looking at the several high schools the members of the Class of 2025 attended reveals the following:
Public: 60%
Private: 27%
International: 13%
Home education: 1%
The present undergraduate student body is split among the following genders:
Of the Stanford freshman class size pool, 18% are the first members of their family to attend college.
For the entering class, the middle 50% SAT scores are 1470–1570; for the ACT, the middle 50% scores are 32–35. However, Stanford withholds data on the percentage of applicants who choose not to submit test scores as part of the admissions process and went on to enroll.
It makes sense that the majority of students admitted to Stanford will have a ton of AP exams to report since the majority of Stanford students attend public high schools and it is known that national AP participation rates are rising (38 percent of all U.S. public high school students who graduated in 2020 took at least one AP exam).
Analyzing national AP statistics in greater detail reveals that approximately 39,000 students who graduated from high school in 2020 earned the now-discontinued National AP Scholar title, which required receiving a score of 4 or 5 on at least eight examinations. Combining the two, it can be concluded that the Stanford pool is full of these high achievers and that a sizable fraction of unhooked students admitted to Stanford would have eight or more impressive AP scores.
What Are the Top Majors At Stanford University?
Stanford University offers a wide range of programs and courses for the students of the Stanford freshman class size. The college has seven schools, including the Graduate Schools of Business and Education, the School of Engineering, the School of Humanities & Sciences, the School of Law, and the School of Medicine.
What are the top majors at Stanford University? As the second-best undergraduate engineering program according to U.S. News, the School of Engineering is undoubtedly the most well-known of these institutions. Interdisciplinary study is very essential at Stanford, thus the institution has developed a number of opportunities for students to discover new subjects and incorporate them into their educational process.
For instance, the Stanford Woods Institute for the Environment serves as a focal point for interdisciplinary study on sustainability and the environment within the college. Similar to this, Stanford's Global Engineering Programs (GEPs) give students the chance to study technology and engineering globally while obtaining practical experience and establishing global networks.
Stanford's Top 10 Most Popular Majors
Even though Stanford's School of Engineering is among the most well-known, the most sought-after majors, including the Stanford freshman class size pool, are offered by all of the university's institutions. Top programs to take into account include:
Major in Computer Science
Since its establishment in 1965, the Stanford computer science program has maintained a reputation for academic distinction and technological innovation. The curriculum focuses on investigating computer science-related topics, including how well students can use the theory, abstraction, design, and implementation methods that define the field to address issues in the field.
Students with computer science degrees frequently pursue the following job paths:
Computer engineer
Web programmer
Data analyst
Product supervisor
Expert in information technology
Major in Economics
Economics is a popular degree among students who are strong in math. The major areas of study for economic courses at Stanford are government policy analysis, finance, international & development, behavioral & experimental, quantitative methods, business strategy, and regulation.
Students majoring in economics at Stanford may pursue a variety of careers, including:
Financial expert
Accountant
Researcher
Financial analyst
Business analyst
Major in Human Biology
Students considering a career in the biological sciences shouldn't discount Stanford Human Biology, one of the university's most well-liked majors. One of the most popular undergraduate majors at the college, almost 50% of Human Biology students go on to study medicine.
A renowned marine biology program is also offered at the institution, and it is equipped with cutting-edge labs and a sizable library of materials in the field. Top careers for interested Stanford freshman class size students when they graduate include:
Professors of biological sciences
Researchers
Doctors
Anthropologists
Professors of social sciences
Major in Management Science and Engineering
The intersection of engineering, business, and public policy is where the Management Science and Engineering degree excels. The department's goal is to improve technological, economic, and social system design, management, operation, and interaction through education and research.
These are some of the career options for this crowd-favorite Stanford major:
Business analyst
Management consultant
Data analyst
Operations research analyst
Financial analyst
Major in Symbolic Systems
Not only is Symbolic Systems one of the most popular majors at Stanford, but it's also one of the most distinctive. Computer science, languages, mathematics, philosophy, psychology, and statistics are just a few of the subjects that are included in the program. During a tour of the major's laboratories, Facebook CEO Mark Zuckerberg said that some of Facebook's brightest employees are from Symbolic Systems.
A Stanford symbolic systems major has a variety of job options given its interdisciplinary nature, including:
Program manager
Product manager
Software engineer
Strategic consultant
Financial analyst
Major in Political Science
If students wish to interact with topics like public policies, governance structures, and institutional architecture, they should take a look at Stanford's well-known political science major. The department offers a wide range of classes taught by eminent authorities on both domestic and global politics.
A political science major at Stanford might pursue some of the following careers:
Political journalist
Social media manager
Lawyer
Social worker
Campaign manager
Major in Mechanical Engineering
It should come as no surprise that Mechanical Engineering is one of Stanford's most sought-after majors given the reputation of its engineering program. Applied mechanics, biomechanical engineering, computer simulations, design, and energy science and technology are all highlighted in the program.
Students who choose this major may find employment in the following fields:
Aerospace engineer
Biomedical engineers
Engineer for automobiles
Manufacturing engineer
Patent lawyer
Major in Electrical Engineering
The Electrical Engineering major is one of Stanford's top. The curriculum is divided into a number of subject areas, including bioelectronics and bioimaging, circuits and devices, computer hardware, computer software, music, signal processing, communication, and controls, photonics, solid state, and electromagnetics, as well as energy and the environment. Additionally, there are a number of interdisciplinary elective options so that students can broaden their horizons and collaborate across different departments.
The following are common job options for this major:
Controls engineer
Design engineer
Test engineer
Communications engineer
Systems engineer
Major in International Relations
Another of Stanford's most sought-after majors is international relations. The curriculum is an interdisciplinary major that examines how state and non-state players, including the United Nations, the World Trade Organization, the International Monetary Fund, the World Bank, Amnesty International, and other NGOs, interact in international politics.
Possible career options for the Stanford freshman class size pool include:
Politician
Diplomat
Economist
Analyst of world affairs
Intelligence specialist
Major in Mathematics
Last but not least, the mathematics major is made to give students a thorough understanding of mathematics in a variety of topics, such as formal proof, generalization, abstraction, and logical reasoning. The design, analysis, and interpretation of mathematical models to convey arguments based on reason are the main topics of the department's courses. Students who major in mathematics are prepared for graduate degrees in a range of quantitative subjects as well as professions in business and government.
Possible career options include:
Statistician or mathematician
Actuary
High school teacher
Data scientist
Market research analyst
Is Stanford A Large University?
Is Stanford a large university? One of the most prestigious colleges in the world, Stanford University boasts one of the biggest campuses in the US. It was founded in 1885 and launched as a private, non-denominational co-educational college six years later. It sits in the heart of California's Silicon Valley, less than an hour's drive south of San Francisco, right close to Palo Alto, and the university is renowned for its entrepreneurial culture.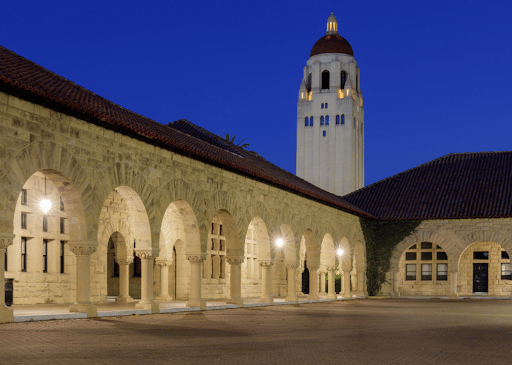 The provost's encouragement of innovation in the years following World War II helped create the self-sufficient sector that would later become Silicon Valley, which is where this entrepreneurialism had its start. The university had a linear accelerator by 1970, and it also hosted a portion of the early network that would later serve as the internet's technical backbone.
The university's 8,180-acre main campus is where the majority of its undergraduate students live. The three academic schools, four professional schools, 40 departments, and 18 independent labs, centers, and institutes are housed in the 700 large university buildings.
It has a total undergraduate enrolment of 17,249 students, inclusive of the Stanford freshman class size, and the admittance rate is only 4%, indicating that it is an exceptionally competitive institution. The university has a student-faculty ratio of 5 to 1, an average graduation rate of 94%, and 63 different bachelor's degree programs available for enrollment.
More than $2.7 trillion in yearly income is produced by businesses started by Stanford affiliates and alumni, which is equivalent to the world's 10th largest economy. Nike, Netflix, HP, Sun Microsystems, Instagram, Snapchat, PayPal, and Yahoo are some of these businesses. Sally Ride, the first American woman in space, graduated with a bachelor's in physics from Stanford in 1973. Only ten years later, she launched into space.
The university started a challenge to generate more than $4 billion in the five years before 2012. The campaign's fundraising goal was achieved, and $6.2 billion was raised in total, which will be used to increase faculty appointments, pay graduate research fellowships and scholarships, and build 38 new or renovated campus structures. Large projects including the largest dedicated stem cell research center in the world, a new business school campus, an expansion of the law school, a new engineering quad, a campus music hall, and an art museum have already benefited from the utilization of some of the funds.
The leadership skills of Stanford University students are developed through participation in a wide variety of activities and groups. Students are welcome to participate in any activities and organizations, including extracurricular programs, organizations, performances, and forums. In addition, students at Stanford University are provided with the opportunity to create their own clubs based on their particular areas of interest.
At this point, in time, the university provides support not only for Stanford freshman class size pool and all undergraduate students but also for graduate students and faculty members. You have the opportunity to take part in a variety of clubs, such as the arts, media, and entertainment club, the education club, the energy club, the conversation club, the gaming club, and the future of cities club. The primary benefit of joining one of these groups is that it helps you broaden your intellectual horizons within your area of interest, which in turn broadens your perspective.
In addition, you will have the opportunity to talk to people from different countries all around the world. Cycling around campus is by far the most well-liked extracurricular activity. The bicycle is the primary mode of transportation at Stanford University, and all you need to do to get around is look at the many cycling routes and maps that are available on the university's website.
What are Stanford University's salient features? Its main emphasis is on academics. Stanford is frequently ranked as one of the hardest colleges to get into, which has contributed to the campus's abundance of capable instructors, clever students, and an achievement-focused mentality. If you are determined to get into this prestigious university, AdmissionSight experts are well-equipped to help you. We have assisted thousands of applicants to Ivy League schools and other top universities in the U.S. and 75% of them became successful admits.
Book your initial consultation with AdmissionSight now to discuss your application further.