Stanford Law Application: What You Need to Know
Stanford Law School is one of the world's most prestigious and highly-ranked law institutions, consistently appearing among the top three law schools in the United States. Its academic programs and opportunities are unrivaled, offering various courses, clinics, and joint degree programs catering to various interest areas. It is for this reason that people learn about the Stanford Law application
The school is renowned for its stellar faculty, leading experts in their respective fields, and a diverse and accomplished alumni network that includes prominent judges, public servants, and private practitioners.
A strong application is paramount for aspiring Stanford Law students, as the admission process is highly competitive and seeks to identify the most promising candidates who possess exceptional academic and professional backgrounds and demonstrate a genuine commitment to creating a positive impact in the legal field and beyond.
As such, applicants must strive to showcase their unique qualities, experiences, and potential to secure a coveted spot at this esteemed institution.
Stanford application requirements
1. Application deadlines and timelines
Application deadlines and timelines are crucial for the Stanford Law School admissions process. Typically, the application cycle commences in September, and applicants are strongly encouraged to forward their materials as early as possible, ideally before the priority deadline in February.
Adhering to these timelines is essential, as the admissions committee follows a rolling review process, meaning that applications are reviewed and evaluated as they are received.
Consequently, applying earlier in the cycle may increase the chances of a favorable outcome. It is important for applicants to carefully research and adhere to the specific deadlines outlined by Stanford Law School to avoid missing any critical steps in the admissions process.
2. LSAT and/or GRE scores
LSAT and GRE scores are important components of the Stanford Law School application process, as they provide a standardized measure of an applicant's aptitude for law school. The LSAT is specifically designed to test skills critical to success in law school, such as reading comprehension, analytical reasoning, and logical reasoning.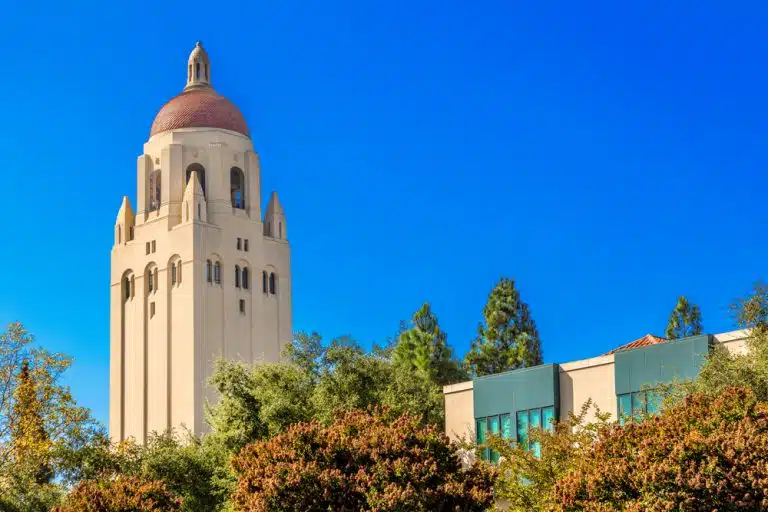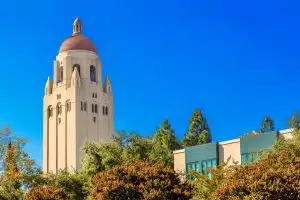 Alternatively, the GRE is a more general graduate school admissions test that measures verbal reasoning, quantitative reasoning, and analytical writing skills.
Stanford Law accepts both LSAT and GRE scores, allowing applicants to choose the test that best reflects their strengths. While a high score on either exam can bolster an applicant's chances of admission, it is important to note that Stanford Law follows a holistic review process, meaning that test scores are only one of many factors considered in evaluating an application.
3. Undergraduate transcripts
Undergraduate transcripts play a significant role in the Stanford Law application process, offering insight into applicants' academic performance and rigor throughout their college years. These transcripts provide a detailed record of the courses taken, the grades earned, and the honors or distinctions awarded.
Admissions committees look for patterns of academic success, an upward trajectory in performance, and engagement with challenging coursework.
While a strong undergraduate GPA can contribute positively to an application, it is essential to remember that Stanford Law evaluates applicants holistically, considering various factors. Some of which include extracurricular activities, work experience, and personal qualities in addition to academic achievements.
4. Letters of recommendation
Letters of recommendation can play a very important role in the Stanford Law School application process. They offer valuable insights into an applicant's character, intellectual abilities, and work ethic from those who have had close professional or academic interactions with the candidate.
When selecting recommenders, it is essential to choose individuals who can provide detailed, personalized accounts of the applicant's strengths and the possibility of success in law school.
This typically includes professors, supervisors, or mentors who have worked closely with the applicant and can speak to their achievements, problem-solving abilities, and interpersonal skills. To prepare recommenders, applicants should provide ample notice, along with relevant materials such as an updated resume, personal statement, or a list of key points they would like addressed in the letter.
Additionally, it is important to discuss any specific guidelines or Stanford application requirements for the letters, such as submission deadlines or preferred formats, to ensure that the recommenders can provide a comprehensive and timely assessment that aligns with the admissions committee's expectations.
5. Personal statement
The personal statement is another important component of the Stanford Law application, as it allows applicants to showcase their unique qualities, motivations, and aspirations beyond their academic and professional achievements. The purpose of the personal statement is to give the admissions committee a deeper understanding of the applicant's background, experiences, and commitment to pursuing a legal education.
To craft a compelling personal statement, applicants should focus on telling a cohesive and engaging story highlighting their passion for the law, specific experiences shaping their perspectives, and how they plan to contribute to the Stanford Law community. It is essential to maintain a clear and concise writing style while ensuring the statement is genuine and reflects the applicant's personality.
Some common pitfalls to avoid include clichés, being overly generic, or reiterating information already evident from other parts of the application. Instead, applicants should strive to create a thoughtful and well-organized narrative demonstrating their potential for success at Stanford Law and beyond.
6. Resume or curriculum vitae
A well-crafted resume or curriculum vitae (CV) is an important component of the Stanford Law School application, as it concisely summarizes an applicant's professional and academic accomplishments.
This document should highlight relevant experiences, such as internships, research projects, volunteer work, leadership roles, and employment history. In addition to showcasing an applicant's skills and achievements, a strong resume or CV can demonstrate a commitment to the legal field, community service, or other areas of interest relevant to legal education.
Applicants must tailor their resume or CV to the law school context by emphasizing experiences and qualifications that align with the institution's values and expectations while ensuring that the document is well-organized, free of errors, and easy to read.
7. Optional essays
Optional essays allow applicants to share additional information about themselves that may not be evident from other parts of their application. One common optional essay is the diversity statement, which allows candidates to discuss their unique backgrounds, perspectives, or experiences that contribute to a more inclusive and diverse learning environment.
Applicants can share their stories about race, ethnicity, gender, socioeconomic background, disability, or other aspects that have shaped their lives and worldviews. Additionally, Stanford Law may offer other optional essay prompts that allow applicants to address specific aspects of their background or interest in the legal field.
These essays can be particularly valuable for candidates who wish to highlight a unique aspect of their Stanford Law application, explain any discrepancies in their academic or professional history, or demonstrate their strong fit with Stanford Law's programs and values.
It is important to approach these optional essays thoughtfully and use them to provide a complete picture of the applicant's experiences and potential contributions to the law school community.
8. Application fee and fee waiver
The application fee is a standard requirement for most law school applications, including Stanford Law School. This fee covers the cost of processing and reviewing the application materials. However, recognizing that some applicants may face financial barriers, Stanford Law offers fee waivers for those who demonstrate significant financial need.
To apply for a fee waiver, applicants must submit a formal request, typically through the Law School Admission Council (LSAC) platform, along with relevant documentation demonstrating their financial circumstances.
If granted, the fee waiver allows applicants to submit their application without incurring the standard cost, ensuring that access to the application process remains equitable and inclusive for all prospective students, regardless of their financial background.
Stanford Application Review process
The application review process at Stanford Law School is designed to evaluate each candidate thoroughly and fairly through a holistic approach. This means that the admissions committee considers all aspects of an applicant's background, achievements, and potential rather than relying solely on quantitative measures such as test scores or GPA.
During the review process, the committee assesses the candidate's academic performance, work experience, personal statement, letters of recommendation, and any optional essays submitted.
While interviews are not a standard part of the admissions process at Stanford Law, the school may occasionally request interviews with selected candidates to gather additional information or to clarify specific aspects of their Stanford Law application.
The timeline for decisions typically spans several months, as the admissions committee conducts a rolling review of applications. Applicants may receive decisions at various points throughout the cycle, with final decisions generally released by late spring.
Candidates need to remain patient and optimistic during the review process, as the timeline can vary based on individual circumstances and the overall volume of applications received.
Tips for a successful application
In order to enhance your chances of submitting a successful application to Stanford Law School, it is essential to demonstrate a strong fit with the institution, showcase your unique background and experiences, and ensure that your application materials are polished and well-crafted.
Demonstrating a strong fit with Stanford Law
Researching the school and programs: Conduct thorough research on Stanford Law's academic offerings, faculty, clinics, and extracurricular activities to gain a deeper understanding of the opportunities available and how they align with your career goals and interests.
By demonstrating knowledge of the school's programs and conveying a clear vision of how you would benefit from and contribute to the Stanford Law community, you can make a stronger case for your candidacy.
Networking with current students and alumni: Engage with current students and alumni through informational interviews, law school events, or online platforms. These interactions can provide valuable insights into the school's culture, experiences, and opportunities and help you build connections that may be beneficial in the future.
Showcasing your unique background and experiences: Use your statement, optional essays, and letters of recommendation to highlight your distinct experiences, achievements, and perspectives. You can set yourself apart from other applicants by emphasizing your unique qualities and the value you bring to the law school community.
Proofreading and editing your application materials: Ensure that all application components, including your resume, personal statement, and optional essays, are well-written, error-free, and adhere to any specific guidelines the school provides. A polished and professional application will make a strong impression on the admissions committee and demonstrate your attention to detail and commitment to excellence.
Seeking advice from mentors, alumni, or admissions consultants: Reach out to individuals with experience with the law school's application process, such as mentors, alumni, or admissions consultants, to gain insights and advice on crafting a compelling application.
These individuals can provide valuable feedback on your materials, offer suggestions for improvement, and help you navigate the complexities of the application process. Leveraging their knowledge and expertise can enhance your chances of submitting a successful Stanford Law application.
Stanford financial aid and scholarships
Stanford Law School recognizes the importance of making legal education accessible to all qualified students, regardless of their financial background. To help students finance their education, the school offers a range of financial aid options, including scholarships, grants, loans, and work-study opportunities.
The financial aid application process at Stanford typically requires students to submit the Free Application for Federal Student Aid (FAFSA) and other supplemental documents, such as tax returns, to determine their eligibility for various types of aid. Merit-based scholarships are awarded to exceptional applicants based on their academic achievements, leadership potential, and overall accomplishments.
These scholarships may cover either partial or full tuition and are often renewable, provided the recipient maintains satisfactory academic progress. In addition to merit-based scholarships, Stanford Law provides need-based aid to students who demonstrate significant financial need.
This type of aid may include grants, low-interest loans, or work-study opportunities that help offset the cost of tuition and living expenses. By offering a comprehensive financial aid program, Stanford Law ensures that students from diverse socioeconomic backgrounds can pursue their legal education and contribute to a vibrant, inclusive law school community.
Now that you have a clear understanding of Stanford University's law school, you should also begin preparing for your admission. You can get help with AdmissionSight with the help of our world-class guidance. You can enter the best university that suits you best with the guidance of AdmissionSight. You can talk to our experts today to get started.