The Best Ballet Schools In America
It is essential to acquire the very best training imaginable if you are a ballet dancer who wants to rise through the ranks to the highest levels in your industry. And if you want to dance professionally, you'll need to go to the best ballet schools in America.
What does a ballet school teach?
What kind of training is provided at a ballet school? Student ballet instruction is the primary focus of the curriculum at ballet schools. Students who live on the premises of a typical ballet boarding school receive the same type of education as those who attend the school during the day, in addition to participating in ballet dancing programs.
What are the best ballet schools in America?
Where can one find the most reputable ballet schools in America? Children who dance regularly develop important life skills such as concentration, creativity, and self-discipline, which are important in any field of study.
Here is a list of the best ballet schools in America:
Idyllwild Arts Academy
The purpose of the Dance major is to equip students with the range of technical and aesthetic skills that are necessary for advancing their careers in the field of professional dance. The mission of the Dance Department at Idyllwild Arts Academy is to cultivate resilient dance artists who can make valuable contributions to the world of professional dance.
Students at Idyllwild Arts Dance are guided by Ellen Rosa-Taylor as they hone their dance skills and discover their unique voices in the world of dance. The Arts and Dance faculty is responsible for the students' development.
Idyllwild Arts will immerse you in a life filled with enthusiasm for dance through its multi-disciplinary program, which includes the curriculum of the American Ballet Theatre as well as cutting-edge instruction in modern and jazz dance. Every student at this school, which is consistently ranked as one of the best ballet schools in America, is given individualized attention in an encouraging environment.
Oldfields School
Oldfields School is a coeducational, college preparatory institution for young ladies in grades 8 through 12 located in Sparks Glencoe, Maryland. Oldfields thinks that the best learning takes place in an atmosphere in which children are known, their opinions are heard, and failure is accepted as a natural part of the process of moving forward. As a consequence of this, the school is flexible, and as a result, it can offer one-of-a-kind immersion experiences that will assist each girl in accomplishing her mental, physical, and spiritual objectives.
It is a place of education, and it is regarded as one of the most prestigious colleges and boarding schools for ballet in the United States. There is an almost infinite number of ways that one can express themselves through dance at Oldfields. It is one of the distinguishing characteristics of education at Oldfields School that every girl, from the most inexperienced to the most seasoned, finds a happy place to shine.
Saint James School
In Hagerstown, Maryland, Saint James School is an Episcopal boarding and day school that serves students in grades 8 through 12 and is open to both genders. The educational programs offered at St. James School not only inspire and encourage young boys and girls to cultivate their interests and improve their abilities in a variety of domains, but also encourage and challenge them to become better people who are resilient, self-assured, kind, and helpful.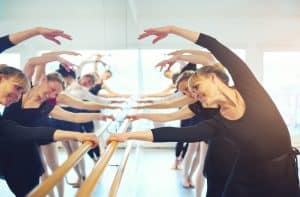 Students are placed at the appropriate level according to their potential as well as any previous training they may have had. Students advance through the levels and gain greater physical, spatial, and kinetic awareness along the way.
Students who choose to study dance at Saint James, one of the best ballet schools in America, are instructed in the fundamental styles and terminology of dance. There is an instruction in a variety of dance styles, including classical, modern, and musical theater jazz dance, and there are opportunities for further study through our Visiting Artist series.
Throughout the course of rehearsals, there is a strong emphasis placed on correct alignment, placement, and coordination, as well as the encouragement of personal expression and stylistic exploration, phrasing, dynamic play, movement organization, and functional alignment.
Isolations, jumps, contractions, and releases; spirals, falls, and recoveries; dynamic weight shifts, movement across the floor, and complex combinations; all of these are given special attention.
St. Paul's School
St. Paul's School is recognized as one of the best ballet schools in America. Students at St. Paul's School have the opportunity to receive both a rigorous academic education as well as the highest quality dance instruction that can be found in a dedicated dance studio. The goal of the SPS Dance Program is to cultivate technically proficient dancers who have a strong work ethic while also fostering a learning environment that is upbeat, loving, and aesthetically pleasing.
The SPS Dance Program helps students get ready for college and pre-professional dance by providing dance classes all year as part of the school's regular academic schedule. These classes are open to dancers of all skill levels.
Every session is intended to stretch students intellectually, physically, and creatively while also fostering their overall growth as individuals. The academic schedule for the program includes dance classes that are offered throughout the entire year. These classes include Dance I (an introduction class) and Ballet II–V (for the more experienced dancer).
Serious dancers have the opportunity to try out for the St. Paul's School Ballet Company (SPSBC), a program that runs throughout the school year and can serve as an alternative to varsity athletics. Dancers at SPSBC, which has been ranked as one of the best ballet schools in the United States, work one-on-one with instructors, guest teachers, and choreographers.
They also rehearse every day during the academic year and perform four distinct performances each school year. These performances include both classical and contemporary works.
Linden Hall School
People from all walks of life can communicate with one another using dance, which is a global language. In addition to private coaching, Linden Hall provides students with the opportunity to participate in academic dance classes, competitive dance teams, and social dance clubs.
The Linden Hall School is the oldest independent boarding and day school for girls in the United States that has been operating continuously since it first opened its doors. It fosters leadership in young women, inspires them to be inquisitive and creative thinkers, and equips them with the tools they need to achieve their goals.
Additionally, Linden Hall is widely considered to be among the best ballet schools in America. Its primary focus is on providing educational dance classes, but it also operates a dance team, and a dance club, and offers private dance coaching. As a result, students at Linden Hall are allowed to participate in dance either as an academic subject worth half a credit in either physical education or art or as an extracurricular activity.
Students have the opportunity to try out for the Linden Hall Dance Team and earn 0.5 credits in physical education in exchange for a full-year commitment, even though there is only one academic dance course offered each semester.
Walnut Hill School for the Arts
The Professional Division at Walnut Hill of the Boston Ballet School is a one-of-a-kind education and dance training program that combines world-class dance instruction with a top-notch college preparatory program to provide students with a well-rounded educational experience.
In exchange for a tuition fee of $64,460, students in the joint program receive instruction and training that prepares them for careers with Boston Ballet, the professional dance industry, and beyond, including some of the most prestigious conservatories, institutions, and colleges in the world.
Students of dance can benefit from the world-renowned Boston Ballet School faculty, which is led by Mikko Nissinen, Boston Ballet Artistic Director, Miranda Weese, Interim Director of Dance, and Peter Stark, Head of the Men's Program.
Petipa, Balanchine, and Kylián are just a few of the choreographers who influenced the Boston Ballet's repertory, and the students who graduate from this program are well-rounded and adaptable enough to handle the challenges of the contemporary dance world.
The curriculum requires students to take classes in technique, pointe, men's class, pas de deux, variations and repertoire, modern, character, Pilates, men's conditioning, and workshops such as the Forsythe technique.
Westover School
Middlebury, Connecticut, is home to The Westover School, also referred to simply as "Westover." This all-girls institution serves as a college preparatory boarding and day school for students. As one of the best ballet schools in America Westover assists girls who are talented and driven in their development into self-assured and connected women. The performing and visual arts are essential to life, education, and the creative process of problem-solving.
By encouraging students to share their thoughts and perspectives, the Art Department at Westover provides a comprehensive and varied educational experience that helps students develop a heightened awareness of the world that surrounds them.
Students gain the ability to see, listen sensitively, think critically, explore imaginatively, and move with confidence as a result of collaborative and independent learning processes, as well as the mastery of skills that have been thoroughly taught to them.
The Madeira School
The Performing Arts Program at Madeira includes dance as a component because classes are instructed by professional dancers who both perform and instruct at the highest levels available on the East Coast and worldwide.
Despite its reputation as one of the best ballet schools in America, Madeira School welcomes dancers of all skill levels and presents the same types of dances for students at the beginning and intermediate levels. If a Madeira Dancer is interested in moving on to Select, they have the option to either audition for the position or seek the director's blessing to do so.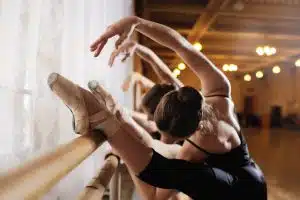 There are masterclasses covering a variety of genres and styles throughout the year. Some of these include musical theater, hip-hop, jazz, Bollywood, and afro-fusion. Classes in dance are offered in Madeira as part of the D block of the athletic curriculum.
There are many different styles of dance that can be learned, including ballet, pointe, modern, jazz, lyrical, hip-hop, and contemporary movement. Every class is taught by well-known dance instructors hailing from the metropolitan area surrounding Washington, DC. There are two different dance programs available, and they are Madeira Dancers and Select Dance.
Dana Hall School
An independent boarding and day school for girls in grades 5 through 12 (boarding begins in grade 9), Dana Hall School is widely regarded as one of the best ballet schools in America. The school can be found in the town of Wellesley, Massachusetts. Because Dana Hall is exclusively for female students, it offers these young women a one-of-a-kind opportunity to advance their education as well as their personal growth.
The program's goals are twofold: first, to enhance dancers' abilities; second, to increase public awareness of dance as an art form. At each level, students in ballet, jazz, modern, hip-hop, and tap dance classes study dance techniques, different styles of dance, the history of dance, the anatomy of the body, and creative expression.
Performers who want to create new works, improve their performance abilities, and put on formal and informal concerts can take part in the Dance Repertory Group's choreographic and rehearsal class.
The Shipley Center for Health and Wellness Dance Studio is outfitted with state-of-the-art lighting and sound systems in addition to having a large floor that can be used for a variety of activities and is designed to absorb shock. Dance is one of the many activities that are offered at Dana Hall to encourage the personal growth of young women.
The White Mountain School
The White Mountain School is a college preparatory boarding and day school for students in grades 9–12 and PG that was established in 1886 and is located in the beautiful White Mountains of northern New Hampshire. The school welcomes students of both genders and serves students in grades 9–12. Because of their Episcopal heritage, they teach students how to be curious, courageous, and compassionate throughout their lives and motivate them to do so.
In addition, the White Mountain School is widely considered to be among the best ballet schools in America. As a result of the school's partnership with Creative Edge Dance Studio, students at White Mountain have access to a diverse array of dance activities, allowing them to investigate or delve deeper into their interest in the art form of dance. There is a wide variety of dance forms and performer ability levels that can be accommodated by the availability of academic courses, as well as technique and performance-based lessons.
What are the benefits of ballet schools?
What are the advantages of enrolling in ballet classes? In addition to letting children experiment with movement and instilling a sense of dedication and discipline, ballet helps train their memories and improves their coordination.
These essential life skills will be developed and honed through regular sessions, which will assist young people in the process. Afterward, they will be able to apply these skills in regular life situations, such as school and work.
Factors to consider when selecting a ballet school
When choosing a ballet school, there are a few things to keep in mind. You can't just decide to make dancing your career without giving it some serious consideration; you need to look carefully for a school that can fulfill all of your requirements.
Here are some considerations to keep in mind when choosing the best ballet schools in America:
The instructor's credentials and experience
When looking for an advanced studio, one of the most important things to consider is the quality of the instructors. It is possible to sustain injuries and develop behaviors that cannot be changed if you do not have access to a qualified instructor during the formative years of your education. Many dance and ballet schools hire teachers who have experience dancing but do not require them to have the needed training to become dance instructors.
Before deciding on a school, it would be beneficial to find out how and where the teachers have received training for themselves. Look for a candidate who either has prior experience working professionally in the dance industry with a company, possesses additional qualifications, or has obtained certification from a recognized training program.
Focus on education
The goal of attending a dance school is to ensure that you continue to develop as a dancer in a healthy and secure environment. Even though performing can be an important and enjoyable component of development, a serious dance school will not make any concessions when it comes to creating a strong and technically sound foundation.
In addition to emphasizing the development of correct technique, students at certain recreational schools also spend their class time practicing for a variety of events, such as the school's annual recital. In addition, some schools emphasize the theory and history of ballet.
Diversity
Even if ballet is your major emphasis, you should take classes in other dance styles in addition to basic technique and pointe work. Ballet training provides the best foundation for any dancer. The best ballet schools in America will be able to provide you with a diverse educational experience by offering a range of lessons such as jazz and modern dance.
Size of the class
In a class with lower enrollment, it will be easier to give each student the necessary individualized attention. In addition to this, students often need to develop a patient disposition to polish their technique during the course of their dance training. When there are more than twelve pupils in a class, it is considerably more difficult to provide each one of them with the individualized attention they require.
Disciplined environment
Learning that to master any complex talent, a disciplined approach is required is one of the most important benefits that can be gained through ballet training.
A well-disciplined atmosphere requires that all of the classes begin on time, that students adhere to the dress code, and that other aspects of the school's standards be handled seriously.
Suitable tuition
Before you enroll, you need to have a clear understanding of the cost of both the tuition and the equipment and costumes. Even while cost-effectiveness is of the utmost importance, schools that offer education of the highest quality will often have substantially higher tuition rates than their competitors.
Instruction quality
It is one of the most important considerations that go into determining whether or not a ballet school has a respectable reputation. In addition, the most prestigious ballet schools in the United States employ teachers who come from a wide range of different experiences and cultures, allowing their students to learn from a variety of points of view.
Diversity will help enrich the school's portfolio, whether students take lessons in musicality from a master instructor schooled in Russia or study contemporary techniques from an instructor trained in the Graham style.
Longevity and reputation
Some dance schools have been in operation for many years, and during that time they have educated many generations' worth of prominent dancers from all over the world. Because they have been in business for a considerable amount of time and have assisted several dancers in landing professional positions, they have a solid reputation.
Alumni career prospects
When you look at the most accomplished dancers in the world of professional dance, you will see that they all come from comparable family situations. When it comes to success, it's not always what you know but whom you know that counts. Because of this, many of the best ballet schools in America will enable you to create a network that will assist you in finding a professional placement.
Having all the necessary information is important before choosing any course of action. AdmissionSight is always here to assist you if you have any questions or concerns. We have more than ten years of expertise assisting students in successfully navigating the challenging admissions process.
Consult with AdmissionSight and find out what we can do to help you get into the school of your choice by ensuring that you are sufficiently aware and well-prepared for the application process.