UCLA Campus Life
UCLA is a university that makes the assertion that optimism is what drives its faculty, students, and campus. Why shouldn't they, too? The University is the one that rejects the way things are and sees potential in dissatisfaction. This has become a part of the UCLA campus life.
With this hope, UCLA was able to accomplish a lot. UCLA has 118 NCAA, 14 Nobel Prizes, and 14 MacArthur Fellows among its faculty. Additionally, it has 261 Olympic medals, which is more than most other nations.
It's difficult to get accepted to a prestigious university like this. If you do choose to attend UCLA, AdmissionSight can assist and guide you through the admission process.
How is the campus life at UCLA?
How is the campus life at UCLA? If you want to know more about UCLA campus life, read on and we will take a tour.
The 419-acre Westwood campus, which was created as a "college in a garden," stretches across the foothills of the Santa Monica Mountains and south into the Los Angeles basin. You might question whether there is a tale to be told for each structure, bench, and walkway. They probably do.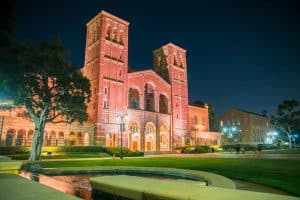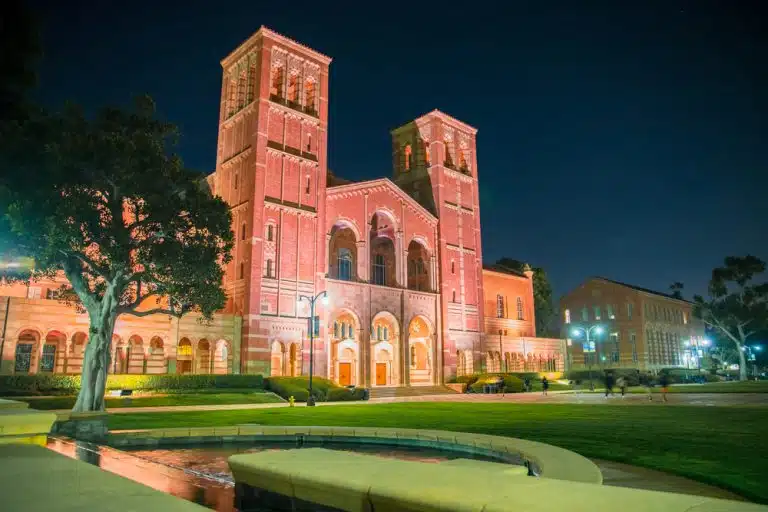 At the foot of Janss Steps, stand where MLK Jr. delivered his "Segregation Must Die" speech. Admire the Powell Library's red brick Romanesque Revival building, where Bradbury authored Fahrenheit 451. Walk by 16 different recreation centers, which serve as both playgrounds for Olympians and regular people. Don't forget to stop for a selfie at the site where the Internet was first invented.
What is housing and dining at UCLA like?
Living on "the Hill" means you're close to classes and everything else that school has to offer, so it makes sense that more than 98 percent of first-year undergrads opt to do so. It won't take you long to locate your own happy place, whether it be among the more than 5,000 annual events, serene sunset panoramas, study rooms, or palm tree-lined patios.
You can choose what to eat when the time comes. This culinary scene is the best in the country because of its superior taste, high quality, healthy options, sustainability, concern for dietary restrictions, and other factors. What is housing and dining at UCLA like? We discuss them below. Read on.
Housing
The Hill is the name of the on-campus housing complex at UCLA since it is situated on a hill next to the west side of the campus.
High-speed Internet, a fitness center, a convenience store, a mail center, music practice rooms, outdoor recreation areas, community gardens, as well as regular housekeeping, maintenance, and round-the-clock front desk assistance are just a few of the well-liked amenities available in our furnished rooms and study areas.
As part of the UCLA campus life, Housing at UCLA offers much more than just a place to call home. It is a location teeming with activity. You will find friends and a sense of community in a setting intended to support your academic and personal development, including your roommates, suitemates, floormates, neighbors, resident assistants, and community directors.
Housing Services is in charge of managing the assignments for incoming freshmen and transfer students. According to the gender indicated on the housing application, students are assigned residences.
When assigning roommates to a room that has already been assigned to a student whose gender is indeterminate or non-binary, individual follow-up is frequently required to identify the optimal assignment for that student. Students who are interested in accommodation that is gender inclusive should specify this on the housing application. There will be an additional application available.
MyUCLA is used to keep track of each student's gender identity on campus. The housing application's gender values are Female (F), Male (M), Non-Binary (X), and Unknown (U). In the housing application, students who identify as genderqueer or gender non-conforming will automatically select one of the four genders.
Through MyUCLA, students can view and modify their gender information. Within one working day, adjustments are automatically reflected with housing.
All students will have a safe, secure, and supportive living environment at UCLA. Each student has a different gender identification, sex at birth, and level of outness; thus, housing can work with each student to find the ideal housing situation within gender-inclusive housing.
A student should specify their desire in the online housing application if they would like to live in housing that is gender inclusive.
Dining
Another part of UCLA campus life is dining. In order to promote everyone's health and safety, UCLA Housing-Dining has updated its service style and operations. At the moment, only residents of the On-Campus residential halls on the Hill have access to their eateries.
Based on university needs, available space, and geographical layouts, their residential locations will be opened. Even though these rules continue to change, they are still following county, state, and university standards for serving meals on campus.
Dine In
Bruin Plate opens for Breakfast at 7 a.m.
De Neve opens for Breakfast at 7 a.m.
Take Out
The Study at Hedrick opens at 7 a.m.
What are the clubs, organizations, and recreation at UCLA?
Are you curious to know what are the clubs, organizations, and recreation at UCLA? They are the following:
UCLA is a kaleidoscope of activity and culture. You'll have plenty of opportunities to develop new interests and connect with other like-minded Bruins thanks to the more than 1,200 clubs and student organizations on campus.
Recreation and Sports
UCLA Recreation gives the university community substantial access to a wide variety of recreational activities and services, reflecting the diverse leisure and wellness needs of the community. The Department provides programming that covers the active, passive, social, cultural, instructive, competitive, and cultural facets of recreation.
Additionally, 14 of the university's recreational and sports facilities are managed by UCLA Recreation, providing a variety of multi-use choices for student and university events in addition to recreation, sport, and other activities.
UCLA's various programs and facilities are open to UCLA students, teachers, staff, and qualifying alumni associates (and their families). Through their tuition and fees, UCLA students have access to recreational facilities and can buy extra services. For access to their various activities and facilities, UCLA faculty, staff, emeriti, and alumni affiliates (and their families) may purchase a membership.
Over 80% of UCLA students, according to institutional research, use recreational services or amenities while they are enrolled at the university.
Students participate in almost every sport and leisure activity imaginable, whether it be for competition or just for enjoyment. UCLA Recreation offers instructional classes, an intramural sports program with 30 leagues, tournaments, meets and special events, 50 club sports, and 15 multifunctional fitness centers and six pools dotted about campus. Rowing, kayaking, sailing, surfing, windsurfing, and paddleboarding lessons and equipment are available at the UCLA Marina Aquatic Center in Marina Del Rey.
Student Council
Students at UCLA have a long history of participating in student government, and they actively shape the UCLA campus life. Students are empowered by the Graduate Student Association and the Undergraduate Students Association to set budgets, start new clubs, and create a campus that represents their beliefs. 74% of undergraduates take part in clubs or organizations for students.
Culture and Arts
There are numerous opportunities to participate in arts and culture on campus, both as a viewer and as a maker. In addition to being writers and editors at the Daily Bruin and DJs for Campus Radio, students also work as writers and editors at Melnitz Movies, a student-run repertory movie series.
The student arm of UCLA's renowned Center for the Art of Performance is known as the Student Committee for the Arts. To promote the performing arts on campus and organize events that feature student performers, SCA members frequently collaborate with the CAP UCLA staff.
Entrepreneurship and Business
A thriving commercial and entrepreneurial culture is fostered by UCLA students. The Undergraduate Business Society is the largest student organization at UCLA, with over 5,000 members on a yearly basis. There are various possibilities for students to get information and experience from the real world, such as Startup UCLA's Summer Accelerator, a 10-week program created to aid entrepreneurial students in building successful enterprises.
Volunteering
The UCLA Volunteer Center allows Bruins to demonstrate one of UCLA's fundamental values: service. More than 5,000 Bruins participate in the Volunteer Day event to start the academic year by volunteering at locations all throughout Los Angeles.
Bruin volunteers collaborate with neighborhood organizations all year long to serve their community in a variety of ways, from giving the homeless access to healthcare and other resources to serving Thanksgiving dinner to veterans.
Is there a student health program at UCLA?
Is there a student health program at UCLA? Ease your mind and read below.
Your ability to achieve your educational objectives successfully depends on how happy and healthy you are. The Arthur Ashe Student Health and Wellness Center (The Ashe Center) offers top-notch health and wellness services that are compassionately delivered by committed experts in order to promote your development.
Physical Therapy
Specialty Clinics
Radiology and Laboratory
Acupuncture
Primary Care
Women's Health
Immunizations
Travel Medicine
Online appointment scheduling allows students to communicate privately with primary care providers. A 24/7 nurse line and safety escorts from dusk until one in the morning are among the additional options available.
Career Center at UCLA
With a job on campus, you can fully immerse yourself in Bruin life. Or, with a strong career strategy, focus on the Los Angeles job market and beyond. You can explore a wealth of advice and opportunities from the Career Center while doing either or both.
Workshops and Events
Numerous programs are held at the Career Center throughout the year with the express purpose of assisting students in moving their careers ahead. They go above and beyond to help students achieve their career goals, and they bring business leaders to talk, network, and interact with students.
Connecting to the Best and the Brightest
The UCLA Career Center is committed to connecting students and companies in meaningful ways. To assist UCLA students, UC graduates, and employers in achieving their objectives, the team provides services and tools.
Getting Admitted to UCLA
Before you can enjoy the promising UCLA campus life, let's get you admitted first. Below, AdmissionSight discusses the things that every applicant should and needs to know. Read on and note them.
What is the class of 2026 acceptance rate at UCLA?
Although the data for the Class of 2026 has not yet been made public, we do know that there were 149,779 applicants for the 2022–2023 freshman class. What is the class of 2026 acceptance rate at UCLA? We can predict that the acceptance rate at UCLA will likely be lower than it was the prior year based just on this number.
Out of the 139,490 freshmen that applied for admission to the Class of 2025, UCLA only accepted 15,028. This translates to an acceptance rate of only 11%. California residents were accepted at a 14% clip last year (the most current data available), but out-of-state students were accepted 21% of the time, while the overall acceptance rate was a more favorable 14%. To enter as a non-resident, however, is actually far more challenging.
SAT/ACT Policy and GPA at UCLA
As for the SAT/ACT policy and GPA at UCLA, the mid-50% unweighted GPA range for members of the Class of 2025 was 3.92–4.0, and the weighted GPA range was 4.36-4.68.
The minimum GPA requirement for students in California is 3.0. The minimum GPA requirement for non-residential students is 3.4. To achieve this much GPA, you must have received an "A" in high school. If you are aware that your GPA won't be very high, concentrate on improving your SAT/ACT score.
In-state applicants have lower measurables than their out-of-state counterparts despite having a greater acceptance rate. California residents had a mid-50% unweighted GPA of 4.30–4.60 in a recent cycle (when test scores were considered in the application process), SAT scores of 1250–1500, and ACT composites of 26–34.
The GPA range for out-of-state applicants was 4.35–4.80, the SAT range was 1390–1530, and the ACT range was 31–34. In high school, admitted students typically took 17 to 25 honors or advanced courses.
NOTE: UCLA is a test-blind college; therefore, SAT or ACT scores are not taken into account for admissions or scholarship consideration.
Test results that you choose to submit with your application may be used as an alternative method of meeting eligibility requirements or for course placement once you've enrolled.
Trends in Admissions and Notes
The most important observation is that all of the universities in California now have a test-blind policy.
The Class of 2025 included 33% first-generation college students.
30% of first-year students also come from minority backgrounds.
The most recent freshman class's need-based aid participation rate was 50%.
Between the freshman classes of 2020–2021 and 2021–2022, the yield rate rose from 41% to 44%, indicating that more admitted students are now choosing UCLA than in previous years.
What is the yield rate at UCLA?
What is the yield rate at UCLA? The yield rate, or the proportion of accepted students who choose to enroll and enjoy the UCLA campus life, as a percentage of all admitted students, was 44%. Other elite public institutions' yield rates compared to UCLA are as follows: 46%, UT-Austin is 46%, UNC-Chapel Hill is 44%, and UGA is 41%.
Application Requirements for UCLA
Application:
UCLA does not accept the Coalition App or the Common App, in contrast to many other universities. You must register for a UCLA application account in order to apply for any course at UCLA.
Waiver of Application Fees:
You must send $70 in application costs when you apply. The application cost is non-refundable, so keep that in mind. The application fee can be paid by credit card or by mail.
You can also request an application fee waiver if paying the application fee presents a challenge for you. Up to four campuses at UCLA will waive your application fee. This implies that if you apply to more than four schools, you must pay an application fee of $70 for each additional campus.
The fee waiver only applies to applicants who are U.S. citizens, permanent residents, or who qualify for AB540 benefits. International students are not eligible for fee exemptions at UCLA.
Transcript:
The transcript serves as a record of your academic standing. Once you are admitted, you must submit your transcript.
Test Results:
UCLA will not use SAT/ACT scores to determine admission due to the Covid-19 epidemic. However, if you like, you may still provide your SAT results.
If you provide the score, it can be taken into account to evaluate your level of qualification for the California statewide admissions guarantee. They might use it as a substitute strategy to meet the eligibility requirements.
Annual Salary:
If you are a dependent or an independent, you must show proof of your parents' yearly income or proof of your own income. If you are not requesting a fee waiver, it is not necessary; otherwise, it is.
Identification Number:
If you have a social security number, you must provide it.
Constitutional Status:
You must enter the country of your citizenship. You must also specify your immigration status and type of visa if you are not an American citizen.
Statewide Student ID for California:
You may present a California Statewide Student ID if you are a California resident. All K12 public school pupils in California are given this ID. It is not necessary, though.
Insightful Personal Questions:
The college will ask you 8 questions during the application process, and you must respond to 4 of them. Your interest in academic curiosity and personal growth will be evaluated by the question.
Your response can be as many as 350 words long. Your response to the question is entirely up to you. UCLA advises you to select the inquiry that is pertinent to your experience.
Facts and Figures About UCLA
UCLA takes pride in the diversity of its neighborhood and in giving everyone the chance to succeed, regardless of socioeconomic status, and in letting them experience UCLA campus life.
Diversity, according to UCLA, equips students to function in a global society. They are aware that by cultivating an inclusive environment that values and accepts people from all backgrounds, they are creating the foundation for their students' future success.
A university is more than the sum of its parts, which is uncommon. The potential of UCLA to positively influence society by bringing together various minds from all over the world is the university's greatest asset. The information and figures below highlight the breadth and depth of the University of California, Los Angeles.
Undergraduate Students: 31,600
International Students: 5,400
Graduate & Professional Students: 14,300
Faculty Members: 7,790
Countries Represented by Students: 118
First-Generation Undergraduates: 31%
International Undergraduates: 10%
Undergraduates Receive Pell Grants: 34
Diversity
Ethnic diversity among students
| | | |
| --- | --- | --- |
| Ethnicity | Undergraduate | Graduate |
| African American | 5% | 6% |
| American Indian & Alaska Native | <1% | <1% |
| Asian & Pacific Islander | 33% | 22% |
| Hispanic | 21% | 12% |
| White | 26% | 32% |
| Other Domestic or Unknown | 4% | 5% |
Does UCLA use the Common App?
Utilizing the University of California application, you can apply to UCLA. The Common App and the Universal App are not accepted by UCLA.
Dates and Deadlines at UCLA
Note the following dates and deadlines, so you don't forget them in your UCLA application process:
July 1
Application starts for select campuses in winter/spring 2023.
August 1
Application opens in Fall 2023
October 1
Financial aid: Applications for all terms are now open for the FAFSA and the Cal Grant Verification Form.
Oct. 1 through Nov. 30
Application submission window for fall 2023
Here at AdmissionSight, we can help you with your application to the University of California, Los Angeles, and our experienced consultants can give you professional advice. Contact us today to learn about our committed service.